Jones says his opponent will be "extremist" like Moore or "handpicked by McConnell"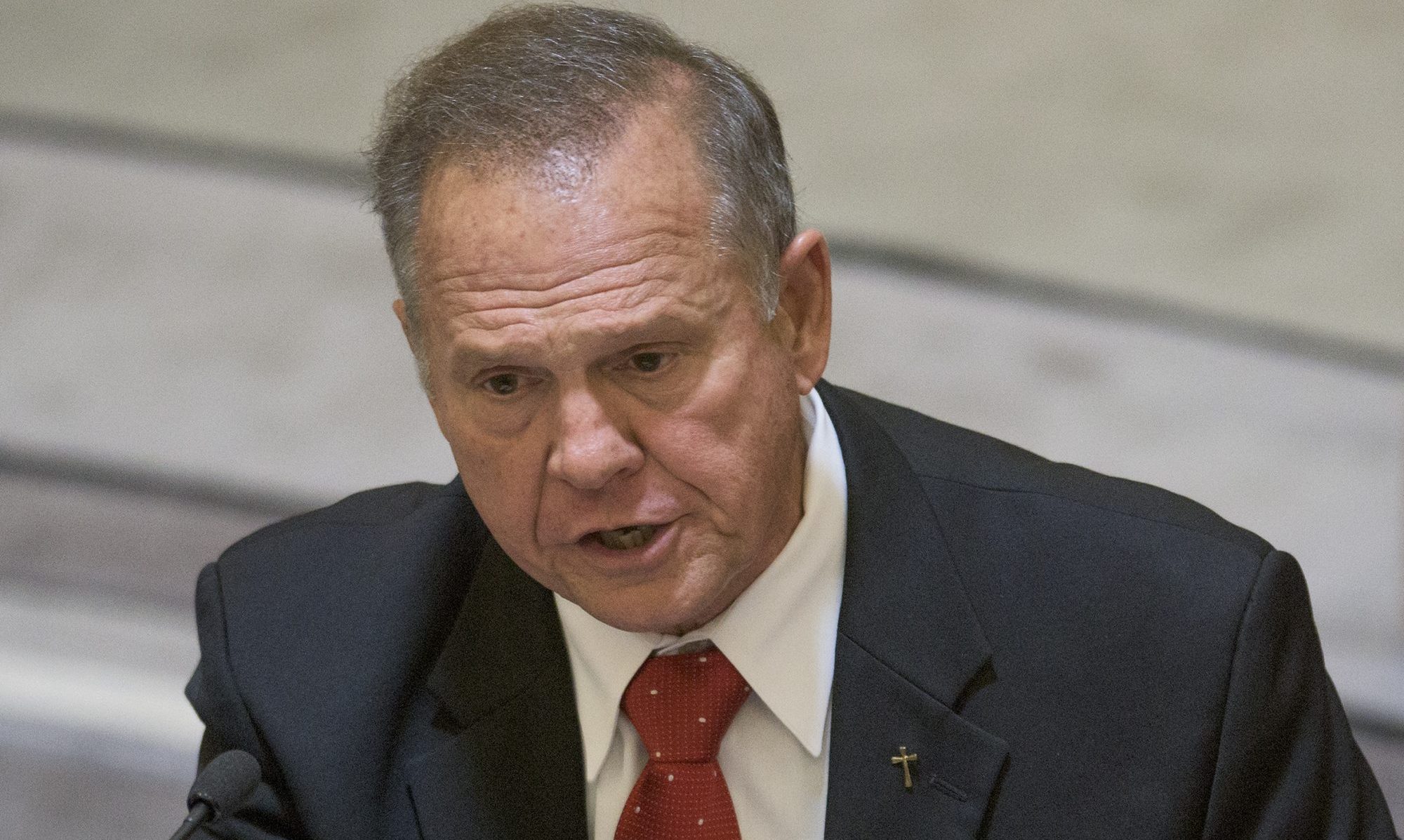 U.S. Sen. Doug Jones, D-Alabama, commented Thursday on the news that former Chief Justice Roy Moore is running for the Republican nomination to oppose him in the 2020 election for Senate.
"Today, Roy Moore has made what was already going to be a divisive Republican primary even more polarizing and extreme," Jones said in a statement. "We don't need any more of that. Worse, it's now clear that my opponent will either be an extremist like Roy Moore or someone handpicked by Mitch McConnell to be his senator, not Alabama's. The only question left is who will be McConnell's choice?"
Sen. Mitch McConnell, R-Kentucky, is the Senate majority leader and a vocal opponent of Moore's candidacy.
"I want to talk to Alabamians about solutions to improve all of our lives, address very real health care concerns, better education, strengthen our security, both militarily and economically and help attract more businesses to our state," Jones continued. "It comes down to solving problems, not divisive partisanship or extreme ideas that do nothing for Alabama families."
Moore made the announcement at a venue adjoining his foundation's offices in Montgomery on Thursday afternoon.
Moore, at his announcement event, said he would have won the last actually election race but that his victory was stolen by Russian-style tactics in Operation New Birmingham,.  Moore denounced the "false flag: tactics which even Jones has repudiated. Moore said the $750,000 illicit efforts by Democratic operatives targeted 650,000 Alabama voters, repeating falsehoods about him over and over again.
Moore said he knows that Democratic political operatives ran Operation New Birmingham, but he suspected that Republicans also colluded with the Democrats to defeat him. Moore defeated McConnell's chosen candidate, appointed Sen. Luther Strange in the Republican primary runoff. National GOP dollars from the McConnell controlled Senate Leadership Committee and National Republican Senatorial Committee flooded into Strange's struggling campaign, but those money sources dried up when Moore was elected as the Republican nominee.
Moore appeared to be cruising to an easy 10-point victory over Jones in the 2017 special election when The Washington Post published a story detailing accusations from several women about Moore's sexual harassment and abuse from the 1970s in the Gadsden area. Moore denied the accusations, but Republican money from out of state dried up, while national Democrats poured in over $20 million into the state to elect Jones.
Moore said his accusers won't be a concern this time around because the people of Alabama see through that, especially after what happened with Supreme Court Justice Brett Kavanaugh.
"You can fool all of the people some of the time and some of the people all of the time, but you can't fool all of the people all of the time," Moore said.
Jones's unlikely victory over Moore in the 2017 special election is the only instance in which the voters of Alabama have chosen any Democratic candidate over a Republican in a statewide race since 2008. Republicans swept all of the statewide offices in 2010, 2012, 2014, 2016 and 2018 general elections. Gov. Kay Ivey (R) got almost 60 percent of the vote in her election bid in November, despite having a qualified opponent.
Moore's critics say that Moore is the only Republican nominee who could have lost that race in the first place. Even President Donald Trump has said Moore as the nominee increases the chances that Jones will be re-elected.
Jones has said he will defeat Moore or anybody else that the Republicans nominate in 2020.
Alabama Republican Party Chairman Terry Lathan said there is "a hunger" for this seat among Republicans that she has never seen before.
Jones was a former U.S. Attorney, appointed by former President Bill Clinton. Prior to that, Jones was a top aide to former Sen. Howell Heflin, D-Alabama. More recently, Jones was a private practice attorney in Birmingham.
Print this piece
Sessions attacks Tuberville's views on China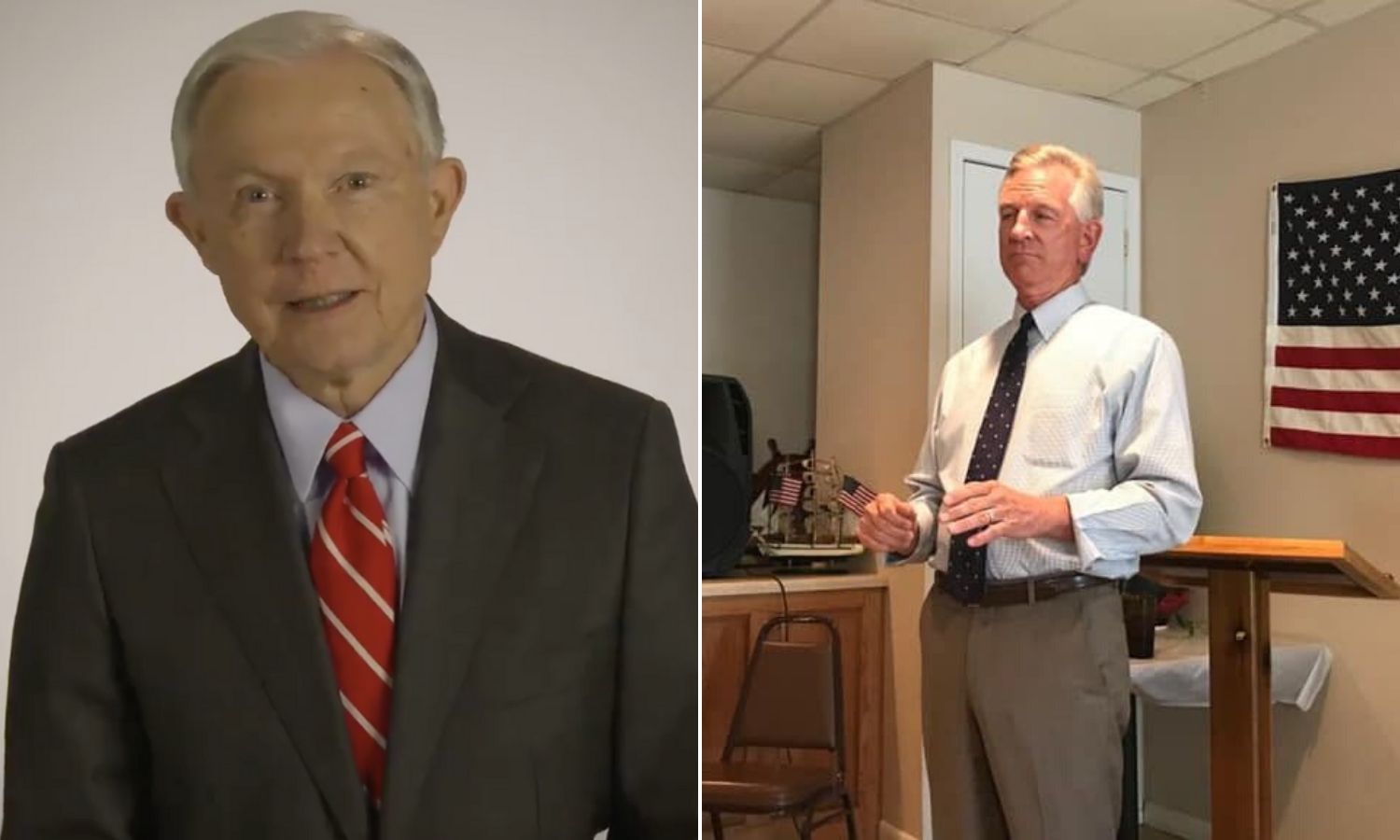 Former Sen. Jeff Sessions, R-Alabama, rolled out an ambitious, comprehensive plan to hold the Chinese government accountable for what Sessions called a cover-up of the coronavirus that has killed tens of thousands of people and devastated economies worldwide.
In an interview Thursday on the Matt & Aunie radio show on Talk 99.5 in Birmingham, for Auburn head football Coach and current GOP Senate candidate Tommy Tuberville expressed his views on China.
Matt Murphy asked: What do you see happening with China?
"Well, we can't worry about China right now…" Tuberville responded.
"You say you don't need to worry about China, but this came from China and our economy depends on China," Murphy asked on follow up. "Specifically how to overcome some of that dependence on Chinese goods and specifically in the pharmaceutical industry because right now we're dependent on the country that covered this up."
"Now we're seeing firsthand the results of letting everything go to China," Tuberville said. "The good thing about this is we'll have manufacturing come back and drugs and all those things….we're headed in that direction, just the simple fact that we can't control our own destiny. Everything's controlled by China. But that'll take care of itself."
During the show, Tuberville also characterized the Wuhan Virus, which has killed over 53,000 people and infected more than 1 million people across the globe, which then including over 1,300 people in Alabama, as "just a virus."
Jeff Sessions issued a statement critical of Tuberville on Friday in response.
"Amazingly, Tommy Tuberville said yesterday, 'We can't worry about China right now,"" Sessions quoted. "China is where the virus is from, and their deliberate lies hid the danger and resulted in a pandemic that never should have happened. We must take on China now and win, not run scared like Tommy Tuberville."
"There are over 1 million infected with the Wuhan Virus, and more than 1,300 in Alabama already," Sessions continued. "This is serious. But Tommy Tuberville said yesterday that 'this is just a virus.' What planet is he on? Tuberville is clueless. No wonder he's scared to debate me. We must stop relying on China for our critical medicines and equipment. I have a detailed plan to fix it. Amazingly, Tuberville also said yesterday, 'Everything's controlled by China, but that'll take care of itself.' Wrong! We must lead with action, this will not 'take care of itself.'"
On Thursday, a U.S. intelligence report claimed that China understated the damage that the coronavirus was doing in their country.
"Alabama's next Senator must be a leader who has the drive and determination to push a Congress that is too often unwilling to confront the critical issues of our time," Sessions continued. "I have proven my willingness and preparedness to lead from Day One. Tuberville is weak: all talk and no action."
Sessions is a former Senator, U.S. Attorney General, Alabama Attorney General, Chairman of the Alabama Republican Party, U.S. Attorney, asst. U.S. Attorney, and U.S. Army Captain.
The Republican primary runoff has been moved to July by Alabama Governor Kay Ivey (R) due to fears of the coronavirus. The virus is believed to have originated in Wuhan City, Hubei Province, China in late 2019.
As of press time, 10,943 Americans have died from COVID-19 including 53 Alabamians. 367,650 Americans have been diagnosed with COVID-19, including 2,006 Alabamians. At this point, only 240 Alabamians are confirmed hospitalized with COVID-19.
COVID-19 is the medical condition caused by a strain of coronavirus first identified late last year in Wuhan City, Hubei Province China, SARS-CoV-2. Since then it has spread across the globe infecting 1,346,566 persons that we are aware of killing 74,697 people.
The winner of the Republican primary runoff will then face Senator Doug Jones (D-Alabama) in the November election.
Print this piece