Swalwell won't write off the chances of a Democratic candidate winning Alabama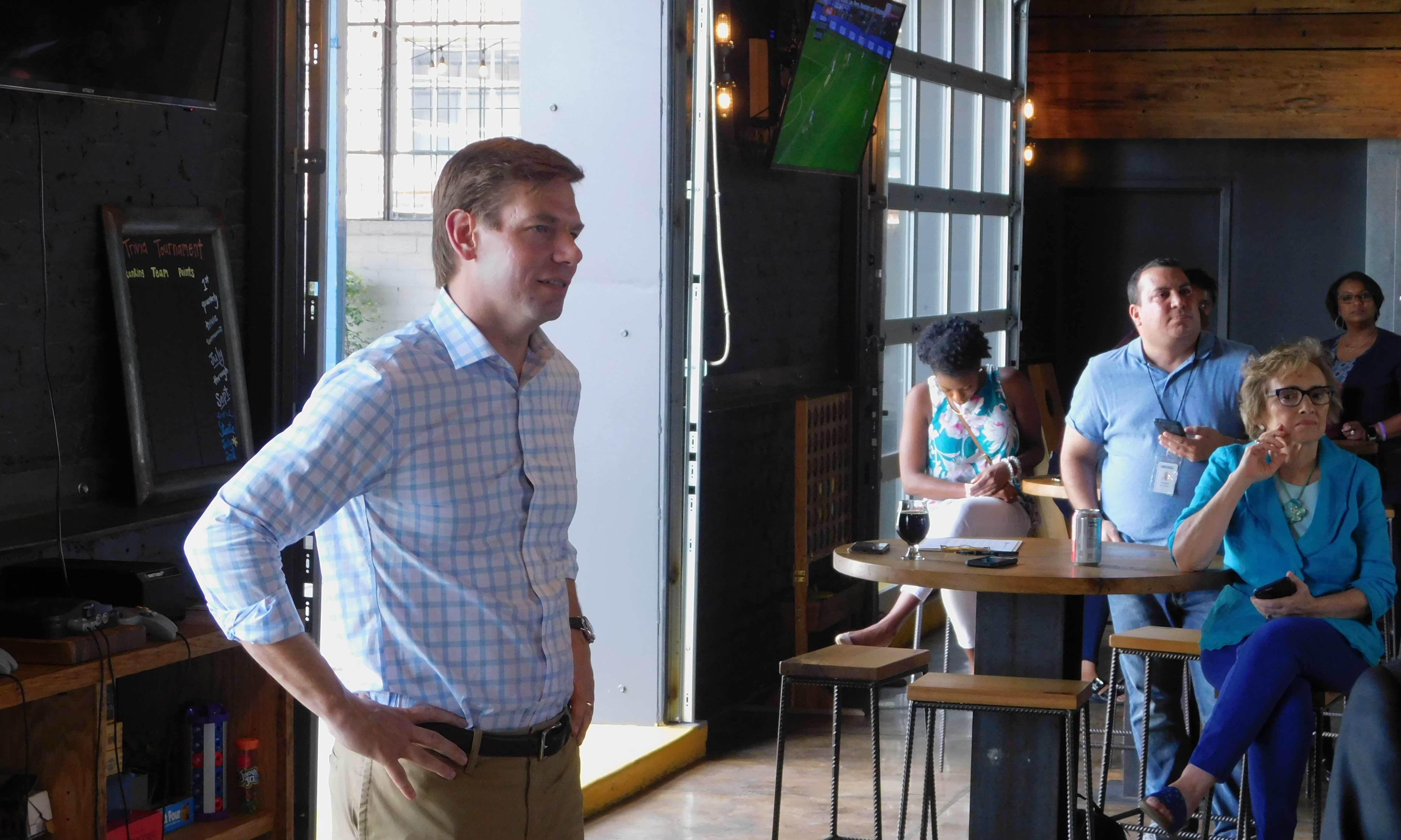 You may not have heard of him, but he's hopeful for his chances in the 2020 presidential election.
Congressman Eric Swalwell was recently announced as one of many candidates to reach the Democratic presidential debate stage. Thursday afternoon, the California representative made a stop at Birmingham District Brewing Co. to meet with the Alabama Young Democrats.
He was introduced by Terri Chapman, executive vice president of the Alabama Young Democrats, who called Swalwell a "true young Democrat" — a label which the 38-year-old lives up to — before giving the floor to the candidate.
"You gave me hope," Swalwell said. "You gave the whole country hope in December 2017."
The crowd cheered. The special election of Sen. Doug Jones shined a light on a Democratic base in Alabama that gives more incentive for candidates like Swalwell to campaign in Alabama.
"I don't want to write off the chances of a Democratic president winning in [Alabama]," Swalwell later said.
During his 20 minute speech, he rattled off the various hot-button issues that beset the country: student loan debt, the healthcare crisis, women's health and abortion rights and most notably gun violence, the central issue of Swalwell's campaign.
"We were in this cycle of grief, loss, anger, 'thoughts and prayers' from Washington — as an alibi for doing nothing," Swalwell said.
The crowd of roughly 50 people, Young Democrats and Democrats young at heart alike, stayed silent, some nodding in agreement. The breaking point, Swalwell said, was the shooting in Parkland, Florida.
The reaction to the Parkland tragedy created momentum for the discussion of gun ownership and violence, and now Swalwell is pushing for serious reforms. He spoke about his plan to implement universal background checks, to invest in additional safety in schools and to ban and buy back assault-style rifles.
"I'm running for president because I believe in you. I believe in the activists that showed up [after Parkland]. I believe in the new Congress that we have that we can say 'enough is enough,' and that we love our kids, and we love each other more than we love our guns," he said.
Richard Newton, a Birmingham attorney, said he was impressed by Swalwell and specifically by how much he cared about and has thought about rural America. When answering questions from the crowd, Swalwell mentioned expanding rural broadband and investing in education and infrastructure in rural America.
The Rural Caucus Secretary of the Alabama Young Democrats Justin Cosby said he likes Swalwell. However, he has some difficulty when considering the electability of the Congressman.
"Because at the end of the day, my question is, 'Is this candidate able to beat Donald Trump one-on-one in the election process?'" Cosby said. "Poor electability is what caused Cosby, who was a political science major in college, to jump ship on Bernie Sanders' 2016 presidential campaign and support Hillary in the Democratic primaries."
At the end of his speech, Swalwell spoke about keeping Jones in his Senate seat with the same intensity he spoke of seeking the Democratic nomination.  
"Here's my pledge: make me the nominee, and you'll get sick and tired of seeing me because I'm going to come back and back and back to help us protect Doug Jones," Swalwell, who was speaking without a microphone, said before his voice was muffled by claps and cheers from the crowd.
Print this piece
Opponents accuse Tuberville of supporting amnesty for undocumented immigrants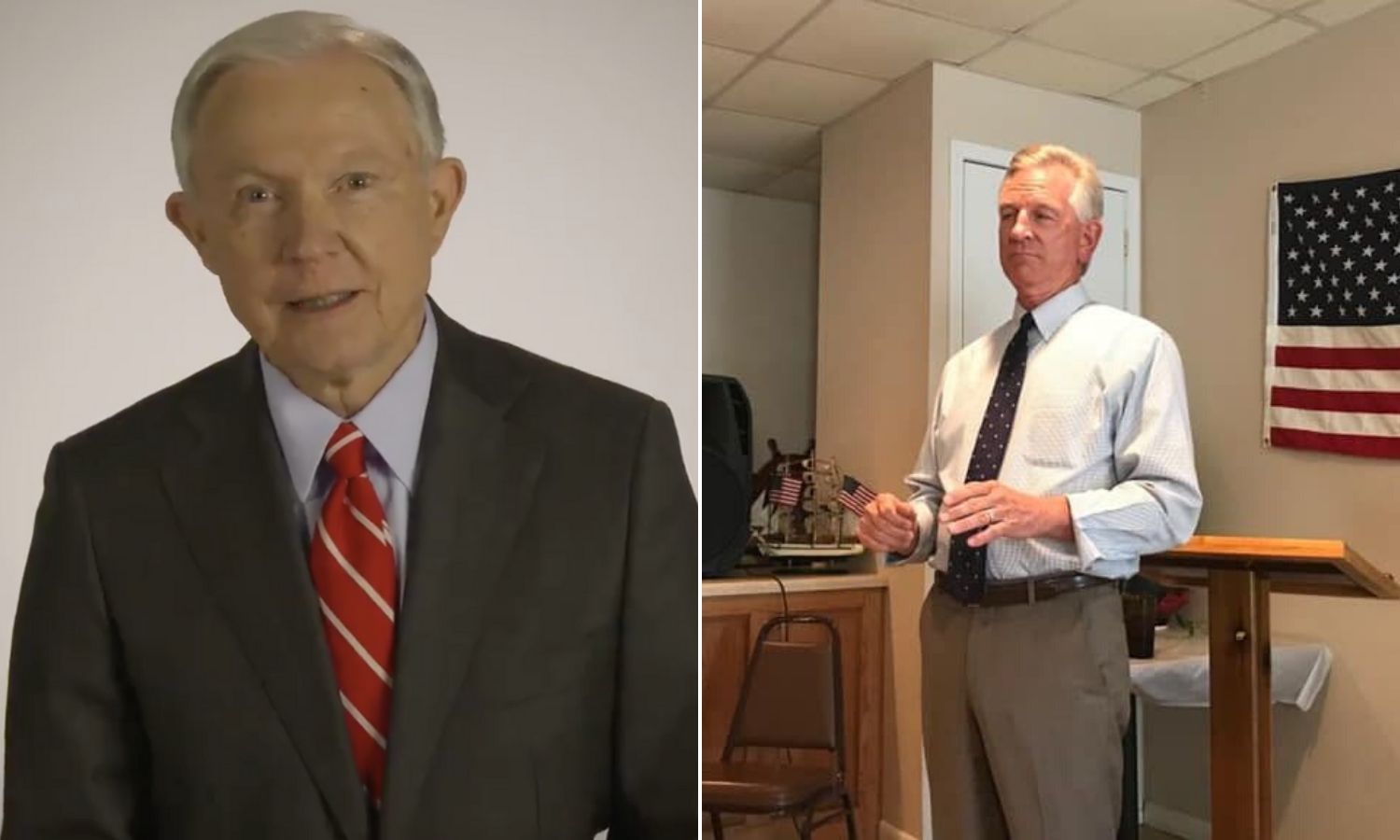 The Senate campaign is heating up as the top three candidates are all going negative. Former Auburn head football coach Tommy Tuberville has attacked Congressman Bradley Byrne (R-Montrose) and former Attorney General and Senator Jeff Sessions of being career politicians. Both Byrne and Tuberville have attacked Sessions for not having adequately served President Donald J. Trump (R) while Attorney General. Byrne has even attacked Tuberville's coaching abilities. The latest attacks on Tuberville accuse him of supporting amnesty for illegal aliens. Sessions even accused Tuberville of being a "tourist."
Wednesday, Sessions announced a new television ad called "Tuberville for Amnesty."
Byrne and Tuberville point to an August speech by Coach Tuberville when he said: "There are people coming across the border that need jobs… and we want them to come over here… Let em' come in and become citizens like we all became citizens."
The Tuberville campaign called the attack "fake news" on Twitter.
Sessions' campaign manager Jon Jones said, "Tuberville is claiming that his own words are 'fake news.' All of them? Tommy Tuberville needs to read the transcript. It is clear that Tuberville supports immigration amnesty, and he is attempting to trick Alabama voters to believe otherwise. In contrast, Jeff Sessions has done more than just say he wants to fix the border – he has already worked alongside President Trump to stop illegal immigration."
The new Sessions ad reads: "Tuberville is trying to trick you, hiding his support for immigration amnesty." Then plays an audio clip of the Tuberville comment from August
Tuesday, Byrne told reporters in Trussville: "I can tell you right now this issue about Tommy Tuberville's position on amnesty is a key issue. And so we're going to keep telling people about his position on that and let him explain why he doesn't think that's amnesty."
"Let em' come in and become citizens like we all became citizens," Tuberville is quoted in the ad.
Tuberville has denied supporting amnesty and says that he supports President Trump's immigration agenda.
The Sessions ad further charges: "And Tuberville's not even from Alabama, he's a tourist here. He lives, pays taxes and even votes in Florida."
On Tuesday, the Tuberville campaign responded with an attack ad of their own.
"The career politicians are desperate to hang on to their paychecks and power, so they have started airing negative ads full of false attacks and baseless distortions," Tuberville said. "Our new commercial allows us to respond with some hard truths about which candidate wants to drain the D.C. swamp and is tough enough to actually help President Trump get the job done."
The Tuberville ad has Byrne with former Secretary Hillary Clinton and Sessions with Congressman Adam Schiff (D-California) who led the impeachment effort against President Trump. The ad even connects Sessions and Byrne with Sen. Mitt Romney (the only Republican in either House of Congress who found that the President did anything wrong.)
State Representative Arnold Mooney, former Chief Justice Roy Moore, Ruth Page Nelson, and businessman Stanley Adair are also running for the Republican nomination for the Senate seat currently held by Doug Jones (D).
The Republican primary is March 3.
Print this piece