Swalwell won't write off the chances of a Democratic candidate winning Alabama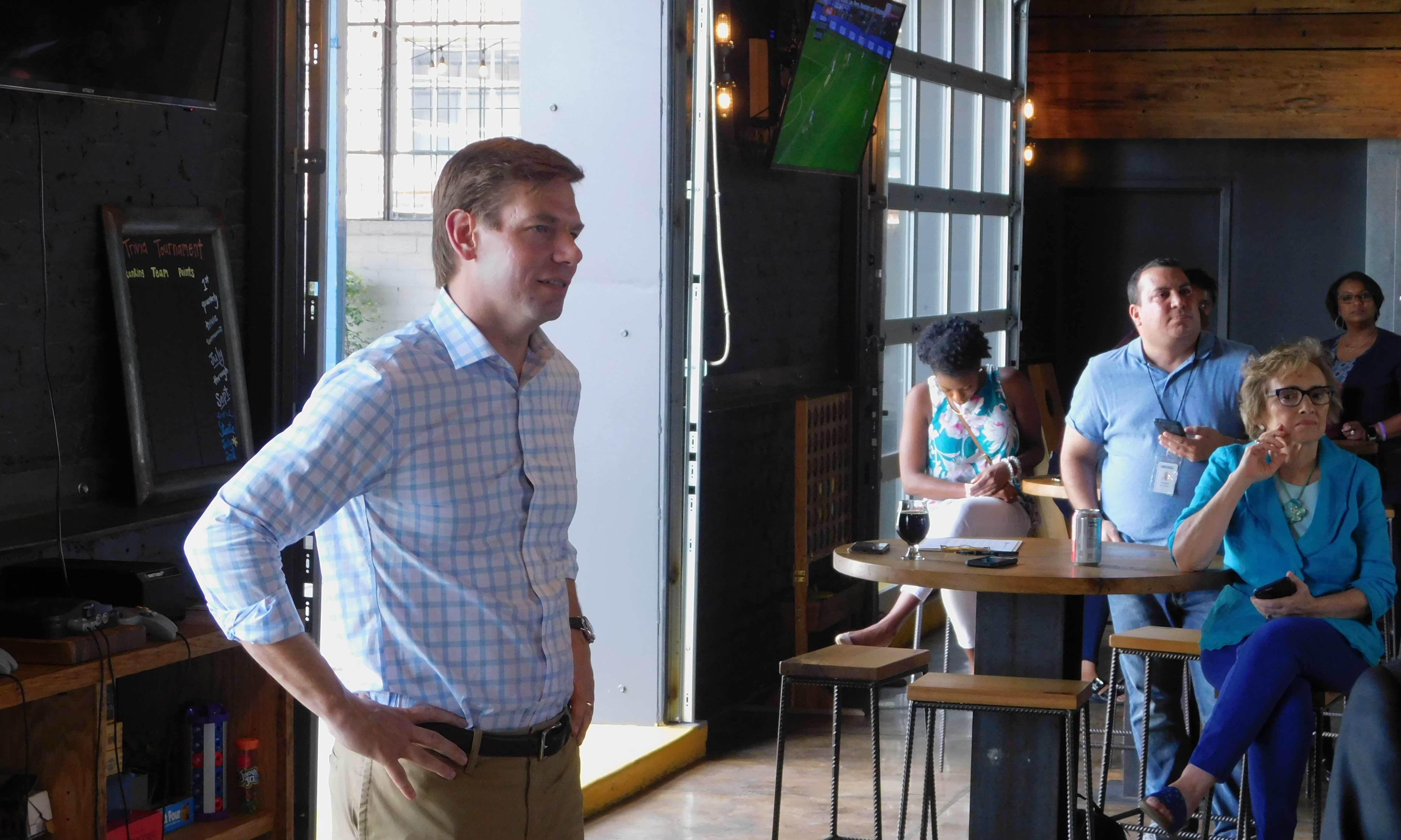 You may not have heard of him, but he's hopeful for his chances in the 2020 presidential election.
Congressman Eric Swalwell was recently announced as one of many candidates to reach the Democratic presidential debate stage. Thursday afternoon, the California representative made a stop at Birmingham District Brewing Co. to meet with the Alabama Young Democrats.
He was introduced by Terri Chapman, executive vice president of the Alabama Young Democrats, who called Swalwell a "true young Democrat" — a label which the 38-year-old lives up to — before giving the floor to the candidate.
"You gave me hope," Swalwell said. "You gave the whole country hope in December 2017."
The crowd cheered. The special election of Sen. Doug Jones shined a light on a Democratic base in Alabama that gives more incentive for candidates like Swalwell to campaign in Alabama.
"I don't want to write off the chances of a Democratic president winning in [Alabama]," Swalwell later said.
During his 20 minute speech, he rattled off the various hot-button issues that beset the country: student loan debt, the healthcare crisis, women's health and abortion rights and most notably gun violence, the central issue of Swalwell's campaign.
"We were in this cycle of grief, loss, anger, 'thoughts and prayers' from Washington — as an alibi for doing nothing," Swalwell said.
The crowd of roughly 50 people, Young Democrats and Democrats young at heart alike, stayed silent, some nodding in agreement. The breaking point, Swalwell said, was the shooting in Parkland, Florida.
The reaction to the Parkland tragedy created momentum for the discussion of gun ownership and violence, and now Swalwell is pushing for serious reforms. He spoke about his plan to implement universal background checks, to invest in additional safety in schools and to ban and buy back assault-style rifles.
"I'm running for president because I believe in you. I believe in the activists that showed up [after Parkland]. I believe in the new Congress that we have that we can say 'enough is enough,' and that we love our kids, and we love each other more than we love our guns," he said.
Richard Newton, a Birmingham attorney, said he was impressed by Swalwell and specifically by how much he cared about and has thought about rural America. When answering questions from the crowd, Swalwell mentioned expanding rural broadband and investing in education and infrastructure in rural America.
The Rural Caucus Secretary of the Alabama Young Democrats Justin Cosby said he likes Swalwell. However, he has some difficulty when considering the electability of the Congressman.
"Because at the end of the day, my question is, 'Is this candidate able to beat Donald Trump one-on-one in the election process?'" Cosby said. "Poor electability is what caused Cosby, who was a political science major in college, to jump ship on Bernie Sanders' 2016 presidential campaign and support Hillary in the Democratic primaries."
At the end of his speech, Swalwell spoke about keeping Jones in his Senate seat with the same intensity he spoke of seeking the Democratic nomination.  
"Here's my pledge: make me the nominee, and you'll get sick and tired of seeing me because I'm going to come back and back and back to help us protect Doug Jones," Swalwell, who was speaking without a microphone, said before his voice was muffled by claps and cheers from the crowd.
Will Smith, Beth Kellum in GOP runoff for Court of Criminal Appeals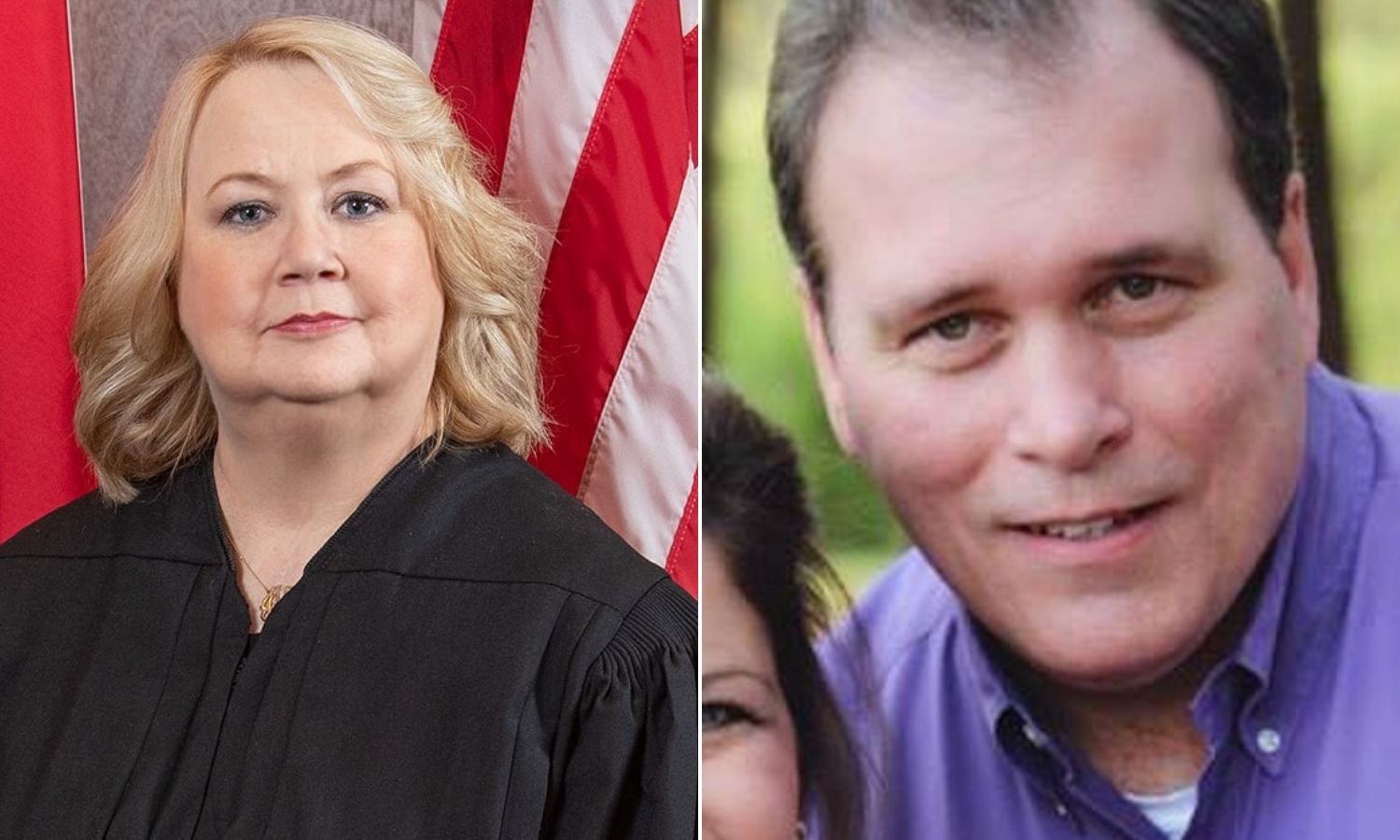 Voters will head to the polls Tuesday to vote in their party primary runoffs. The Democrats do not have a statewide race in a primary runoff. The Republicans have two. The Senate race between former Auburn football coach Tommy Tuberville and former Sen. Jeff Sessions is the one that is getting all the attention, but the GOP also has a hard-fought battle for Alabama Court of Criminal Appeals Judge Place 2.
There incumbent Beth Kellum faces challenger Will Smith. Both campaigns have been working to sway undecided Republicans to their side in the days before the election. The winner of Tuesday's Republican runoff will be the next Place #2 Judge since there is no Democrat or Independent candidate on the ballot in November.
"Alabama needs a judge with experience, conservative values, intelligence, and courage representing each of them on the Court of Criminal Appeals. Judge Beth Kellum has and will continue to fight to uphold the law and respect the constitution when re-elected!" the Kellum campaign wrote on social media.
William "Will" Smith is a Florence attorney and former Lauderdale County Commissioner.
"Conservative grassroots Alabama political organizations have spoken. I am their conservative choice," Smith claimed in a statement. "I have been endorsed by the two largest Republican groups in Alabama as well as other conservative groups throughout the state because I am a Christian, a conservative and a family man."
"I am running for the Court of Criminal Appeals because I have the legal experience of practicing law in Alabama for over a quarter of a century, the conviction to follow the rule of law, and I am a constitutional conservative," Smith added.
The Kellum campaign wrote: "Experienced Judge Beth Kellum serves the people of Alabama on the Court of Criminal Appeals. The Court hears all appeals of felony and misdemeanor cases, including violations of city ordinances and all post-conviction writs in criminal cases."
In the March 3rd Republican primary Kellum received the most votes by a margin of 43 percent to 37 percent for Smith.
"Our campaign message really resonated with primary voters and it is amazing we were within 6 percentage points of the incumbent despite being outspent over 15 to 1," Smith said. "While I was outspent, I was not outworked. I traveled to the 4 corners of Alabama visiting almost 60 counties during the 60-day primary."
Will and his wife, Laura, reside in Killen with their seven-year-old daughter, Angel Joy, who has autism. The Smiths are active members of Greenhill First Baptist Church. Will has served as a Sunday school teacher, international missions worker and Upward basketball coach. Smith has a bachelor's degree and a master's degree from the University of North Alabama and a law degree from Sanford's Cumberland School of Law in 1992 where he received the American Jurisprudence Award for receiving the highest grade in Criminal Procedure. Smith is licensed to practice law in Alabama, Georgia, and before the United States Supreme Court. He operates a full service law firm representing clients from all walks of life in both civil and criminal matters including appeals in both the Alabama and federal appeals systems. Smith is a fifth generation Lauderdale County resident.
Kellum is an Alabama native She grew up in Vance in Tuscaloosa County. She graduated from Brookwood High School in 1977. She has a bachelor's degree from the University of Alabama and a law degree from the University of Alabama School of Law.
Judge Kellum was hired in 1985 by Attorney General Charles Graddick as an Assistant Attorney General. She worked in the criminal appeals division where she primarily prosecuted appeals before the Court of Criminal Appeals and the Alabama Supreme Court. She later worked as a staff Attorney for the Court of Criminal Appeals from 1987 until 1990. Kellum went into private practice with the Montgomery law firm of Robison & Belser, P.A., working on a wide variety of civil and criminal cases in state and federal courts. In 1997 to went back to the Court of Criminal Appeals to work as a Senior Staff Attorney for the newly-elected Judge Jean Brown. She worked as a Senior Staff Attorney for the Alabama Supreme Court from 1999 until 2001, before returning to the Court of Criminal Appeals as the Senior Staff Attorney for then newly-elected Judge Kelli Wise.
Kellum was elected to the Court of Criminal Appeals in November 2008 and was re-elected in 2014. She is currently seeking her third term on the Court.
Judge Kellum is a member of the First Baptist Church of Montgomery. She has served as a docent at the Montgomery Museum of Fine Arts, and is a member of a number of professional, civic, and political organizations.
The polls open at 7:00 am on Tuesday and close at 7:00 pm. You must be a registered voter, vote at your assigned polling place and have a valid photo ID in order to participate in any Alabama election. It is too late to apply for an absentee ballot. If you already have an absentee ballot you must get it in the mail or turn it in to your courthouse before the close of the business day on Monday.