Randall Shedd awarded Alabama Agribusiness Council's legislator of the year award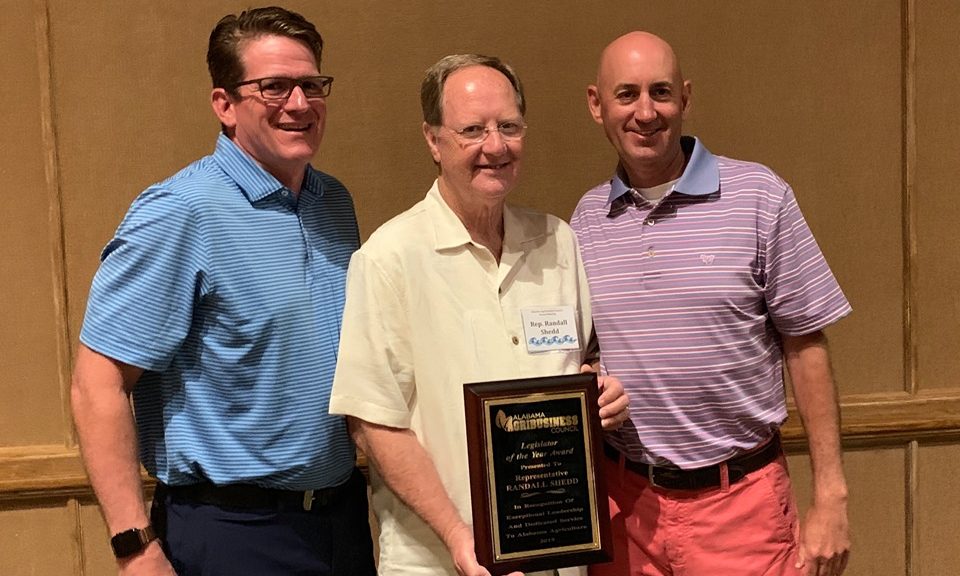 The Alabama Agribusiness Council awarded their legislator of the year award to State Rep. Randall Shedd, R-Cullman, at their annual conference on Monday.
"I appreciate the Alabama Agribusiness Council presenting me with their 'Legislator of the Year' award last night at their annual conference," Shedd said on social media. "Agribusiness is Alabama and my district's largest industry, and it has always been my goal that my voting record reflects the needs and interests of my district. Rural Alabama had a good year this legislative session."
Nicole Jones is a prominent economic developer and Alabama Agribusiness Council member.
"Rep. Randall Shedd worked diligently with others to bring rural broadband to the state of Alabama," Jones said. "His recognition is well-deserved."
Shedd sponsored rural broadband legislation that passed the Legislature and was signed into law by Gov. Kay Ivey.
The Alabama Agribusiness Council was a prominent member of the Alabama Rural Broadband Coalition, which advocated for that legislation.
"We believe having a reliable internet connection is not only a basic personal necessity in today's society, but high-speed broadband access in rural Alabama could bring an array of benefits related to education, telemedicine, economic development and agriculture," the ARBC said in a statement.
The Alabama Agribusiness Council presented their Distinguished Service Award to Congressman Robert Aderholt, R-Haleyville.
Aderholt was first elected in 1996 and is serving in his 12th term representing Alabama's Fourth Congressional District. Aderholt is a member of the powerful House Committee on Appropriations, which has jurisdiction over funding the operation of the federal government. He serves as ranking member of the Subcommittee on Commerce, Justice and Science and supports greater transparency, accountability and oversight to the appropriations process. Aderholt also serves as a member of the Agriculture and Rural Development Subcommittee and the Defense Subcommittee.
The Alabama Agribusiness Council said Aderholt has been extremely supportive of agriculture, including initiatives to expand irrigation and control feral swine as well as supporting Alabama's three land grant institutions through securing federal research funding. Aderholt's district ranks fourth in poultry production.
"Agriculture is part of our heritage and plays a dominant role in Alabama's economy," Jones said. "Alabama ranks second in the United States in freshwater fish production, third in poultry production, third in peanut production and in the top-10 tier for cotton production."
The Heritage Award went to Jack Odle. Odle grew up on a diversified farm in east-central Kansas. He received his B.S. in journalism with minors in animal science and agriculture economics from Kansas State University. In 1976, he joined Progressive Farmer and was named editor in 1985. Odle served on the Alabama Agribusiness Council Executive Committee and Board of Directors and was very involved in the formation and development of the Council. One of his many contributions to AAC was the publication of Agri-business Accents, a newsletter highlighting Alabama agriculture.
Leigha Cauthen is the executive director of the Alabama Agribusiness Council.
"The Alabama Agribusiness Council Annual Meeting covered topics that have made nationwide and global news including agricultural economics, international trade, EPA regulations, agritourism, the need to attract young folks to the farming industry, census information and more," Jones said.
John Gilliland provided a glimpse into the latest news out of Washington, D.C. as it impacts agriculture. This presentation focused on foreign trade developments, legislation, 2020: Census, Redistricting and Elections including a behind the scene look into the political climate in D.C.
Cynthia Price, with USDA NASS, spoke on the results of the 2017 Census of Agriculture for Alabama and explained how to access the full report. New items released in this Census include information on military service, food marketing practices and on-farm decision making. The full Census report includes millions of data points, including number of farms, land in farms, total value of production, demographics and more at the national, state and county levels.
Ken Kelley, with ACES, spoke on new and emerging opportunities for Alabama Agriculture. Recent low commodity prices have Alabama agricultural producers seeking new opportunities for profitability. This discussion centered around potential crops and business opportunities for Alabama producers. Topics covered included emerging crops such as hemp and carinata and the opportunities and problems associated with them.
Ellen Zimmerman, with the American Seed Trade Association, spoke on gene editing and innovation. ASTA and the Biotechnology Innovation Organization have launched Innovature, a new platform to spark a thoughtful dialogue around innovation in food and agriculture, with an initial focus on gene editing. The objective is to grow awareness, acceptance and adoption of gene editing in food and agriculture and seed positive ground for future innovations to benefit our planet, our health and our food.
Tal Coley, with AmericanHort, spoke on various industry focus points in Washington, D.C. to include H-2 labor programs, trucking regulations, such as Hours of Service changes and the ELD Ag Exemption, as well as recent court cases and legislation on pesticides.
Taylor Pursell, with Pursell Agri-Tech, spoke on next generation crop nutrition for Alabama Agriculture. The Pursell family has been involved in the agricultural and specialty fertilizers business since 1904 and has long been a pioneering developer of premium controlled-release fertilizer technologies. Pursell Agri-Tech is based in Sylacauga and is committed to expanding on this legacy by developing and commercializing sustainable, next generation, controlled-release fertilizer and coating technologies that economically increase agricultural output and productivity while reducing the impact on the environment.
The 2019 Alabama Agribusiness Council annual meeting was June 23 through 25 at the Perdido Beach Resort in Orange Beach.

High chemical levels in water near Decatur landfill concern environmental group, ADEM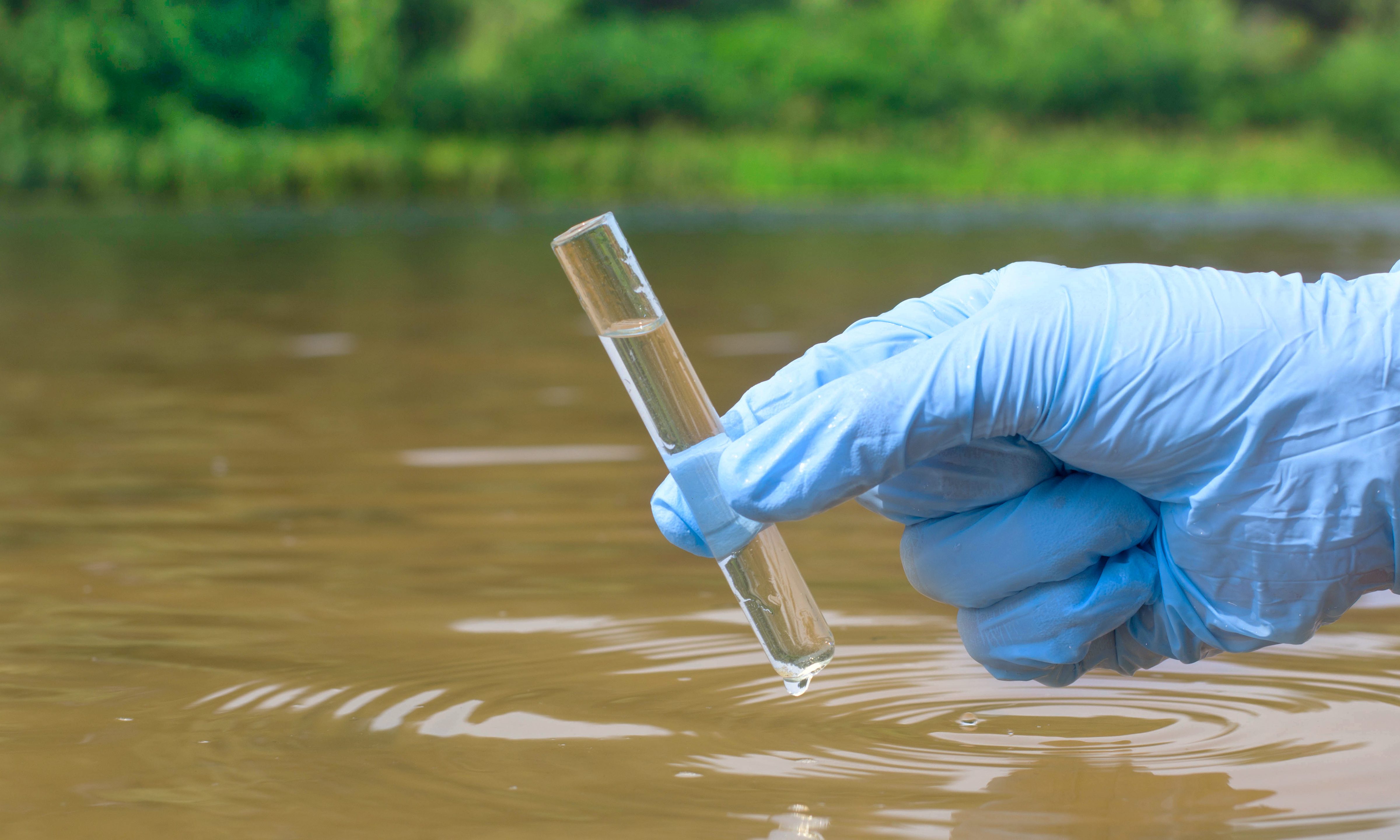 Recent tests of water flowing under an abandoned landfill in Decatur found levels of the chemicals PFAS and PFOS at 51,000 parts per trillion — substantially higher than the 70 parts per trillion the EPA has determined is safe for drinking water — test results obtained by APR show. 
The tests, paid for by the Tennessee Riverkeepers group and conducted on two occasions in the past five months by ALS testing labs, measured chemical levels at the Old Moulton Road landfill site, where water flows directly into Mud Tavern Creek and Flint Creek.
On March 9, testing showed the combined levels of PFAS and PFOS chemicals to be at 49,000 parts per trillion. Two months later, on May 5, the results showed levels of 51,000. Those chemicals, used in manufacturing by 3M, which has a plant near Decatur, have been linked to cancer and various other health issues, particularly in pregnant women. 
"These are alarming levels, and where they're being discharged is also of concern to Riverkeeper because they are being discharged into a part of the county that we thought was not as contaminated," Tennessee Riverkeeper founder David Whiteside said in an interview with WHNT-19 earlier this week. "They're also flowing into the Point Mallard area, and possibly flowing into the drinking water intake because the creek that they're flowing into empties upstream from our drinking water intake."
In a response on Wednesday, the Alabama Department of Environmental Management acknowledged that it is also concerned with the testing results — although the agency also said it was unable to verify the Riverkeepers' test results because it wasn't sure of the protocols — and said it is working with the EPA and others to develop a plan for addressing the chemicals. 
However, ADEM also noted that it is somewhat limited in its possible responses, because the EPA has yet to set acceptable PFAS/PFOS limits for ground water or bodies of water, such as creeks and rivers. (The 70-parts-per-trillion limit is only for drinking water.) Without those limits, ADEM is unable to impose fines or force remediation efforts by 3M or other responsible parties or even issue warnings. 
ADEM spokesperson Lynn Battle said that while the agency hasn't been able to alert nearby residents of increased PFAS/PFOS levels, in this particular case, the area is already under a do-not-eat advisory for fish due to high levels of mercury. 
She said the Department is now working on a much larger and more comprehensive plan for dealing with PFAS/PFOS chemicals. 
"ADEM wants to reassure the public, especially citizens who use our waterways, that we are working to put in place measures which provide the utmost protections for Alabamians and the state's waters and lands in regard to PFAS," Battle said. "Those measures will include remediation and will limit exposure to the compounds now and in the future."
This is not the first incident of the Riverkeeper organization finding and testing old dumping sites in north Alabama, particularly around Decatur. 3M and other companies in the area have faced numerous lawsuits, and Tennessee Riverkeepers currently has a federal lawsuit pending. 
One of the largest concerns about the PFAS/PFOS contaminants is that they could seep into the drinking water, as they did in west Morgan and east Lawrence counties a few years ago. Those issues prompted the water authority in the area to tell people to stop drinking the water. 
Decatur Utilities, which supplies water in the Decatur area, said its testing continues to show only acceptable levels of PFAS/PFOS. In a statement issued to WHNT this week, DU said its levels "have consistently been less than 5 (parts per trillion)."
Battle said ADEM has reviewed DU's submitted, regular testing results for drinking water and is comfortable that the water is safe to drink.