Randall Shedd awarded Alabama Agribusiness Council's legislator of the year award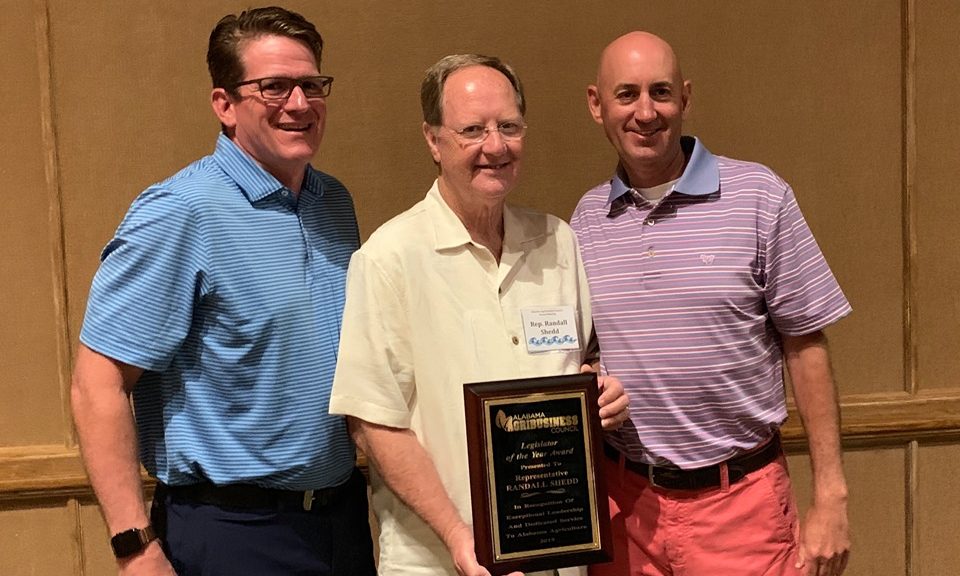 The Alabama Agribusiness Council awarded their legislator of the year award to State Rep. Randall Shedd, R-Cullman, at their annual conference on Monday.
"I appreciate the Alabama Agribusiness Council presenting me with their 'Legislator of the Year' award last night at their annual conference," Shedd said on social media. "Agribusiness is Alabama and my district's largest industry, and it has always been my goal that my voting record reflects the needs and interests of my district. Rural Alabama had a good year this legislative session."
Nicole Jones is a prominent economic developer and Alabama Agribusiness Council member.
"Rep. Randall Shedd worked diligently with others to bring rural broadband to the state of Alabama," Jones said. "His recognition is well-deserved."
Shedd sponsored rural broadband legislation that passed the Legislature and was signed into law by Gov. Kay Ivey.
The Alabama Agribusiness Council was a prominent member of the Alabama Rural Broadband Coalition, which advocated for that legislation.
"We believe having a reliable internet connection is not only a basic personal necessity in today's society, but high-speed broadband access in rural Alabama could bring an array of benefits related to education, telemedicine, economic development and agriculture," the ARBC said in a statement.
The Alabama Agribusiness Council presented their Distinguished Service Award to Congressman Robert Aderholt, R-Haleyville.
Aderholt was first elected in 1996 and is serving in his 12th term representing Alabama's Fourth Congressional District. Aderholt is a member of the powerful House Committee on Appropriations, which has jurisdiction over funding the operation of the federal government. He serves as ranking member of the Subcommittee on Commerce, Justice and Science and supports greater transparency, accountability and oversight to the appropriations process. Aderholt also serves as a member of the Agriculture and Rural Development Subcommittee and the Defense Subcommittee.
The Alabama Agribusiness Council said Aderholt has been extremely supportive of agriculture, including initiatives to expand irrigation and control feral swine as well as supporting Alabama's three land grant institutions through securing federal research funding. Aderholt's district ranks fourth in poultry production.
"Agriculture is part of our heritage and plays a dominant role in Alabama's economy," Jones said. "Alabama ranks second in the United States in freshwater fish production, third in poultry production, third in peanut production and in the top-10 tier for cotton production."
The Heritage Award went to Jack Odle. Odle grew up on a diversified farm in east-central Kansas. He received his B.S. in journalism with minors in animal science and agriculture economics from Kansas State University. In 1976, he joined Progressive Farmer and was named editor in 1985. Odle served on the Alabama Agribusiness Council Executive Committee and Board of Directors and was very involved in the formation and development of the Council. One of his many contributions to AAC was the publication of Agri-business Accents, a newsletter highlighting Alabama agriculture.
Leigha Cauthen is the executive director of the Alabama Agribusiness Council.
"The Alabama Agribusiness Council Annual Meeting covered topics that have made nationwide and global news including agricultural economics, international trade, EPA regulations, agritourism, the need to attract young folks to the farming industry, census information and more," Jones said.
John Gilliland provided a glimpse into the latest news out of Washington, D.C. as it impacts agriculture. This presentation focused on foreign trade developments, legislation, 2020: Census, Redistricting and Elections including a behind the scene look into the political climate in D.C.
Cynthia Price, with USDA NASS, spoke on the results of the 2017 Census of Agriculture for Alabama and explained how to access the full report. New items released in this Census include information on military service, food marketing practices and on-farm decision making. The full Census report includes millions of data points, including number of farms, land in farms, total value of production, demographics and more at the national, state and county levels.
Ken Kelley, with ACES, spoke on new and emerging opportunities for Alabama Agriculture. Recent low commodity prices have Alabama agricultural producers seeking new opportunities for profitability. This discussion centered around potential crops and business opportunities for Alabama producers. Topics covered included emerging crops such as hemp and carinata and the opportunities and problems associated with them.
Ellen Zimmerman, with the American Seed Trade Association, spoke on gene editing and innovation. ASTA and the Biotechnology Innovation Organization have launched Innovature, a new platform to spark a thoughtful dialogue around innovation in food and agriculture, with an initial focus on gene editing. The objective is to grow awareness, acceptance and adoption of gene editing in food and agriculture and seed positive ground for future innovations to benefit our planet, our health and our food.
Tal Coley, with AmericanHort, spoke on various industry focus points in Washington, D.C. to include H-2 labor programs, trucking regulations, such as Hours of Service changes and the ELD Ag Exemption, as well as recent court cases and legislation on pesticides.
Taylor Pursell, with Pursell Agri-Tech, spoke on next generation crop nutrition for Alabama Agriculture. The Pursell family has been involved in the agricultural and specialty fertilizers business since 1904 and has long been a pioneering developer of premium controlled-release fertilizer technologies. Pursell Agri-Tech is based in Sylacauga and is committed to expanding on this legacy by developing and commercializing sustainable, next generation, controlled-release fertilizer and coating technologies that economically increase agricultural output and productivity while reducing the impact on the environment.
The 2019 Alabama Agribusiness Council annual meeting was June 23 through 25 at the Perdido Beach Resort in Orange Beach.
Opinion | Capping Alabama Power's ash pond might be the best bad option
When you look at the actual, real-life options for this stuff — and I can't believe I'm going to say this — but the plan from Alabama Power seems to be a fairly good one.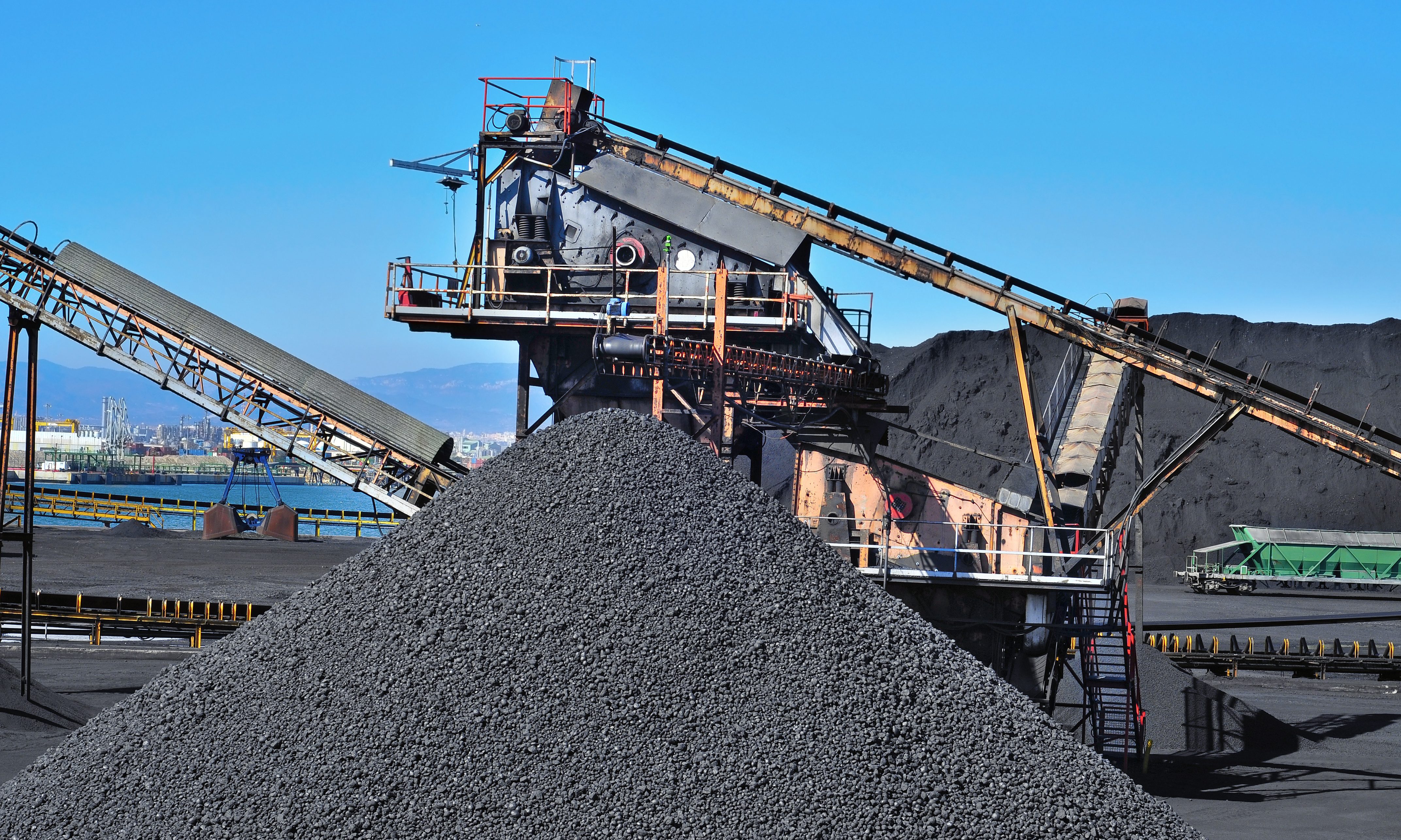 It would be wonderful if coal ash didn't exist. Had humans never figured out that you could blast the top off a mountain or send desperate men deep into the earth to find coal to be burned to produce power, I'm not sure we wouldn't be substantially better off. Just think of the environmental damage and human deaths that we could prevent. 
But that's not real life. 
In real life, we live by the kilowatt. And as a result, we're left with tons and tons and tons of coal ash — the leftover, toxic remnants of all that coal we've burned to keep all those lights on. And something has to be done with all of it. 
Exactly what we want to do with it is the dilemma facing Alabama Power and state and federal regulators. And there seems to be no answer that doesn't tick off somebody. 
You can't just leave it in wet ash ponds anymore, because the EPA has essentially — and very appropriately — made that illegal. 
You can't cap it in place — a process by which the water is sucked out and cleaned and the remaining coal ash is covered with a synthetic liner and then with synthetic turf — because environmental groups say that still leaves a risk that some contaminants will leach into the groundwater. 
You can't haul it away to a landfill — where it would be dumped into a lined pit and later covered — because nearby residents hate it and environmental groups say the dumping can lead to airborne contamination that sickens nearby residents. 
So, what do you do? 
No, really, I'm asking. What should we do with an ash pond like the one at Alabama Power's Plant Barry? 
Plant Barry has been a major point of contention between the power giant and environmental groups, particularly the Mobile Baykeeper and the Southern Environmental Law Center, for years now. But the conflict, in this particular instance, isn't quite as simple as the usual cost-v-environment arguments that usually dominate these situations. 
Barry's ash pond currently holds 21 million tons of coal ash. That's a big ash pond. 
It is located just feet from the Mobile River, separated by a 21-foot dike. For years, environmentalists have predicted that the pond is one good hurricane away from a major environmental disaster. (That has proven to be mostly hyperbole. Hurricane Sally pushed the Mobile River level up 3 feet. That's 18 feet below the top of the existing dike, and the water has never been within 15 feet of the top.)
Alabama Power has maintained that the coal ash is as safe as a big, arsenic-laden baby and that no weather event in 55 years has disturbed the material stored at the site. But the company, after recent EPA law changes, is moving to cap in place the pond — a process it says will virtually eliminate the potential for contamination. 
Not good enough, the environmental groups have said. They want the coal ash moved to some other location. 
What location? The moon, preferably. Or some other place where humans will never come in contact with it.
However, when you look at the actual, real-life options for this stuff — and I can't believe I'm going to say this — but the plan from Alabama Power seems to be a fairly good one. 
Look, I know that several heads just exploded, but hold off on the emails and angry tweets for a minute or two and let me explain. 
First, coal ash is a problem no matter where it's stored or how it's stored. Is placing it in a lined landfill at another location safer than capping it in place at Plant Barry? Possibly, but several people — people who are experts in the field — disagree about the overall danger and about the types of dangers related to each option. 
For example, capping the ash in place poses a higher risk that toxins could, at some point in the future, leach into the groundwater. APCO officials, and their hired engineers and third-party experts, insist that the new engineering improvements made to the site will significantly reduce that likelihood, making it almost equally as safe as a lined site. 
The plan APCO has presented has been approved by the EPA and is being monitored by ADEM.
But let's say that APCO decided to go with the approach that some environmental groups want — trucking all 21 million tons of coal ash, after it's been dried out, to a lined landfill site somewhere else. (And no one has a good thought on where that somewhere else is, by the way.)
That would mean, according to APCO's estimates, more than 30 years of moving this stuff, with semi-trucks leaving out of the site every six minutes and traveling to wherever. Along county and state roads. And then dumping this stuff in another community that I can guarantee you does not want it. 
Pardon me, but sending diesel trucks up and down the roads for three decades (or two decades, if we go by most optimistic projections) doesn't sound very environmentally friendly either. Nor does it sound like a solution that will prevent complaints. It also sounds like a blown tire or missed turn away from being an environmental disaster somewhere else. 
Capping this ash in place at Barry will move it another 750 yards away from the Mobile River. It will result in the dike being raised another three feet, eliminating the risk of a flood-caused disaster by anything other than a 1,000-year storm. The site will feature new engineering to cut off groundwater leaching and it will be monitored continuously for leaking. 
That all sounds pretty reasonable. 
Look, I'm not recommending that APCO get an environmental award or anything here, but at the same time, I think it's OK to say that they've chosen the best of several bad options.