McClendon says Trump's Fourth of July celebration was great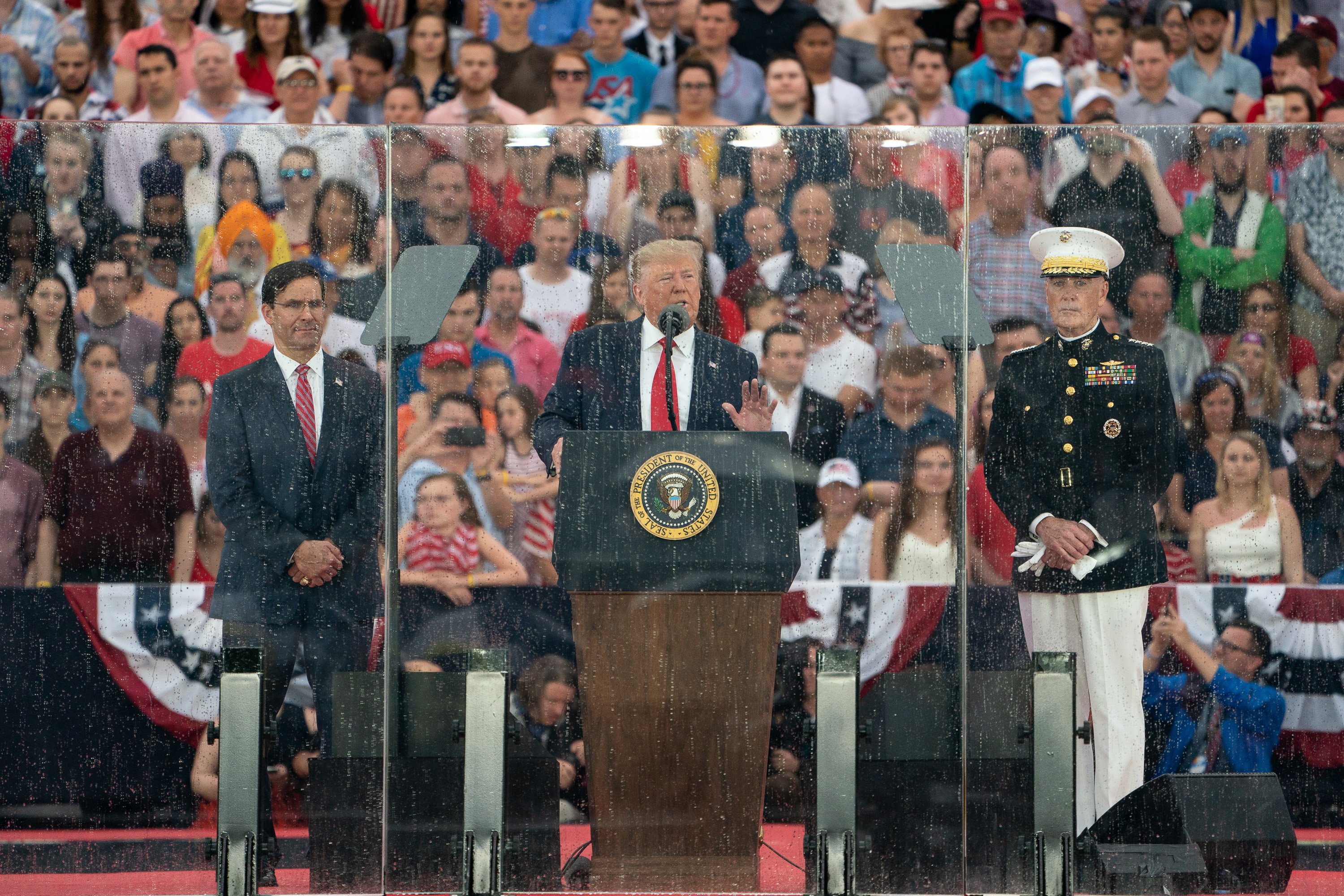 President Donald Trump has been heavily criticized by his political opponents and by some media outlets for everything from his North Korea policy to his trade policy to the role that his daughter, Ivanka Trump Kushner, plays in the administration.
The president's many critics even criticized his decision to include a handful of tanks in this year's Fourth of July parade in Washington. This year's event theme was "A Salute to America." Some columnists, even some here in Alabama, criticized the parade and urged Americans not to watch it.
One state senator, however, was quick to praise the event and the Trump administration. State Sen. Jim McClendon, R-Springville, said the event was great.
"Thanks President Trump, that was great," McClendon said. "Also, thanks for a record-high stock market, record-low unemployment and renewed respect around the world for the mightiest nation this earth has ever known."
The stock market had its best June in history, and the nation has the lowest unemployment since 1969. The Council of Economic Advisers report that the nation added 242,000 jobs in June alone. The June report by the Bureau of Labor Statistics indicates that robust jobs growth is coupled with consistently strong wage growth. The nominal average hourly earnings rose by 3.1 percent over the past 12 months, marking the 11th straight month that year-over-year wage gains were at or above 3 percent. Prior to 2018, nominal average hourly wage gains had not reached 3 percent since April 2009. The inflation rate last year was just 1.5 percent.
McClendon did not forget the president's many critics.
"And all you never Trumpers out there, your unrelenting negativity is so so tiresome," McClendon said. "Go Trump."
The event in Washington D.C. had a high turnout.
"Today, we come together as one nation with this very special salute to America," Trump said. "We celebrate our history, our people and the heroes who proudly defend our flag — the brave men and women of the United States Military."
"As we gather this evening in the joy of freedom, we remember that we all share a truly extraordinary heritage," Trump added. "Together, we are part of one of the greatest stories ever told: the story of America. It is the epic tale of a great nation whose people have risked everything for what they know is right and what they know is true. It is the chronicle of brave citizens who never give up on the dream of a better and brighter future. And it is the saga of 13 separate colonies that united to form the most just and virtuous republic ever conceived. On this day, 243 years ago, our Founding Fathers pledged their lives, their fortunes and their sacred honor to declare independence and defend our God-given rights."
"That same American spirit that emboldened our founders has kept us strong throughout our history," Trump said. "To this day, that spirit runs through the veins of every American patriot. It lives on in each and every one of you here today. It is the spirit of daring and defiance, excellence and adventure, courage and confidence, loyalty and love that built this country into the most exceptional nation in the history of the world, and our nation is stronger today than it ever was before."
"We are going to be back on the moon very soon. And someday soon, we will plant the American flag on Mars," Trump added. "It's happening."
"From our earliest days, Americans of faith have uplifted our nation," Trump continued. "This evening, we are joined by Sister Deirdre Byrne. Sister Byrne is a retired Army surgeon who served for nearly 30 years. On Sept. 11, 2001, the sister raced to Ground Zero. Through smoke and debris, she administered first aid and comfort to all. Today, Sister Byrne runs a medical clinic serving the poor in our nation's capital. Sister, thank you for your lifetime of service. Thank you. Our nation has always honored the heroes who serve our communities: the firefighters, first responders, police, sheriffs, ICE, Border Patrol and all of the brave men and women of law enforcement."
"Our warriors form a hallowed roll call of American patriots, running all the way back to the first souls who fought and won American independence," Trump stated. "Today, just as it did 243 years ago, the future of American freedom rests on the shoulders of men and women willing to defend it. We are proudly joined tonight by heroes from each branch of the U.S. Armed Forces, including three recipients of the Congressional Medal of Honor. Thank you. Thank you. They, and thousands before us, served with immense distinction, and they loved every minute of that service. To young Americans across our country, now is your chance to join our military and make a truly great statement in life. And you should do it."
"The future belongs to the brave, the strong, the proud and the free," Trump said. "We are one people chasing one dream and one magnificent destiny. We all share the same heroes, the same home, the same heart, and we are all made by the same Almighty God."
To read President Trump's full remarks click here.
Jones applaudes inclusion of his anti-money laundering legislation in defense bill
The bill aims to combat illicit financial activity by terrorists, drug traffickers and other criminals.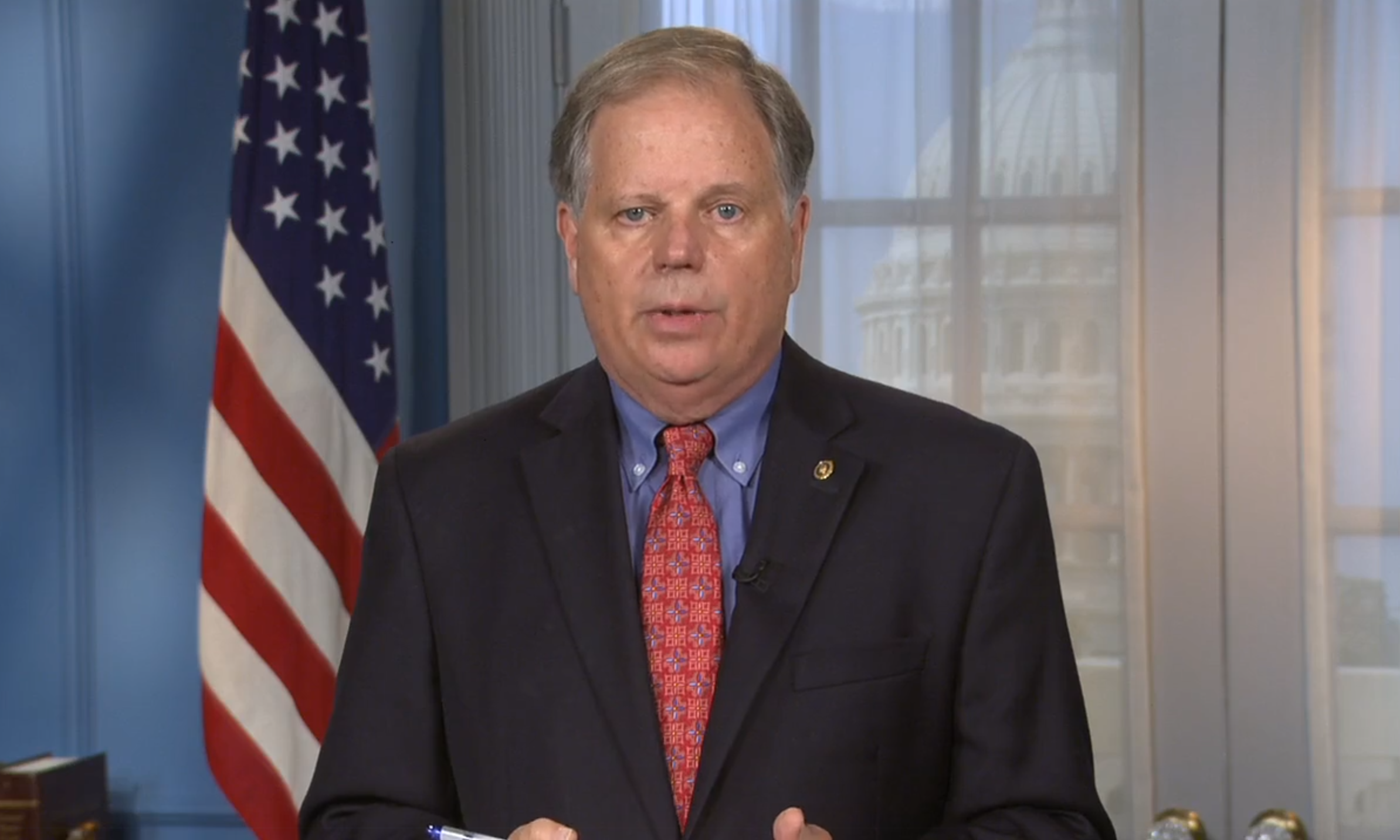 U.S. Sen. Doug Jones, D-Alabama, and a bipartisan group of three other senators applauded the inclusion of their anti-money laundering legislation in the National Defense Authorization Act. 
Jones and Sens. Mark Warner, D-Virginia, and Mike Rounds, R-South Dakota, in September 2019 introduced their Improving Laundering Laws and Increasing Comprehensive Information Tracking of Criminal Activity in Shell Holdings (ILLICIT CASH) Act which aims to combat illicit financial activity by terrorists, drug traffickers and other criminals. 
"For too long, our anti-money laundering laws haven't kept up with the rapidly evolving methods that criminals and terrorists use for illicit financial activities," Jones said in a statement Thursday. "Our bipartisan bill is the largest comprehensive effort in decades to improve transparency and will give prosecutors, national security officials, law enforcement, and financial institutions the modern tools they need to crack down on money laundering and terrorist financing. Its inclusion in the annual defense bill is a great step forward for the rule of law and for the security of all Americans." 
If approved as part of the NDAA, the ILLICIT CASH Act will require shell companies, which are often used to launder money from criminal enterprises, to disclose their true owners to the U.S. Department of Treasury. It would also improve communication between law enforcement, financial institutions and regulators, according to a press release from Jones's office.
According to research from the University of Texas and Brigham Young University, the U.S. remains one of the easiest places in the world to set up an anonymous shell company. A recent report by Global Financial Integrity found that in every state in the U.S. more information is currently required to obtain a library card than to register a company. 
"To form a company in any state in the U.S., it is not necessary to identify or provide any information about the person(s) who will ultimately be controlling the company. In some cases it isn't even necessary to provide information about who will be managing the company and, where some information about managers (i.e. officers or directors) is required, it is very limited," the report states. 
"Human traffickers, terrorist groups, arms dealers, transnational criminal organizations, kleptocrats, drug cartels, and rogue regimes have all used U.S.-registered shell companies to hide their identities and facilitate illicit activities," the press release reads. "Meanwhile, U.S. intelligence and law enforcement agencies find it increasingly difficult to investigate these illicit financial networks without access to information about the beneficial ownership of corporate entities involved." 
The ILLICIT CASH Act includes the following elements: 
Setting national exam and supervision priorities to improve AML-CFT outcomes and better target federal resources in the effort to identify evolving criminal and national security threats.

Establishing federal disclosure requirements of beneficial ownership information that will be maintained in a comprehensive federal registry, with strict privacy protections, accessible by federal and local law enforcement.

Improving the recruitment and retention of top talent to combat money laundering and terrorism by providing special hiring authority at the Department of Treasury and FinCEN.  

Prioritizing innovation and technology in AML-CFT monitoring and reporting through the establishment of a new Subcommittee on Innovation and Technology, updated guidance on financial technology risk assessments, and a Financial Crimes Tech Symposium.

Facilitating communication and information sharing between FinCEN, national security agencies, law enforcement and financial institutions through the establishment of new programs and reporting mechanisms.  

Requiring law enforcement agencies and regulators to formally review regulations within the Bank Secrecy Act to ensure regulations, guidance, reports and records are highly useful in countering financial crime. 

Requiring streamlined data and real time reporting of suspicious activity reports, and requiring law enforcement to coordinate with financial regulators to provide periodic feedback to financial institutions on their suspicious activity reporting.

Prioritizing the protection of personally identifying information while establishing a clear path for financial institutions to share AML-CFT information for the purposes of identifying suspicious activity.

Preventing foreign banks from obstructing money laundering or terrorist financing investigations by requiring these banks to produce records in a manner that establishes their authenticity and reliability for evidentiary purposes, and compelling them to comply with subpoenas. This legislation also authorizes contempt sanctions for banks that fail to comply and increase penalties on repeat BSA violators. 

Ensuring the inclusion of current and future payment systems in the AML-CFT regime by updating the definition of "coins and currency" to include digital currency.