Sewell criticizes Trump Administration and Texas for continued challenges against Obamacare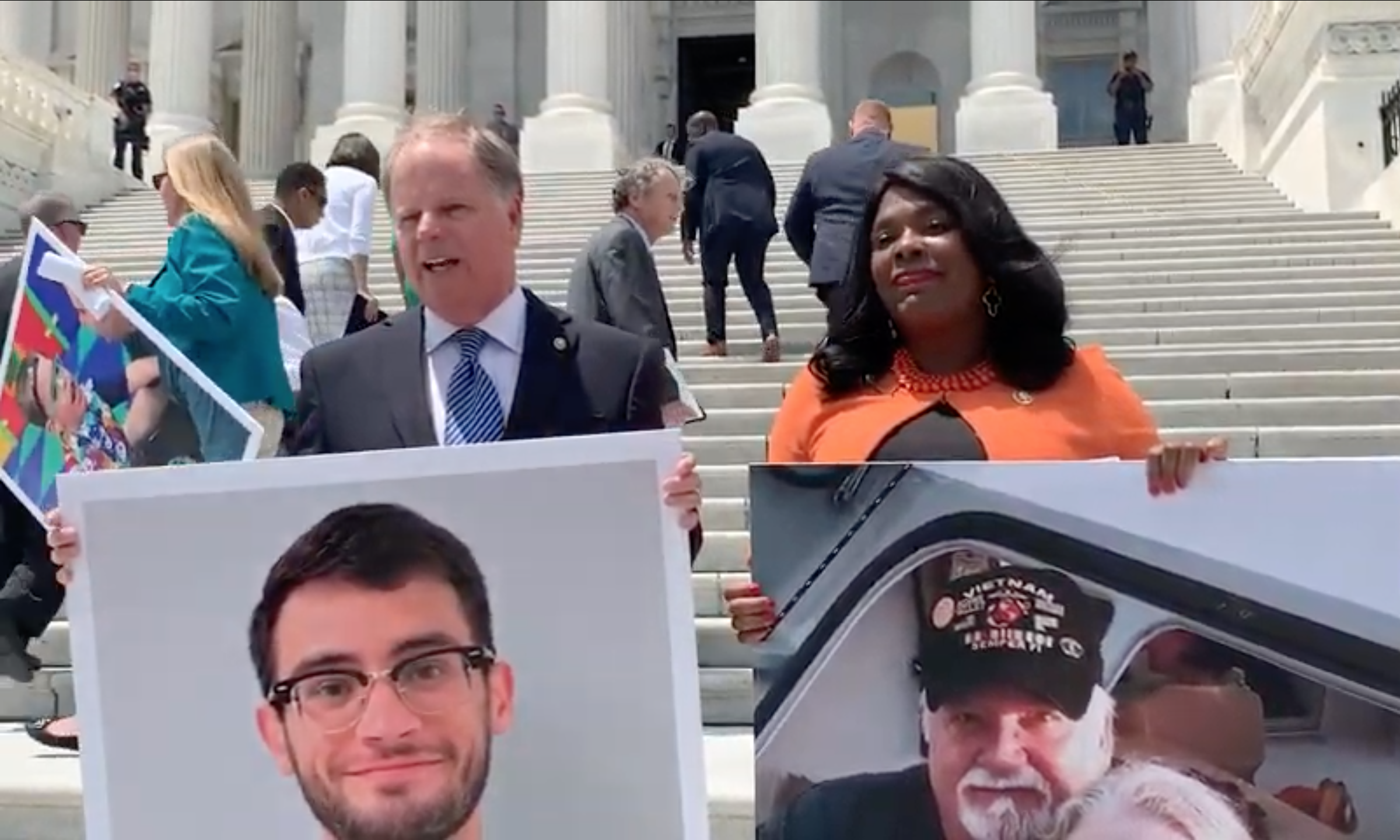 Tuesday, the Fifth Circuit Court of Appeals heard oral arguments in the Texas v. United Sates lawsuit, challenging key pillars of the controversial Patient Protection and Affordable Care Act of 2010.
Tuesday, Congresswoman Terri A. Sewell, D-Selma, slammed the Trump Administration's latest efforts to strike down protections for people with pre-existing conditions as well as every benefit and protection provided by the Affordable Care Act.  Sewell joined U.S. Senator Doug Jones at Tuesday's rally.
"Let me be clear: Republicans are going after Alabamians' health care without any plan to replace it," Rep. Sewell said. "If the Trump Administration has its way in court, nearly two million Alabamians with pre-existing conditions will lose critical protections, insurance companies will be able to charge women more than men and health insurance costs will go up for all Alabamians, even those with employer-based coverage."
"Meanwhile, House Democrats have already passed legislation to strengthen protections for people with pre-existing conditions and lower health costs and prescription drug prices for all Americans," Sewell said. "I will continue to fight to expand access to affordable, quality health insurance!"
Sewell took part in a press conference Tuesday and highlighted Dan and Debi Garrett, a couple from Oxford, Alabama, who have insurance through the ACA and could lose coverage if the Republican-led lawsuit is successful in court. Before the ACA, Debi was denied insurance because her blindness was classified as a pre-existing condition.
The state of Alabama has joined Texas in this lawsuit seeking to have Patient Protection and Affordable Care Act declared unconstitutional.
Sewell warned that If the Trump Administration is successful in eliminating the ACA, the health and financial wellbeing of Alabama families will be at risk:
Sewell's office cited information claiming that 1,959,800 Alabamians with pre-existing conditions will lose their protections, including 264,900 Alabama children, 998,000 Alabama women, and 451,200 Alabamians between ages 55 and 64.
If the Texas lawsuit is successful, insurance companies would be able to charge people more because of a pre-existing condition. Alabamians who take care of themselves and maintain proper weight and are fortunate enough to avoid illnesses would be eligible for reduced rates.
An analysis by the Center for American Progress claimed that insurers could charge up to $4,270 more for asthma, $17,060 more for pregnancy, $26,180 more for rheumatoid arthritis and $140,510 more for metastatic cancer.
2,140,837 Alabamians could once again have to pay for preventive care, including flu shots, cancer screenings, contraception and mammograms.
143,177 Alabamians in the marketplace could be forced to pay more for health insurance, including those with employer-based coverage.
83,177 Alabama seniors could have to pay more for their prescription drugs. From 2010 to 2016, "More than 11.8 million Medicare beneficiaries have received discounts over $26.8 billion on prescription drugs – an average of $2,272 per beneficiary," according to a January 2017 CMS report as a result of the closure of Medicare's "donut hole" provision. In Alabama, 83,177 seniors each saved an average of $1,169.
Most Alabamians, and/pr their employers, have seen their insurance premiums skyrocket since the ACA was passed. Premiums, copays, and deductibles for most citizens are far higher today than they were pre-Obamacare in 2010.
Congressman Gary Palmer (R-Hoover) has proposed a plan by which the government creates heavily government subsidized high risk pools for people who have more need for healthcare services. Republicans would also like to see more health savings accounts and competition.
Many Democrats are also not happy with Obamacare. Presidential candidates Senators Bernie Sanders and Kamala Harris have proposed ending all private insurance, including for Americans who are happy with their insurance. This socialist single payer model would cost hundreds of billions of dollars and would likely mean massively higher taxes for income tax paying Americans.
The Congress will likely have to replace the flawed Patient Protection and Affordable Care Act with something after the 2020 election. A victory by Texas and Alabama and the other parties in the lawsuit would only hasten that.
Sewell votes in favor of National Apprenticeship Act
The bill would invest more than $3.5 billion to create nearly one million new apprenticeship opportunities.
Congresswoman Terri Sewell, D-Alabama, last week voted in favor of the National Apprenticeship Act, legislation to reauthorize the National Apprenticeship Act for the first time since its enactment in 1937.
The new National Apprenticeship Act will create one million new apprenticeship opportunities over the next five years. Registered apprenticeships provide workers with paid, on-the-job training, and are the nation's most successful federal workforce training program.
"As a long-time supporter of expanding registered apprenticeships, I am thrilled to support today's legislation to provide 1 million new apprenticeship opportunities over five years," Sewell said. "Our Nation is facing the worst economic downturn since the Great Depression and estimates show that more than 7 million of the pandemic's job losses will be permanent. We need bold investments like those in the National Apprenticeship Act to accelerate the economy and help get the American people back to work in stable, good-paying jobs of the future."
The bill invests more than $3.5 billion over the next five years.
The act establishes a $400 million grant program to support the expansion of apprenticeship opportunities, including pre-apprenticeships and youth apprenticeships, which will increase $100 million annually to reach $800 million by 2025.
The legislation also codifies and streamlines standards for registered apprenticeship, youth apprenticeship and pre-apprenticeship programs to make it easier for both apprentices and employers to participate in high-quality apprenticeships and codifies the Department of Labor's Office of Apprenticeship.
It directs the office to convene industry leaders, labor organizations, educators and others to expand apprenticeships into new occupations and sectors.
Supporters say the bill could yield $10.6 billion in net benefits to U.S. taxpayers in the form of increased tax revenue and decreased spending on public-assistance programs and unemployment insurance, and that nothing is more effective at breaking the cycle of poverty than a well-paying full-time job.
Sewell is about to enter her sixth term representing Alabama's 7th Congressional District.