Ivey said "world stood still" when man first walked on the moon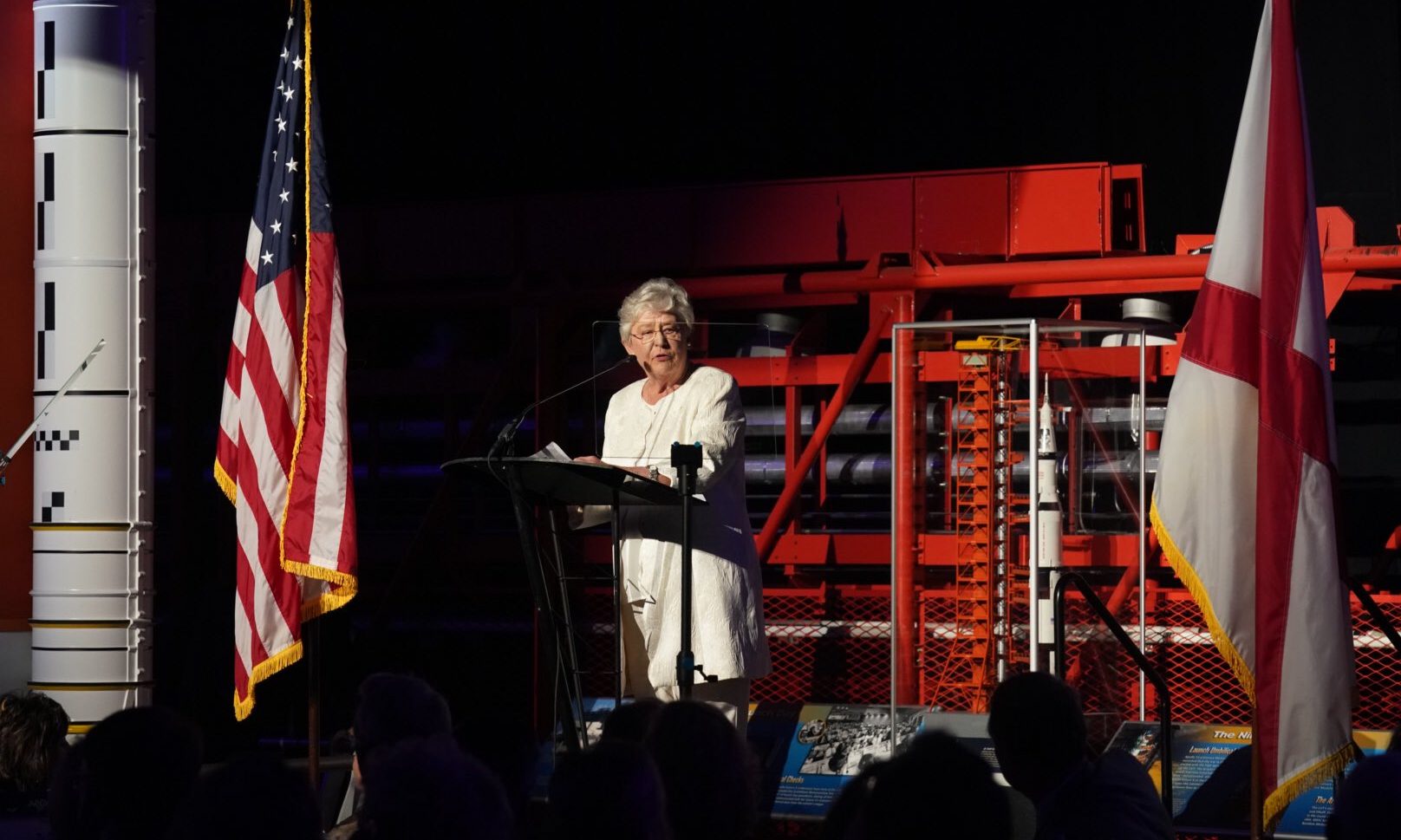 Tuesday night, Alabama Governor Kay Ivey was at the U.S. Space and Rocket Center in Huntsville to honor the engineers, scientists, and astronauts whose work helped take Apollo 11 to the moon in 1969.
Ivey said that we are here in celebration of not only America's achievement but Alabama's role in accomplishing that goal.
"I vividly remember watching Neal Armstrong walk on the moon on a black and white TV," Ivey said. Ivey said that those were turbulent times then and that the world was watching as America was in a long ugly war across the globe and the year before had been marred by the assassinations of Martin Luther King Jr. and Bobby Kennedy.
"When that incredible moment took place (Armstrong walking on the moon) the world literally stood still as we experienced that Kodak moment," Ivey said. "We celebrate that moment and the significant role that Alabama played in that accomplishment."
"We are celebrating the American spirit and the power of collaboration," Ivey said. "Americans, Alabamians can accomplish almost anything when we put our minds to it,"
Ivey said that we are celebrating this anniversary of the moon landing in what is our 200th year of Alabama's statehood.
"We must always be looking for new challenges and new opportunities," Ivey said.
The governor thanked President Donald J. Trump (R) for committing us to return to the moon and then to send astronauts to Mars.
"The goal of landing on Mars may seem unachievable to some people, but at one point so did landing on the moon," Ivey said.
Marshall Space Flight Center Jody Singer said that she was 17 years old in 1969 and can remember watching the television coverage. That was also the first time that her boyfriend told her that he loved her.
"We danced in the streets in Huntsville when Apollo 11 landed on the moon and we will dance in the streets again when the SLS takes us back again," Singer said.
The Space Launch System (SLS) is NASA's successor to the Space Shuttle and the Saturn V rocket.
Scientists and engineers who worked on the Apollo project were honored with a round of applause as well as astronauts who flew on Apollo and Skylab missions.
The first director of the Marshall Space Flight Center was Wernher von Braun.
There was a movie honoring von Braun accompanied with a musical tribute by the Huntsville Brass Band.
Von Braun and his team began rocketry as a club in Germany before World War II. Nazi Germany enlisted von Braun and his team into the war effort with devastating effect. After the war, Wernher von Braun and his team agreed to work for the U.S. Army. Eventually, they and their families were settled in Huntsville where they worked on the first rockets and ICBMs for the U.S. Army at Redstone Arsenal. When the Union of Soviet Socialist Republics used a large rocket to launch the first satellite, Sputnik 1, into space, the United States vowed to catch up and become the leader in space exploration. Von Braun became the most famous rocket scientist in the world as the mastermind behind the effort to take man to the moon and put the first American space station, Skylab, into orbit.
The three children of Wernher von Braun were on hand for Tuesday event honoring their father and his contribution to the American space program.
The event was sponsored by Intuitive, the Alabama Department of Tourism, Aerojet-Rocketdyne, Boeing, Lockheed, United Launch Alliance, Teledyne Brown Engineering, and other companies.
Jones applaudes inclusion of his anti-money laundering legislation in defense bill
The bill aims to combat illicit financial activity by terrorists, drug traffickers and other criminals.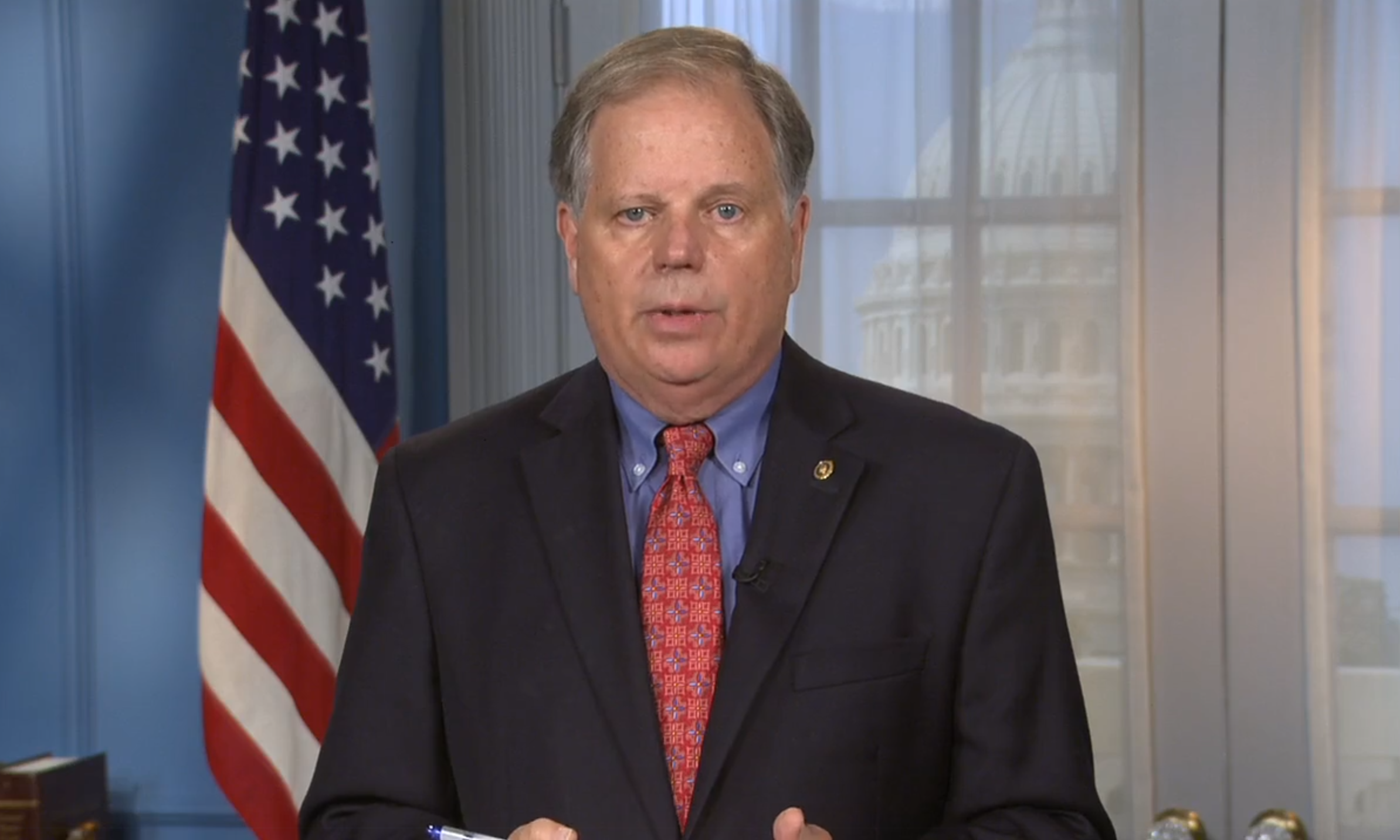 U.S. Sen. Doug Jones, D-Alabama, and a bipartisan group of three other senators applauded the inclusion of their anti-money laundering legislation in the National Defense Authorization Act. 
Jones and Sens. Mark Warner, D-Virginia, and Mike Rounds, R-South Dakota, in September 2019 introduced their Improving Laundering Laws and Increasing Comprehensive Information Tracking of Criminal Activity in Shell Holdings (ILLICIT CASH) Act which aims to combat illicit financial activity by terrorists, drug traffickers and other criminals. 
"For too long, our anti-money laundering laws haven't kept up with the rapidly evolving methods that criminals and terrorists use for illicit financial activities," Jones said in a statement Thursday. "Our bipartisan bill is the largest comprehensive effort in decades to improve transparency and will give prosecutors, national security officials, law enforcement, and financial institutions the modern tools they need to crack down on money laundering and terrorist financing. Its inclusion in the annual defense bill is a great step forward for the rule of law and for the security of all Americans." 
If approved as part of the NDAA, the ILLICIT CASH Act will require shell companies, which are often used to launder money from criminal enterprises, to disclose their true owners to the U.S. Department of Treasury. It would also improve communication between law enforcement, financial institutions and regulators, according to a press release from Jones's office.
According to research from the University of Texas and Brigham Young University, the U.S. remains one of the easiest places in the world to set up an anonymous shell company. A recent report by Global Financial Integrity found that in every state in the U.S. more information is currently required to obtain a library card than to register a company. 
"To form a company in any state in the U.S., it is not necessary to identify or provide any information about the person(s) who will ultimately be controlling the company. In some cases it isn't even necessary to provide information about who will be managing the company and, where some information about managers (i.e. officers or directors) is required, it is very limited," the report states. 
"Human traffickers, terrorist groups, arms dealers, transnational criminal organizations, kleptocrats, drug cartels, and rogue regimes have all used U.S.-registered shell companies to hide their identities and facilitate illicit activities," the press release reads. "Meanwhile, U.S. intelligence and law enforcement agencies find it increasingly difficult to investigate these illicit financial networks without access to information about the beneficial ownership of corporate entities involved." 
The ILLICIT CASH Act includes the following elements: 
Setting national exam and supervision priorities to improve AML-CFT outcomes and better target federal resources in the effort to identify evolving criminal and national security threats.

Establishing federal disclosure requirements of beneficial ownership information that will be maintained in a comprehensive federal registry, with strict privacy protections, accessible by federal and local law enforcement.

Improving the recruitment and retention of top talent to combat money laundering and terrorism by providing special hiring authority at the Department of Treasury and FinCEN.  

Prioritizing innovation and technology in AML-CFT monitoring and reporting through the establishment of a new Subcommittee on Innovation and Technology, updated guidance on financial technology risk assessments, and a Financial Crimes Tech Symposium.

Facilitating communication and information sharing between FinCEN, national security agencies, law enforcement and financial institutions through the establishment of new programs and reporting mechanisms.  

Requiring law enforcement agencies and regulators to formally review regulations within the Bank Secrecy Act to ensure regulations, guidance, reports and records are highly useful in countering financial crime. 

Requiring streamlined data and real time reporting of suspicious activity reports, and requiring law enforcement to coordinate with financial regulators to provide periodic feedback to financial institutions on their suspicious activity reporting.

Prioritizing the protection of personally identifying information while establishing a clear path for financial institutions to share AML-CFT information for the purposes of identifying suspicious activity.

Preventing foreign banks from obstructing money laundering or terrorist financing investigations by requiring these banks to produce records in a manner that establishes their authenticity and reliability for evidentiary purposes, and compelling them to comply with subpoenas. This legislation also authorizes contempt sanctions for banks that fail to comply and increase penalties on repeat BSA violators. 

Ensuring the inclusion of current and future payment systems in the AML-CFT regime by updating the definition of "coins and currency" to include digital currency.