Rush Limbaugh: Mo Brooks' rebuttal of manmade climate change was "brilliant"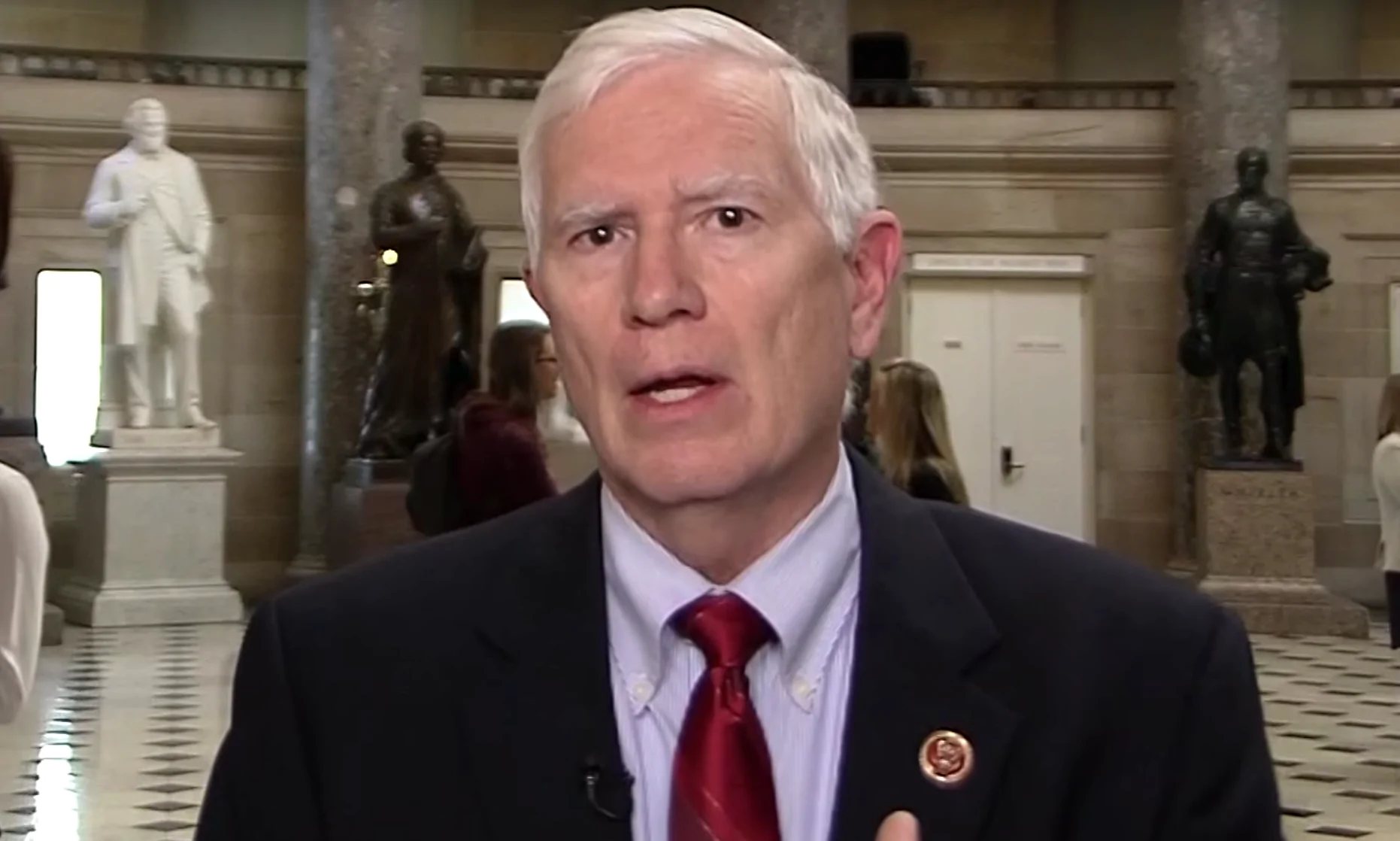 Friday, popular national conservative talk-radio host Rush Limbaugh praised Congressman Mo Brooks R-Huntsville, as "brilliant" on air. Limbaugh called Congressman Brooks' questioning of a panel of scientists in Thursday's House Science, Space, and Technology hearing on climate change "one of the best attempts at persuasion I have seen."
"So, yesterday, there was a hearing in Congress. Mo Brooks, Congressman Mo Brooks, issued a press release yesterday— bipartisan panel of scientists confirms humans not responsible for the past 20,000 years of global warming," Limbaugh said. "This is not a spoof; this is not a joke, it's brilliant. It is one of the best attempts at knocking sense into people I have ever heard. It is one of the best attempts at persuasion I have seen."
"In a House Science, Space, and Technology Committee hearing on climate change, under questioning by Mo Brooks, Alabama District Five, four members of a bipartisan panel of climate science experts all admitted that humans are not responsible for the Earth's global warming that has occurred over the past 20,000 years," Limbaugh stated. "Why the past twenty thousand years? Because that is when the Earth's last glacial maximum occurred. The point is… well the points are these: average global temperatures were roughly eleven degrees Fahrenheit colder than they are today, 20,000 years ago. Stated differently, global temperatures have risen on average, one half a degree Fahrenheit every one hundred years for the past twenty thousand years. Sea levels, sea levels were roughly four hundred and ten feet lower 20,000 years ago than they are today. This is according to the United States Geological Survey, which the global warming crowd loves and cites often. Stating this a different way, sea levels have risen on average roughly two feet per century over the past 20,000 years— roughly double the global warming advocates' claimed average sea level rise of one foot per century since 1993."
"Almost all of Canada, almost all of Northern Europe, and almost all of America, north of the Missouri and Ohio rivers, east of New York City, were under glacial ice and uninhabitable 20,000 years ago." Limbaugh continued. "The gist of the experts' opinions is that the Earth was too lightly populated by humans to make humanity responsible for the warming that has been going on for 20,000 years. This is one of the most brilliant ways of nuking this entire silly notion that man is destroying the planet that I have ever seen."
"20,000 years, that is a long time, people can't comprehend it because the life span is eighty-five. 20,000 years. But the fact of the matter is that the Earth has been warming for 20,000 years and man has had nothing to do with it," Limbaugh said. "Now all of a sudden, the warming continues as it has been, and here comes a bunch of left-wing liberal Democrat partisans and charlatans who want to now claim that at all of this is the result of manmade activity, going back to the industrial age, it's bogus. I love this way that Mo Brooks did this to illustrate this."
"If the Earth has been in a warming trend, and it has obviously been in one, if we had the last glacial maxim 20,000 years ago and we are not under ice now we have obviously been dealing with a lot of warming," Brooks asked.
Dr. W. Ted Pfeffer from the University of Colorado said, "So, the examples from 20,000 years ago that Mr. Brooks gave us, are excellent examples of the kind of natural variability that the Earth experiences. There is no question that in the past there have been changes in temperature, and sea-level rise and weather patterns and climate generally as dramatic or more dramatic than what you may be experiencing in the future and of course they weren't human caused 20,000 years ago or the last million years. All of these variable events have been occurring throughout the Earth's modern history."
Brooks followed, "Well my first question was, in your judgment, did human beings cause the global warming that began 20,000 years ago during the last glacial maximum?"
Pfeffer responded: "No. No. Absolutory not. It is an example of spontaneous natural variability— one of the many ways that this whole system was— whether you look at it in terms of sea levels rise, temperature, storms— can be varied."
Brooks asked: "Are you familiar with the phrase: snowball Earth, or slush ball-Earth? Roughly 600 million years ago, when we were almost entirely ice or slush."
Pfeffer answered: "Entirely natural variation."
Brooks: continued, "Versus, the Paleocene and Eocene, thermal maximum of about 55-56 million years ago when the average temperature was roughly 73 degrees Fahrenheit which is 14 degrees warmer than what we are experiencing now? If you don't mind, Dr. Wolkon lets go to you. Did human beings cause global warming that began 20,000 years ago?"
Dr. Gabriel Wolkon with the Alaska Department of Natural Resources answered: "No, absolutely not. That was a product of natural variability in the climate system. Yeah."
Brooks asked: "Dr. Moon?"
Dr. Twilla Moon answered: "Humans weren't around in nearly the numbers we are today, so we certainly were not available to be combusting fossil fuels at the rate we are today are putting emissions into the atmosphere. You can consider, we have built America in the last 243 years and we're changing things at a much more rapid rate."
Brooks followed: "So, you also agree then that the global warming that has occurred over the last 20,000 years at 11 degrees Fahrenheit increase in temperature, was not human caused, at least, when it began 20,000 years ago?"
Moon responded: "So, I would agree that when it began 20,000 years ago when we were coming out of the last glacial that was not caused by humans. The warming of the last 100 years, most certainly was."
Brooks asked: "Out of curiosity, why do you or how do you explain that the sea level rise average of the last 20,000 years has been 2 feet per century, yet we are down to 1 foot per century?"
Moon answered: "So, much of our rise in sea levels that you are talking about came earlier in that 20,000 years."
Brooks asked: "Over six or seven thousand years?"
Moon answered: "Over this last 10,000 years, we have been sitting with vary stable sea levels and those stable sea levels have allowed us to develop the coast of the world."
Brooks continued: "Okay, thank you, Dr. Moon. And I only have about 30 seconds left for Dr. Bell. Dr. Bell, in your judgment, 20,000 years ago when it began, was it caused by humans?"
Dr. Robin Bell with Columbia University answered: "In my judgment, the variation that we were seeing 20,000 years ago was part of the pulse of the planet— it pulses at about 100,000 years, glacial or interglacial. When I started graduate school, we were expecting to go into the next glacial period, except that we as human beings in the last 100 years— and you can see the pick-up since we invented the steam engine— you can see the temperature moving up."
There is no catch and release of alligators, except in Lake Eufaula
Alabama is a sportsman's paradise with freshwater fishing, saltwater fishing and even hunting year-round. Hogs and coyotes can be taken all through the month of August. But for the lucky few who drew an alligator tag, August is alligator hunting season.
The Alabama Department of Conservation and Natural Resources Wildlife and Freshwater Fisheries (WFF) Division wants this year's hunt to be safe for the hunters and fair for the game species. The WFF is reminding Alabama alligator hunters that they may not capture an alligator and release it because they prefer a bigger trophy gator.
Tag holders are not allowed to release an alligator after it has been captured. The only exception is the Lake Eufaula Zone where hunters must release any alligator that is less than 8 feet in total length. In all other alligator hunting zones, culling is prohibited by law.
"Many folks who have been going to classes for years and are now getting the training online understand about culling," said WFF director Chuck Sykes. "However, I think some hunters have abused our leniency in enforcing the regulation. We just want to make sure that everybody is aware that culling is not a legal practice. This is not a fishing trip where you practice catch-and-release. This is a cold-blooded animal that expends a great deal of energy during the fight and that could end up as an unexpected mortality."
"When you have 5,000 or so people apply for one of these coveted tags, we don't want people abusing the process and making it look like a catch-and-release fishing tournament," Sykes said. "We just wanted to clarify that culling is not allowed."
This regulation has been in effect since the 2018 Alabama alligator season.
"Just as you don't capture and release any other game animal, hunters are not allowed to practice releasing alligators unless they are hunting in the Lake Eufaula Zone, where there is a minimum harvest length of 8 feet," said Wildlife Section Chief Keith Gauldin. "A captured gator is your gator, so be sure to review the training videos on the website. The videos give you helpful tips on how to judge the size of an alligator."
Gauldin said there is a direct correlation between the distance from the gator's nostrils to its eyes and the total length of the animal. If the distance from the nostrils to the eyes is 10 inches, the estimated total length of the alligator would be 10 feet.
To learn more about alligator hunting and the no culling regulation the WFF has six training videos for hunters and the public to view.
Gauldin said that in the past, the WFF has seen social media posts of hunters capturing alligators, having their pictures taken with it, and then releasing the animal to go pursue a bigger gator.
"We don't want hunters to cause any undue stress on these animals," Gauldin said. "By regulation, an alligator is considered captured once it is secured with a snare around a leg or the head and is secured boat-side and in control. It must be immediately dispatched and the temporary tag applied. We want to stress that before hunters pursue an alligator and throw a hook at it or any of the legal means of catching an alligator, they should view that gator and estimate its size closely. They need to make sure that's the one they want to harvest."
Gauldin said another rule that will be closely enforced this year involves boats providing assistance during the alligator hunt.
"When hunting parties have multiple vessels involved, only the boat with the tag holder can have the capture equipment in it," Gauldin said. "The other vessels that are assisting can only have spotlights, but no capture equipment."
The only approved capture methods are hand-held snares, snatch hooks (hand-held or rod/reel), harpoons (with attached line) and bowfishing equipment (with the line attached from arrow to bow or crossbow).
This not Louisiana, as seen on the TV show "Swamp People" where the hunters tie a chain to a tree and bait it with a pork shoulder. The use of bait is not allowed at all in Alabama.
Gauldin said that WFF's Enforcement Section will be out in full force during the alligator season to make sure that Alabama's hunting regulations are followed.
"There is a high likelihood hunters will be checked by a Conservation Enforcement Officer at least on one of the nights of the season," Gauldin said. "It's a good idea to put all of your identification, hunting license and alligator tag in a Ziploc bag for easy access instead of having to dig it out of your wallet at one o'clock in the morning. Have that ready for presentation when you get checked. It will make it easier for our officers and make for a more timely check for the hunters."
Gauldin warned against drinking and gator hunting.
"We want hunters to have a good time but a safe time," he said. "Combining alcohol and alligator hunting is not a good idea."
Gauldin also warned that everyone on a gator hunt should have a personal flotation device.
"It's a good idea to have that PFD on if the boat is under throttle, especially at night," Gauldin said. "Obstructions are much harder to see at night. We just want them to have a safe hunt."
Alabama has five alligator hunting zones in South Alabama, the traditional range of alligators in the state.
The Southwest Zone has the most tags at 100. The Southwest Zone includes all of Mobile and Baldwin counties north of I-10 and private and public waters in Washington, Clarke and Monroe counties that lie east of U.S. Highway 43 and south of U.S. Highway 84. The 2020 season dates are sunset on August 13 until sunrise on August 16 and sunset on August 20 to sunrise on August 23.
The Coastal Zone will have 50 tags. It was created just last year to address the rising interaction between alligators and people along the Coast, where the WFF receives most of its nuisance alligator complaints. The Coastal Zone includes the private and public waters in Baldwin and Mobile counties that lie south of I-10. The 2020 season dates are the same as the Southwest Zone.
The Southeast Zone has 40 tags this year. It covers the private and public waters in Barbour, Coffee, Covington, Dale, Geneva, Henry, Houston, and Russell counties, excluding Alabama state public waters in Walter F. George Reservoir (Lake Eufaula) and its navigable tributaries. The 2020 season dates are sunset on August 8 until sunrise on September 7.
The West Central Zone will get 50 tags. It includes private and public waters in Monroe (north of U.S. Highway 84), Wilcox, and Dallas counties. The 2020 season dates are sunset on August 13 to sunrise on August 16 and sunset on August 20 to sunrise on August 23.
The Lake Eufaula Zone has 20 tags this year. It includes Alabama state public waters in Walter F. George Reservoir (Lake Eufaula) and its navigable tributaries, south of Highway 208, Omaha Bridge (excluding Eufaula National Wildlife Refuge). The 2020 season dates are sunset on August 14 until sunrise on October 5. The Lake Eufaula Zone is the only zone that allows daytime hunting.
Alabama's alligator hunters consistently harvest between 65 and 70 percent of the available tags.
While Louisiana and Florida may have more alligators than Alabama, the world record was taken in 2014 by Mandy Stokes of Camden. That gator was 15 feet, 9 inches long and weighed an incredible 1,011.5 pounds. The Stokes alligator shocked many people who thought that a gator had to be over 60 years old to be that big. Analysis of the leg bone of the alligator showed that it was only 24 to 28 years old.
The oldest known alligator is Muja who was hatched in a zoo in Germany sometime in the 1930s. In 1937, he was transferred as nearly an adult to the Belgrade Zoo where he has lived for the last 83 years.
August is also the month to renew your hunting and fishing licenses.
Alabama is world renown for the plethora of hunting and fishing options for sportsmen. Whether it is fishing for red snapper, cobia, spotted sea trout, flounder, amberjack, yellowfin tuna or croaker off the Alabama Gulf Coast; hunting for whitetail deer, hogs, coyotes, alligators, raccoon or fox in Alabama's forests; fishing for largemouth bass, crappie, catfish, and bluegill in Alabama's lakes; or hunting sandhill cranes, turkeys, geese, ducks, doves, quail, crows, and other fowl; or small game hunting for squirrels, rabbits, opossum, beaver and nutria, Alabama has an outdoor sport for you.
The SEC college football season has already been pushed back three weeks and shortened by two games due to the coronavirus crisis. Attendance is likely going to be limited to just 25 percent capacity or less if they can somehow manage to salvage the 2020 season. High school and youth sports have never been more dangerous to play due to the coronavirus global pandemic and it is even now dangerous to be in the stands as a spectator.
Hunting and fishing would provide a safe recreational activity the whole family can enjoy where social distancing is actually normal.