Jones, GOP Senate candidates oppose the Mobile River toll bridge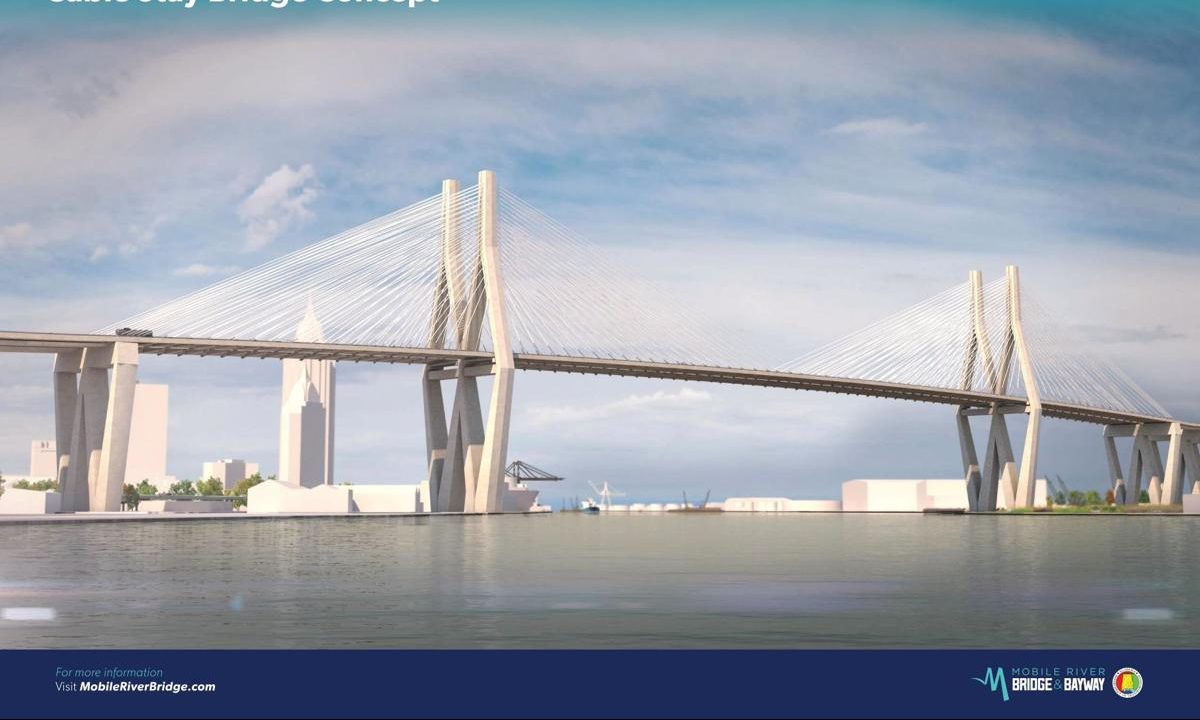 U.S. Sen. Doug Jones, D-Alabama, and the Republicans running to unseat him all announced Wednesday their opposition to a plan that the Alabama Department of Transportation is pushing to charge the public tolls in order to use the new I-10 Mobile Bay bridge.
Jones told the Alabama Political Reporter that ALDOT should not place this burden on the people who use it the most.
"This is just way too much for folks to pay out of pocket," Jones said. "It's another tax on families who just can't afford it. A new bridge is badly needed, but ALDOT needs to find a way to build it without placing an undue financial burden on the people who use it most."
"Public-private partnerships for projects like these have their place, but they're simply not as effective in states like Alabama," Jones told APR. "I've said since I've been in office that the federal government needs to invest more in our transportation network. That's one of the reasons I introduced the bipartisan BE SAFE Act, so that communities like Mobile and others in South Alabama that are frequently impacted by severe weather can access another source of federal funding. In the meantime, I urge ALDOT to continue to look for ways to come up with the funding for this bridge without reaching into the pockets of working families."
Congressman Bradley Byrne, R-Montrose, announced his opposition to tolling the bridge in a press release on Wednesday.
"As I have said from the start, I'm opposed to tolling this project, and ALDOT's revised tolling plan is still unacceptable," Byrne said. "South Alabamians cannot shoulder the burden of over $1,000 a year just for commuting to work. ALDOT needs to go back to the drawing board and find an alternative funding solution that will actually benefit — not hurt — those of us in Baldwin and Mobile counties."
Former Chief Justice Roy Moore also released a statement opposing the plan following the ALDOT announcement.
"This is nothing more than another social, liberal program which hinders business and further burdens the people of the state of Alabama," Moore said. "Why would we want to be like New York or California? I am shocked at republicans who would even consider such an agenda."
Former Auburn football Coach Tommy Tuberville said this whole idea should have been shot down a long time ago before it ever got this far.
"Our career politicians have let us down," Tuberville told APR in a statement. "When we ask them to stand up and fight for us, they pass the blame onto someone else. We can't keep sending the same recycled politicians to represent us and expect a different result. The idea of tolling roadways in South Alabama could have been shot down a long time ago if the folks down there had a fighter in Washington representing them."
"I don't support this tax increase for the same reason I didn't support the gas tax — it's is a tax on our hard-working families," State Rep. Arnold Mooney told APR. "It's time to cut wasteful spending and do more with the money we have rather than simply raising taxes and increasing spending to solve problems."
Secretary of State John Merrill said the federal government is responsible for maintaining our infrastructure, not the people of Alabama.
"Placing a toll on the backs of the great people in Mobile and Baldwin Counties for the new bridge and the Wallace Tunnel is unacceptable," Merrill said. "The failures in Washington, D.C. are what have led us to this position and we need a proven conservative winner who understands how to get things done, and that's why I'm running for the United States Senate."
"We need a senator who will complement the work of Sen. Shelby to solve problems that require assistance from our nation's Capitol," Merrill said. "The federal government is responsible for maintaining our national highways, bridges and other infrastructure needs, not the great people of Alabama. I look forward to working with President (Donald) Trump to make sure Alabama's needs are taken care of, without placing another tax burden on the backs of our people in Baldwin and Mobile counties."
The reaction followed a press event in Mobile, ALDOT Director John Cooper proposed capping the tolls at just $6 per trip and giving frequent users a discounted plan where they pay only $90 a month for unlimited use of both the new bridge and the existing Wallace tunnels. There would also be lesser tolls charges for motorists who used only a part of ALDOT's proposed new I-10 tollway across the Mobile River delta.
Merrill, Byrne, Tuberville and Moore are all running for the republican nomination for U.S. Senate seat that is currently held by Jones.
Cooper wants to sign a contract with a company to build his bridge, the largest bridge of its kind ever built in North America, and then the company would charge and collect tolls for the next 50 years. ALDOT wants to begin work next year.
Trump Administration invests $462 million to modernize rural water and wastewater infrastructure
President Donald Trump's administration announced Monday that the U.S. Department of Agriculture is investing $462 million to modernize critical drinking water and wastewater infrastructure across rural America.
"Upgrading the infrastructure that delivers safe drinking water and modern wastewater management facilities will improve public health and drive economic development in our small towns and cities," said Deputy Under Secretary for Rural Development Bette Brand. "Under the leadership of President Trump and Agriculture Secretary Perdue, USDA continues to be a strong partner with rural communities, because we know that when rural America thrives, all of America thrives."
USDA announced that it is funding 161 projects through the Water and Waste Disposal Loan and Grant Program. These investments will benefit 467,000 residents across the country. Alabama is one of the states that are slated to receive funding for water and wastewater projects. While it's not yet known which projects are being funded in Alabama, some communities in the Black Belt have had well-documented problems with their sewage and water systems for years.
"Access to clean, safe drinking water is a basic need that is critical for residents in rural areas," economic developer Nicole Jones told APR. "Oftentimes rural communities do not have the tax revenue that urban counterparts have, which makes facility and technology upgrades difficult. Modernized wastewater facilities increase efficiency and safety and are an important component of economic development. We are pleased to see Alabama on the list of beneficiaries for the $462 million dollar investment from the Trump Administration and USDA."
Some examples of projects being funded under Monday's announcement include:
In North Bend, Washington, the Sallal Water Association will use a $6.5 million loan to construct a reservoir, a new headquarters building and a new well. The Association supplies potable water to about 1,700 connections serving approximately 5,000 people throughout its service area, which includes the Wilderness Rim Association. The system currently delivers 190 million gallons of water each year from three wells.
The Sanbornville Precinct in New Hampshire will use a $2.9 million loan and a $695,885 grant to replace outdated water system infrastructure dating from the 1930s. This project will resolve health and sanitary issues by upgrading the source pump house facility and replacing 2.3 miles of failing bituminous-coated steel water mains. These improvements will bring the system into compliance with state and federal Occupational Safety and Health Administration regulations and provide enhanced water quality and reliability for 1,056 residents.
The town of Lawndale, North Carolina will use an $872,000 loan and a $1.5 million grant to provide sanitary sewer service to an area of the town that is currently without sewer service. Many homes in the area depend on individual onsite septic systems which are failing. The proposed project will install approximately 16,785 linear feet of eight-inch gravity sewer line, 60 manholes, 141 cleanouts, service laterals, and make other upgrades to service 141 additional residences. Approximately 600 residents will benefit from the project.
The investments that USDA announced today are being made in Alabama, Arkansas, Arizona, California, Connecticut, Florida, Georgia, Idaho, Illinois, Indiana, Iowa, Kansas, Kentucky, Louisiana, Maine, Maryland, Massachusetts, Michigan, Minnesota, Missouri, Mississippi, Montana, Nebraska, New Hampshire, New Jersey, New Mexico, New York, North Carolina, Ohio, Oklahoma, Oregon, Pennsylvania, Rhode Island, South Carolina, South Dakota, Tennessee, Texas, Utah, Virginia, Vermont, Washington, West Virginia, Wisconsin and Wyoming.
To learn more about investment resources for rural areas, interested parties should contact their USDA Rural Development state office.
USDA Rural Development provides loans and grants to help expand economic opportunities and create jobs in rural areas. This assistance supports infrastructure improvements, business development, housing, community facilities such as schools, public safety and health care, and high-speed internet access in rural areas.