Brooks salutes the Apollo program
Congressman Mo Brooks, R-Huntsville, spoke on the floor of the  House of Representatives Wednesday to celebrate, "The 50th anniversary of one of mankind's, and America's, greatest achievements: walking on the surface of the Moon."
"Even now, 50 years after watching the Moon landing, I get chills remembering when Apollo astronauts landed and later planted the American flag on the Moon's surface," Rep. Brooks said. "It was American ingenuity, boldness, technical prowess, and economic might that made this historic achievement possible. I'm proud to say the legacy of the Apollo 11 Moon landing lives on in the Tennessee Valley of Alabama that I represent."
"The Tennessee Valley's Marshall Space Flight Center is the birthplace of America's space program," Brooks continued. "Americans generally, and Alabamians in particular, designed and engineered the Saturn V rocket that launched the historic Apollo 11 and took American astronauts to the Moon."
"I will never forget the flames and the roar as our Saturn V rocket was launched and carried the Apollo 11 crew and vehicles to the Moon," Brooks said. "I remember with tremendous pride American Neil Armstrong's words as he to set foot on the Moon, "That's one small step for man, one giant leap for mankind." That giant leap, meant to benefit all mankind, is a prime example of American exceptionalism and helped cement America's status as the best, most powerful, and most influential nation in world history."
"When Neil Armstrong and Buzz Aldrin planted America's flag on the Moon's surface on July 20, 1969, there was no doubt that America's space program had passed the Russians and become the preeminent leader in space exploration, a position America maintains today," Brooks stated. "This week, America not only reflects on the miraculous achievements of the Apollo 11 mission, but we also honor those who played a critical role in its ultimate success."
"The Tennessee Valley is immensely proud of our pivotal role in landing a man on the Moon and, equally importantly, returning them alive to Earth," Brooks added. "Reflecting our pride in America's achievement, there are two— that's two— Saturn V rockets displayed at the United States Space and Rocket Center in Huntsville, Alabama. These Saturn V displays help inspire the next generation to reach for the stars and achieve what now may be thought impossible.
"While it is important to remember the historical achievements of the Apollo missions, it is also important to honor those who sacrificed their lives in the effort to achieve American greatness," Brooks said. "In that vein, Huntsville has named schools after Apollo Command Pilot Virgil "Gus" Grissom, Senior Pilot Ed White, and Pilot Roger Chaffee, each of whom died during a capsule fire during an Apollo 1 ground test."
"After the Moon landing and return of Apollo 11 astronauts Buzz Aldrin, Neil Armstrong, and Michael Collins to Earth on July 24, 1969, Huntsville's streets were awash with revelers," Brooks added. "German Rocket Scientist Wernher Von Braun said on the Huntsville courthouse steps that day, 'My friends, there was dancing here in the streets of Huntsville when our first satellites orbited the Earth. There was dancing again when the first Americans landed on the Moon. I'd like to ask you, "don't hang up your dancing slippers."'
"Von Braun's words remind us that mankind's greatest achievements are yet to come, that America will continue to accomplish the unimaginable in space for the benefit of all humanity.," Brooks concluded. "As we reach for the stars, I have confidence that the Tennessee Valley, Marshall Space Flight Center, and Huntsville, where we say "The Sky is NOT the Limit," will be instrumental in carrying American astronauts back to the Moon, to Mars, and beyond!"
Vice President Mike Pence also honored the Apollo 11 mission on its 50th Anniversary.
"50 years ago, Apollo 11 launched holding astronauts that would soon make history and walk on the Moon. Today, under the leadership of President @realDonaldTrump, the U.S. has rededicated itself to deep space exploration to the Moon, Mars, and beyond!" VP Pence said.
Mo Brooks is presently in his fifth term representing Alabama's Fifth Congressional District, which includes Huntsville, also known as "the Rocket City."
Print this piece
Sen. Doug Jones: COVID-19 relief should not be a partisan issue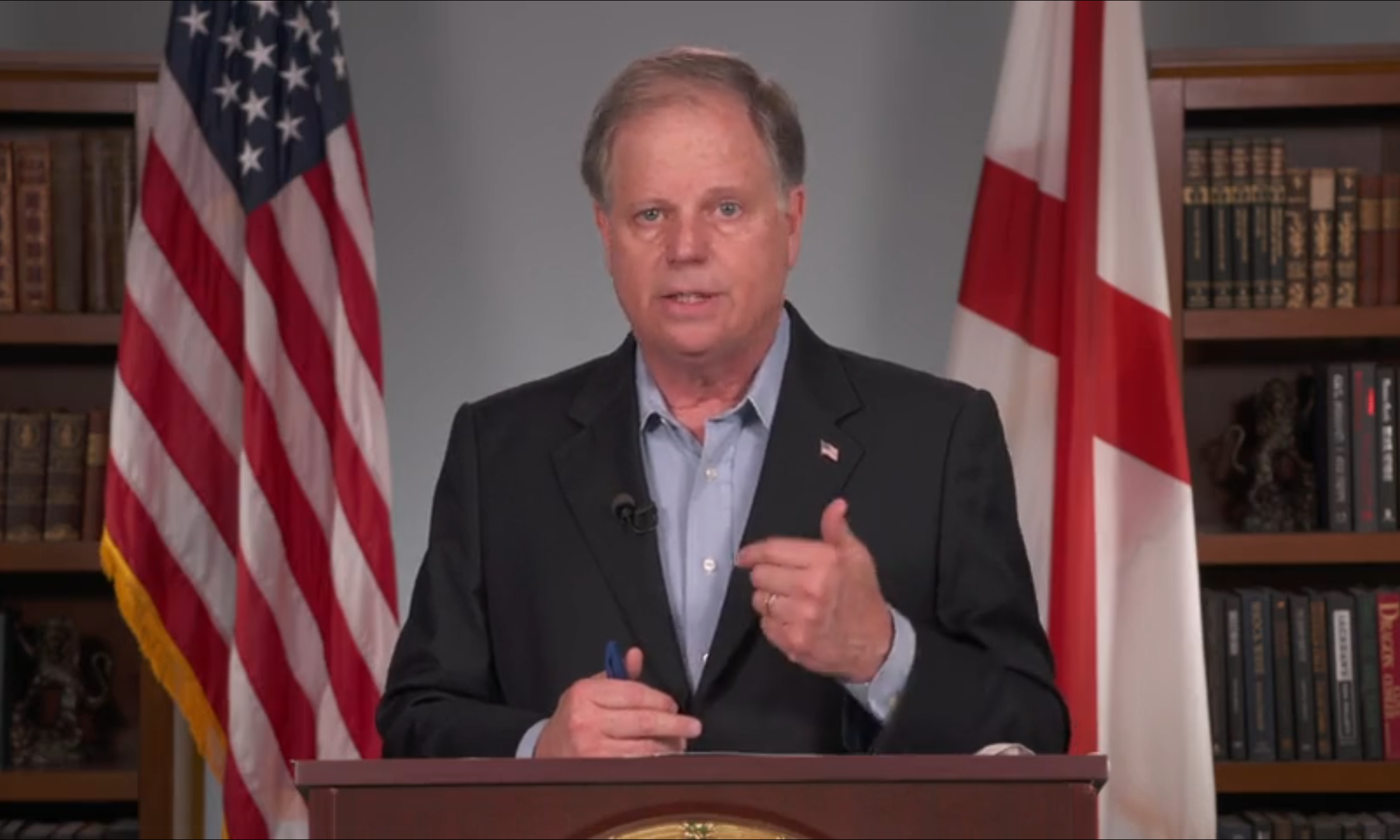 Sen. Doug Jones, D-Alabama, said Friday during a live-streamed press conference that the Senate should begin debating the next COVID-19 relief package, and Republicans in Congress should stop playing partisan politics with urgently needed COVID-19 relief.
"That bill is not perfect at all. There are a number of things in there that I don't think will be in a final bill," Jones said of the House's $3 trillion HEROES Act. "It's not perfect, but it is something to start talking about. It is a shame that Senate Republicans have made this into a partisan issue, trying to say that this was some kind of Democratic 'wish list.' It is not."
The $3 trillion relief package includes nearly $1 trillion in aid to struggling state and local governments and another round of $1,200 payments to individual taxpayers and up to $6,000 per family.
The bill, which passed the House last week along partisan lines, appropriates billions for COVID-19 testing and contact-tracing and provides money for hazard pay for essential workers, among many other provisions its 1,800 pages.
"It is a wish list for cities and counties, which we've been talking about," Jones said. "The first line essential workers that have been there that we don't need to lose — so much of our workforces in city and county governments. It's a wish list for the CDC and the NIH to continue funding for research, not just for a vaccine, but for therapeutics for how to treat this virus until we get that vaccine. It's a wish list for businesses."
The Paycheck Protection Program, which provides loans and grants to small businesses and nonprofit organizations, would also get additional funding in the new relief bill.
Jones has called for a plan to give small businesses another round of help in paying employees by using payroll processors instead of banks, which have, at times, been slow in delivering aid to businesses and have prioritized clients with whom the banks had a pre-existing relationship.
Jones urged lawmakers to consider using payroll companies rather than banks when the first installment of the Payroll Protection Program was taking shape.
The House's HEROES Act also includes provisions that clarify PPP provisions for small businesses and would ensure that PPP funding can reach underserved communities and nonprofits. It adds $10 billion for emergency grants through the Economic Injury Disaster Loan Program.
"It has a form of the program that we have — not as scaled up as much as I would lie, but it's got a program that will help keep businesses operating and their payroll operating as a supplement, an add on to the Payroll Protection Program," Jones said. "So it's a wish list, really, for the American people. It's just a shame that it has been politicized as partisan, because it should not. None of this should be partisan."
President Donald Trump has threatened to veto the House-passed legislation were the Senate to pass it, and House and Senate Republicans have decried the legislation as too expansive.
Republican members of Alabama's congressional delegation have called it Speaker Nancy Pelosi's "wish list" and U.S. Rep. Mo Brooks called it "socialist."
The 1,800-page bill also includes $175 billion in housing support, student loan forgiveness and a new employee retention tax credit.
Republicans have particularly opposed provisions in the bill that would require all voters to be able to vote by mail beginning in November and another that would temporarily repeal a provision of the 2017 Republican tax law that limited federal deductions for state and local taxes.
Trump has also opposed a provision in the bill that would provide $25 billion for the U.S. Postal Service, which has struggled amid the COVID-19 crisis and could become insolvent without support.
The HEROES Act was declared by some as "dead on arrival" in the Republican-controlled Senate. Senate Majority Leader Mitch McConnell, R-Kentucky, has so far refused to take up the bill. Senators returned back to their home states this week until early June.
"The goal when we get back is maybe … enough talks will be going on, that we can pass some legislation in a bipartisan way," Jones said. "Because there is an urgency."
Jones said he didn't believe the bill would pass as it is currently written, and that he doesn't know what the final version would look like, but "we need to be talking about it. It's a starting point," he said.
The legislation also provides $75 billion for COVID-19 testing and contact tracing, which public health experts say are essential for reopening the economy safely and avoiding a second wave of the virus in the fall.
On Thursday, Gov. Kay Ivey loosened more of the state's "safer-at-home" restrictions, allowing entertainment venues to reopen Friday and sports to resume by mid-June.
Jones urged Alabamians to continue adhering to social-distancing guidelines, to listen to public health officials and to wear masks. He said reopening the economy and preserving public health don't have to be at odds.
"I think the governor has done as great a job as she could to try to be very strategic, to be thoughtful on how to do this," Jones said. "Unfortunately, I also believe that a lot of people in Alabama are only hearing part of her message. They're only hearing the message that you can go to church, you can go to the theater, you can go out to eat, and they're not listening as much to the messages about personal responsibility."
Print this piece