Governor forms group to study criminal justice reform
Gov. Kay Ivey signed an executive order on Thursday to establish the Governor's Study Group on Criminal Justice Policy, which will receive and analyze accurate data, as well as evidence of best practices, to help to address the challenges facing Alabama's prison system.
This announcement comes after the Justice Department reported in April that there was reasonable cause to believe that Alabama's prisons are in violation of the Constitution by failing to protect inmates from violence and sexual assault, housing them in unsafe and overcrowded facilities and for "crisis level" staffing shortages.
Justice Department report documents horrific violence, sexual abuse in Alabama prisons
The report describes the violations as "severe" and "systemic." Even before the report from the DOJ, Alabama's prisons have suffered from severe overcrowding and understaffing. Numerous lawsuits have challenged conditions in Alabama's prisons. A federal judge ordered numerous investments after a challenge to the prisons' mental health system.
Based on the latest data available from the Department of Justice's Bureau of Justice Statistics, Alabama's prisons have the highest homicide rate in the country.
The group will gather and analyze data on the rate of recidivism and current sentencing laws to develop recommendations to address various problems within the prison system. 
Ivey said that Alabama is making progress in addressing the challenges within the state's prison system and that she is confident this group will further that progress. 
"The people of Alabama are not unaware of the complexities that face our state's prison system, which take a toll on their hard-earned dollars and negatively impact public safety," Ivey said in a statement. "The challenges we face are multifaceted, and in turn, a multifaceted solution, driven by data is necessary."
The study group will consist of the governor, who will serve as the chair; the attorney general; three members of the Alabama House of Representatives appointed by the speaker of the House; three members of the Senate appointed by the president pro tempore; the commissioner of corrections; the director of finance; and additional individuals as the governor deems necessary.
Legislative members of the study group include Sens. Cam Ward, Bobby Singleton and Clyde Chambliss, as well as Reps. Jim Hill, Connie Rowe and Chris England. Additional members from the executive branch include Attorney General Steve Marshall, Finance Director Kelly Butler and Corrections Commissioner Jeff Dunn.
Members of the group may participate by proxy and Ivey has designated Justice Champ Lyons to serve in her place as chairman.
The Governor's Study Group on Criminal Justice Policy will convene for the first time on July 22 and will disband on the first day of the 2020 regular legislative session in February.
Print this piece
Sen. Doug Jones calls on Alabama governor to order shelter-in-place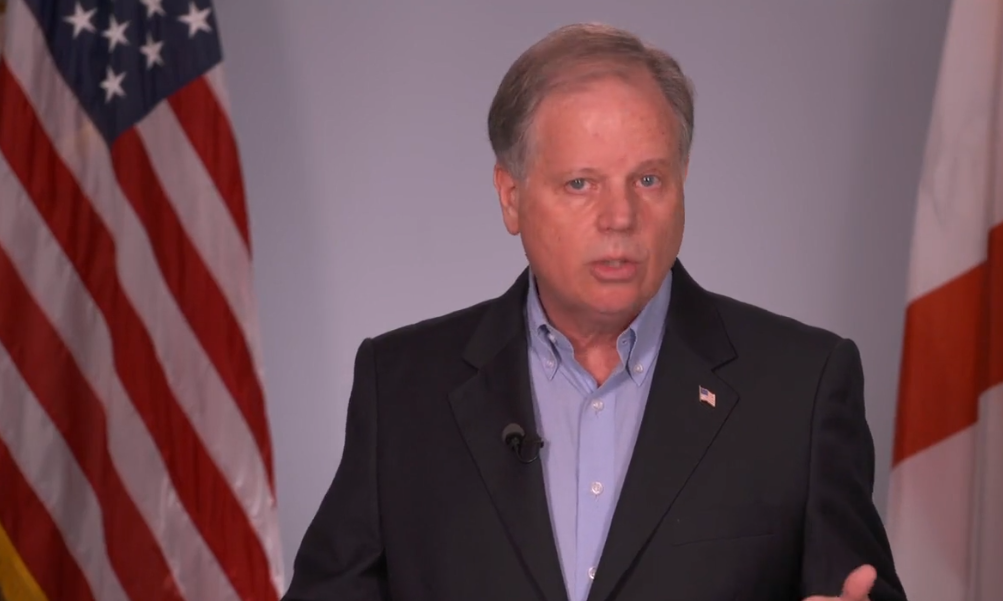 Alabama Sen. Doug Jones during a virtual town hall on Thursday called on Gov. Kay Ivey to implement a statewide shelter-in-place or stay-at-home order.
"I have been promoting stay at home orders for some time," Jones said, adding that he "absolutely" thinks the state should implement such an order.
"The reason I would like to see one is because it sends a strong message to the people of Alabama of how significant it is to use the social distancing, to use whatever means necessary to stop the spread of this virus," he said.
Jones said an order from the governor would have more force than social media messages asking people to stay home.
Public health experts have also called for such measures.
"People's health is about the least political thing there should be," said Dr. Jeanne Marrazzo, the director of the Division of Infectious Diseases and a professor of medicine at The University of Alabama Birmingham, who participated in the town hall. "I don't care what you call it, but the messaging should be consistent. We should all be playing from the same playbook."
Ivey has said she is trying to balance the economy and public health by closing beaches and closing some non-essential businesses. But she has not ordered people to stay home. She has said she doesn't want to put more strain on the economy by adding a more restrictive shelter-in-place order.
"The governor remains committed to exploring all options and has not ruled anything out, but she hopes that we do not need to take this approach," Ivey's spokesperson said Wednesday. "The governor's priority is protecting the health, safety and well-being of all Alabamians, and their well-being also relies on being able to have a job and provide for themselves and their families. Many factors surround a statewide shelter-in-place, and Alabama is not at a place where we are ready to make this call."
Jones said what would be best for the economy is to defeat the virus.
"We help this economy by staying home because we can stop the spread, and we can get rolling again pretty soon," Jones said.
Jones also encouraged the president to continue to invoke the Defense Production Act to direct companies to manufacture more personal protective equipment, testing supplies and ventilators for hospitals fighting the virus. "We need to have more and if it takes an invoking of the Defense Production Act, then so be it."
In the town hall, Jones warned that Alabama is on the verge of a health care crisis. As of Thursday morning, there are nearly 1,200 lab-confirmed cases of the virus in the state and at least 32 deaths.
"Our healthcare response is getting overwhelmed," Jones said.
Jones continued to call on Alabamians to heed the advice of medical professionals who are asking people to stay home except for most essential needs.
"Listen to the medical professions. Do it for yourself and do it for your parents and do it for each other," Jones said.
Print this piece