Opinion | Border battle harms Alabama communities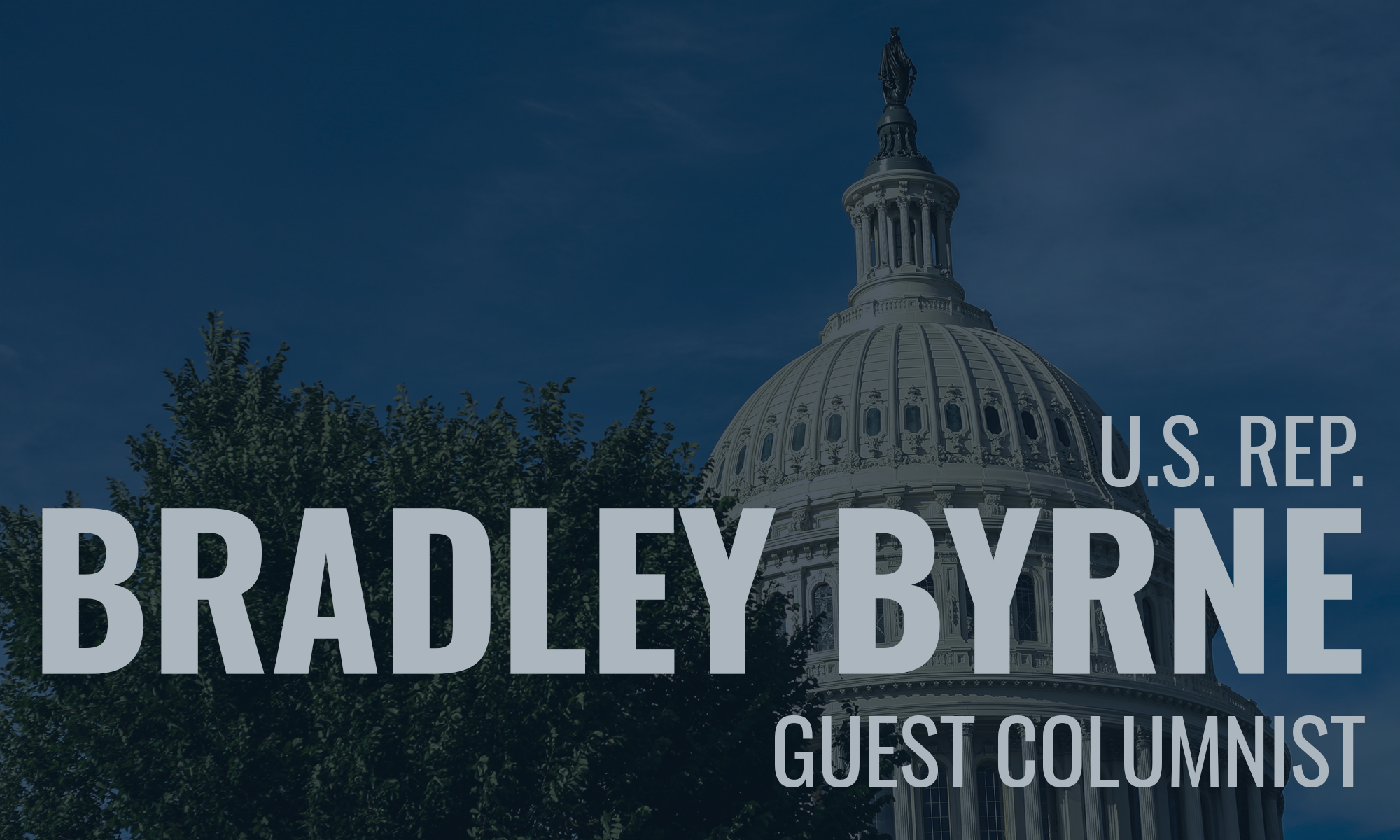 The detrimental effects of the humanitarian and national security crisis on our border extend all the way to Alabama communities. That's why I've made it a priority to address our immigration policies.
One of the most obvious ways our insecure border harms our communities is the drug trade. Our porous border is perhaps the most significant contributing factor to the ongoing opioid crisis — the worst drug epidemic in modern American history. In 2017, over 47,000 lives were claimed by opioids. That's more than those from car accidents and firearms. These deaths have affected families across our great state.
The drug problem is made worse by the unprecedented migrant surge. James Carroll, director of the U.S. Office of Drug Control Policy, said just last week that drug seizures are down this year because so much attention is being diverted to humanitarian needs.
Because of that diversion, border patrol agents and resources are unable to be allocated towards their fundamental law enforcement functions. According to Carroll, more drugs are coming in than ever before.
One of the primary drivers of the migrant crisis is our asylum policy. Through a combination of loopholes worsened by a legal settlement made by the Clinton Administration, migrants are encouraged to cross our border and give themselves up to law enforcement.
After arrest, migrants claiming asylum are eventually permitted entrance into the country while their claims are processed. This is permitted even when migrants do not cross at a legal checkpoint.
Although, by some estimates, only around a tenth of asylum claims are found by our courts to be legitimate, the vast majority never show up for their court date and remain free inside the United States.
A disproportionate number of these asylum claims are made by able-bodied young men. Only a few months ago, a Mobile teacher was killed in a car crash by an illegal immigrant minor who had falsely claimed asylum but never showed at his court date to avoid deportation.
The coyotes and cartels, of course, have every reason to facilitate migrants along their journey and orchestrate lawlessness at the border.
Last week, one of the biggest points of entry at the Southern border had to be shut down after a wave of nearly 50 undocumented immigrants rushed the border into Texas. The group attempted to tear down barricades and assaulted several border patrol officers who were forced to deploy tear gas and pepper balls.
Let's call these people what they are — criminals. And while border agents were able to keep these criminals out of our communities, many more slip through the cracks while agents deal with illegal stunts like this and the humanitarian needs of asylee claimants.
Last year, a 13-year-old girl in Huntsville was beheaded after witnessing the stabbing of her grandmother by gang members in a horrific incident involving members of the Sinaloa Cartel. It is disheartening that gangs like MS-13 have infiltrated communities throughout our nation, but stories like this reinforce the sad truth that the problem is impacting Alabamians.
There are other significant problems that do not receive headlines. I've spoken with Alabama sheriffs who have shared horror stories about the strain illegal immigration places on their deputies. And I've talk to incredibly frustrated school superintendents who must divert resources away from educating local students to deal with their illegal immigrant population. Our hospitals are also placed under enormous burdens by illegal immigration. And governments are forced to pay for services for illegal immigrants that could have gone towards roads, bridges and other services for Americans.
This is not just a Texas, New Mexico, Arizona or California issue. This is an Alabama issue. I will continue standing with President Donald Trump and work to get an immigration system that works for the American people.
Opinion | Comprehensive sex-ed for all can improve people's health
Last July, I spoke with Sky H., a 20-year–old who identifies as non-binary and grew up in a very conservative rural town in the Black Belt region of Alabama. In school, Sky received abstinence-only education. Sky told me there was little instruction about sexual and reproductive health besides the basics of reproduction.
After years of pain, Sky was diagnosed at age 18 with endometriosis, a painful disorder that can lead to fertility complications. The condition might have been diagnosed much earlier if they had learned more about their own bodies and reproductive health in school, Sky believed.
Unfortunately, Sky's experience isn't unique. Over the past year and a half, I've spoken to more than 40 young people from 16 counties throughout Alabama who also didn't learn about their sexual and reproductive health in school. Like Sky, they missed out on critical information and described the negative impact this had on the choices they made and their health as they grew older.
Schools in Alabama are not required to teach about sexual health but if they do, the State Code mandates a focus on abstinence. The State Code also contains stigmatizing language around same-sex activity and prohibits schools from teaching about sexual health in ways that affirm lesbian, gay, bisexual and transgender (LGBT) youth. This makes it even harder for young people like Sky to get information.
But Alabama is not alone. Sixteen other states in the U.S. also do not mandate sex education in schools. And at least five others have laws stigmatizing same–sex activity.
Comprehensive sexuality education can improve health outcomes for young people. It can help them learn about their bodies and how to recognize abnormal gynecological symptoms, steps they can take to prevent and treat sexually transmitted infections (STIs) and other dangers to their health, and where they can go for reproductive health services.
Sex ed can also educate young people about the human papillomavirus (HPV) — the most common sexually transmitted infection in the U.S. — and how to lower their risk of HPV-related cancers through the HPV vaccine.
This information can improve young people's health and save lives. Yet so few young people in schools throughout Alabama — and the U.S. — receive it. Instead, like Sky and other Alabama students, many young people receive abstinence-focused education.
These programs withhold critical, science-based information young people need to make safer decisions on their sexual health. They also shame adolescents about their sexuality, often leaving young people uncertain about who they can talk to or where they can go for accurate information about sexual behavior and health.
The problem is both a lack of political will and of adequate funding. Discriminatory property taxes and an inequitable education system leave many school districts in rural and less wealthy regions of Alabama without adequate funding. This means that programs considered optional, like sex ed, often aren't offered.
Alabama, a state with high rates of sexually transmitted infections and cancers related to HPV needs to do more to address historic inequalities and state neglect that have left Black people at a higher risk of poor health outcomes. Mandating comprehensive sexuality education for all of the state's schools — and allocating state funding for these programs — would be an important step forward.
Students in underfunded and neglected school districts — many of whom are Black and living in poverty — often lose out on access to critical and lifesaving information. It keeps them from being able to make informed and safe decisions and can harm their health. This unequal access to information can create lifelong disadvantages and may contribute to racial disparities in health as young people age into adulthood.
The Black Belt region of Alabama, where Sky is from, has high rates of poverty and poor health outcomes. The Black Belt region also has high rates of sexually transmitted infections and the highest rates of HIV in the state. Yet schools in this rural and marginalized region of the state are persistently underfunded.
The COVID-19 pandemic has brought glaring attention to systemic inequalities and racial disparities in health, including in Alabama, where Black people are significantly more likely to die from the virus than white people. Within the United States, we continue to see the disproportionate toll the pandemic has taken on Black people, who are more likely to live in poverty, lack access to health insurance, and suffer from chronic health conditions that put them at a higher risk of adverse health outcomes from the virus.
The pandemic has highlighted the importance of ensuring that everyone has the information, tools, and resources they need to make informed decisions to protect their health. Schools in Alabama — and across the country — should help do that for all young people.
The pandemic is also showing us what happens when discrimination and neglect leave certain people out.