SPLC says resuming federal executions is a step in the wrong direction
Attorney General Bill Barr has directed the Federal Bureau of Prisons to clear the way for the federal government to resume capital punishment. The attorney general has further directed the acting director of the BOP, Hugh Hurwitz, to schedule the executions of five death-row inmates convicted of murdering children and the elderly.
While the state of Alabama regularly executes criminals in our state system, the U.S. government has not executed any of their prisoners since 2003. If the Trump administration gets their way, that will change beginning in December.
The Montgomery based Southern Poverty Law Center issued a statement opposing the Justice Department decision.
Lisa Graybill is the deputy legal director for the SPLC's criminal justice reform project.
"There is a reason that the United States has gone 16 years without executing anyone, and has only executed three people since 1976 in federal custody," Graybill said. "Recognition that the criminal justice system in this country is broken, racial disparities abound, and the possibility of executing an innocent person is very real has rightly resulted in a reduction in the use of the death penalty."
"The decision by Attorney General William Barr to begin executions again will not solve any of these problems and concerns," Graybill warned. "Carrying out a death sentence costs more than a life sentence, does not deter others from committing crimes, and risks imposing the ultimate price on innocent individuals. Executions have been botched in grotesque attempts that create intense pain and suffering."
"Congress has expressly authorized the death penalty through legislation adopted by the people's representatives in both houses of Congress and signed by the President," Barr said. "Under Administrations of both parties, the Department of Justice has sought the death penalty against the worst criminals, including these five murderers, each of whom was convicted by a jury of his peers after a full and fair proceeding. The Justice Department upholds the rule of law—and we owe it to the victims and their families to carry forward the sentence imposed by our justice system."
"We encourage Attorney General Barr and others in power to rethink this decision. Bringing back the barbaric practice of executions at the federal level serves no useful purpose," Graybill said.
According to Fox News, there are 61 men and one woman on the federal death row. Most of them are housed at a federal prison in Indiana. Lethal injection is the only approved means of executing someone in the federal system.
Opponents of the death penalty often claim that it is "cruel and unusual punishment" under the Eighth Amendment of the U.S. Constitution.
The Justice Department said since 2010, 14 states have used pentobarbital in over 200 executions, and federal courts, including the Supreme Court, have repeatedly upheld the use of pentobarbital in executions as consistent with the Eighth Amendment.
Death penalty supporters point to the fact that when the Eighth Amendment was ratified, the federal government and all the states at that time used the death penalty, so the writers of the amendment clearly did not believe that the death penalty is "cruel and unusual."
Barr has targeted Daniel Lewis Lee for execution. Lee is a member of a white supremacist group who murdered a family of three, including an eight-year-old girl. After robbing and shooting the victims with a stun gun, Lee covered their heads with plastic bags, sealed the bags with duct tape, weighed down each victim with rocks, and threw the family of three into the Illinois bayou. On May 4, 1999, a jury in the U.S. District Court for the Eastern District of Arkansas found Lee guilty of numerous offenses, including three counts of murder in aid of racketeering, and he was sentenced to death. Lee's execution is scheduled to occur on December 9, 2019.
Lezmond Mitchell stabbed to death a 63-year-old grandmother and forced her nine-year-old granddaughter to sit beside her lifeless body for a 30 to 40-mile drive. Mitchell then slit the girl's throat twice, crushed her head with 20-pound rocks, and severed and buried both victims' heads and hands. On May 8, 2003, a jury in the U.S. District Court for the District of Arizona found Mitchell guilty of numerous offenses, including first-degree murder, felony murder, and carjacking resulting in murder, and he was sentenced to death. Mitchell's execution is scheduled to occur on December 11, 2019.
Wesley Ira Purkey violently raped and murdered a 16-year-old girl, and then dismembered, burned, and dumped the young girl's body in a septic pond. He also was convicted in state court for using a claw hammer to bludgeon to death an 80-year-old woman who suffered from polio and walked with a cane. On November 5, 2003, a jury in the U.S. District Court for the Western District of Missouri found Purkey guilty of kidnapping a child resulting in the child's death, and he was sentenced to death. Purkey's execution is scheduled to occur on December 13, 2019.
Alfred Bourgeois physically and emotionally tortured, sexually molested, and then beat to death his two-and-a-half-year-old daughter. On March 16, 2004, a jury in the U.S. District Court for the Southern District of Texas found Bourgeois guilty of multiple offenses, including murder, and he was sentenced to death. Bourgeois' execution is scheduled to occur on January 13, 2020.
Dustin Lee Honken shot and killed five people—two men who planned to testify against him and a single, working mother and her ten-year-old and six-year-old daughters. On October 14, 2004, a jury in the U.S. District Court for the Northern District of Iowa found Honken guilty of numerous offenses, including five counts of murder during the course of a continuing criminal enterprise, and he was sentenced to death. Honken's execution is scheduled to occur on January 15, 2020.
Each of these inmates has exhausted their appellate and post-conviction remedies, and currently, no legal impediments prevent their executions.
The execution will be performed at U.S. Penitentiary Terre Haute, Indiana.
Additional executions will be scheduled at a later date.
(Original reporting by Fox News contributed to this report.)
Print this piece
Alabama leaders remember Auburn head football Coach Pat Dye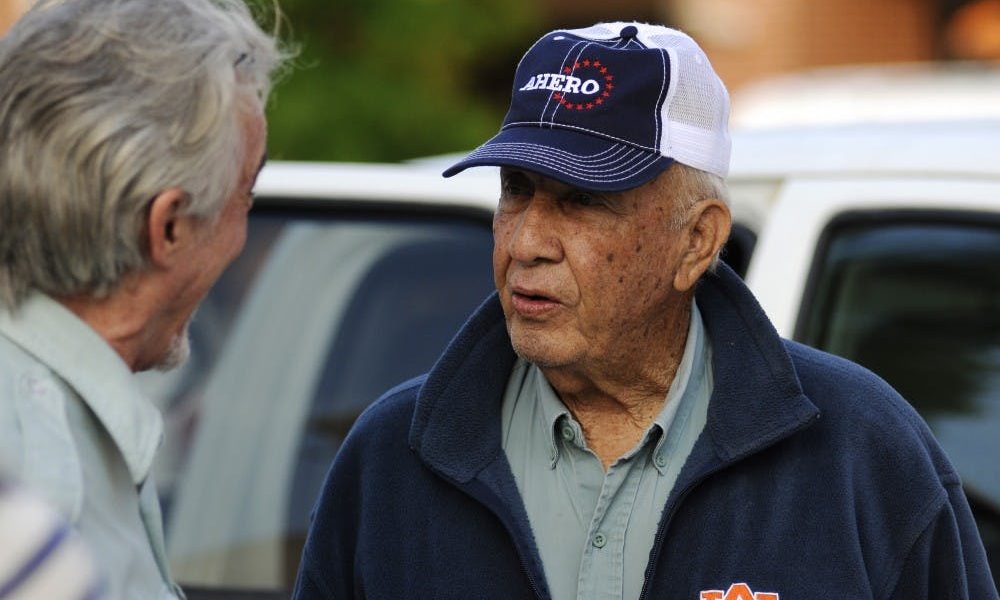 On Monday, former Auburn football head Coach and Athletic Director Pat Dye died from kidney and liver failure. He had recently tested positive for COVID-19 as well. He was age 80. Many Alabama leaders commented fondly on the legendary Auburn football Coach from 1981 to 1992.
Congressman Robert Aderholt (R-Haleyville) said in a statement, "If there was a college football version of Mount Rushmore, Pat Dye could be there among the greats. Not only did he bring Auburn football back into prominence by winning games, SEC Championships, and what probably should have been a 1983 National Championship, he was a wonderful molder of young men. While he will long be remembered for the games he won and the contributions he made to the great Auburn-Alabama rivalry, there are hundreds of people who were touched by him who will carry on his legacy for decades to come."
U.S. Senate candidate former Auburn head football coach Tommy Tuberville said, "Today is a sad day for the Auburn community with the loss of Coach Pat Dye. Coach Dye was a true Auburn man and believed in the value of hard work and "a sound mind, in a sound body and a spirit that is not afraid, and in clean sports that develop these qualities." He helped to instill these Auburn principles in players and fans alike. He was one of the coaching greats of the game, and many including myself learned invaluable lessons from watching him. My thoughts and prayers are with his family for peace and comfort during this time."
U.S. Senate candidate former Attorney General Jeff Sessions said, "The state of Alabama has lost one of its legendary coaches in Pat Dye. The field at Jordan-Hare Stadium in Auburn is named for him. He won four SEC championships at Auburn University, and he coached my choice for the world's greatest athlete, Bo Jackson, and others like Tracy Rocker, the tremendous Outland Award winner. Coach Dye's teams were famous for their toughness and fighting spirit and for never quitting. He brought the Iron Bowl to Auburn and won an upset victory in that historic first game at Auburn in 1989. Pat Dye never lost his country roots or his common touch. My condolences to Coach Dye's family, and to the entire Auburn family."
Alabama Governor Kay Ivey (R) said, "I am saddened to hear of the passing of Coach Pat Dye — a great man, coach and member of the Auburn family. Not only was he a phenomenal football coach, but an even better person. For years, I have known Pat personally and have always valued his friendship and colorful commentary. He had great takes on both football and life. Coach Dye truly embodied the Auburn spirit. He will be missed not only by the Auburn family, but the entire state of Alabama. War Eagle, Coach. Your life and legacy lives on."
Former State Rep. Perry O. Hooper Jr (R-Montgomery) said, "We lost a great Coach and a Great American today!Coach Pat Dye passed away this morning."
U.S. Senator Doug Jones (D-Alabama) said, "Coach Dye was larger than life-a true legend. Not only did he win countless Auburn football games at the helm of championship teams, but more importantly he won the hearts of so many in Alabama and beyond. He truly was a man of great character and my heart is heavy hearing the news of his recent passing. Louise and I will be keeping his loved ones in our prayers."
U.S. Representative Bradley Byrne (R-Montrose) said, "‪Coach Dye was always so friendly, encouraging, and just a true joy to be around. Rebecca and I join so many others in mourning his passing and remembering a life most certainly well lived."
Alabama Republican Party Chairman Terry Lathan said, "Moments I'll always remember and be grateful for- celebrating my birthday with an Auburn man and legend. Wings up Coach as he walks humbly with God. "I believe in my Country, because it is a land of freedom and because it is my own home, and that I can best serve that country by doing justly, loving mercy, and walking humbly with my God."-Auburn creed."
"I was saddened to hear about Coach Dye's passing this morning," said Second Congressional District candidate Barry Moore. "Everyone in Alabama knew him, and those who knew him well knew what a fine person he was."
Auburn Athletics Director Allen Greene said, "For four decades, Coach Dye showed all of us what it looks like to be an Auburn person. His coaching exploits are well known, securing his induction into the College Football Hall of Fame. His skills as an administrator were equally formidable, resulting most notably in bringing the Iron Bowl to Jordan-Hare Stadium. Just like his football teams, Pat Dye the athletic director was tenacious, never backing down from a fight when he believed Auburn's good name and best interests demanded it. Thanks to his tenacity, I'll always treasure my first home Iron Bowl, celebrating victory on the field that bears his name."
Current Auburn Head Football Coach Gus Malzahn said, "Coach Dye was much more than a hall of fame coach and administrator at Auburn. He was an Auburn leader and visionary. He not only returned the football program back to national prominence during his tenure, but was a key figure in bringing the Iron Bowl to Auburn and made an impact on the university and in the community. He embodied what Auburn is about: hard work, toughness and a blue collar mentality. Coach Dye's impact on Auburn is endless and will stand the test of time. "
Dye also coached for six seasons at East Carolina University and one season with the University of Wyoming. Dye played football at the University of Georgia and was an assistant football coach under legendary University of Alabama head football Coach Paul "Bear" Bryant. Dye's overall record as a head coach was 163-62-5. He was 99-39-4 at Auburn where he is the third winningest coach in the history of the program.
Print this piece