GOP opponents attack Doug Jones for his pledge to support Democratic nominee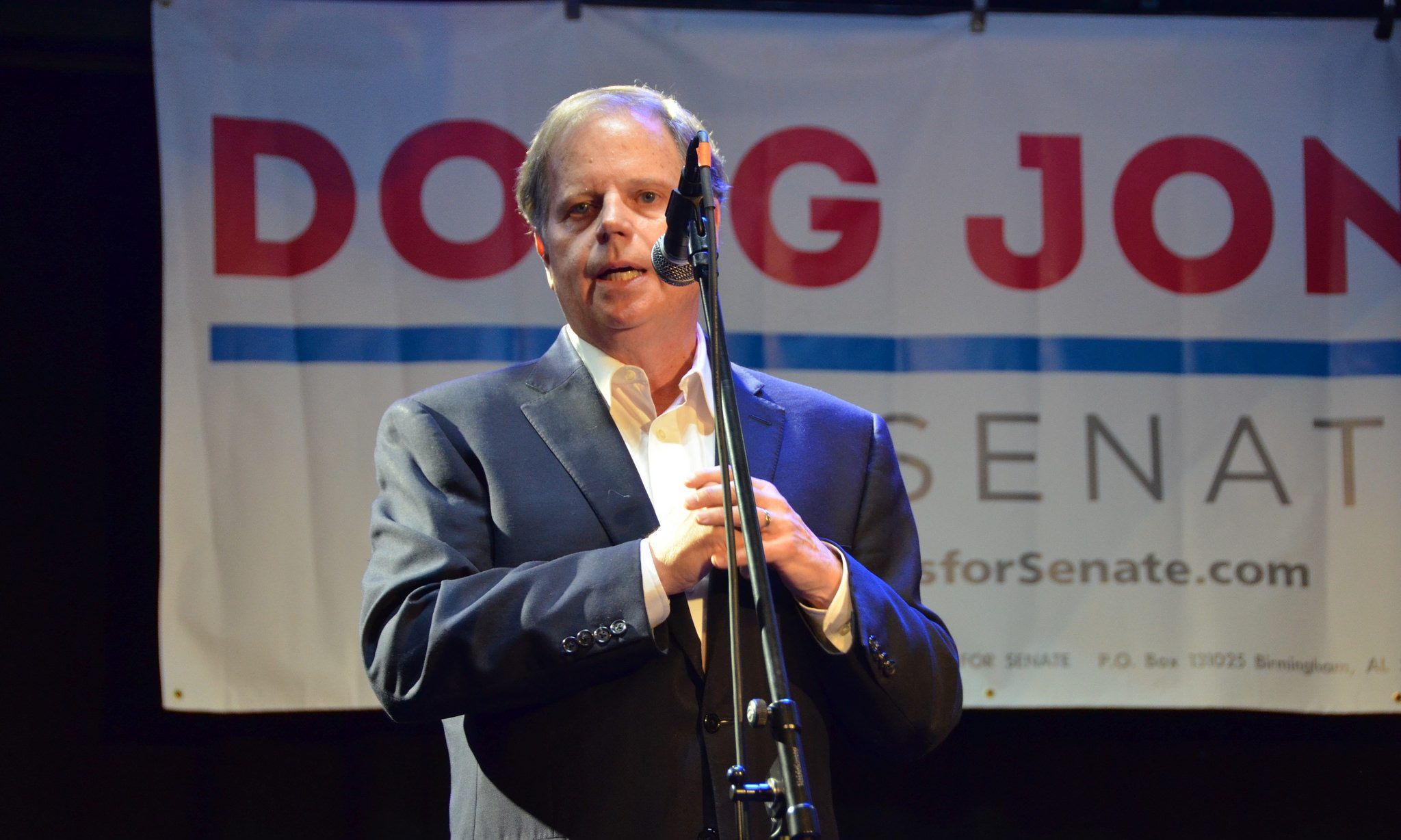 Republicans have been critical of a recent statement by U.S. Senator Doug Jones (D) in which he told a crowd "we will end up supporting the nominee."
The comments last week were seized upon by Republicans eager to push the narrative that Jones is too liberal for Alabama.
"Whatever we're going to do, we will end up supporting the nominee," Jones told Alabama voters on Friday. "I'm not going to run away from that. And I'm going to hope to have some of my colleagues come down here."
His GOP opponents, former Chief Justice Roy Moore, Congressman Bradley Byrne, and former Auburn football Coach Tommy Tuberville all sent statement to the Alabama Political Reporter critical of Jones' comments.
"I fully expected Doug Jones to support the Democratic presidential nominee, no matter how immoral, liberal, socialist, or un-American their agenda might be," Judge Moore told APR in an email.
"While Doug Jones is promising to support the Democrat nominee no matter who it is or what crazy Socialist policies they support, I am proud to stand with President Trump and his pro-Wall, pro-Life, and pro-Job agenda," Rep. Byrne told APR in an email. "The people of Alabama will support President Trump and a conservative fighter for Senate, not Doug Jones and the Socialist Democrats."
"Doug Jones is as liberal as they get," Coach Tuberville told APR. "He's completely out of step with Alabama voters. From supporting Chuck Schumer and Nancy Pelosi, to voting against confirming Brett Kavanaugh to the Supreme Court, Senator Jones is a radical leftist that does not represent our Alabama values. It should be no surprise that he will support whatever socialist the Democrats nominate for President."
"The future of our country is at stake in this election!" Chief Justice Moore added.
The National Republican Senatorial Committee is releasing a new video today tying Doug Jones to the 2020 presidential candidates ahead of the Tuesday and Wednesday night debates, NRSC Press Secretary Nathan Brand told APR.
Ten of the twenty Democratic presidential candidates will be in a debate tonight on CNN. Ten more will be in the CNN debate on Wednesday night. Four were left out by the Democratic National Committee rules.
Brand told APR that the Democratic candidates for president have announced their support for imposing higher taxes, banning employer-based health insurance, providing free health coverage for illegal immigrants, decriminalizing illegal immigration, and many other radical big government proposals.
"The voters of Alabama know that anti-Trump Democrat Doug Jones has embraced the socialist agenda of the 2020 Democratic presidential candidates that will be on the debate stage this week," Brand said.
"His pledge to support any of these clowns for president is a reminder that Doug Jones will put his party and their socialist agenda ahead of the principles and priorities of Alabama voters."
Jones has endorsed former Vice President Joe Biden (D) for President; but his comments on Friday seem to indicate that Jones believes that any of the 24 Democratic candidates would be a better President than Donald J. Trump (R).
GOP voters will pick the Republican nominee in a primary election on March 3. At present, Jones does not have a Democratic primary opponent.
In addition to Moore, Byrne, and Tuberville; Alabama Secretary of State John Merrill, State Representative Arnold Mooney, and businessman Stanley Adair are also running for the nomination.
Jones narrowly defeated Moore in a special election in December 2017. Jones is the only Democrat to win any statewide race in Alabama since 2008 and is widely considered to be the Democratic Senate incumbent that Republicans are most targeting in 2020.
(Original reporting by Real Clear Politics contributed to this report.)
Kirk Hatcher's (potential) problem with the Hatch Act
Hatcher is set to face former Rep. John Knight in a special election runoff on Dec. 15.
Is Kirk Hatcher eligible to run for public office? That might seem like an easy question to answer, given that Hatcher has represented Alabama's 78th House District since 2018 and is currently the overwhelming favorite to win a special election for the District 26 state Senate seat.
But on Monday, a question about Hatcher's eligibility — specifically, whether the Hatch Act would prohibit him from holding public office because of his employment as director of Head Start in Montgomery — sent Hatcher's staff scrambling.
While assuring APR that Hatcher is "absolutely eligible" to run, his spokesperson, Ashley Roseboro, forwarded a redacted opinion that Roseboro said the campaign requested and received from the U.S. Office of Special Counsel.
Roseboro said the opinion stated that "Rep. Hatcher is in full compliance with the Hatch Act."
However, that opinion, after the redactions were removed by APR, turned out to be from 2014 and for a nonprofit named Opportunities for Otsego, located in upstate New York. It did not address Hatcher's specific situation, and it obviously did not find him in "full compliance."
The Hatch Act is a federal law in place to prevent federally funded programs from engaging in political activities and to restrict the political activities of federal employees and employees whose salaries are funded by federal grants. In Hatch Act guidance issued by various agencies online, Head Start programs and their employees are specifically mentioned as examples of workers who cannot participate in political activities during working hours or run for or hold partisan public office.
As the director of Montgomery's Head Start program within the Montgomery Community Action Partnership, Hatcher would seem to fall under that limitation. However, there are a few exceptions to that general rule, mostly based on how federal funds are distributed and controlled at the state and local level.
According to the Otsego opinion, which outlines the general funding setup for Otsego County's Head Start programs, it seems likely that the Head Start program in Montgomery also operates on federal grant dollars and has local control of how that money is spent.
In that case, according to the Office of Special Counsel in the Otsego opinion, Hatcher, as the Head Start director, would be ineligible to hold partisan public office if his salary was fully funded by federal money.
APR asked Roseboro if Hatcher's salary was partially funded by sources other than federal funds. He declined to answer, saying only that "Rep. Hatcher is eligible to hold public office."
Late Monday night, Roseboro sent a final email acknowledging that the initial opinion he sent APR was not prepared for the Hatcher campaign, as he previously stated. Instead, he said the campaign was directed to that opinion by the Office of Special Counsel when it called seeking guidance regarding Hatcher and the Hatch Act. Roseboro said the campaign also spoke with attorneys at the Special Counsel's office, but specifics about those conversations or when they took place were not provided.
The email also contained a statement from Hatcher: "My candidacy for State Senate is not in violation of the Hatch Act and I am in compliance with all state and federal election laws. I am excited about finishing this race as people have shown that they are ready to move forward with new leadership and continue to maximize Montgomery's opportunities and potential."
The email did not offer an explanation of how Hatcher is in compliance with the Hatch Act or what specific exception he is relying on.
Hatcher is set to face former Rep. John Knight in a special election runoff on Dec. 15. The winner of that runoff is almost certain to become the District 26 state senator.