New data indicates that Democrats will have to do better with rural voters to take back control of the Senate in 2020
Tuesday, One Country Project (OCP) released new, original data they claim shows the correlation between Presidential and Senate election outcomes, proving the Democratic road to victory is contingent upon rural support. Open Country Project says that if Democrats continue to perform poorly with rural voters they will not retake the Senate even though Republicans are defending 22 seats; while Democrats are defending only 12 seats, thus appear theoretically that Republicans would be vulnerable in 2020.
"Our data shows that Republicans have a 40 seat, built-in base in the Senate, meaning unless we do a better job engaging rural Americans, Republicans will have a massive head start in every race for a Senate majority and a lock on enough seats to stand in the way of a Democratic president's agenda," said former Senator Heidi Heitkamp. "If nothing changes, Democrats will never have more than a hope and a prayer of eking out a slim Senate majority. Voters are not connecting with Democrats and we risk being stuck in the minority for decades to come if we do not re-open the dialogue with Americans who live in the countryside and small towns across every region."
Heitkamp is a founding board member of OCP. She was defeated defending her South Dakota seat in 2018 by her Republican challenger after she voted against Supreme Court nominee Brett Kavanaugh.
OCP found that Presidential outcomes matter when it comes to the Senate majority. In 2016, every single Senate result matched the top of the ticket in the state. The GOP Senate majority is built on rural states. 19 percent of the population yields a state "base" of 40 seats. Only Manchin, Tester, and Alabama's Doug Jones (D) hold seats in that GOP base geography.
Since 2000, the party defending the most Senate seats have suffered a net loss in seven out of ten elections. The average loss is 5 seats.
Democrats need a net gain of 4 seats if Trump is re-elected. If the Democratic nominee is elected they only need a net gain of three Seats to take control with the Democratic vice president providing the tie breaker.
In 2018, Republicans translated their structural advantage to a two seat net gain.
While Democrats have fewer seats to defend this year than do Republicans; the GOP does have some advantages. The biggest of these may be Donald Trump. Increasingly people vote for the same party for both President and Senate. In 2016 every Senate race result matched the top of the ticket in the state, unlike previous years. In 2016, Trump beat Hillary R. Clinton 62.9 to 34.6 percent in the state of Alabama. If something similar were to happen in 2020, then Doug Jones would need for over 20.5 percent of Trump voters would have to split their ticket and vote for Jones. In 2018 over 60 percent of Alabama voters voted straight party.
According to their analysis of the 22 Republican seats only four are vulnerable. They list possible pickups for the Democratic Party in: North Carolina, Arizona, Colorado, and Maine. There are three possible pickups for Republicans and these are: Michigan, New Hampshire, and Alabama, where Jones is the incumbent.
Right now Republicans have 53 seats to 47 for Democrats (that includes two independents that caucus with the Democrats). According to their analysis, if they can hold Doug Jones seat, the Democrats would still need to win all of the remaining six seats that are likely in play to take a 51 to 49 majority. If the Democrats were to lose Jones' seat, it suddenly becomes very tricky for Democrats. Republicans would only need to win one of the other six Senate seats that are likely in play to retain a 51 to 49 majority in the Senate. According to their analysis, the best case scenario for Democrats is a 51 to 49 narrow majority. The worst case scenario for Democrats would be a 44 to 56 seat minority.
The One Country Project is working to promote greater opportunities for rural communities and
ensure leaders earn support from rural Americans.
One Country says that it is reengaging with the American Heartland, serving as a clearinghouse of research and information for rural Americans, and working to ensure leaders regain trust by fighting for these communities.
Alabama GOP chair Terry Lathan congratulates Tuberville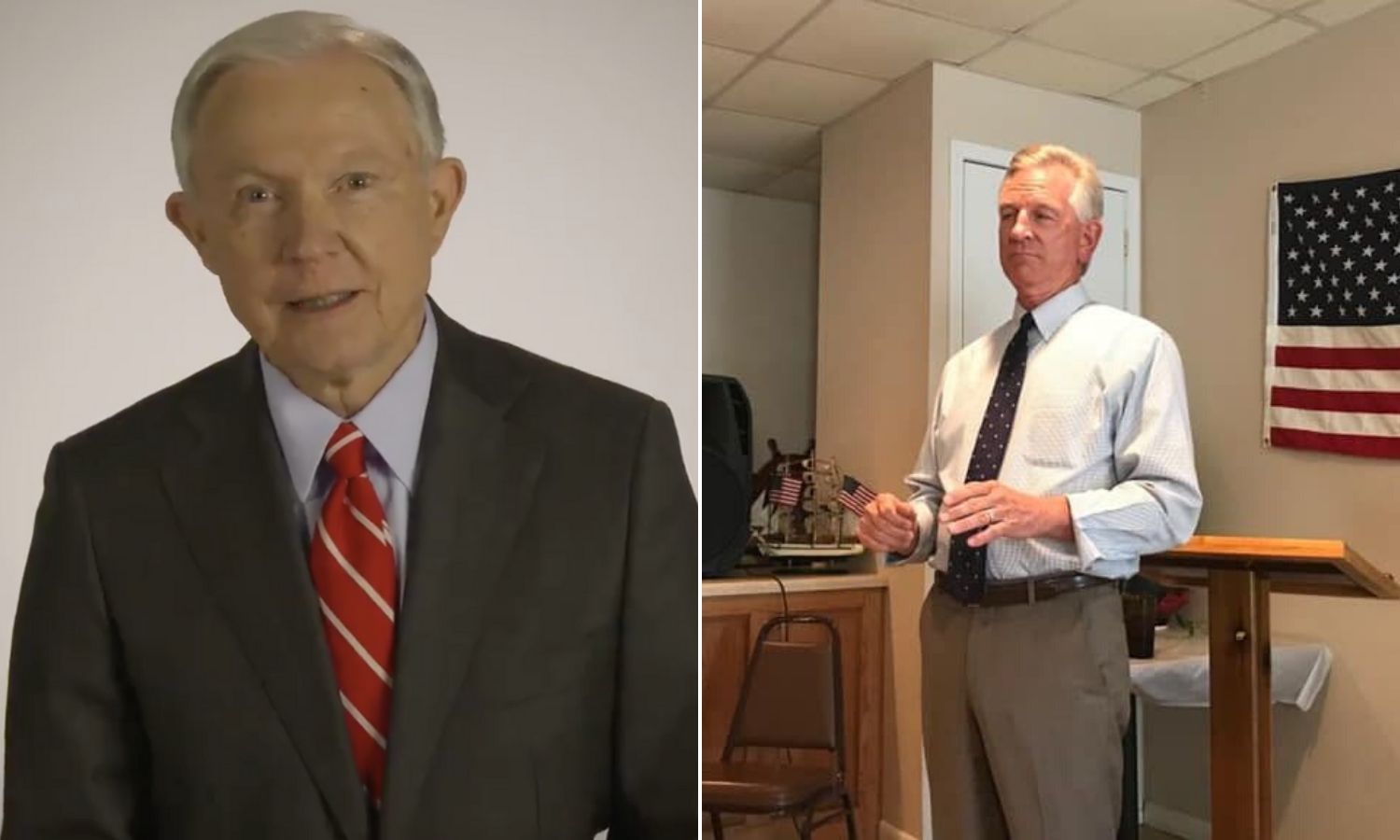 Former Auburn football head coach Tommy Tuberville soundly defeated former Sen. Jeff Sessions, R-Alabama, on Tuesday in the Republican primary runoff. Alabama Republican Party Chairman Terry Lathan issued a statement congratulating Tuberville on the victory.
"It's great to be an Alabama Republican! Our voters have spoken and they have chosen an outstanding U.S. Senate nominee for the November 3rd General Election, Coach Tommy Tuberville," Lathan said. "Even under difficult circumstances with the COVID-19 situation, Alabamians were deeply engaged and determined to participate in our voting process."
With 100 percent of the boxes reporting, Tuberville won 60.74 percent compared to Sessions with 39.26 percent. Tuberville won 64 of Alabama's 67 counties.
"Tommy Tuberville is a true Washington outsider and has gained the trust of Alabama Republican Party voters to represent them and help President Trump 'Drain the Swamp'" Lathan continued. "He will fight for the will of the majority who have been ignored since 2017. His conservative positions on the issues and support of our president will be welcomed when he defeats Doug Jones in November. Alabama is the highest approval rated state for President Trump. The combination of Coach Tuberville and President Trump's popularity in our state puts us in a very strong position to flip this seat back to the GOP."
Tuberville's win effectively ended the 27-year political career of former Attorney General Sessions. Sessions left this Senate seat in 2017 to become U.S. attorney general. Sessions was fired from that post by the man who appointed him to it, President Donald Trump, over strong disagreement with Sessions' decision to recuse himself from the Russian collusion scandal investigation in the 2016 election.
A still angry Trump denounced Sessions as "the biggest mistake" of his presidency and endorsed Tuberville. Sessions could never overcome the president's disapproval with Alabama Republican voters. As recently as Saturday, Trump said of Sessions: "Washington doesn't want him back."
Sessions is also a former Alabama attorney general and chairman of the Alabama Republican Party.
"We are greatly appreciative of Jeff Sessions and his lifetime of commitment to conservative policy and service – not just to Alabamians but to all Americans," Lathan said. "He is a true patriot in every sense of the word and our nation is stronger because of his willingness to take a stand on the issues and fight for the will of Alabamians. Senator Sessions has earned his place in history as a true conservative warrior."
"We would also like to thank Secretary of State John Merrill and the election teams around the state who worked so diligently in providing heath care protection to the voters in today's elections," Lathan added. "Together, we are unstoppable on November 3rd. Alabamians have that date circled in red and plan to end the tenure of liberal Doug Jones. While we know a battle is ahead, his voting record will be in the spotlight – voting to impeach our president and not to seat Justice Kavanaugh, voting against building our nation's security walls and tax cuts just to name a few. We look forward to doing to Doug Jones what he and his left wing buddies failed to do to President Trump – end his time in office."
Tuberville in his speech came out swinging against incumbent Sen. Doug Jones, blasting him for voting to impeach Trump and for voting against Brett Kavanaugh for the Supreme Court.
"Democrat Doug Jones is running for reelection with the slogan of One Alabama," Tuberville said. "Well, you can make no mistake about it: what Doug really means is, One Liberal Alabama."
Tuberville accused Jones of taking "marching orders from Joe Biden, Nancy Pelosi and Chuck Schumer and bartender AOC."
Tuberville thanked Trump for his support and called him: "The greatest President of my life."
Tuberville said he will vote to defend Alabama's Second Amendment rights: "By God, they're not taking our guns."
Tuberville faces stiff competition from Jones, who has raised close to $10 million to spend by Nov. 3 and was not bloodied in a primary contest.
Tuberville is an Arkansas native and a career football coach; best remembered for his tenure at Auburn University. He was also the head coach at the University of Mississippi, Cincinnati, and Texas Tech. He won a national championship as a defensive coordinator at the University of Miami.