Jones calls economy "fragile"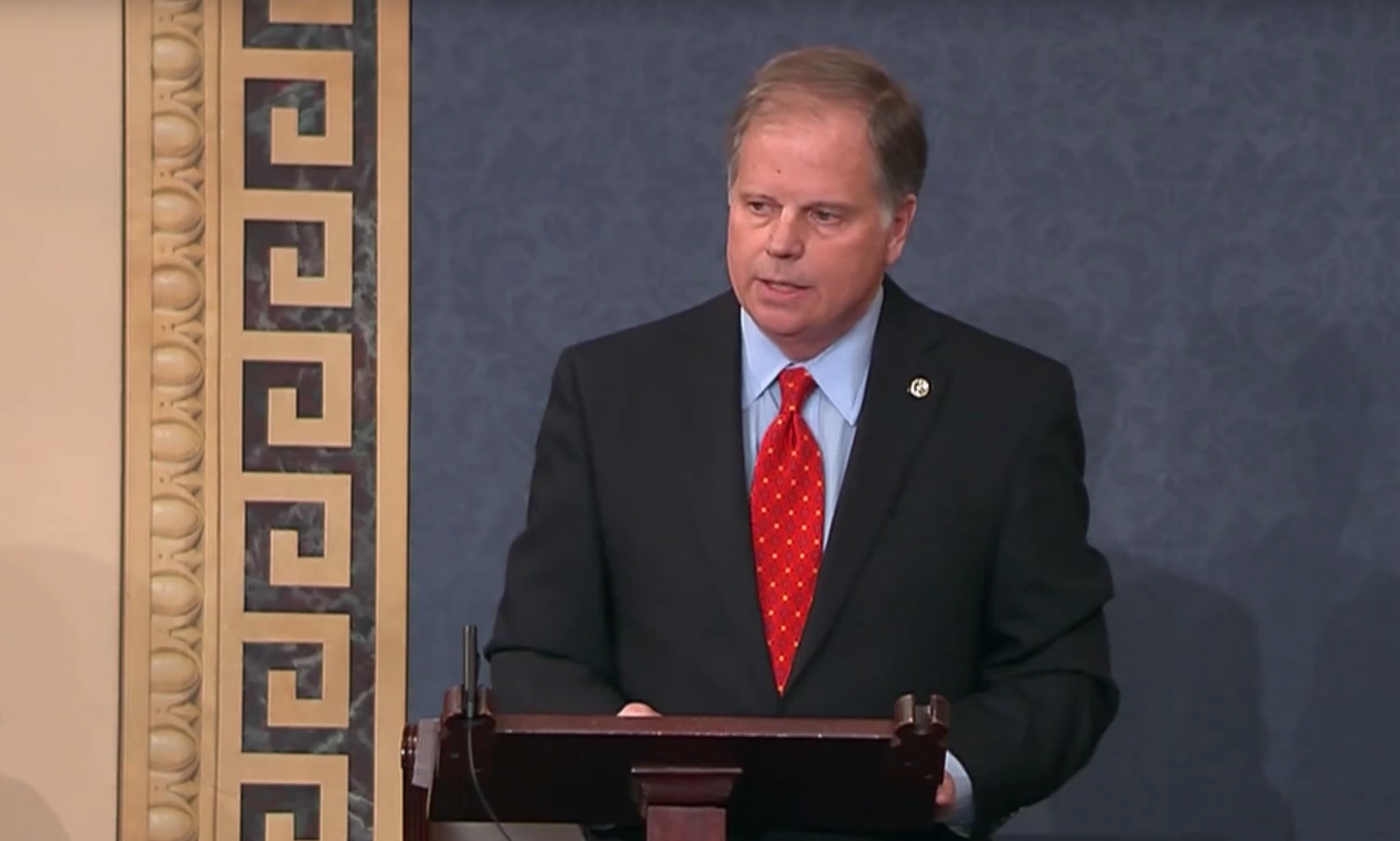 Monday U.S. Senator Doug Jones told a townhall audience in Hamilton that he is concerned about the economy.
Jones acknowledged that the economy was doing strong, but warned that it 'fragile."
Jones said that it is not a good sign that the Federal Reserve lowered interest rates. "That have detected some weakness in the economy," Jones said of the decision to lower rates.
Jones said that President Trump was right to stand up to China. "For too long China has been able to get way with a lot." Jones says that the Chinese are guilty of currency manipulation, dumping, and the theft of intellectual property.
Jones grew up in Fairfield and he blamed Chinese dumping of steel partly for the decline there.
"At one point, U.S. Steel had 23,000, people working at the Fairfield Works. Today there is less than a 1,000 people working there."
Jones expressed frustration in the President's strategy because he also attacked our allies. By picking fights with everybody at the same time, that meant that our allies, "aren't helping us with China. We are going it alone on China."
Jones said that a tariff is just another tax. The tariffs drive up the cost to produce cars at Mercedes, at Honda, and at Hyundai because there are parts from all over the world on all of these vehicles that are assembled here. The tariffs mean that you would pay ten to 25 percent more for everything produced in China.
"I am worried about our agriculture because of tariffs," Jones said. "Soybean farmers and cotton farmers are getting hit hard."
"You can't sell the soybeans," Jones said. The administration is provided aid to farmers, but "Farmers don't want a hand out they want a market. The Chinese bought half of our soybeans. If something does not change farmers are going to lose that market in China. There are more and more bankruptcies among farmers there are more and more suicides among farmers."
The suicide rate among American farmers has soared to where it is now double that of even veterans.
Jones said that the farmers have been sticking with the President, as they should.
Former State Senator Roger Bedford (D-Russellville) praised Jones for his work on the bipartisan farm bill.
Jones said that the Senate passed a Farm Bill with broad bipartisan support. Bipartisan farm
"We got some really good things there," Jones said.
Jones said that he worked on getting protections for cotton farmers and making sure that cotton had a federal program.
Jones did praise the new "NAFTA", the Mexico, Canada Agreement as being an improvement over the previous agreement, though he said that he would like to see some environmental issues addressed in there.
Doug Jones was elected in a special election in 2017. He is a former U.S. Attorney and previously had worked in the Senate as an aide to the late Howell Heflin (D- Alabama).
Print this piece
UAH researchers and the world's fastest supercomputer join the fight against the COVID-19 virus
More and more of Alabama's brainpower is being redirected into fighting the novel coronavirus that causes COVID-19.
Dr. Jerome Baudry is a professor in the Department of Biological Sciences at the University of Alabama at Huntsville. Dr. Baudry and his lab are involved in a project that is using the Oak Ridge National Laboratory's Summit supercomputer to examine compounds to fight the virus that has already killed 34,807 people as of early Monday morning.
The compounds under review include drugs already available with safe profiles, as well as natural products. Compounds identified as possible future drugs will also be studied.
"We are at this point focusing on repurposing existing drugs," Dr. Baudry said. "That is, to take existing drugs from the shelf and find which ones are active against either the virus itself or can help in treating or mitigating the effects of infection in the severe cases."
Dr. Baudry said that about 30 researchers are involved in the project, and are working around the clock. The group is studying how the virus ticks, including how it expresses proteins, for clues on how to defeat it.
"We can use high performance computers and supercomputers to look at the entire genome of the virus, see everything the virus' genome is making and build computational models of all these proteins, and repeat the repurposing process for each of these proteins," Dr. Baudry said.
Scientists in the group are starting with some proteins on the surface of the virus in an attempt to prevent it from infecting human cells.
"We are also looking at some of the proteins that allow the virus to replicate itself when it is inside the human cell in order to block this process, a bit like for many anti-AIDS drugs," Dr. Baudry explained. "But we will expand to pretty much everything in the virus' genome that can be targeted by a drug."
Oak Ridge National Laboratory's 200 petaflop supercomputer allows researchers unprecedented access to solving this and some of the world's other most pressing challenges.
Researchers have a databases about virtually all existing drugs, natural products or molecules that may not have been tested yet as drugs. There are thousands of them. Then they build virtual models of these compounds using the laws of physics and chemistry to calculate their composition and arrive at a very detailed computational description.
"Then we look at the virus' genome," Dr. Baudry said. "We have to build models for all the virus' proteins, again describing all the atoms, their properties, how they move together, etc."
The supercomputers then compute how the atoms of a possible drug will interact with the atoms of the virus' proteins.
"It's like doing a test tube experiment to see if a possible drug will bind to the protein, except that we perform this in a virtual test tube using our computers," Baudry explained.
Economic developer Dr. Nicole Jones explained to the Alabama Political Reporter, "Researchers across Alabama are working around the clock to assess potential treatment for the novel COVID-19. The University of Alabama in Huntsville (UAH) and Dr. Baudry are using technology, the Oak Ridge National Laboratory's Summit supercomputer, to examine compounds from safe, existing drugs as well as natural products. Repurposing existing drugs is a strategy that can expedite the process if a potential cure or treatment is found. The drugs are already on the shelf, why not test them to see if they can be useful? The high performance computers and supercomputers allow researchers to examine the entire genome of the virus and how it reacts. UAH's latest announcement is another example of the brainpower we have in Alabama and our state's commitment to combating this pandemic."
UAB, Southern Research Institute, Hudson Alpha, and Alabama biotech firms are also working on finding drugs that will treat COVID-19 as well as hoping to develop a vaccine to prevent it.
Print this piece