Two years after Charlottesville, civil suit ongoing against Alabama-based white supremacy group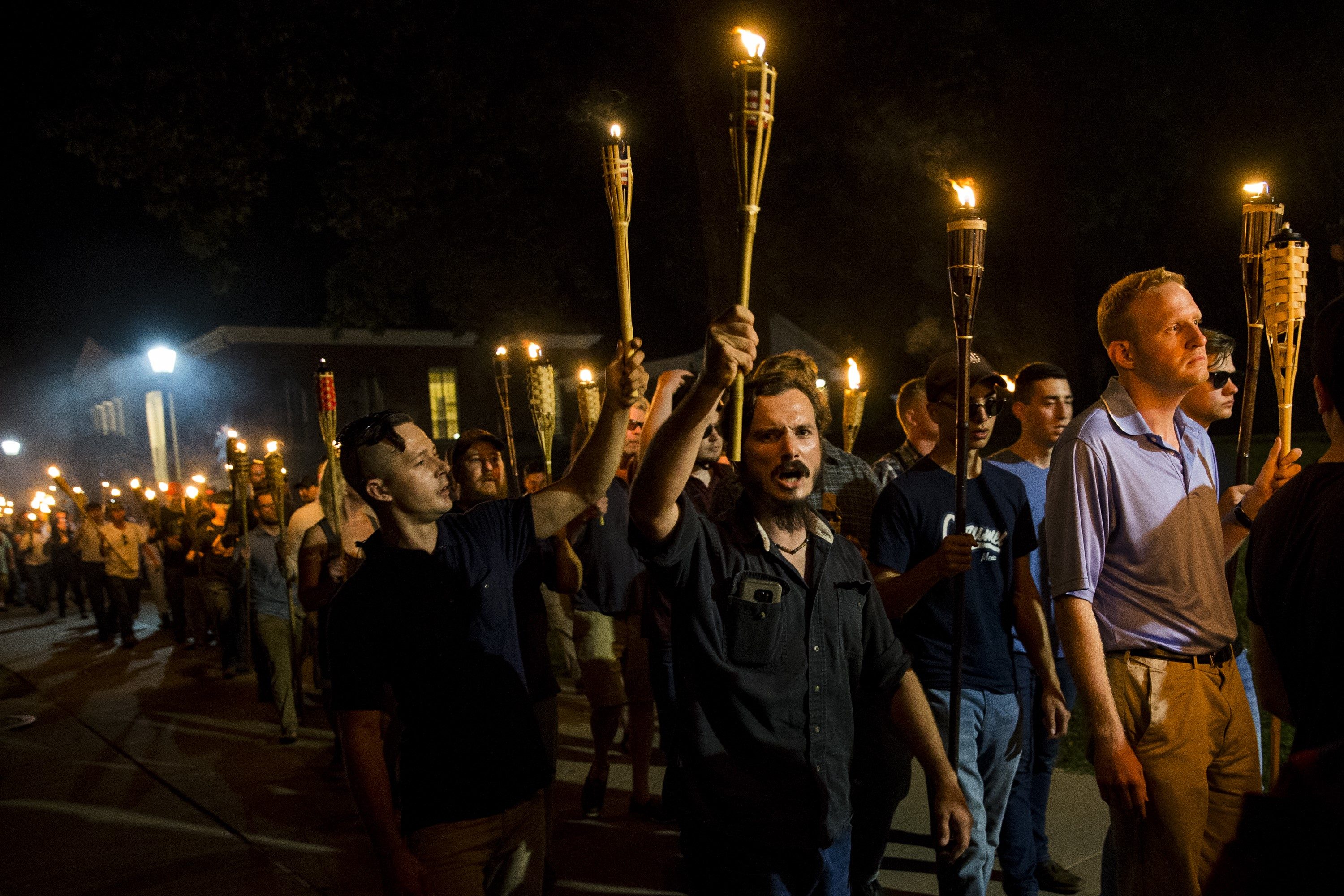 An Alabama-based white supremacy group uses the same internet security company that recently severed ties with the online message board 8chan, which was the online platform for the racist manifestos of three mass shooters this year. 
The League of the South's website security certificate lists the web security company Cloudflare, whose CEO on Aug. 5 announced the company would no longer provide service to 8chan.
Meanwhile, it's been two years since a young woman was killed by a white supremacist at the Unite the Right rally in Charlottesville, Virginia, on Aug. 12, 2017, and civil suit in federal court continues against the League of the South and others over their role in the deadly violence that day. The trial could take place as early as next June, according to the plaintiffs. 
Rep. Mike Rogers, R-Saks, on Aug. 6 discussed plans for a congressional investigation into 8chan, which is run by an American living in the Philippines and has become a breeding ground for white supremacists, neo-Nazis and mass shooters who use the site to amplify their racist ideologies, recruit others and advertise their acts of violence.  
On Aug. 3, a 21-year-old man posted his racist manifesto moments before allegedly shooting to death 22 people in a Walmart in El Paso, Texas, with an assault rifle. In his writings, the man spoke of what he said is a "Hispanic invasion." Most of those killed had Hispanic last names and the shooter later told investigators that he was targeting Mexicans. 
The suspects in two other attacks this year also posted to 8chan. A white supremacist who shot and killed 51 people in two mosques in Christchurch, New Zealand on March 15 posted a link to his manifesto on 8chan minutes before the attack, which he live-streamed to Facebook. 
One woman was killed and three others injured in the Chabad of Poway synagogue in Loway, California, on April 27, when a gunman opened fire with an assault rifle. Before the shooting, the gunman posted to 8chan a racist and anti-Semitic letter that blamed jewish people for the often-repeated conspiracy theory of the "genocide of the European race." 
"I have made clear that hateful ideologies amplified by 8chan and other fringe websites are propelling young people toward violence before law enforcement is able to act," Rogers said in an Aug. 4 statement after the El Paso shooting. "Yesterday's events were yet again enabled by the echo chambers these fringe websites have created."
On Aug. 6, Rogers and fellow House Homeland Security Committee member and chairman Rep. Bennie Thompson, D-Mississippi, cosigned a letter to 8chan owner Jim Watkins that called for him to provide testimony before the committee. 
Attempts last week and this week to reach Rogers and a representative for Cloudflare were unsuccessful. 
Alabama connection to the violence
The League of the South, headquartered in Killen, Alabama, was founded in 1994 by Michael Hill, who still leads the group. 
Numerous LOS members took part in the violence during the Unite the Right rally in Charlottesville, Virginia, in 2017, according to court records in which a white supremacist drove his car through a crowd of counter-protesters killing activist Heather Heyer. 
The driver of the car that struck and killed Heyer, James Alex Fields Jr., was sentenced to life in prison last month.
LOS member Tyler Davis in February entered an Alford plea for his participation in the beating of a black man, DeAndre Harris, shortly after the Unite the Right rally. An Alford plea means that he agreed that there's enough evidence to convict him, but that he does not admit guilt. He's to be sentenced on Aug. 27. 
Three other men have either been convicted or pleaded guilty of beating Harris. A Charlottesville judge in March tossed a lawsuit against Harris, brought by North Carolina attorney and LOS state chairman Harold Crews, who alleged he'd been assaulted by Harris. 
In a federal civil lawsuit in Virginia 10 victims say they were injured during the Unite the Right rally and named 25 Defendants, which include the League of the South, Michael Hill and LOS Florida chapter leader Michael Tubbs. 
Tubbs served fours years of an eight year prison sentence in the 1990s after pleading guilty in connection to a string of burglaries during his time in the U.S. Army in which he and a group of others stole stockpiled weapons and explosives. The men had planned to bomb newspapers, television stations and jewish and black-owned businesses in Jacksonville, Florida, according to the Southern Poverty Law Center. 
The suit alleges that Hill, Tubbs, The League of the South and the other defendants "conspired to plan, promote and carry out the violent events in Charlottesville," using social media and chat websites, according to the complaint. 
Attempts this week and last week to reach Hill for comment were unsuccessful. 
On April 20, U.S. Magistrate Judge Joel C. Hoppe ruled against a motion by one of the defendants to quash subpoenas for Twitter, Godaddy.com, Hatreon and Cloudflare, which were all subpoenaed by plaintiffs who say the tech companies have evidence no longer publicly available that can prove the defendants conspired to commit the violence.  
Court filings state that Cloudflare provided services for three websites run by other defendants in the suit, although the League of the South's website is not listed among them. 
A separate judge on July 9, 2018, ruled against motions to dismiss, filed by defendants, including Michael Hill, Tubbs and LOS who argued that the First Amendment covered their actions. 
"Defendants Michael Hill, Michael Tubbs and League of the South were allegedly in the heart of the violence that occurred on Saturday the 12th," the judge's order states. "Defendant Tubbs ordered Defendant League of the South members to 'charge,' and [a]fter receiving this command, the group streamed past him to attack counterprotesters."
Amy Spitalnick is director of the nonprofit Integrity First for America, the organization that brought the lawsuit against the defendants in the deadly Charlottesville rally. 
Spitalnick, the granddaughter of Holocaust survivors, told APR in an email Monday that she expects the trail to begin mid to late 2020 and could result in real change. 
"This case is about holding accountable the extremists who planned and caused a weekend of violence in Charlottesville," Spitalnick wrote to APR. "That violence was not an accident — it was the result of months of meticulous planning, in which the defendants discussed everything from which weapons to bring, to whether they could drive over protesters with cars. The case has the potential to bankrupt and dismantle the leaders at the center of this violent movement."
The Tuscaloosa-based United Klans of America was bankrupted and disbanded in 1987 after a civil suit over the 1981 lynching of a 19-year-old black man, Michael Donald. 
On the killings
On Aug. 6, two days after a shooter in Dayton, Ohio, killed 9 people and three days after the El Paso shooting that killed 22 mostly Hispanic shoppers at a Walmart, Hill posted his own comments on the shootings to the LOS website, which seemed to defend the El Paso shooting. 
"The ongoing war on Whiteness has reached a fever pitch in America," Hill wrote, adding that the El Paso shooting has been "Blamed on a "White Supremacist," and everyone from the Jew-dominated media to the Jew-dominated White House has been quick to condemn any White man or woman who dares defend themselves and their own race." 
Hill wrote that the shootings are being used by the "Establishment" to condemn the white race. 
"The people who now are expected to sit quietly while they are replaced by an alien population. If they offer the least hint of resistance to their own replacement, they are demonized as "racists," "xenophobes," "anti-Semites," etc.," Hill wrote. 
On March 16, one day after the murder of 51 people in mosques in New Zealand, Hill published his thoughts to the LOS website that seemed to defend that mass shooting. 
"As I write this, the Progressive media are busy trying to link Trump's support of White nationalism to the mosque shootings in Christchurch, New Zealand. This is how they choose to handle coverage when Whites have had enough and fight back against, in this case, the invasion of a hostile religious force," Hill wrote. "When Whites are made out to be criminals for exercising their ancient rights — much like what has already happened in the aftermath of Charlottesville—then there are few options other than to submit to tyranny or to fight back." 
Twitter has banned Hill multiple times for violating the social media company's terms, but like many other white supremacists banned by the giant social media company Hill has resurfaced more than once. As of Monday evening the LOS was still on Twitter. 
Youtube removed the LOS's channel in June. Hill wrote on the LOS website that it was removed for spreading what YouTube/Google called "hate speech."
"Of course 'hate speech' is simply anything the Jew-dominated left doesn't like and anything that spreads the truth against their Narrative of Lies," Hill wrote. 
Facebook banned the League of the South and numerous other white supremacist groups in March, but members of many of these groups, still use their personal Facebook accounts to point followers to their websites and to recruit others, Buzzfeed News reported. 
Print this piece
Private prison company eyes Elmore County land for one of state's new prisons
Editor's note: The story was updated Feb. 12, 2020, to reflect that the private company Corvias has also pulled out of the procurement process. 
The private prison company CoreCivic for more than two years has been eying land just outside the city of Tallassee in Elmore county to build one of Alabama's planned three new prisons, something several locals say they don't want and weren't aware of until last month. 
Meanwhile, the Elmore County Commission argues that the prison should be located on state-owned land where the closed Draper prison stands, about 30 miles west of the proposed site. 
CoreCivic's push to get one or more of the state's three contracts to build the prisons comes as two of the other private companies, Geo Group and Corvias, have dropped out of the running.  
The architecture firm Goodwyn, Mills and Cawood in recent weeks have been conducting surveys and soil testing of the 376 acres on Rifle Range Road, which is owned by a local man, Ken Maddox, according to tax records and interviews with residents. The property had been listed for just more than $1 million. 
If the Alabama Department of Corrections selects the site work could begin as early as the fall on a medium or maximum security prison to house between 3,100 and 3,900 incarcerated people.  
Leslie Ogburn, who lives and works on land next to the proposed site on Rifle Range Road, told APR on Sunday that local residents found out about the plan approximately two weeks ago, when land surveyors began working on the property. 
"There's been a lot of backlash from the community over it," Ogburn said. "All three of our schools would be within four miles of the prison." 
There's also the stigma of being a small town centered around a massive prison, Ogburn and other residents told APR on Sunday. 
Ogburn started an online petition asking residents to sign their names opposing the prison. As of Tuesday evening more than 1,5oo people had done so. She plans to deliver those signatures to Gov. Kay Ivey's office. 
Alan Parker built a home for himself and his wife on Rifle Ridge Road three years ago to get away from bustling Montgomery, where he runs a landscaping business he told APR he'll soon retire from. He lives about a quarter-of-a-mile down the road from the site, and said he's worried about his property values if it's built. 
"My wife retired from the state health department. We're empty-nesters and just wanted to have a nice country place," Parker said. 
He was also concerned that the matter didn't come out from local officials sooner, and thinks the secrecy was purposeful. 
"A super-prison with 4,000 people? They would have to sneak around everybody's back to get that in around here," Parker said.
Alabama's violent, overcrowded and understaffed prisons face the possibility of a federal takeover. The U.S. Department of Justice detailed the those problems in a report released in April 2019 that found that Alabama may be in violation of prisoners' Constitutional rights. 
Under Gov. Kay Ivey's plan, private companies would build the prisons and the state would lease and operate them. The Alabama Department of Corrections has estimated the cost of all three new prisons to be approximately $900 million. 
The proposed site on Rifle Range Road is just outside the Tallassee city limits, but falls within the city's utility coverage area. 
Tallassee Mayor Johnny Hammock in recent days has faced public pressure for not telling residents of the proposal sooner, and on social media some questioned a trip he took to Arizona to visit CoreCivic prisons. 
Hammock told APR on Monday that shortly after taking office in October 2016 he was approached by the Elmore County Industrial Development Authority (ECIDA) asking if he knew of 2016 acres available for sale in the city's industrial park, without saying what the land was needed for. Hammock said he told them the park had no such available property. 
Hammock said some time in 2017, although he couldn't recall exactly when, he was again contacted by the ECIDA and told they'd located land on Rifle Ridge Road and was asked to sign a non-disclosure agreement with CoreCivic, which he did, and was told hat the company was looking at the Rifle Range Road site for a prison. 
Hammock's first discussion with CoreCivic predates Gov Kay Ivey's administration, and would have happened likely after former Gov. Robert Bentley in January 2017 called for a plan to build four new prisons. That plan, which would have required the state to borrow $800 million, failed. Ivey's plan was a slight tweak of Bentley's, cut the prisons to three and removed the need to borrow the money, instead going with a build-lease proposal.
Hammock said he later took a weeklong trip with an engineer the city uses to Arizona to see CoreCivic facilities and talk with local municipal leaders. He said the city paid for the plane tickets, some meals and for the engineer's time spent in Arizona and work done back in Alabama drafting plans for infrastructure at the Rifle Range Road site.
Hammock said that all together, the trip and engineering work cost approximately $10,000 and that the ECIDA, Which is a separate entity from the county, paid for the hotel stay. CoreCivic paid nothing toward the trip, he said. 
About two weeks ago word began circulating around Tallassee that a private prison company might build on Rifle Range Road, Hammock said, so he called CoreCivic and said he'd have to discuss this with residents. 
"I said, 'Hey look, I ran a campaign on transparency and I know we're supposed to be hush-hush about this but I'm not going to lie to people,'" Hammock said. "So they said, tell them what you know." 
Hammock has said that a prison on Rifle Ridge Road would boost the city's utility revenues – Hammock is both the mayor of Tallassee and also the city's superintendent of utilities – provide jobs and spur economic growth. He said more than 700 people in Elmore County work for the Alabama Department of Corrections. 
"What if they move it somewhere and it's out of commuting distance and these people move out of our area?" Hammock said. "I have to look at it from every angle." 
Troy Stubbs, chairman of the Elmore County Commission, told APR on Monday that the commission learned on Aug. 28, 2018, that a private prison company was looking at land in Tallassee, and that a meeting was set up the following week with Hammock, ECIDA and county officials to discuss the matter. 
County officials stressed in that meeting a desire for the prison to be located on the Draper prison site, Stubbs said, but that state law does not allow private companies to build on state-owned land. 
"We believe that that whole area has the current infrastructure in place, from water and sewer and everything else, that if it's ready to build immediately," Stubbs said of the Draper site. 
Stubbs said that throughout 2019 the county commission has worked with Gov. Kay Ivey's office, Alabama Department of Corrections commissioner Jeff Dunn and state legislators to ask for an amendment to state law that would allow the Draper site to be considered. 
Asked if CoreCivic is also considering the Draper site, Stubbs said that the commission hasn't given the company any tours of the land, but that it's possible CoreCivic has visited it. 
Hammock said he wasn't certain if the Draper site was still being considered by the company, and that CoreCivic doesn't discuss with him other potential sites, but that the Draper property was in play early on. 
ADOC in statements to APR this week confirmed that Geo Group and Corvias have pulled out of the procurement process.
"The Alabama Department of Corrections is pursuing a delivery model tailored specifically to the State's needs, which will allow the successful developer teams to finance, design, build, and maintain three new men's prisons. This delivery model is unique in that the new facilities will not be private prisons, as the State will lease and operate the facilities," ADOC's statement reads.  "Participating in the procurement process requires significant investments from the developer teams; therefore, it is typical part of the process for teams to withdraw if they recognize the delivery method is not an ideal match for their business model."
Alabama Prison Transformation Partners, a partnership including B.L. Harbert International and Star America, remain in the running, along with CoreCivic.
Both Geo Group and CoreCivic have faced increased public pushback for providing housing for immigrants for the U.S. Immigration and Customs Enforcement, which spurred condemnation and lawsuits over abuse of those detained. 
According to The Washington Post both private prison companies have struggled to access funding as multiple investors have stopped providing capital to private prison operators. 
APR reported in December that CoreCivic was looking to a Japanese Bank for financing, but that Birmingham-based Regions Bank continues to provide financing to CoreCivic. 
Stubbs said that the disapproval from some local residents in Tallassee over the prison proves the fact that, unlike other economic development projects, prisons are unique.
"You need the public on your side," Stubbs said. People who live near one of the county's two existing prisons are already used to living close to the facilities, he said. 
The Elmore Correctional Facility, classified as a medium custody facility, houses 1,176 inmates north of Montgomery, and the Staton Correctional Facility, which opened in 1978 about 12 miles west of Wetumpka, has beds 1,376 medium custody inmates. Draper prison opened in 1939 and was designed for 650 inmates. It closed in 2018. 
Stubbs said neither he nor any other commissioner or member of the ECIDA were asked by CoreCivic to sign non-disclosures, and were kept "out-of-the-loop" on the company's plans for the Rifle Range Road site. 
Elmore County commissioner Mack Daugherty, whose district includes the Rifle Range Road site, on Jan. 30 got a call from a landowner next to the site asking why engineers were doing core samples and discussing the possibility of a prison being built, Stubbs said. 
Janice Wisener, whose family for three generations has operated a 470-acre farm that connects to the proposed prison site on Rifle Range Road, told APR on Monday that those engineers stopped in her driveway two weeks ago and said they were there to look at land next door, but declined to say why. 
"It's a mess," Wisener said, adding that she worries for her family's safety if it's built. "It's a lot to think about." 
Hammock said he understands why some are concerned, and that it might just cost him his reelection this year, but that he wasn't going make things difficult for Gov. Kay Ivey's office. Tallassee has gotten $4 million in state grants in recent years, he said. 
"I don't know how I would feel if I lived out there on Rifle Range Road across the street from it either," Hammock said. "It's mixed emotions. If somebody wants to blame somebody on it, they're probably going to blame me." 
Proposals from the private companies are to be submitted in April, and ADOC is to make selections during middle to late summer. Work could begin on the first prison in the fall.
Print this piece