Public meeting to be held Thursday on toll plan for Mobile River Bridge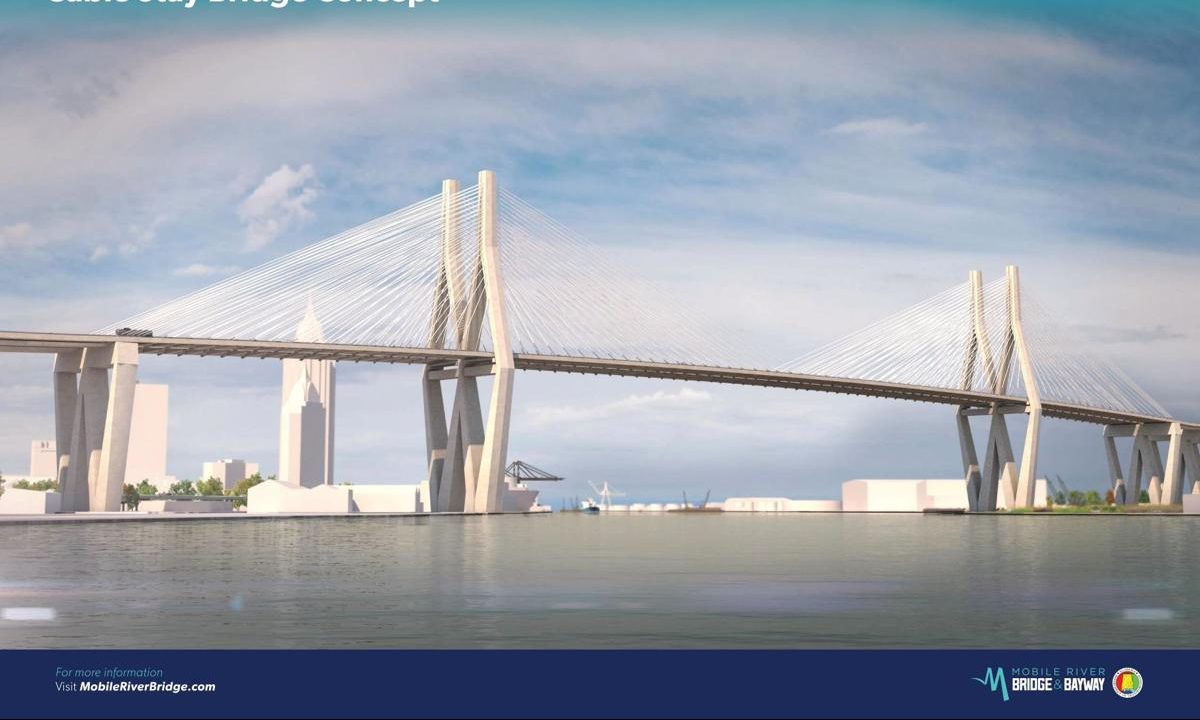 The Common Sense Campaign will be hosting a public meeting on the I-10 Mobile Bay Bridge. The meeting will be at 5 Rivers Community Center on the Mobile Causeway on Thursday, Aug. 15 from 6 p.m. to 8 p.m. Baldwin County's two State senators, Sen. Greg Albritton, R-Atmore, and Sen. Chris Elliott, R-Daphne, are both expected to be in attendance.
Lou Campomenosi is the president of the Common Sense Campaign. He will emcee the event.
While elected officials will be in attendance, their role will be to listen and learn. The aim of the hearing is to give the members of the public an opportunity to explain how the toll plan would affect their families or businesses.
The Alabama Department of Transportation has proposed forming a public private partnership with a multi-national conglomerate in order to build an I-10 bridge over the Mobile River. The bridge will have 210 of vertical clearance so all manner of oceangoing traffic, including the new bigger cruise ships, can easily pass underneath en route upriver to the Alabama State Docks. The bridge and replacement of the existing Bayway is projected to cost $2.1 billion.
Under ALDOT's current proposal, both the bridge and the existing Wallace tunnels would be tolled for the next 55 years to pay for the project. Frequent travelers between Mobile and Baldwin counties would be able to purchase unlimited toll bridge access for just $90 a month. An annual membership would cost $1,080 per car. Other travelers on I-10 would receive a bill in the mail for $6 for every time they crossed the bridge of used the tunnel and Bayway. There will be higher tolls for large trucks and for vehicles towing a trailer, and there likely will be an administrative fee applied. Motorists who do not pay their toll bills would lose their driving privileges.
While I-10 users would be tolled, under the ALDOT plan, the Mobile Causeway, the Cochran-Africatown bridge and the Bankhead Tunnel would remain free.
State Auditor Jim Zeigler is leading the grassroots opposition to the ALDOT plan. Zeigler has asked Alabama Gov. Kay Ivey to pause this project so that other funding sources can be explored.
Zeigler has urged his followers on the "Block the Mobile Bayway Toll" Facebook page, the members of the Common Sense Campaign and members of Citizens for Government Accountability as well as other citizens in Baldwin and Mobile counties to attend the Thursday public meeting.
"Let's make sure your voices are continuing to be heard in Montgomery," Zeigler said.
Zeigler leads a Facebook group for citizens who are opposing the toll proposal named "Block the Mobile Bayway Toll" with 48,323 members. Zeigler said the toll charges would be devastating for working families and small businesses.
"I am sensitive to those legitimate concerns of what a toll would do to working families, lower and middle-class citizens, small businesses, students and the elderly," Ivey recently wrote. "However, there are also countless individuals who would like the option of choosing a safer, less congested route across the Mobile River and Bay – even if it means that route will come with a toll. Keep in mind, there will always be 'toll-free' options for anyone who wants or needs to cross Mobile Bay for free. To those who say the bridge can be built without a toll, I simply ask you to show us how."
There will be a public meeting of the nine-member toll authority on Oct. 7 to discuss the project and whether or not to move forward on awarding the P3 contract.
ALDOT hopes that construction can begin in early 2020 with completion not expected before 2025.
Print this piece