Public meeting to be held Thursday on toll plan for Mobile River Bridge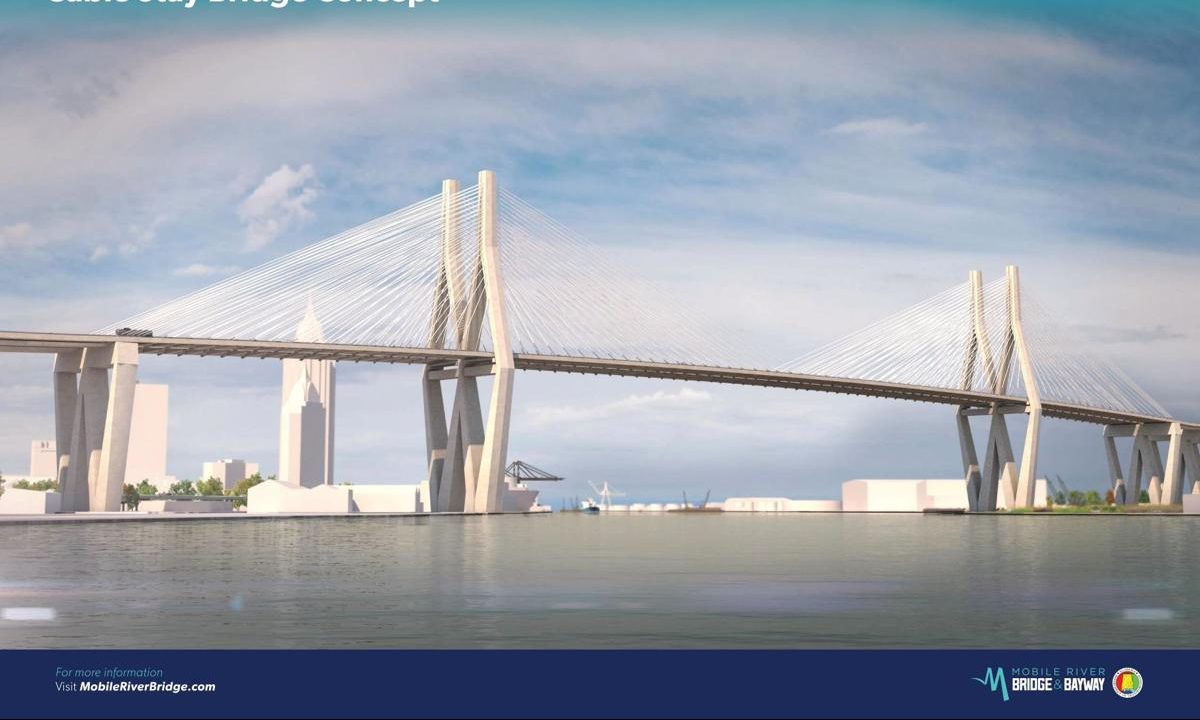 The Common Sense Campaign will be hosting a public meeting on the I-10 Mobile Bay Bridge. The meeting will be at 5 Rivers Community Center on the Mobile Causeway on Thursday, Aug. 15 from 6 p.m. to 8 p.m. Baldwin County's two State senators, Sen. Greg Albritton, R-Atmore, and Sen. Chris Elliott, R-Daphne, are both expected to be in attendance.
Lou Campomenosi is the president of the Common Sense Campaign. He will emcee the event.
While elected officials will be in attendance, their role will be to listen and learn. The aim of the hearing is to give the members of the public an opportunity to explain how the toll plan would affect their families or businesses.
The Alabama Department of Transportation has proposed forming a public private partnership with a multi-national conglomerate in order to build an I-10 bridge over the Mobile River. The bridge will have 210 of vertical clearance so all manner of oceangoing traffic, including the new bigger cruise ships, can easily pass underneath en route upriver to the Alabama State Docks. The bridge and replacement of the existing Bayway is projected to cost $2.1 billion.
Under ALDOT's current proposal, both the bridge and the existing Wallace tunnels would be tolled for the next 55 years to pay for the project. Frequent travelers between Mobile and Baldwin counties would be able to purchase unlimited toll bridge access for just $90 a month. An annual membership would cost $1,080 per car. Other travelers on I-10 would receive a bill in the mail for $6 for every time they crossed the bridge of used the tunnel and Bayway. There will be higher tolls for large trucks and for vehicles towing a trailer, and there likely will be an administrative fee applied. Motorists who do not pay their toll bills would lose their driving privileges.
While I-10 users would be tolled, under the ALDOT plan, the Mobile Causeway, the Cochran-Africatown bridge and the Bankhead Tunnel would remain free.
State Auditor Jim Zeigler is leading the grassroots opposition to the ALDOT plan. Zeigler has asked Alabama Gov. Kay Ivey to pause this project so that other funding sources can be explored.
Zeigler has urged his followers on the "Block the Mobile Bayway Toll" Facebook page, the members of the Common Sense Campaign and members of Citizens for Government Accountability as well as other citizens in Baldwin and Mobile counties to attend the Thursday public meeting.
"Let's make sure your voices are continuing to be heard in Montgomery," Zeigler said.
Zeigler leads a Facebook group for citizens who are opposing the toll proposal named "Block the Mobile Bayway Toll" with 48,323 members. Zeigler said the toll charges would be devastating for working families and small businesses.
"I am sensitive to those legitimate concerns of what a toll would do to working families, lower and middle-class citizens, small businesses, students and the elderly," Ivey recently wrote. "However, there are also countless individuals who would like the option of choosing a safer, less congested route across the Mobile River and Bay – even if it means that route will come with a toll. Keep in mind, there will always be 'toll-free' options for anyone who wants or needs to cross Mobile Bay for free. To those who say the bridge can be built without a toll, I simply ask you to show us how."
There will be a public meeting of the nine-member toll authority on Oct. 7 to discuss the project and whether or not to move forward on awarding the P3 contract.
ALDOT hopes that construction can begin in early 2020 with completion not expected before 2025.
Trump Administration invests $462 million to modernize rural water and wastewater infrastructure
President Donald Trump's administration announced Monday that the U.S. Department of Agriculture is investing $462 million to modernize critical drinking water and wastewater infrastructure across rural America.
"Upgrading the infrastructure that delivers safe drinking water and modern wastewater management facilities will improve public health and drive economic development in our small towns and cities," said Deputy Under Secretary for Rural Development Bette Brand. "Under the leadership of President Trump and Agriculture Secretary Perdue, USDA continues to be a strong partner with rural communities, because we know that when rural America thrives, all of America thrives."
USDA announced that it is funding 161 projects through the Water and Waste Disposal Loan and Grant Program. These investments will benefit 467,000 residents across the country. Alabama is one of the states that are slated to receive funding for water and wastewater projects. While it's not yet known which projects are being funded in Alabama, some communities in the Black Belt have had well-documented problems with their sewage and water systems for years.
"Access to clean, safe drinking water is a basic need that is critical for residents in rural areas," economic developer Nicole Jones told APR. "Oftentimes rural communities do not have the tax revenue that urban counterparts have, which makes facility and technology upgrades difficult. Modernized wastewater facilities increase efficiency and safety and are an important component of economic development. We are pleased to see Alabama on the list of beneficiaries for the $462 million dollar investment from the Trump Administration and USDA."
Some examples of projects being funded under Monday's announcement include:
In North Bend, Washington, the Sallal Water Association will use a $6.5 million loan to construct a reservoir, a new headquarters building and a new well. The Association supplies potable water to about 1,700 connections serving approximately 5,000 people throughout its service area, which includes the Wilderness Rim Association. The system currently delivers 190 million gallons of water each year from three wells.
The Sanbornville Precinct in New Hampshire will use a $2.9 million loan and a $695,885 grant to replace outdated water system infrastructure dating from the 1930s. This project will resolve health and sanitary issues by upgrading the source pump house facility and replacing 2.3 miles of failing bituminous-coated steel water mains. These improvements will bring the system into compliance with state and federal Occupational Safety and Health Administration regulations and provide enhanced water quality and reliability for 1,056 residents.
The town of Lawndale, North Carolina will use an $872,000 loan and a $1.5 million grant to provide sanitary sewer service to an area of the town that is currently without sewer service. Many homes in the area depend on individual onsite septic systems which are failing. The proposed project will install approximately 16,785 linear feet of eight-inch gravity sewer line, 60 manholes, 141 cleanouts, service laterals, and make other upgrades to service 141 additional residences. Approximately 600 residents will benefit from the project.
The investments that USDA announced today are being made in Alabama, Arkansas, Arizona, California, Connecticut, Florida, Georgia, Idaho, Illinois, Indiana, Iowa, Kansas, Kentucky, Louisiana, Maine, Maryland, Massachusetts, Michigan, Minnesota, Missouri, Mississippi, Montana, Nebraska, New Hampshire, New Jersey, New Mexico, New York, North Carolina, Ohio, Oklahoma, Oregon, Pennsylvania, Rhode Island, South Carolina, South Dakota, Tennessee, Texas, Utah, Virginia, Vermont, Washington, West Virginia, Wisconsin and Wyoming.
To learn more about investment resources for rural areas, interested parties should contact their USDA Rural Development state office.
USDA Rural Development provides loans and grants to help expand economic opportunities and create jobs in rural areas. This assistance supports infrastructure improvements, business development, housing, community facilities such as schools, public safety and health care, and high-speed internet access in rural areas.