Moore defends recent comments telling Congresswoman Ilhan Omar to go back to Somalia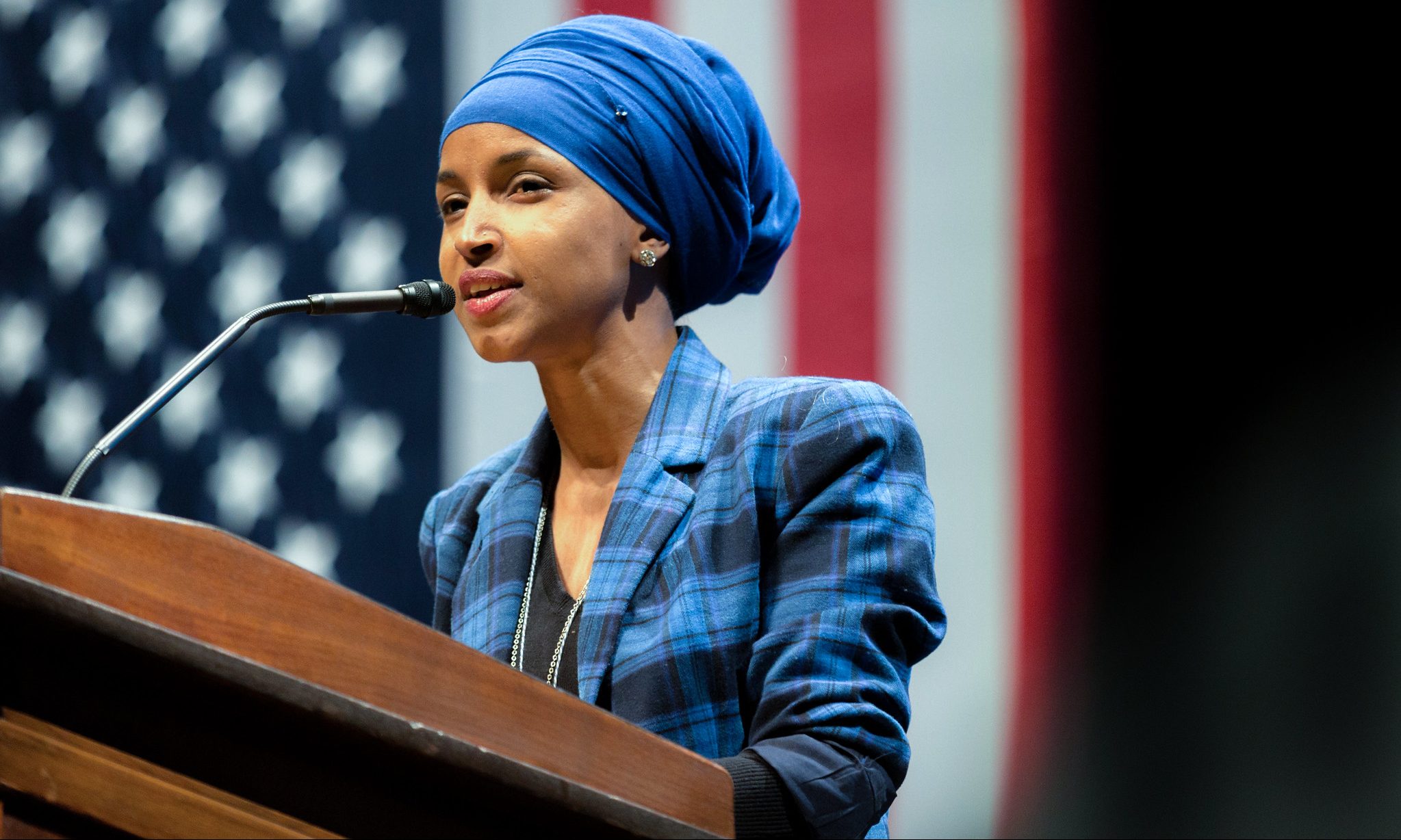 The Alabama Republican Party Executive Committee has drawn national headlines for a recent resolution calling on Congress to expel Congresswoman Ilhan Omar, D-Minnesota. Omar responded to the ALGOP resolution with a denunciation of Republican U.S. Senate candidate Roy Moore as a "child molester." Moore responded back, saying that he supports the resolution and told Omar to go back to Somalia. On Saturday, Moore defended his remarks on social media.
"I have a right to respond, and I did," Moore said. "It's a shame that we've got people in Congress that don't even support American values and support Muslim theology, which is directly contrary to the United States Constitution. If they take an oath on the Koran, they take an oath on an instrument that violates religious freedom. They don't recognize the God who gave religious freedom under our Constitution. And I think that's a very big criticism of what they're doing in Congress. They don't care for religious liberty because their government just violates it."
Muslim groups have been highly critical of the ALGOP resolution.
On Wednesday, Muslim Advocate's Eric Naing said in a statement, "In light of tweets today from U.S. Senate candidate Roy Moore supporting the AL GOP's anti-Ilhan Omar resolution and saying that she should "should go back to Somalia from whence she came," I wanted to send out Muslim Advocates' statement condemning the clear anti-Muslim bigotry behind the resolution."
Scott Simpson is the public advocacy director for Muslim Advocates. He condemned the resolution adopted by the Alabama Republican Party Executive Committee.
"Having a state political party officially adopt such a hateful, dishonest resolution is a troubling escalation of the ongoing effort to vilify American Muslims," Simpson said in a statement. "The text of the resolution reads like a laundry list of the most common anti-Muslim stereotypes: that Rep. Omar is un-American and anti-Semitic, that she disrespects the troops, that she is an ungrateful immigrant and that she sympathizes with terrorists. These meritless slurs are constantly hurled at American Muslims in public life in order to silence and discredit them."
Simpson went on to attack Congressman Mo Brooks, R-Huntsville.
"We saw the same type of anti-Muslim bigotry last week from Rep. Mo Brooks, also of Alabama, who falsely said that Muslims are more likely to be anti-Semitic and warned of 'the growing influence of the Islamic religion in the Democratic Party ranks,'" Simpson added. "These are not just attacks on Rep. Omar, these are attacks on an entire community. Dishonest smears like these are used against almost every American Muslim who exercises their right to serve their country. They are designed to intimidate them out of public service and tarnish their credibility. They will not work. When American Muslims in public life are attacked because of their faith, Muslim Advocates and countless Americans of conscience will stand up for what's right."
The resolution was introduced by State Rep. Tommy Hanes, R-Bryant.
Moore faces a crowded Republican field for the U.S. Senate nomination that includes: Secretary of State John Merrill, businessman Stanley Adair, former Auburn head football coach Tommy Tuberville, State Rep. Arnold Mooney, and Congressman Bradley Byrne. ALGOP is hopeful that their nominee can defeat Sen. Doug Jones, the only Democrat holding a statewide elected office in Alabama.
The major party primary is on March 3.
Print this piece
Rogers opposes housing persons infected with coronavirus in Anniston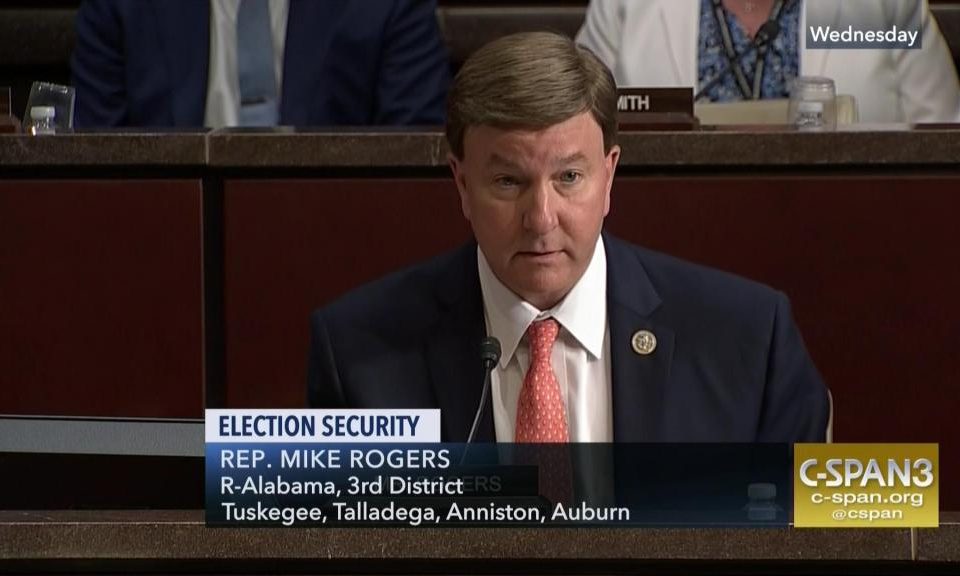 Saturday, the U.S. Department of Health and Human Services (HHS) announced that the Center for Domestic Preparedness (CDP) would be used as a quarantine center for some Americans exposed to Coronavirus (COVID-19). Congressman Mike Rogers, R-Saks, announced that he thinks this is the wrong decision and he is opposed to housing the coronavirus patients in Anniston.
"Earlier this evening, I spoke with President Trump. He agreed with me that the decision by the Department of Health and Human Services to house those Americans exposed to Coronavirus at the Center for Domestic Preparedness in Anniston is the wrong decision," Rogers said in a statement. President Trump had no advanced notice and these individuals were brought to the continental United States without his consent. I will continue to work with President Trump and HHS to find the best facilities that meet the needs for those Americans that have been exposed to this dangerous virus. The CDP is not that place," Rogers said.
The coronavirus is normally just the common cold. We have all had it multiple time. The novel (new) strain of the coronavirus appeared in Wuhan City, Hubei Province China in December. The new strain of the virus has been named SARS-Cov-2 and the disease the coronavirus disease 2019, which is being abbreviated as COVID-19
A percentage of people get the virus and show no symptoms. They feel nothing. Are they shedding the virus is a question researchers are still trying to understand. Most of the people who get the Novel strain of the coronavirus wake up with a fever and have flu-like symptoms. A not so small percentage have severe symptoms. Healthcare workers in Wuhan were particularly hit hard.
Efforts by the Chinese to contain this in Hubei Province failed and the disease has now spread to Beijing, Hong Kong, and 32 countries including the United States.
On January 30, 2020, the International Health Regulations Emergency Committee of the World Health Organization declared the outbreak a "public health emergency of international concern." On January 31, 2020, Health and Human Services Secretary Alex M. Azar II declared a public health emergency (PHE) for the United States to aid the nation's healthcare community in responding to COVID-19.
According to the CDC, Coronaviruses are a large family of viruses that are common in many different species of animals, including camels, cattle, cats, and bats. Rarely, animal coronaviruses can infect people and then spread between people such as with MERS-CoV, SARS-CoV, and now with this new virus (named SARS-CoV-2).
The SARS-CoV-2 virus is a beta-coronavirus, like MERS-CoV and SARS-CoV. All three of these viruses have their origins in bats. The sequences from U.S. patients are similar to the one that China initially posted, suggesting a likely single, recent emergence of this virus from an animal reservoir.
While it likely began at a large live animal market in China and spread animal to person, person-to-person spread began both in China and beyond, including in the United States.
Both MERS-CoV and SARS-CoV have been known to cause severe illness in people. The complete clinical picture with regard to COVID-19 is not fully understood. The CDC and world health authorities have an ongoing investigations to learn more. The CDC says that this is a rapidly evolving situation and information will be updated as it becomes available. More cases are likely to be identified in the coming days, including more cases in the United States. It's also likely that person-to-person spread will continue to occur, including in the United States.
The CDC is shipping test kits for the virus to laboratories CDC has designated as qualified, including U.S. state and local public health laboratories, Department of Defense (DOD) laboratories and select international laboratories. The test kits are bolstering global laboratory capacity for detecting SARS-CoV-2. The federal government is working closely with state, local, tribal, and territorial partners, as well as public health partners, to respond to this public health threat.
On January 21, the CDC activated its Emergency Operations Center to better provide ongoing support to the COVID-19 response. February 2, 2020, at 5:00 pm, the U.S. government suspended entry of foreign nationals who have been in China within the past 14 days.
U.S. citizens, residents, and their immediate family members who have been in Hubei province and other parts of mainland China are allowed to enter the United States, but they are subject to health monitoring and possible quarantine for up to 14 days.
The CDC has issued the following travel guidance related to COVID-19:
China — Level 3, Avoid Nonessential Travel — last updated February 22;
Japan — Level 2, Practice Enhanced Precautions — last updated February 22;
South Korea — Level 2, Practice Enhanced Precautions — issued February 22;
Hong Kong — Level 1, Practice Usual Precautions — issued February 19.
The CDC also recommends that all travelers reconsider cruise ship voyages into or within Asia at this time.
The CDC has deployed multidisciplinary teams to support state health departments with clinical management, contact tracing, and communications.
The CDC has worked with the Department of State, supporting the safe return of Americans who have been stranded as a result of the ongoing outbreaks of COVID-19 and related travel restrictions. CDC has worked to assess the health of passengers as they return to the United States and provided continued daily monitoring of people who are quarantined.
The CDC has been uploading the entire genome of the viruses from reported cases in the United States to GenBank as sequencing was completed. The CDC has grown the COVID-19 virus in cell culture, which is necessary for further studies, including for additional genetic characterization. The cell-grown virus was sent to NIH's BEI Resources Repository for use by the broad scientific community.
According to the CDC, while the immediate risk of this new virus to the American public is believed to be low at this time, everyone can do their part to help us respond to this emerging public health threat: It's currently flu and respiratory disease season and CDC recommends getting a flu vaccine, taking everyday preventive actions to help stop the spread of germs, and taking flu antivirals if prescribed. If you are a healthcare provider, be on the look-out for people who recently traveled from China and have fever and respiratory symptoms. If you are a healthcare provider caring for a COVID-19 patient or a public health responder, please take care of yourself and follow recommended infection control procedures. If you have been in China or have been exposed to someone sick with COVID-19 in the last 14 days, you will face some limitations on your movement and activity. Please follow instructions during this time. Your cooperation is integral to the ongoing public health response to try to slow spread of this virus. If you develop COVID-19 symptoms, contact your healthcare provider, and tell them about your symptoms and your travel or exposure to a COVID-19 patient. For people who are ill with COVID-19, please follow CDC guidance on how to reduce the risk of spreading your illness to others.
As of Sunday morning, there have been 78,966 cases of COVID-19. 53,079 of these are active. 23,418 people have recovered from their illness and been discharged. 2,469 have died. The number of deaths have doubled since February 12.
It affects the elderly worse than younger people. For 80+ years old the mortality rate is 14.8 percent, for 70-79 year old the mortality is 8 percent, for 60-69 years old 3.6 percent, for 50-59 years old 1.3 percent for 40-49 years old 0.4 percent, 30-39 years old 0.2 percent, 29 years old 0.2 percent, 10-19 years old 0.2 percent, and 0-9 years old there have not yet been any fatalities. The mortality rate for males is 2.8 percent. For females it is 1.7 percent.
Pre-existing conditions greatly increases the fatality rate. For those with cardiovascular disease the death rate is 10.5 percent, diabetes 7.3 percent, chronic respiratory disease 6.3 percent, hypertension 6.0 percent, cancer and 5.6 percent; though it has a death rate of .9 percent for those with no pre-existing conditions.
On Thursday, it was announced that educators have begun working on plans to use online education over the internet if American schools have to be closed in the event that COVID-19 becomes a pandemic in the United States forcing schools to close.
To this point there have been only 35 COVID-19 cases in the United States and no deaths.
Rogers serves as Ranking Member on the Committee on Homeland Security and a senior member of the House Armed Services Committee.
Print this piece