Republicans resist Alabama NAACP call for Ivey to resign
On Thursday, Alabama NAACP President Bernard Simelton called on Gov. Kay Ivey to resign from office after it was revealed that Ivey had performed a skit in blackface and overalls making fun of poor Black sharecroppers crawling around on their knees for cigar butts while she was a college student at Auburn University during the turbulent 1960s.
"It's a black eye on the state of Alabama and the best thing that she can do at this point is to resign and let someone else, who hopefully does not have this kind of past, rise up to be the governor," Simelton said.
The Alabama NAACP released a letter that they had sent to Governor Ivey in 2017, after the events in Charlottesville, VA asking for a meeting with the Governor to discuss race relations and what the Alabama NAACP perceived as a rise in White supremacy activity in the state.
"Needless to say, the Governor refused to meet with the Alabama NAACP to discuss racism in Alabama and how we can work to eliminate it," Simelton said. "We also asked her to issue a statement informing hate groups that they were not welcome in Alabama — the NAACP never saw such statement."
"Though overturned, Gov. Ivey has bragged about signing the Memorial Preservation Act protecting Confederate Flags and Monuments from being removed — most African Americans find this very offensive and racist," Simelton added. "She made this a centerpiece of her campaign and dedicated an entire campaign ad of how proud she was to have signed this act. If Gov. Ivey was really interested in making Alabama a state that is all-inclusive for all of its people, a meeting with the NAACP would have been a step in the right direction."
As of press time on Tuesday, no major Republicans have called for Ivey to resign.
On Monday, 2016 Trump Victory Chair and current Trump national finance committee member Perry O. Hooper Jr. told the Alabama Political Reporter that Ivey should not resign. Hooper defended Alabama Governor Kay Ivey (R) saying that she "does not have a racist bone in her body."
"I have known Kay for over 30 years and take it from me she does not have a racist bone in her body," Hooper said in a statement to APR. "She is true to her Wilcox county roots and treats all people with respect and dignity. Most everyone I know did something in college that they wish they could take back. Look at her awesome record as State Treasurer, Lt Governor, and now Governor, not a silly skit from over 50 years ago."
Hooper says that he is still exploring a possible run for the open Second Congressional District where incumbent Martha Roby, R-Montgomery, is not seeking re-election.
Ivey has apologized for the incident, even though she says that she has no memory of the skit or the radio interview.
"I will do all I can going forward to help show the nation that the Alabama of today is a far cry from the Alabama of the 1960s," Ivey said on Thursday.
"We will see what she does going forward, if she remains in office," Simelton said.
The blackface incident was exposed after Alabama Political Reporter editor Bill Britt obtained a tape in which the event was described by Ivey's then fiancé Ben LaRavia in a radio interview.
"This does bring back a lot of fond memories as I reminisce about that night," LaRavia said. "As I look at my fiancé across the room, I can see her that night. She had on a pair of blue coveralls and she had put some black paint all over her face and we were acting out this skit called 'Cigar Butts.'"
When asked her thoughts about the event, Ivey said, "Well that was just my role for the evening."
Simelton said that voters should ask themselves how can Ivey be a governor for all the people of Alabama especially those she mocked and intimidated?
Simelton also criticized the governor for not expanding Medicaid.
Ivey was the first woman to play the trumpet in the Auburn marching band. She was also the first woman to be elected SGA Vice President at Auburn. Ivey is only the second woman governor in the history of Alabama. Lurleen Wallace, who was elected while Ivey was still an Auburn student, is the other woman to be governor.
Auburn University was desegregated while Ivey was a student there. In Ivey's childhood in segregated Wilcox County, thousands of Blacks worked as sharecroppers on farms owned by White property owners and often lived below the poverty line.
Print this piece
Speaker McCutcheon standing with governor on gaming workgroup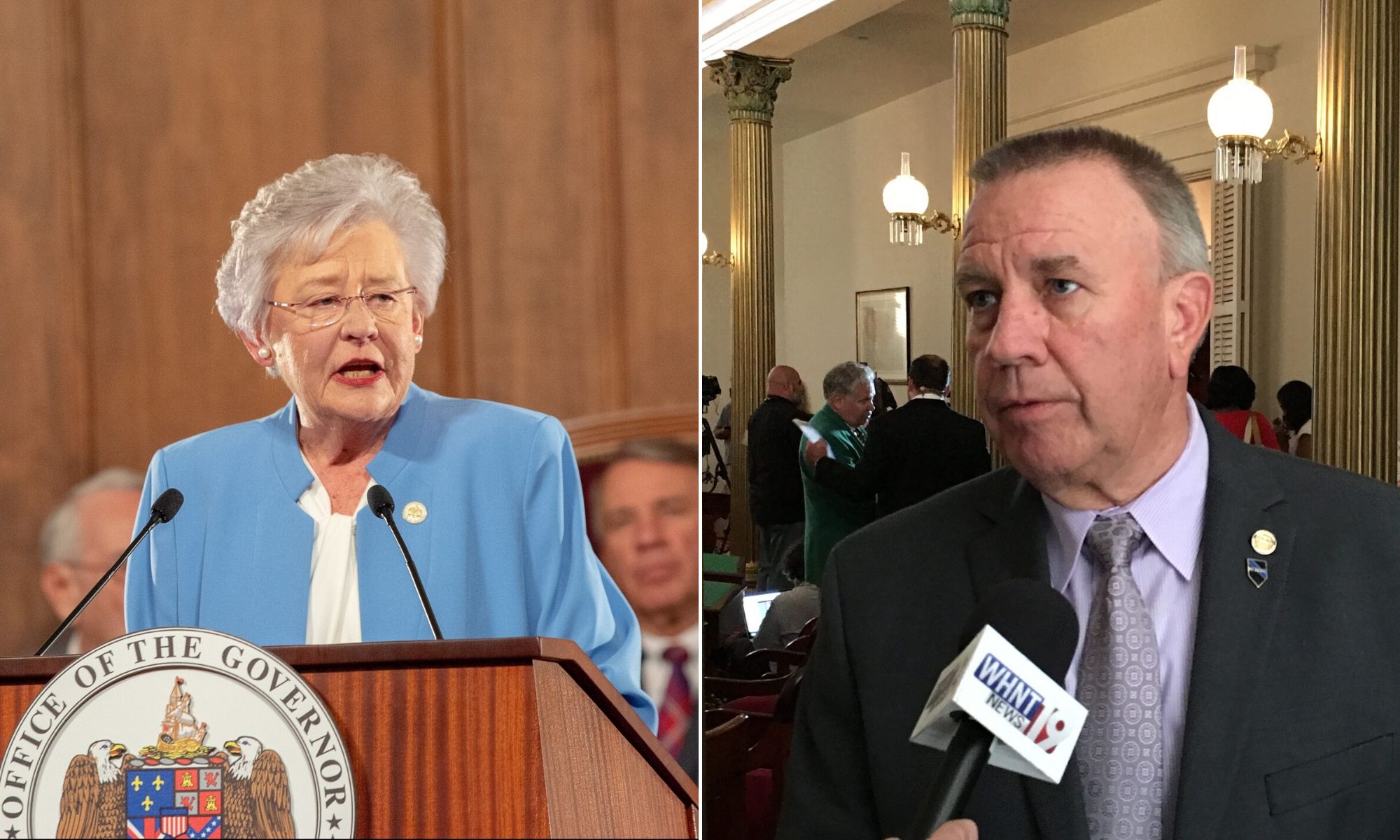 During her 2020 State of the State address, Gov. Kay Ivey said she would be signing an Executive Order to establish a small working group to gather all the facts on how much money the State could gain if some form of gaming expansion occurred. She also asked the Legislature to give her time for the group to come back with an answer.
Whether lawmakers would grant Ivey's request for time has been an important question swirling around the halls of the State House.
Speaker of the House Mac McCutcheon answered that question on Wednesday when APR reached out to his office with a request for clarification.
APR's email wrote, "Speaker McCutcheon recently made the statements quoted below."
"I am not a big gambling guy; but if you are going to vote for a lottery, that's gambling, then don't be a hypocrite and let's get the biggest bang for the buck," McCutcheon said. "Let's address a lottery, the Poarch Creek Indians, and these counties that want a one-armed gambling. Put them all in a room and hammer out a deal."
The Speaker warned, though, that if he cannot get a grand deal between all the parties on gambling, then there likely would not be any gambling bill brought forward in 2020.
"Does he still stand by these statements?"
The following is the response APR received from the Speaker's office:
"Since the Speaker made the statement, the Governor will be signing an Executive Order to bring people together to evaluate the facts on how much money the State could gain if some form of gaming expansion occurred. The Speaker will be working with the Governor in her efforts."
Ivey said once the working group had completed its task, she would "bring these facts to the 140 members of the Legislature and the people of Alabama. And we will then, once and for all, be in a position to determine whether or not this is a path we want to pursue."
That McCutcheon is in  alignment with the governor should signal to all interested parties that no further movement on gaming legislation will happen until the working group has completed its evaluation.
Some have been slow to hear Gov. Ivey's entreaty.
Even after Ivey's call for more time to gather facts, the Poarch Creek Band of Indians continues to flood television, internet and social media with a massive advertising campaign touting their billion-dollar plan in exchange for a tribal-state compact and exclusive right to Vegas-style casino gaming in the State.
PCI lobbyists, including tribal council vice-chair Robbie McGhee, are being very pro-active at the State House.
On Tuesday, Madison County Republican Rep. Rex Reynolds said, "We're gonna move forward on a lottery. We clearly got that message during our conference meeting yesterday. I think it's the right thing to do. The people want to vote on a lottery and I think we need to give them an opportunity to," according to a report by WAFF.
Rep. Steve Clouse, R-Ozark, the House budget chairman, recently said that he planned to file legislation that would create an education lottery in Alabama.
Clouse's bill would create a paper lottery with scratch-offs and PowerBall options only.
Opinion | Prepare for more gambling debates in the 2020 Legislative Session
A day after Ivey issued her State of the State request to the Legislature to stand down on gaming, Senate President Pro Tem Del Marsh held a meeting with representatives of the Poarch Creeks and two of the State's dog tracks to discuss moving ahead on a proposed lottery and gaming bill.
Marsh holds meeting with gaming interests day after Ivey calls for the Legislature to stand down on gaming
These various statements and actions have added confusion as to what is happening with gaming this session.
Now that McCutcheon has made his position known, maybe it will put to rest the rumors, activities and behind-the-scenes maneuvering that go against Ivey's wishes.
Print this piece