More than 100,000 Alabamians are holding down jobs but still can't afford health care, and groups that advocate for expanding Medicaid in the state say those families don't have to go without. 
In Alabama, around 50,000 women who work can't afford the health care provided by their jobs or private insurance, according to a recent report by Alabama Arise, a nonprofit that advocates for the poor. Those women work in food services, in grocery stores and schools. They work in childcare and the auto industry. 
The 58,000 or so men in Alabama who work but can't afford health care have jobs in construction, home centers, food services and animal processing.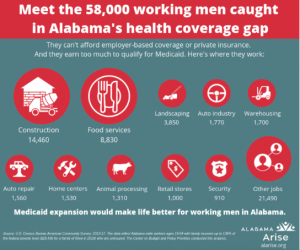 Jim Carnes, the policy director at Alabama Arise, told APR on Wednesday that most people don't stop to think about who doesn't have health coverage, and that can lead to stereotypes and misconceptions. 
"Do we really want to make it hard for people who prepare and serve our food in restaurants to get their health needs attended to? Do we want to force them to go to work with illnesses that warrant treatment, but they can't get the treatment because they don't have a way to pay for it?," Carnes asked. "The same would go for things like child care and animal processing." 
Alabama Arise used U.S. Census data that looked at workers aged 19-64 who had incomes of up to $29,435 for a family of four, which is 139 percent of the federal poverty level. 
Alabama is one of 14 states that haven't expanded medicaid, which advocates and the Alabama Hospital Association says would help provide medical care for those who are working but still cannot afford it, and provide critical revenue for rural hospitals. Since 2011 twelve hospitals have closed in Alabama. 
Alabama lawmakers thus far have declined to allow for an expansion of Medicaid, made possible by the 2010 Affordable Care Act. A study in January by the University of Alabama at Birmingham found that if Medicaid were expanded in the state an additional 340,000 would gain access to healthcare, and the state's investment of $1 billion would pump $11 billion back into Alabama's economy between 2020 and 2023. 
Had the state expanded Medicaid at the start, the federal government would have covered 100 percent of those costs up until 2020. After 2020 the state will be required to pay for 10 percent of the expansion.  
Gov. Kay Ivey has not taken steps to expand Medicaid, siding with many Republican lawmakers in the state who have said there simply isn't the money to do so.  
"The economic boost we would get from Medicaid expansion is really unparalleled, Carnes said. "If Medicaid expansion were a factory or a NASA contract we'd be having parades down every main street."