James Spann wades into dispute over Trump's hurricane claims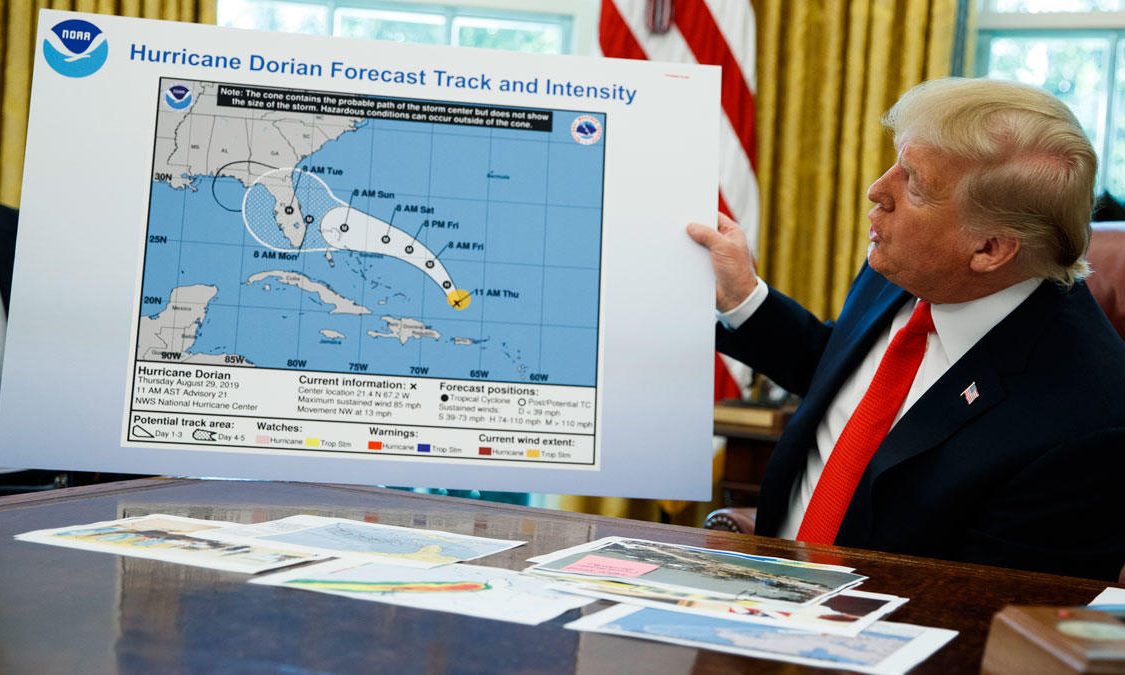 The federal agency that oversees the National Weather Service is backing President Donald Trump over the weather service's Birmingham office in the week-long dispute over whether Hurricane Dorian ever had the potential to impact Alabama — and the state's most popular television meteorologist is weighing in.
The National Oceanic and Atmospheric Administration released a statement Friday afternoon, backing up Trump's claim that Alabama was in fact threatened by the hurricane at the time he tweeted on Sunday that Alabama would "most likely be hit (much) harder than anticipated."
ABC 33/40′s James Spann, a prominent meteorologist based in Birmingham, tweeted about the NOAA's statement Friday afternoon, saying the tweet from the Birmingham NWS was correct in stating that Dorian posed no threat to Alabama.
"The tweet from NWS Birmingham was spot on and accurate," Spann wrote in the tweet. "If they [the NOAA] are coming after them, they might as well come after me. How in the world has it come to this?"
Spann is well-known for largely avoiding political topics including climate change but he nevertheless weighed in on the spat spurred by Trump.
Spann defended the Birmingham NWS in a followup tweet, saying he stands behind the office "100 percent."
"@NWSBirmingham has a brilliant staff of experienced atmospheric scientists that have helped to save countless lives in my state over the years," Spann wrote. "They were thrown under the bus today by their parent agency. I stand behind NWS Birmingham 100 percent."
The Birmingham National Weather Service quickly responded to Trump's claim earlier in the week, posting a tweet on Sunday debunking Trump's claim, stating, "Alabama will NOT see any impacts from #Dorian."
The president dismissed the tweet from the Birmingham NWS and spent the week insisting he was correct. On Wednesday, Trump held up an earlier forecast map of the hurricane's path that appeared to show a black line written in marker extending into Alabama in an apparent attempt to justify his claim.
The Washington Post later reported Trump himself drew on the map, altering the weather service's projected forecast.
The NOAA's statement on Friday referenced the that forecast, stating that the Birmingham NWS tweet was incorrect in saying "in absolute terms" that Alabama would not be impacted by Dorian. 
"From Wednesday, Aug. 28, through Monday, Sept. 2, the information provided by NOAA and the National Hurricane Center to President Trump and the wider public demonstrated that tropical-storm-force winds from Hurricane Dorian could impact Alabama. This is clearly demonstrated in Hurricane Advisories #15 through #41, which can be viewed at the following link," the NOAA statement read. "The Birmingham National Weather Service's Sunday morning tweet spoke in absolute terms that were inconsistent with probabilities from the best forecast products available at the time."
Print this piece
Doug Jones praises end of state Democratic Party lawsuit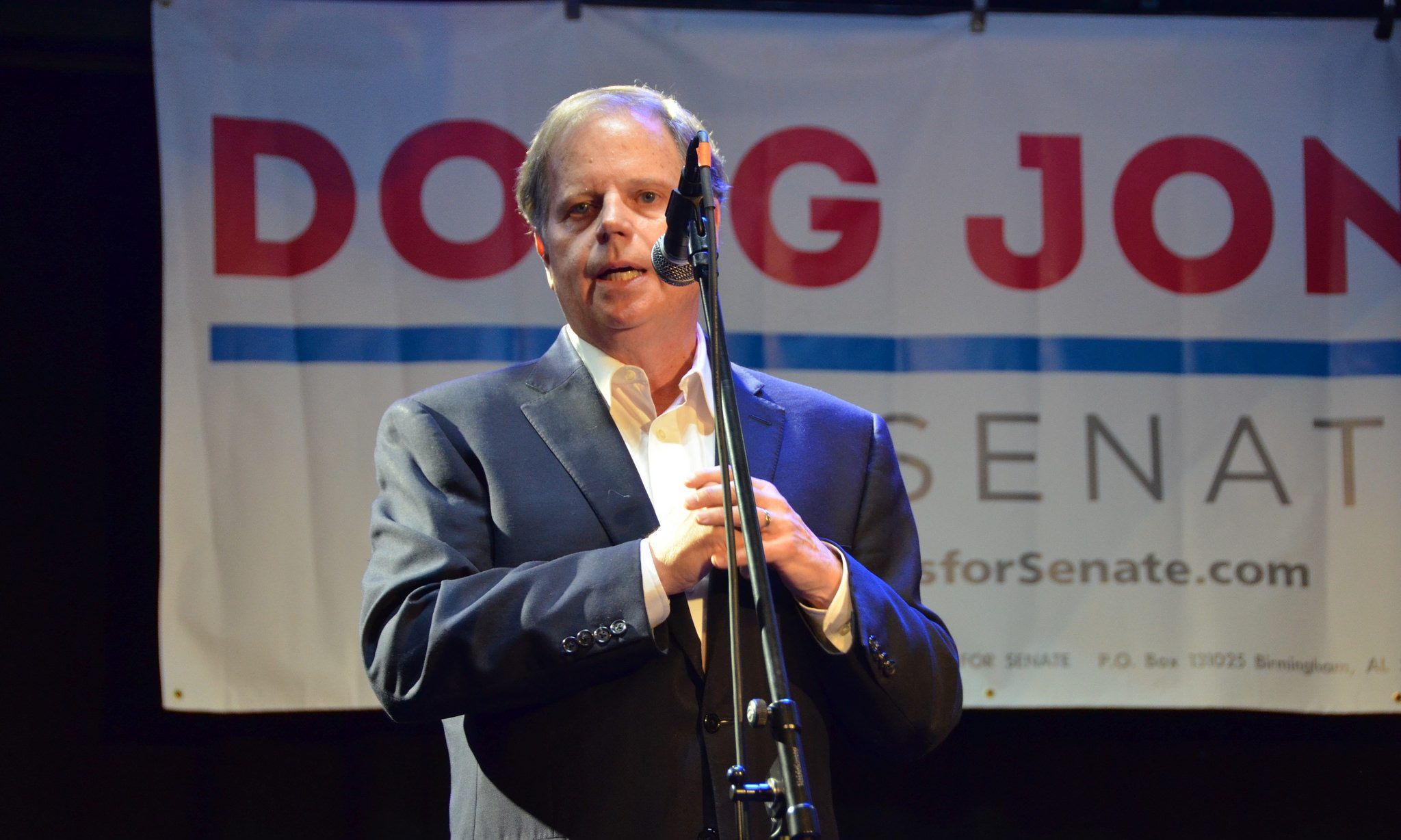 U.S. Senator Doug Jones, D-Alabama, on Thursday applauded the end of a lawsuit over control of the state Democratic party. 
Montgomery County Circuit Judge Greg Griffin on Thursday dismissed a lawsuit filed by former Alabama Democratic Party chairwoman Nancy Worley, which means that state Rep. Chris England, who was picked to lead the state Democratic party by a reform group championed by Jones, is the party's chair. 
"This is a great day for Alabama and her Democratic Party. Throughout much of last year, countless Democrats in our state worked to create a more open and diverse state party, while recognizing and being true to the crucial and historic role held by African-American voters," Jones said in a statement Thursday.
"The by-laws of the Alabama Democratic Party now reflect the growing diversity in our state — including representation for Hispanic voters, Native American voters, Asian voters, voters with disabilities and voters from the LGBTQ community. And most importantly, the Alabama Democratic Party has dramatically increased leadership opportunities for young voters. Around 70 new caucus members were added to the state party Executive Committee last year—many of them young people from diverse backgrounds throughout the state. I'm proud to continue to work alongside a more unified, diverse and inclusive state party. 
"With the dismissal of this lawsuit, it is time that all who have been involved in this challenge, resolution, and expansion of the Democratic Party come together for a common good. Our state benefits from the ideas and engagement of a competitive two-party system. We have now demonstrated that we have the ability to be inclusive within our own party while working to expand the number and experiences of people who play a role in moving it forward.  
"Chairman Chris England and First Vice Chair Patricia Todd have my complete support and I call on Democrats throughout the state to unite behind them as we move forward in modernizing, re-invigorating, and expanding the Alabama Democratic Party.," Jones said.
Print this piece