Arpaio says that Trump is his hero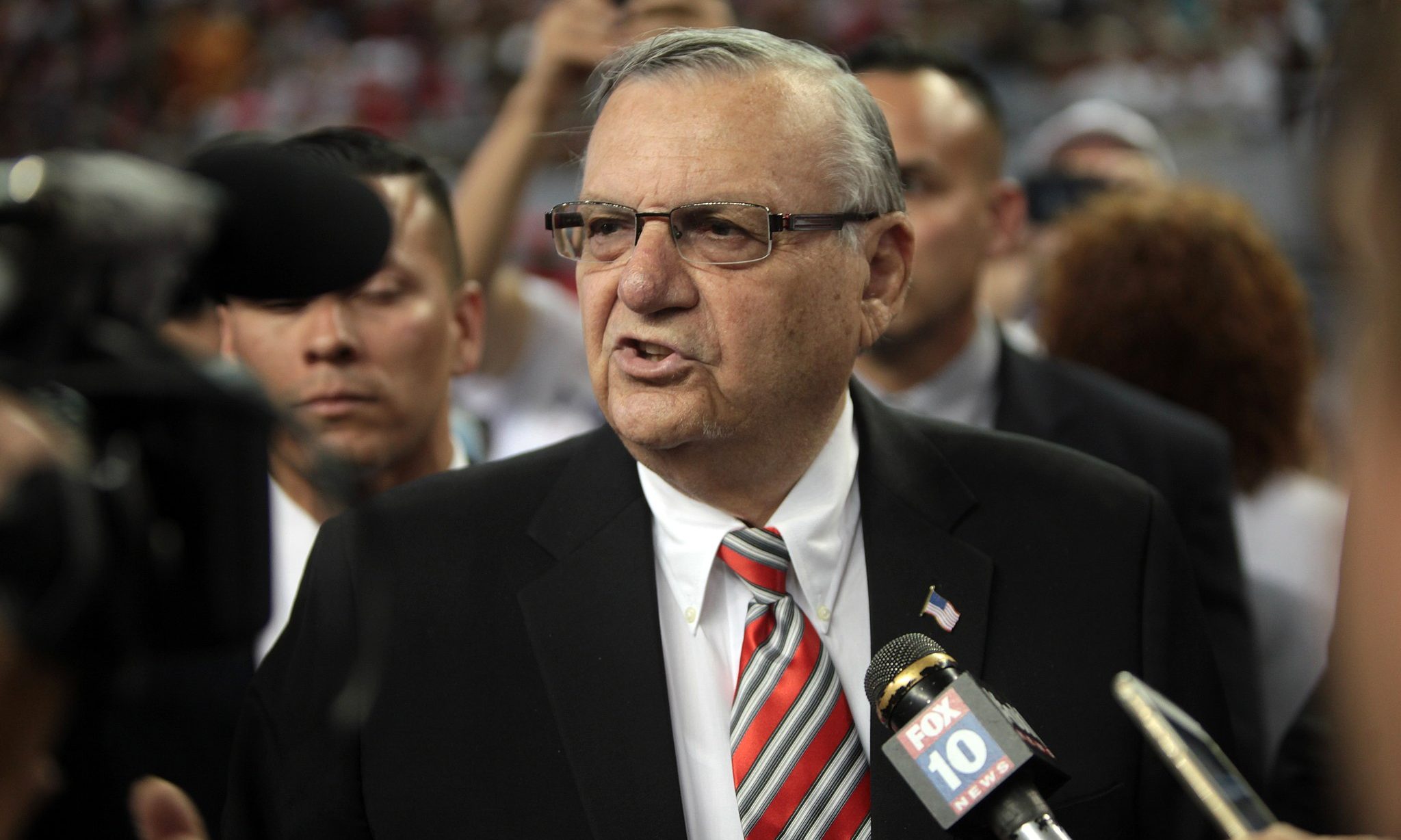 Friday, former Maricopa County, Arizona Sheriff Joe Arpaio told the Alabama Political Reporter that Donald Trump is his hero.
Arpaio is the keynote speaker at the Talladega County Republican Party's Patriots Dinner in Sylacauga on Sept. 26. Arpaio spoke to APR about his upcoming trip to Alabama in a phone interview.
Sheriff Arpaio urged how important it is to protect the president and defend the president. He is cleaning up "a big swamp. He is fighting corruption and the good ole boy network."
Arpaio said that he endorsed Trump early on even before he had ever met Trump.
"I loved the guy from day one," Arpaio said.
Since then, he has met the president.
"He has called my wife several times while she was battling cancer," Arpaio said. "My heart is with him."
Arpaio told APR that he loves visiting Alabama and was just here for a visit two months ago.
"Alabama is a great state," Arpaio said. "It is like the country used to be with high morals."
Arpaio said that he joined the military during the Korean War and then became a police officer. Later, he was the head of the U.S. Drug Enforcement Agency in Mexico and later in Texas. In 1992, he was elected Sheriff of Maricopa County, Arizona and served there for 24 years.
"The media started calling me America's toughest sheriff. I did not start that," Arpaio said.
APR asked: What is it like to be the sheriff of a county that is bigger than 18 or 20 states?
"A lot of responsibility," Arpaio said. Maricopa County is the third largest county in the countries and includes the Phoenix area." That gives me more of a national profile, larger department, and more resources than your typical county sheriff.
APR asked: Alabama has been criticized for how we treat our prisoners. You were criticized for how you treated your prisoners. Are we as a society too focused on the feelings of the prisoners and not focused enough on the victims of crime?
Arpaio said that over his career in law enforcement including at the DEA his philosophy was "Lock em up."
As Sheriff Arpaio said that he created a tent city with old Korean War tents that I got for 50 cents each. Over 24 years half a million prisoners have gone through the tents. It gets 120 degrees there in the summer. This was in addition to my other jails.
Arpaio said that he answered his critics with, "If it is good enough for the troops fighting to defend this country, why is it not good enough for prisoners?"
Arpaio said that only people who had been convicted went in the tent city jail, not regular prisoners.
Arpaio said that he borrowed the idea of chain gangs from Alabama.
"I had the first female chain gang in the history of the country," Arpaio said. All the prisoners in the chain gangs volunteered in order to be able to get out of the jail for the day.
"I always have a method," Arpaio said. Children see the people working in the chain gangs in the heat and then they know not to break the law. It is a deterrent.
APR asked: Most Alabama communities have illegal immigrants (not all of them Hispanic) working in businesses, restaurants, lawncare, agriculture, and construction; but our levels of immigration are really tiny compared to the national average and in particular Arizona, which has dramatically higher rates of illegal immigration. How has Arizona been transformed over the last 30 years by the boom in illegal immigration?
"I had ICE train 150 of my deputies as immigration officers," Arpaio said. "I started enforcing Arizona's two anti-illegal immigration laws."
"We are just forty miles from the border," said Sheriff Arpaio.'
Those illegal immigrants that are working in your businesses, restaurants, lawncare firms they have bosses Arpaio said. "We did arrest the owners when we could."
Arpaio said that illegal immigrants often have fake driver's licenses and social security cards. People don't understand that those are felonies.
"We are just forty miles from the border," Arpaio told APR. Do you think illegal immigrants just stay in the Phoenix area? No, they come here to Alabama and other places.
"This is a national problem,," Arpaio said. "I think I was doing something for the country. Illegal immigration affected the whole country."
APR asked: the Holder Justice Department came after you really hard with civil litigation claiming that your Department was racially profiling Hispanic. Do you believe that DOJ was weaponized against you for political reasons?
"Of course," Arpaio answered. The investigation into me began shortly after Eric Holder became Attorney General.
APR asked: you were convicted of criminal contempt by a federal judge, Pres. Trump pardoned you. How grateful are you to the President for that?
President Trump knew that was a "witch hunt," Arpaio said.
"I am getting fed up with the media saying I am a convicted felon," Arpaio said. Arpaio warned that he was going to start suing news media outlets for saying that. "That is a misdemeanor. The same charge as a dog bite."
"The judge was biased," Arpaio said, "He wouldn't give me a jury trial."
Arpaio said that the then ongoing litigation, biased media coverage and outside money, including $3.5 million from George Soros helped to defeat him in 2016 to a liberal democrat.
APR asked: Arizona was represented in the Senate by moderate Republicans John McCain and Jeff Flake. The GOP lost Flake's seat to Kyrsten Sinema last November. McCain's death means that there is another open seat next year can the Arizona Republican Party unite behind their nominee, probably Martha McSally to hold that Senate seat or is the party too divided there between moderates and conservatives?
"I ran for Senate last year," Arpaio said. "I got in it late and only raised one and a half million.
I usually raise $10 million." I was in it with Ward and McSally. That was the first time I had lost a Republican primary.
Arpaio said that that was a sad situation and that McCain and Flake did a lot of things that were not very Republican. "He (Flake) has endorsed people against me."
Arpaio said that he was George W. Bush's campaign chair in Arizona and was Mitt Romney's chair. I have endorsed a lot of people; Donald Trump "stands out."
"President Trump, he is my hero," Arpaio said. "He is my guy. I will never give up I will never turn on him," like former White House Communications Director Anthony Scaramucci. "How sad can you get?"
Arpaio, even though he is 87 years of age, he is running for Sheriff again.
"I will be back; and I don't back down," Arpaio said. "I am not going to surrender; and I expect to win. I am proud of my age." I still work 14 hours a day and I still look pretty good. I look like I am just 68.
The event will be held on Thursday, Sept. 26, 2019 from 6:30 p.m. to 8:30 p.m. There will be a reception for VIPs at 5:30 p.m. The event is sponsored by the Talladega County Republican Party and will be held at the J. Craig Smith Community Center at 2 West Eighth St., Sylacauga, Alabama.
Ainsworth returns to work after testing positive for COVID
Ainsworth's office on Sept. 21 announced he had tested positive earlier that week, having been tested after someone in his Sunday school class tested positive for the disease. 
Alabama Lt. Gov. Will Ainsworth on Wednesday announced that he was returning to work that day and had met public health requirements for quarantining after testing positive for COVID-19 some time last week.
Ainsworth's office on Sept. 21 announced he had tested positive earlier that week, having been tested after someone in his Sunday school class tested positive for the disease. 
"While many have battled with coronavirus, my symptoms never progressed beyond some mild congestion that I usually experience with seasonal allergies," Ainsworth said in a statement. "During the quarantine period, I participated in several Zoom calls, caught up on some office work, spent some quality time with my family, and completed a number of overdue projects on my farm."
Members of Ainsworth's staff who were in close contact with him haven't tested positive for COVID-19 but will remain in quarantine for a full 14-day period as a precaution, according to a press release from Ainsworth's office Wednesday. 
"Ainsworth once again urges all Alabamians to practice personal responsibility, which may include wearing masks, maintaining social distancing whenever possible, and taking other precautions to lessen chances of exposure to COVID-19," the press release states.
Ainsworth still disagrees with Gov. Kay Ivey's statewide mask mandate, he said. According to the release, he considers such orders "a one-size-fits-all governmental overreach that erodes basic freedoms and liberties while removing an individual's right to make their own health-related choices." 
The wearing of cloth or medical masks has been proven to inhibit the spread of COVID-19 and the more people who wear masks, the better. While not perfect, masks limit the spread of respiratory droplets that may contain infectious virus shed from the nose and mouth of the mask wearer.
It is possible — even likely — for symptomatic, pre-symptomatic and mildly symptomatic people to spread the virus. That's why it's important to wear a mask even when you're not sick.
Cloth masks offer only minimal protection from others who are not masked, meaning that masks are not simply a matter of personal safety but safety of others. Masks are also only effective when worn over both the mouth and the nose. [Here's a guide on how to wear masks properly.]
Dr. Deborah Birx, coordinator of the White House's coronavirus task force, told Ivey after she announced the statewide mask order that it was a "brilliant" idea. The order has been credited by Alabama infectious disease experts as having dramatically reduced the number of cases, hospitalizations and deaths in the weeks after the order went into effect. 
Dr. Don Williamson, president of the Alabama Hospital Association, told APR on Tuesday that from personal observation he is seeing more people not wearing masks, or wearing them improperly, and said the state could dramatically reduce the risk of COVID-19 if the public regularly wore masks and wore them properly.
Hospitalizations of COVID-19 patients in Alabama on Monday crossed the 1,000 mark for the first time since Aug. 31 — a sign that Alabama may be headed for another peak in hospitalizations as the state prepares for winter and flu season.