Biden attends commemoration of 16th Street Baptist Church bombing
State and national politicians commemorated the 56th anniversary of the 16th Street Baptist Church bombing. 
Democratic presidential candidate Joe Biden attended the memorial service at the church on Sunday. Late in the service, Biden spoke to the congregation, speaking the names of the victims, Addie Mae Collins, 14, Carol Denise McNair, 11, Carole Robertson, 14, and Cynthia Wesley, 14.
The bombing, perpetrated by members of the Ku Klux Klan, took the lives of four young black girls in 1963. 
Biden was joined at the service by U.S. Senator Doug Jones, D-Alabama, who served as the lead prosecutor in convicting two of the klansmen responsible for bombing the historically African-American church. Biden praised Jones, saying Jones "never gave up" on pursuing justice for the young victims. 
Biden told the congregation of the church in downtown Birmingham that the same ideology that inspired the church bombing has also fueled more recent attacks, saying the country has not yet relegated racism and white supremacy "to the pages of history." 
"As we all now realize, this violence does not live in the past," the former vice president said. "The same poisonous ideology that lit the fuse at 16th Street pulled the trigger at Mother Emanuel and unleashed the antisemetic massacre in Pittsburg and Poway. We saw a white supremacist gun down innocent Latino immigrants in an El Paso parking lot with a military style weapon, declaring he would stop 'the Hispanic invasion of Texas.'" 
Karen Baynes-Dunning, interim president of the Southern Poverty Law Center, issued a statement on the anniversary, calling for society to "recommit to carrying the torch for justice" in the wake of recent racially motivated attacks. 
"Hate is nothing new," Baynes-Dunning said in the statement. "We've known this for centuries, and many of us have experienced it firsthand. But it is on a rise and we are seeing a surge of white nationalism and racist violence across the country." 
During his speech, Biden called the fight against institutional racism and the rise of white supremacy "a battle for the soul of America," calling the 16th Street Baptist Church a powerful reminder of "what's at stake" in fighting against systematic racism, something Biden says white people can never fully understand. 
"Those of us that are white try," Biden said, "but we can never fully, fully understand, no matter how hard we try. We are almost at this next phase of progress in my view. It's hard, heart wringing work. But there's almost 330 million Americans. I know there's nothing we can't accomplish if we stand together."
Print this piece
Opponents accuse Tuberville of supporting amnesty for undocumented immigrants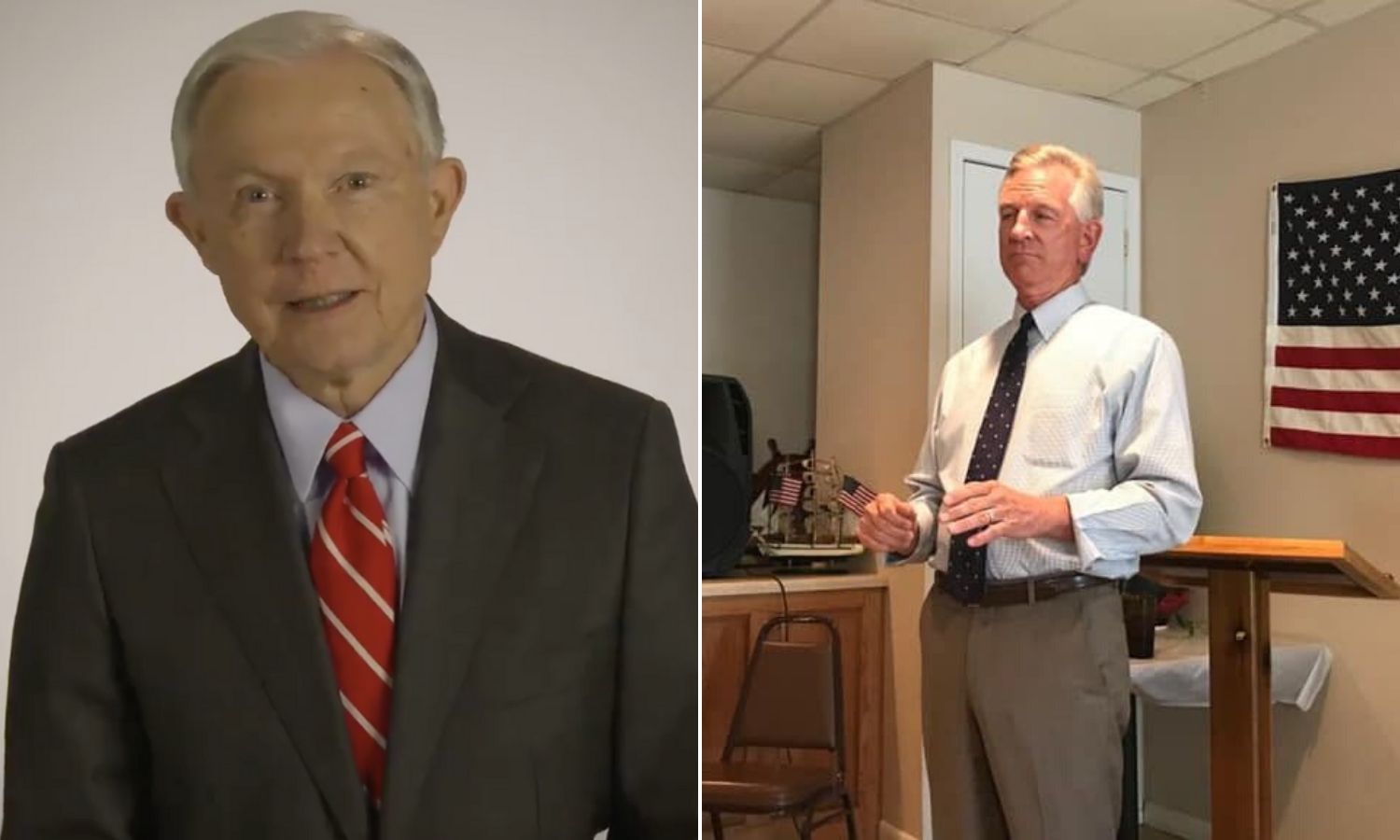 The Senate campaign is heating up as the top three candidates are all going negative. Former Auburn head football coach Tommy Tuberville has attacked Congressman Bradley Byrne (R-Montrose) and former Attorney General and Senator Jeff Sessions of being career politicians. Both Byrne and Tuberville have attacked Sessions for not having adequately served President Donald J. Trump (R) while Attorney General. Byrne has even attacked Tuberville's coaching abilities. The latest attacks on Tuberville accuse him of supporting amnesty for illegal aliens. Sessions even accused Tuberville of being a "tourist."
Wednesday, Sessions announced a new television ad called "Tuberville for Amnesty."
Byrne and Tuberville point to an August speech by Coach Tuberville when he said: "There are people coming across the border that need jobs… and we want them to come over here… Let em' come in and become citizens like we all became citizens."
The Tuberville campaign called the attack "fake news" on Twitter.
Sessions' campaign manager Jon Jones said, "Tuberville is claiming that his own words are 'fake news.' All of them? Tommy Tuberville needs to read the transcript. It is clear that Tuberville supports immigration amnesty, and he is attempting to trick Alabama voters to believe otherwise. In contrast, Jeff Sessions has done more than just say he wants to fix the border – he has already worked alongside President Trump to stop illegal immigration."
The new Sessions ad reads: "Tuberville is trying to trick you, hiding his support for immigration amnesty." Then plays an audio clip of the Tuberville comment from August
Tuesday, Byrne told reporters in Trussville: "I can tell you right now this issue about Tommy Tuberville's position on amnesty is a key issue. And so we're going to keep telling people about his position on that and let him explain why he doesn't think that's amnesty."
"Let em' come in and become citizens like we all became citizens," Tuberville is quoted in the ad.
Tuberville has denied supporting amnesty and says that he supports President Trump's immigration agenda.
The Sessions ad further charges: "And Tuberville's not even from Alabama, he's a tourist here. He lives, pays taxes and even votes in Florida."
On Tuesday, the Tuberville campaign responded with an attack ad of their own.
"The career politicians are desperate to hang on to their paychecks and power, so they have started airing negative ads full of false attacks and baseless distortions," Tuberville said. "Our new commercial allows us to respond with some hard truths about which candidate wants to drain the D.C. swamp and is tough enough to actually help President Trump get the job done."
The Tuberville ad has Byrne with former Secretary Hillary Clinton and Sessions with Congressman Adam Schiff (D-California) who led the impeachment effort against President Trump. The ad even connects Sessions and Byrne with Sen. Mitt Romney (the only Republican in either House of Congress who found that the President did anything wrong.)
State Representative Arnold Mooney, former Chief Justice Roy Moore, Ruth Page Nelson, and businessman Stanley Adair are also running for the Republican nomination for the Senate seat currently held by Doug Jones (D).
The Republican primary is March 3.
Print this piece