Opinion | Another Alabama cop is dead. Do we care enough to make the necessary changes?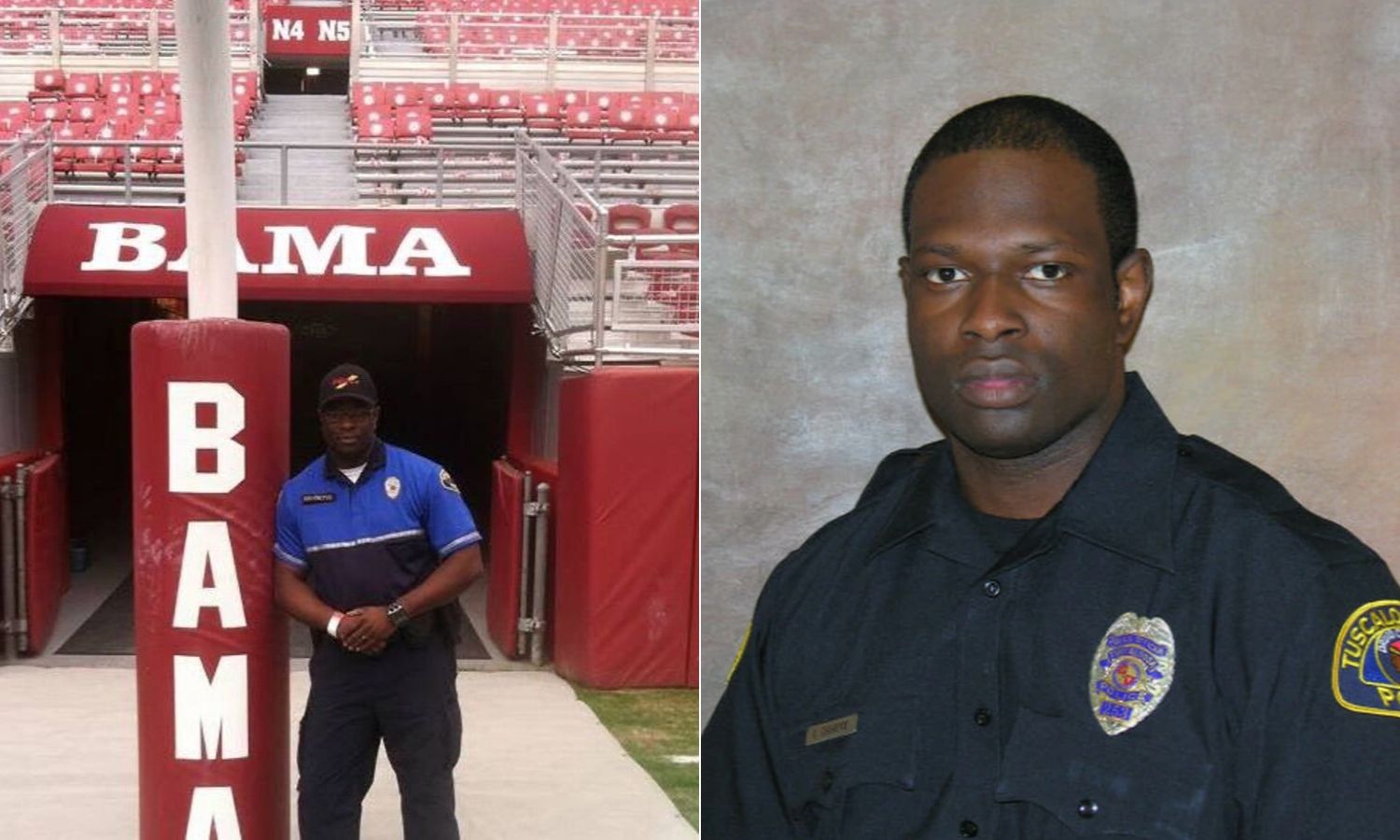 There was a police officer shot and killed in Tuscaloosa on Tuesday night. 
Tuesday morning, two girls woke up with a nice, happy family, a dad who took care of them and served his community. They went to bed heartbroken and forever changed. 
Dornell Cousette was just 40 years old. He was the fourth law enforcement officer shot dead in Alabama this year. 
Cousette chased 20-year-old Luther Bernard Watkins Jr., who had multiple felony warrants, into a home. Watkins allegedly opened fire, killing Cousette. 
Cousette's death was not unlike those of the other three officers who have been murdered this year. All senseless. All tragic. All allegedly killed by relatively young men. 
We have a problem. 
A problem that is only going to get worse unless we take some serious steps to solve it. 
Because we have created within this state a dangerous combination of angry and hopeless young people and a readily available supply of cheap, easy-to-get firearms. 
And we have to do something about those problems. 
Both of them. 
The biggest problem we have in this state is our depressing public education system. It's not good. We know it's not good. 
But instead of addressing the very obvious reasons why it's not good, we instead get sucked into idiotic conversations about school choice and giving (good) parents an option, because it's apparently OK to punish children for life for being born to crappy parents. 
In reality, we know that the best way to ensure the future success of any child is to provide that child with a proper education and/or a serviceable skill. And we know that the best ways to do that is to provide quality instruction in a classroom with a low student-to-teacher ratio and proper educational tools and evaluations. 
For example, look at every single successful school system in this state. 
And whenever we speak of options and choice, we should know that we are leaving behind the kids who can't make that choice. We are leaving behind thousands of innocent children who cannot decide to drive to the charter school every morning, who can't choose to make more money to pay for the private school, who can't choose to have parents who are involved, who can't choose this better option. 
Those kids who are left behind — the ones who have always been left behind — they're the ones with the guns, the ones shooting at everyone, the ones who are angry and mad at the world. 
And why wouldn't they be? When they were just babies, the world stepped on their heads when they were drowning. 
Instead of making sure they were provided a quality education, we instead have made sure that they have access to semi-automatic firearms and high-capacity magazines. 
Because when the Founding Fathers wrote the 2nd amendment, they had in mind a 19-year-old three-time felon who's been on the street since he was 12, because the funds that would have paid for a public school counselor or after-school program to save him were instead spent on a new charter school choice for the kids with parents who weren't hooked on painkillers. 
We all know that our gun laws are insane. Privately, even the biggest 2nd amendment people will admit this. Because every single one of them know that our lax gun laws have allowed some legitimate crazy people to purchase and carry firearms. 
But instead of admitting that our gun laws could use some tweaking, we get caught up in yet another idiotic conversation about "gun control." 
Are you for gun control? Are you against gun control? Ohhh, Candidate Bill is for gun control. 
It's such overly-simplistic BS designed to take our focus off of one very real fact: We all pretty much agree on this issue. 
The overwhelming majority of Americans want better background checks, universal checks — including at gun shows and in private sales — and they want assault weapons and high-capacity magazines banned. 
Those are reasonable things. 
And when you do those things, people are safer. People in states where such measures have been enacted are safer, statistics show, than those in gun-friendly states, where the guns are supposed to make us all safer. Cops in the more regulated states are 50 percent less likely to be shot. 
But maybe we don't love police that much. Enough to change the gun laws. 
Maybe we don't love anyone enough to make the necessary changes to stop this absolute madness.
Alabama Department of Corrections "disappointed" by "surprise" DOJ report on excessive force
The Alabama Department of Corrections on Friday responded to a scathing report released Thursday by the U.S. Department of Justice detailing correctional officers' violence against incarcerated men in state prisons, saying the department was "disappointed in the surprise manner" in which the DOJ released the report. 
The DOJ's report details numerous instances of unprovoked and illegal violence against inmates by correctional officers, cover-ups of those crimes by officers and supervisors, and shoddy investigations that often resulted in no disciplinary action. 
The federal government believes systemic use of excessive force within Alabama's prisons for men violates the Eighth Amendment. The report was expected, although it was unclear when DOJ would release it, and follows the DOJ's previous report, released in April 2019, that found that Alabama's prisons for men were likely violating inmates' rights to protection from sexual abuse and physical harm. 
"We are disappointed in the surprise manner in which the DOJ orchestrated the release of this letter, which hinders the progress made by our Department to address the long-standing challenges facing our correctional system," ADOC said in a statement Friday. "This substantive progress includes targeted efforts to reduce instances of violence within our facilities." 
ADOC in the statement said the department stands behind previous statements by Gov. Kay Ivey and Alabama Attorney General Steve Marshall.
Ivey responded to the DOJ report by saying it was an "expected follow-up" to the April 2019 report, completing the DOJ's investigation into the state's men's prisons that began in 2016.  
"We will be carefully reviewing these serious allegations in the coming weeks. My Administration remains hopeful that with the completion of this investigation, the state and federal governments can finally reach a resolution to all of the Department's allegations," Ivey's statement reads. 
"We all desire an effective, Alabama solution to this Alabama problem, and my Administration will put in the hard work and long hours necessary to achieve that result," Ivey continued. 
Marshall, however, took a much harder stance, claiming Alabama was "ambushed" by the DOJ report, and said the state "will not, under any circumstances, enter into a consent decree with the federal government to avoid a lawsuit." 
Among the many serious instances of excessive use of force against inmates in the report, the DOJ detailed the death of Michael Smith, 55, at Ventress prison in December 2019, in which "ADOC personnel informed hospital medical personnel that the injuries occurred after the prisoner fell from a bunk bed." 
"The autopsy revealed that the prisoner died from blunt force trauma to the head. He sustained multiple areas of intracranial bleeding, fractures of his nose and left eye socket, and had at least six teeth knocked out," federal investigators wrote in the report.
Federal investigators found that ADOC's investigative arm, the Intelligence & Investigations Division, did substandard investigations into use of force incidents, failed to collect necessary information on allegations and came to improper findings in numerous incidents. 
ADOC in the statement Friday said the department has been proactive in dealing with the DOJ's concerns, and that Commissioner Jeff Dunn formed a Violence Reduction Task Force in December 2019. 
"The recommendations of the Task Force include refresher protocol and procedure training; health and wellness interventions for correctional officers and staff; an emphasis on inmate rehabilitation programs and resources; and the reexamination of enhanced surveillance measures such as facility cameras and the use of body cameras for on-duty correctional officers," ADOC's statement reads. 
DOJ's report also notes that chronic understaffing in the overcrowded prisons is contributing to the use of violence among correctional officers, which has resulted in the serious injury and deaths of inmates. 
"The DOJ's claim that the 'ADOC …  has not taken meaning[ful] steps or other emergency measures to address the understaffing' is simply false," ADOC said in the statement, adding that in 2018 a federal judge accepted the department's plan to hire additional staff. 
It has been more than two years since U.S. District Judge Myron Thompson ordered the ADOC to hire an additional 2,000 correctional officers by 2022.
We are disappointed in the surprise manner in which the DOJ orchestrated the release of this letter, which hinders the progress made by our Department to address the long-standing challenges facing our correctional system."
"Since then, they have increased correctional staff by only 147 officers," said attorneys for the plaintiffs in the lawsuit in a filing on June 24. The Southern Poverty Law Center and the Alabama Disability Advocacy Program, the plaintiffs, filed the 2014 suit arguing the state was indifferent to the health of inmates dying by suicide in greater and greater numbers. 
Both Ivey and ADOC in their statements mentioned infrastructure investment as important steps to addressing the DOJ's concerns. Ivey's plan to build three new mega-prisons through a build-lease proposal continues to move forward. 
Rep. Chris England, D-Tuscaloosa, is a member of Ivey's Study Group on Criminal Justice Policy, which was formed in 2019 to study the state's failing prison system and suggest legislative fixes. The group in January made a series of recommendations but COVID-19 brought an end to this year's Legislative session without the bills that those suggestions produced coming up for votes.
England in a Tweet Friday expressed concern about spending billions on new prisons, and reiterated his previous calls for Ivey to call a special session to address the state's prison crisis.
After two DOJ reports detailing how bad our prisons are, are we really going to give the same @ALCorrections that is failing miserably to manage our current prisons over 2 billion dollars to build new ones? Seriously? We need a special session @GovernorKayIvey. #alpolitics

— Chris England (@RepEngland70) July 24, 2020
"After two DOJ reports detailing how bad our prisons are, are we really going to give the same @ALCorrections that is failing miserably to manage our current prisons over 2 billion dollars to build new ones? Seriously? We need a special session @GovernorKayIvey."