Alabama leaders express thoughts and prayers for Kay Ivey as she begins cancer treatments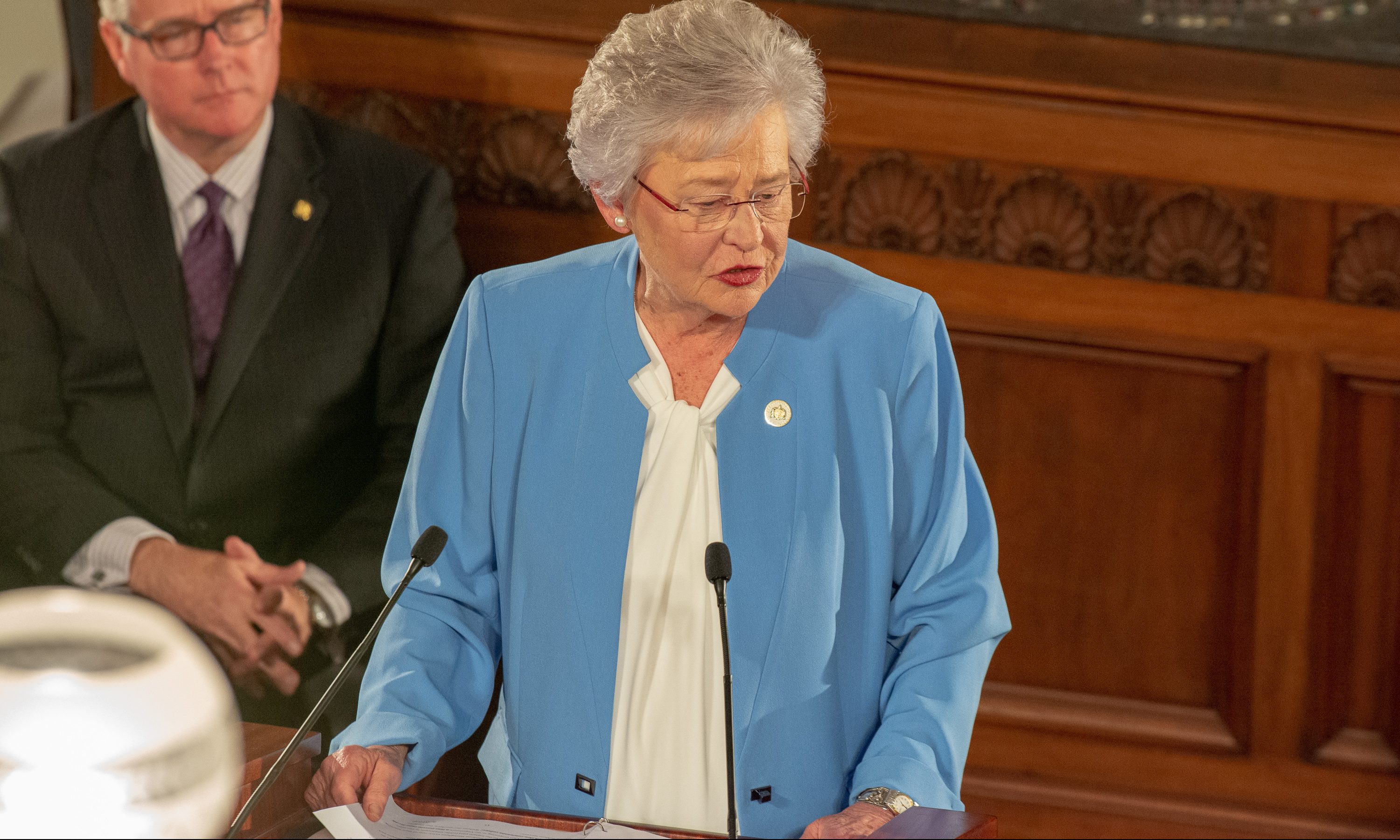 On Thursday, Alabama Gov. Kay Ivey revealed that she has a malignancy in her lung and that treatment will begin today with outpatient surgery at UAB followed by radiation treatments.
Alabamians have reacted to the news with prayers and well wishes for the popular governor.
Ivey is the First Republican woman governor in state history and only the second woman governor. Ivey was elected governor in 2018 after winning election to two terms as Alabama's lieutenant governor, and two terms as state treasurer before that. Ivey became Governor in 2017 when then Gov. Robert Bentley resigned. Ivey grew up on a cattle farm in Wilcox County.
Alabama Republican Party Chairman Terry Lathan expressed confidence that the Governor will recuperate.
"Governor Ivey's announcement that she will be undergoing outpatient radiation for a malignant spot on her lung is met with great concern, but we are confident that the Steel Magnolia of Alabama will recuperate quickly," Lathan said in a statement. "We hope it is a great comfort to her that millions of Alabamians will lift her name up to the Lord's ear during this time. We also should take this opportunity to be reminded of so many who have walked this challenging path. We believe Governor Ivey will tackle this moment with the tenacity, faith and grace she does with everything."
"When it comes to fighting for what matters, Gov. Ivey has proven time and time again that she is a tenacious warrior, and that same steely will and determination will be in full evidence as she begins her radiation treatments," Speaker of the House Mac McCutcheon (R-Monrovia) said in a statement. "I know that all of the members of the Alabama House join me in asking for God's healing hands to embrace our governor throughout her treatment and recovery."
"Throughout her career, Kay Ivey has proven herself to be a strong and determined woman who will confront any obstacle placed in her path," said Lt. Governor Will Ainsworth (R). "The courage and tenacity she has shown in the past will serve her well in the challenge that lies ahead. Throughout her treatment, Gov. Ivey will carry with her the prayers, thoughts, and well-wishes of millions of Alabamians, and those of my family and I will certainly be among them."
Congresswoman Terri A. Sewell (D-Selma) said on social media, "Sending well wishes to Governor Ivey for a speedy and full recovery!"
State Auditor Jim Zeigler (R) said, "As a cancer survivor myself from 2001, I know that early detection, treatment, and prayer can work. I am confident Gov. Ivey will have the best treatment available, and we have wonderful cancer programs in Alabama. Kay Ivey is one tough lady, and I am confident that the cancer will be the loser in this fight."
Dr. Nicole Jones said, "Every day, Governor Kay Ivey works diligently and tirelessly to better the lives of Alabamians. Her strength is evident in everything she does, and she will prove herself once again as she swiftly recovers. During this time, I ask all Alabamians to say a special prayer for Kay Ivey – a true servant leader and one of the finest people I know."
"Rebecca and I hope you will join us in praying for a speedy recovery for Governor Ivey. Let's also say a prayer for her medical team as they help her fight cancer," Congressman Bradley Byrne(R-Montrose) said.
State Senator Chris Elliott (R-Fairhope) said on Twitter, "Alainna and I are saddened to learn of @GovernorKayIvey's diagnosis. We are all too aware of the struggle associated with such troubling news and lift up Governor Ivey in prayer for a speedy recovery."
State Senator Cam Ward (R-Alabaster) said, "Regardless of your politics I hope that we will pray for a speedy recovery for @GovernorKayIvey Gov. Kay Ivey announces she has lung cancer #alpolitics.
Senate Pro Tem Del Marsh (R-Anniston) said, "Please join me in praying for Governor Kay Ivey's speedy recovery. Her leadership is unparalleled and I look forward to continuing to work with her for the people of Alabama."
Public Service Commission President Twinkle Andress Kavanaugh said. "My family and I are praying for @GovernorKayIvey to beat this cancer. She is a strong, resilient leader who I know will take that same approach to her recovery."
Alabama State Treasurer John McMillan (R) said, "Kathryn and I join all Alabamians in praying for @GovernorKayIvey. We are confident that her strength and indomitable spirit will allow her to successfully meet this challenge. Best wishes for a speedy recovery."
Congresswoman Martha Roby (R-Montgomery) said on Twitter, "@GovernorKayIvey Riley, Margaret, George, & I will be praying for you during this time. I'm thankful to call you a friend & grateful for your leadership."
Democratic women condemn comments on Gov. Kay Ivey's appearance
"These comments are disrespectful, inappropriate in every way, and represent a broader culture of casual sexism," read a joint statement from four Democratic women.
A group of Democratic women on Wednesday issued a statement condemning comments made by a state school board member who was critical of Gov. Kay Ivey's weight. 
Wayne Reynolds, a Republican who represents portions of northwest Alabama on the board, wrote during a live stream event that Ivey, who is also a Republican, "is gaining weight." 
Afterward, in an interview with AL.com, Reynolds doubled — and then tripled — down on his comments as he critiqued Ivey's choice of clothing. 
"She looked heavy in that white suit," Reynolds said of Ivey, who held a press conference on Wednesday to update the state's "safer-at-home" order. "I don't know what she weighs. I just made an observation."
Later in the interview, Reynolds said the pantsuit Ivey wore was unflattering and that he had seen her wear other suits "that were more slimming on her."
The backlash to Reynold's comments was swift and bipartisan with women around the state rightfully taking issue. 
"These comments are disrespectful, inappropriate in every way, and represent a broader culture of casual sexism," read a joint statement from four Democratic women. "Women all over Alabama know what it is like to be subjected to unfair criticism on the basis of their appearance or weight. 
"We need to cultivate an environment where individuals are judged on the basis of their skill and proficiency. Alabama elected officials should be discussing policy, not the physical appearance of policymakers. Anything less is a disservice to Alabamians. We are disturbed by Mr. Reynold's remarks, and we hope other elected officials and candidates will likewise condemn his comments. Mr. Reynolds was wrong and we deserve better."

The statement was signed by Amy Wasyluka, president of Alabama Democratic Women, Phyliss Harvey Hall, a District 2 congressional candidate, Dr. Adia Winfrey, a District 3 congressional candidate and Laura Casey, a candidate for president of the Alabama Public Service Commission.