Jones says SDEC meeting was "a major step in the right direction"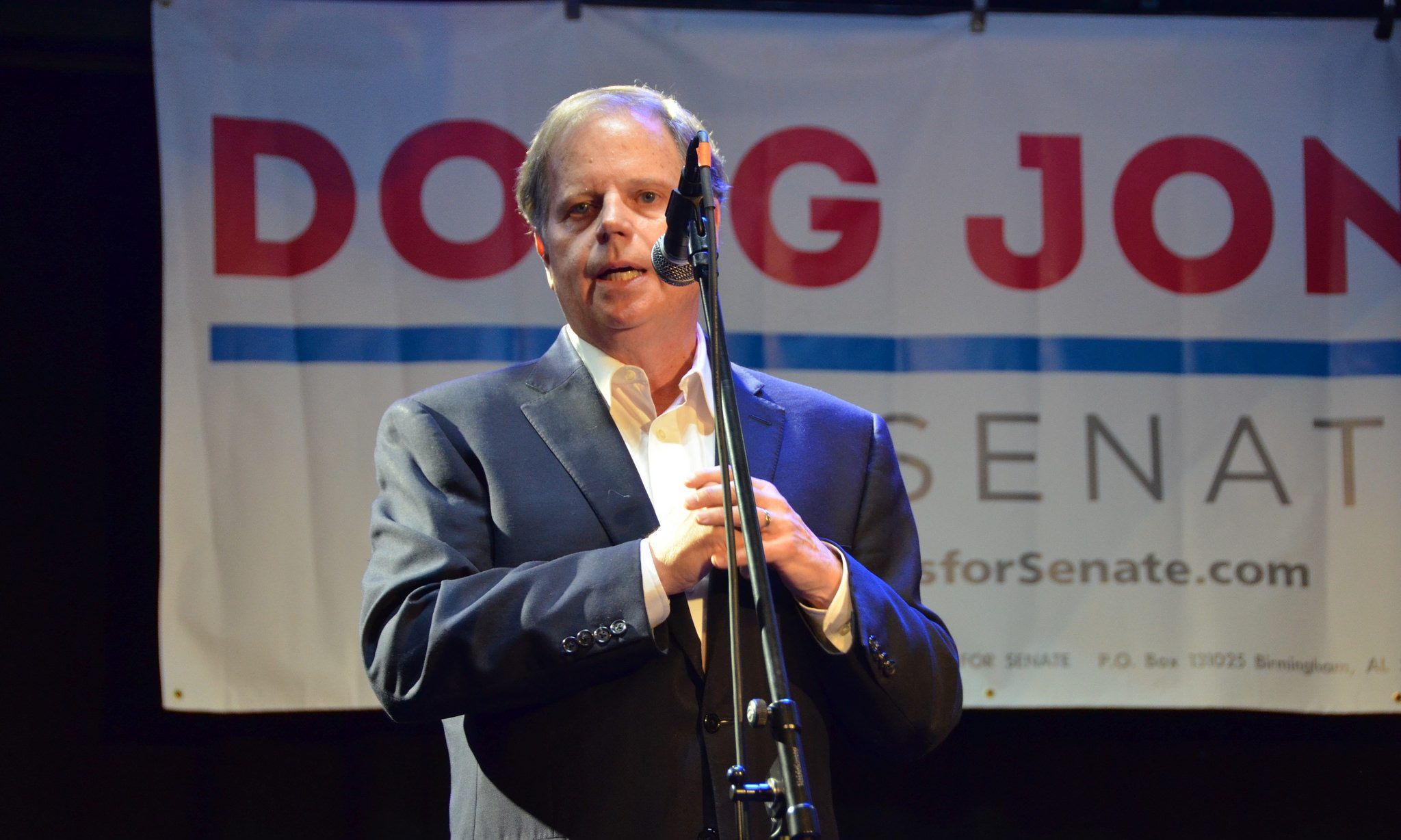 U.S. Sen. Doug Jones said "this is a major step in the right direction for the Alabama Democratic Party" following a meeting of State Democratic Executive Committee (SDEC) members Saturday in Montgomery.
"This is a major step in the right direction for the Alabama Democratic Party," Sen. Jones said. "This show of support from Democrats across Alabama to pass the DNC-approved bylaws is a real success and shows that Alabama Democrats are ready to get to work and create a more transparent, diverse and inclusive Alabama Democratic Party and comply with the DNC guidelines."
The group, which claims to be the majority of the SDEC, passed recent bylaws changes demanded of the Alabama Democratic Party by the Democratic Executive Committee (DNC). The bylaws changes are intended to increase the quotas for homosexual Democrats, young Democrats, Asians, and Latinos. There were already rules on the SDEC guaranteeing Black representation.
Alabama Democratic Chairwoman Nancy Worley has called for a meeting of the SDEC this coming Saturday, October 12, and did not call the meeting on Oct. 5. Some supporters of Worley have suggested that the Oct. 5 was not valid, perhaps setting the stage for a court battle.
In the summer of 2018 Jones backed an effort by Montgomery attorney and Democratic strategist Peck Fox to defeat Worley. Worley prevailed in the meeting; but Jones and Fox supporters took the matter of how that election was conducted to the DNC.
In February the DNC, at Jones' urging, ruled that there were irregularities in how the election was handled and ruled that Worley and Vice Chair Randy Kelly were elected improperly and ordered that the ADP make bylaws changes and hold new elections by April 17. That deadline came and passed and no action was taken by Worley and the Alabama Democratic Party leadership. A new deadline was set by the DNC in July also passed by with no action by the ADP.
Jones has been outspoken in his criticism of Worley and her leadership. Worley has said that Jones is just angry because he had previously wanted to be ADP Chair and was rejected and that he should concentrate his efforts on his own Senate race.
In August, Worley told the DNC that her critics there "can all go to Hell." The DNC responded by revoking her and Kelly's credentials.
Former Congressional candidate Tabitha Isner and former Lt. Gov. candidate Dr. Will Boyd have announced their candidacies for ADP Chair; but the ADP has not held an election thus far this year as Worley and the leadership have been hostile to the bylaws changes demanded by the DNC.
The DNC is threatening not to recognize the Alabama delegation to the Democratic national presidential nominating convention next year unless the bylaws changes are adopted. This would effectively nullify the votes of Alabama Democratic primary voters on March 3 in what is presently shaping up to be a very close Democratic presidential primary race.
Most Democratic presidential candidates have been avoiding campaigning in Alabama given the uncertainty and the division among top ranking Alabama Democrats.
At this time it appears that Worley, with the backing of powerful Alabama Democratic Conference boss Joe Reed, are going to push ahead and hold their own SDEC meeting on Saturday. It is not known yet, whether they will accept the DNC ordered changes to the bylaws or not or if the other group of SDEC members will hold that this coming meeting is illicit.
The Alabama Political Reporter has reached out to Worley; but we have not gotten a response yet.
State Representative Christopher John England (D-Tuscaloosa) said, "Great SDEC meeting today. Proud to have been there. New by-laws were adopted. The next meeting is set for November 2nd so we can elect new leadership. It's past time."
Doug Jones faces a tough re-election battle next year as Republicans hope to take that seat back.
ACLU joins lawsuit over Alabama voting amid COVID-19 pandemic
The lawsuit was filed on behalf of several voters who are at greater risk from complications or death due to COVID-19. 
The American Civil Liberties Union and its Alabama chapter have joined in a lawsuit attempting to make it easier for some voters to cast their ballot during the COVID-19 pandemic.
The American Civil Liberties Union and ACLU of Alabama joined in the lawsuit filed in May by the NAACP Legal Defense and Educational Fund, Southern Poverty Law Center and Alabama Disabilities Advocacy Program against Gov. Kay Ivey and Secretary of State John Merrill. 
The U.S. Supreme Court in a 5-4 decision last week blocked U.S. District Judge Abdul Kallon's order that would have allowed curbside voting statewide and waived certain absentee ballot requirements for voters in at least Jefferson, Mobile and Lee Counties.
The lawsuit was filed on behalf of several voters who are at greater risk from complications or death due to COVID-19. 
The lawsuit was also brought on behalf of People First of Alabama, Greater Birmingham Ministries, the Alabama State Conference of the NAACP and Black Voters Matter Capacity Building Institute.
With the Supreme Court's decision, voters in the upcoming July 14 Republican runoff election will have to submit a copy of their photo ID and have either two adult witnesses sign their absentee ballot requests or have it notarized. 
"Alabama is in the middle of a deadly and ongoing pandemic but is refusing to take common-sense steps to protect the public's health and their right to vote for all elections in 2020. That's why we are taking legal action," said Alora Thomas-Lundborg, senior staff attorney with the ACLU's Voting Rights Project in a statement. 
"In the midst of an out-of-control pandemic, Alabama officials should be doing everything they can to ensure that all voters have a safe, fair, and equal opportunity to cast a ballot. Instead, officials have chosen politics over public health and safety. They are fighting to make it harder to cast a ballot and have that ballot counted. This litigation is crucial to ensure safe, fair, and equal opportunity to vote," said Randall Marshall, executive director of the ACLU of Alabama, in a statement.
"As we head into preparations for the November general election with COVID-19 cases rising in Alabama, it is critical that our election officials take seriously the protection of voters, poll workers, and our democracy," said Caren Short, senior staff attorney for SPLC in a statement. "In this critical election season, we are grateful to have Black Voters Matter Capacity Building Institute, the ACLU, and the ACLU of Alabama join this effort to ensure that every voter is heard. No voter should have to choose between exercising their fundamental right to vote and their health or the health of a loved one."
Deuel Ross, NAACP's Legal Defense Fund senior counsel, said in a statement that over the July 4th weekend, Alabama reported nearly 5,000 new coronavirus cases.
"Yet, state leaders insist on enforcing draconian restrictions on in-person and absentee voting that no other state finds necessary to combat the almost nonexistent issue of voter fraud," Ross said. "These restrictions are needless in normal circumstances. They are deadly in a pandemic. At trial in September, we will work to make sure that state leaders comply with their constitutional duty to protect the rights and safety of all voters."
In a Tweet on July 2, Alabama's Secretary of State John Merrill expressed gratitude for the Supreme Court's decision. 
"With the news that we have received a Stay in this process, I am excited that the United States Supreme Court has ruled in favor of those who believe in strict interpretation of the Constitution and has decided to grant the Stay and not endorse legislating from the bench," Merrill said in the tweet.