Lathan calls on Doug Jones to "take a stand" on impeachment inquiry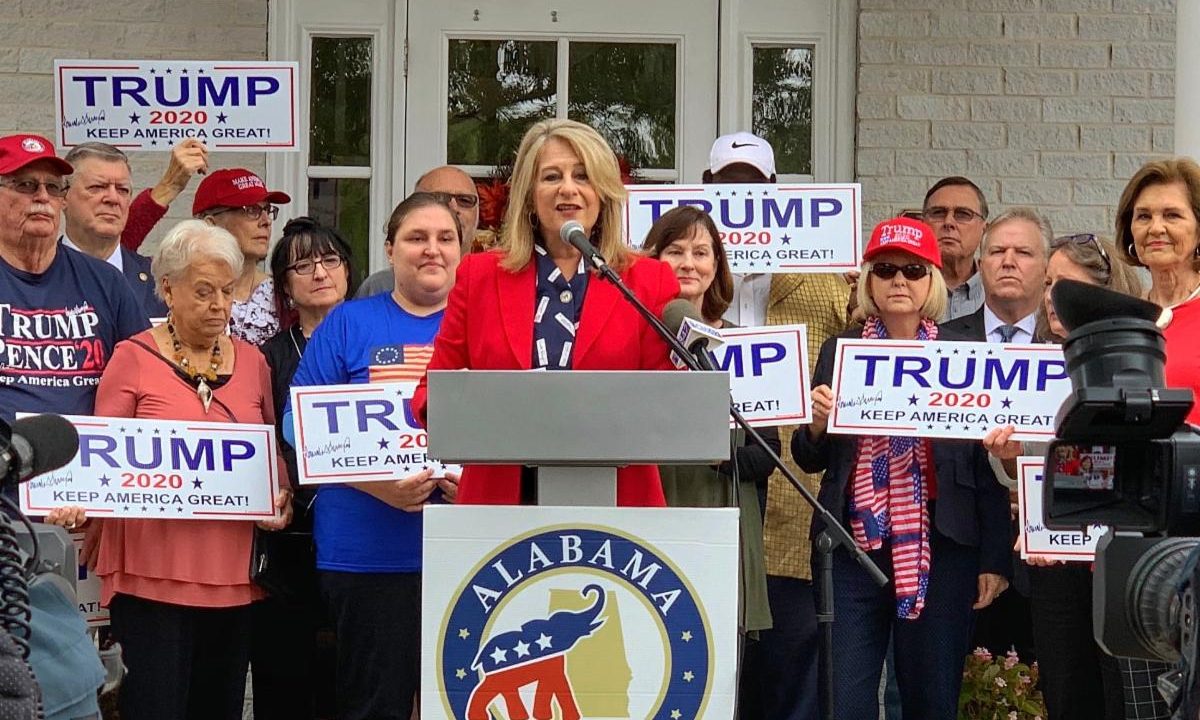 The Alabama Republican Party opened qualifying for the 2020 election at their Hoover headquarters Tuesday, but Sen. Doug Jones was the focus of a morning press conference.
Alabama Republican Party Chairman Terry Lathan hosted a press conference with the Republican National Committee calling on U.S. Senator Doug Jones to side with the majority of his Alabama constituents and oppose the impeachment of President Donald Trump.
Lathan was joined by: Shelby County Republican Party Chairman Joan Reynolds, Jefferson County Republican Party Chairman Butch Zaragoza, Monroe County Republican Party Chairman Rebekah Cornelison, elected officials and candidates qualifying to run for office, and grassroots GOP activists.
"As our party starts our qualifying process today with very strong candidates, we find ourselves back again with the party of Senator Doug Jones trying to overthrow our president in a despicable display reminiscent of a 3rd world political coup – not at all what the founding fathers envisioned for our great nation, as the ballot box is the decision maker," Lathan said. "It started with Russia, then Mueller and now Democrats have come up with another "Get Trump at all cost" scheme concerning Ukraine. They know they can't beat President Trump at the ballot box and quite frankly, are seething in desperation. In fact, a Democrat Congressman said, "If we don't impeach this president, he will get re-elected!" Let me interpret this: If the House Democrats who know better than all of the ill-informed American people don't stop him, the deplorables, despicables and dregs of society will do it again! The Democrats refuse to accept the results of the 2016 election and are still on a never-ending mission to destroy President Trump."
"The end goal has always been impeachment," Lathan continued. "They've been openly saying this since his election in an electoral college landslide… and why? Because he won and they lost? Because he shattered their dreams and not their ceiling? Their liberal agenda was yanked away by the VOTERS of our nation and their national hissy fit is filling the airwaves as they waste time instead of doing the jobs they were sent to Congress to do. Their behavior and actions are insults to every American who gave the keys to the Oval Office to Donald Trump!"
"They are attempting to turn a Joe Biden scandal into a Trump problem," Lathan stated. "Our president, in an unprecedented and transparent move, released the transcript that has sent them into hysterics. No reasonable person can read that three-page transcript and interpret in the same way as the Democrats who are trying to use to destroy President Trump. They wake up every day hating him and their loss."
"Most Americans oppose impeachment," Lathan stated. "Recently, a Monmouth poll found that nearly two thirds of Americans oppose beginning impeachment proceedings. The people are fired up and wanting to speak out against this poison pill that is impeachment. They care about their families' healthcare, the illegal immigration crisis, their paychecks and their families. They clearly see this impeachment charade is another attempt to remove our president. Do we hear the Democrats cheering as American workers' paychecks continue to rise? NO! Do we see the Democrats celebrating the lowest unemployment rate in 50 years? NO! Do we see the Democrats working on realistic solutions to healthcare issues? NO! Do we see the Democrats trying to secure our boarder and stop the flow of illegal drugs and human trafficking into our nation? NO!"
"They are now the Party of obstruction in every sense of the word," Lathan charged. "Where does Doug Jones stand? Time and again, Senator Jones has sided with the radical Democrats in his party, whether it's obstructing President Trump's policies or voting against Supreme Court Justice Brett Kavanaugh's confirmation. He is a member of the Party that had a floor fight over removing the word "God" from their platform. He embraces the Party that just 2 months ago passed a resolution championing "religiously unaffiliated" voters. He knee jerk reacted to the Brett Kavanaugh debacle and voted NO when the majority of Alabamians wanted him to cast a YES vote. He voted NO on the wall funding. Alabamians wanted a YES vote. He voted NO on ending taxpayer money to Planned Parenthood. Our state wanted a YES vote. Senator Jones' is not voting for the majority of Alabamians, and they will not forget his deafness to their wishes next year."
Secretary of State John H. Merrill, businessman Stanley Adair, and State Representative Arnold Mooney all qualified on Tuesday for the Republican nomination for Senate. Former Chief Justice Roy Moore, former Auburn football Coach Tommy Tuberville, and Congressman Bradley Byrne (R-Montrose) have all announced plans to run. GOP qualifying for Senate and other races will remain open through November 8.
The last two Democrats to win statewide races in Alabama were Doug Jones in 2017 and the late Lucy Baxley in 2008 running for Public Service Commission President. The last Democratic incumbent who won re-election was Agriculture and Industries Commissioner Ron Sparks in 2006. The last Democrat to win a state appellate court race in Alabama was Sue Bell Cobb who won the Chief Justice race in 2006. The last Democrat to win Lt. Gov. in Alabama was Gov. Jim Folsom Jr. in 2006. The last Democrat to be elected governor in Alabama was Don Siegelman in 1998. The last Democrat who was elected Alabama Attorney General was Jimmy Evans in 1990. The last time a Democratic incumbent was re-elected to the U.S. Senate in Alabama was Richard Shelby in 1992. The last three Democrats elected as governor of Alabama were Don Siegelman in 1998. George C. Wallace in 1982, and Forest "Fob" James in 1978.
Print this piece
Sessions attacks Tuberville's views on China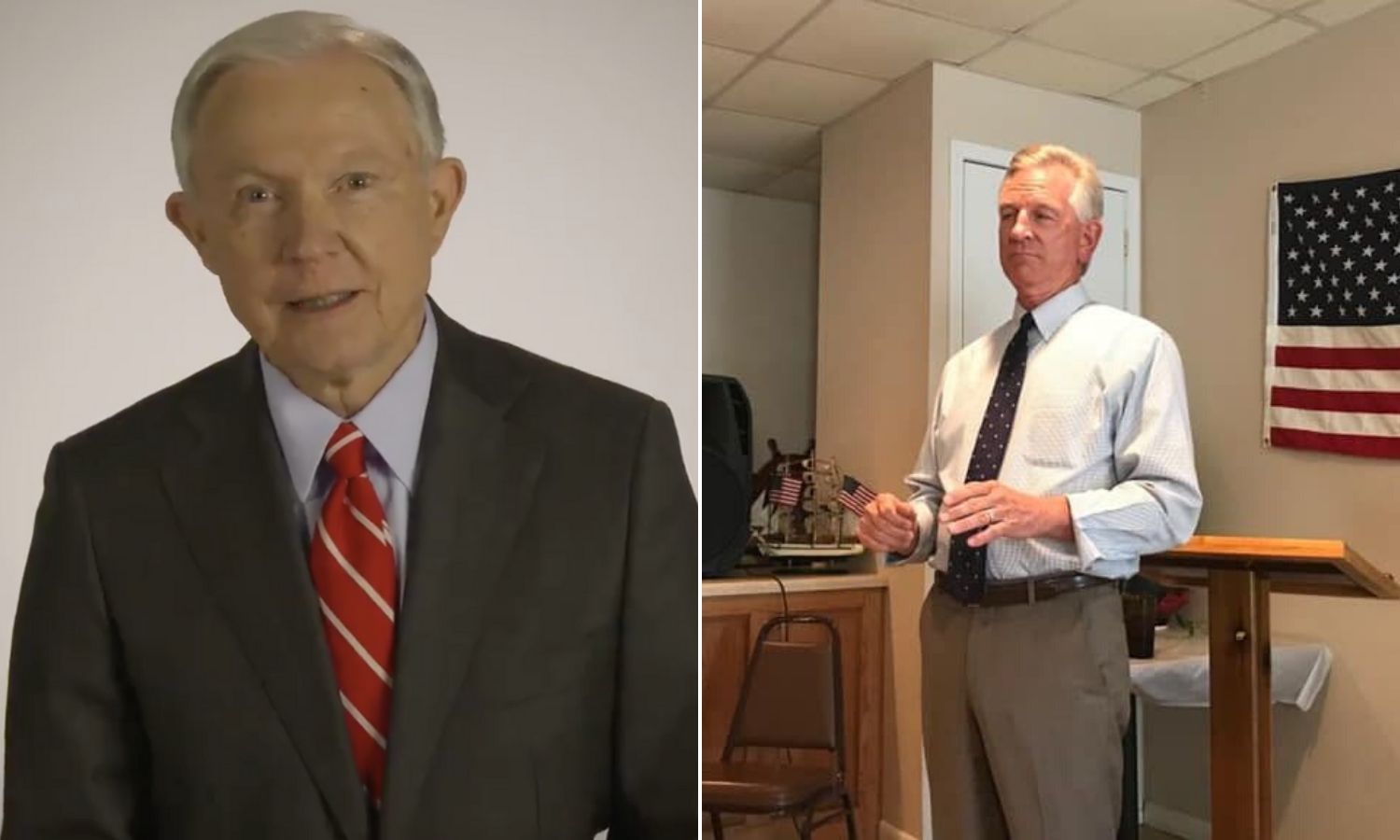 Former Sen. Jeff Sessions, R-Alabama, rolled out an ambitious, comprehensive plan to hold the Chinese government accountable for what Sessions called a cover-up of the coronavirus that has killed tens of thousands of people and devastated economies worldwide.
In an interview Thursday on the Matt & Aunie radio show on Talk 99.5 in Birmingham, for Auburn head football Coach and current GOP Senate candidate Tommy Tuberville expressed his views on China.
Matt Murphy asked: What do you see happening with China?
"Well, we can't worry about China right now…" Tuberville responded.
"You say you don't need to worry about China, but this came from China and our economy depends on China," Murphy asked on follow up. "Specifically how to overcome some of that dependence on Chinese goods and specifically in the pharmaceutical industry because right now we're dependent on the country that covered this up."
"Now we're seeing firsthand the results of letting everything go to China," Tuberville said. "The good thing about this is we'll have manufacturing come back and drugs and all those things….we're headed in that direction, just the simple fact that we can't control our own destiny. Everything's controlled by China. But that'll take care of itself."
During the show, Tuberville also characterized the Wuhan Virus, which has killed over 53,000 people and infected more than 1 million people across the globe, which then including over 1,300 people in Alabama, as "just a virus."
Jeff Sessions issued a statement critical of Tuberville on Friday in response.
"Amazingly, Tommy Tuberville said yesterday, 'We can't worry about China right now,"" Sessions quoted. "China is where the virus is from, and their deliberate lies hid the danger and resulted in a pandemic that never should have happened. We must take on China now and win, not run scared like Tommy Tuberville."
"There are over 1 million infected with the Wuhan Virus, and more than 1,300 in Alabama already," Sessions continued. "This is serious. But Tommy Tuberville said yesterday that 'this is just a virus.' What planet is he on? Tuberville is clueless. No wonder he's scared to debate me. We must stop relying on China for our critical medicines and equipment. I have a detailed plan to fix it. Amazingly, Tuberville also said yesterday, 'Everything's controlled by China, but that'll take care of itself.' Wrong! We must lead with action, this will not 'take care of itself.'"
On Thursday, a U.S. intelligence report claimed that China understated the damage that the coronavirus was doing in their country.
"Alabama's next Senator must be a leader who has the drive and determination to push a Congress that is too often unwilling to confront the critical issues of our time," Sessions continued. "I have proven my willingness and preparedness to lead from Day One. Tuberville is weak: all talk and no action."
Sessions is a former Senator, U.S. Attorney General, Alabama Attorney General, Chairman of the Alabama Republican Party, U.S. Attorney, asst. U.S. Attorney, and U.S. Army Captain.
The Republican primary runoff has been moved to July by Alabama Governor Kay Ivey (R) due to fears of the coronavirus. The virus is believed to have originated in Wuhan City, Hubei Province, China in late 2019.
As of press time, 10,943 Americans have died from COVID-19 including 53 Alabamians. 367,650 Americans have been diagnosed with COVID-19, including 2,006 Alabamians. At this point, only 240 Alabamians are confirmed hospitalized with COVID-19.
COVID-19 is the medical condition caused by a strain of coronavirus first identified late last year in Wuhan City, Hubei Province China, SARS-CoV-2. Since then it has spread across the globe infecting 1,346,566 persons that we are aware of killing 74,697 people.
The winner of the Republican primary runoff will then face Senator Doug Jones (D-Alabama) in the November election.
Print this piece