Dynetics opens rocket-testing facility in Decatur
Dynetics has opened a rocket-testing facility in North Alabama that it says will help advance major programs such as NASA's Space Launch System, the space agency's most powerful rocket, and the United Launch Alliance's Vulcan Centaur, a next-generation launch vehicle.
Alabama Gov. Kay Ivey said on social media, "Alabama has a dynamic aerospace history. We're extremely proud to carry this legacy forward at @Dynetics world-class complex as we support these exciting programs.
Huntsville-based Dynetics said that its Aerospace Structures Complex will support the development, integration and structural testing of large rocket components.
"It's an exciting time for the space industry," said Dynetics Vice President of Space Systems Kim Doering. "NASA's exploration programs including the Space Launch System, Human Lander System and Gateway afford the Alabama space community the opportunity to make significant contributions to the establishment of a human lunar economy and to landing humans on mars."
Initially, Dynetics will use the facility to build the SLS's Universal Stage Adapter, which will connect the rocket to NASA's Orion spacecraft. The new Dynetics complex will also perform structural qualification testing for the booster of the Vulcan Centaur, which is being produced at ULA's factory in Decatur.
Doeing said that ULA's new Vulcan Centaur rocket will provide a critical capability to support national security and support the burgeoning small satellite market.
"Dynetics decided to build this complex so we could contribute to these vital projects," Doeing added. "Our new complex will play an essential role within Alabama's aerospace landscape."
The facility creates 25 jobs initially, but that is expected to increase.
The Aerostructures Structures Complex is composed of: Test Stand 1 stands 100 feet high, with the capability of hoisting 35 tons for structural testing; a 43,000-square-foot Hardware Integration Facility allows for the assembly of large aerospace structures and houses test cells; and a Test Control Center allowing customers to analyze real-time testing data onsite.
Dynetics said that it selected Decatur site for the complex because of the area's rich history of rocket development and testing.
"Dynetics' new Aerospace Structures Complex represents an impressive new asset in Alabama's dynamic space community," said Commerce Secretary Greg Canfield, "This facility will support and advance major programs that will keep our nation safe and allow mankind to embark on ambitious new explorations of space."
ULA's Vulcan Centaur qualification booster stood in Test Stand 1 at the grand opening ceremony.
"The strategic location and partnership with Dynetics provides ULA with advanced testing capabilities that will benefit the Vulcan Centaur program," said ULA Vice President for Development Mark Peller. "This structural test article is an important step in ensuring that the Vulcan Centaur is ready to launch in 2021 supporting our nation's national security space program."
Economic developer Nicole Jones said, "Since 1974, Dynetics has been an integral part of the business climate in north Alabama. Started by two engineers, Hershel Matheny and Dr. Steve Gilbert, the company grew from 25 employees in its early days in Huntsville to over 2,030 employees in nine locations throughout the United States. Dynetics is now a 100% employee-owned organization, making it the seventy-sixth (76th) largest majority employee-stock ownership plan (ESOP)-owned company in the nation and the second largest in Alabama."
"It is wonderful to witness the organization's steady growth over the years. Dynetics plans to utilize the Decatur facility to build the NASA Space Launch System's (SLS) Universal Stage Adapter as well as to perform structural testing for the Department of Defense (DoD), NASA, and commercial customers," Dr. Jones added,
JumpStartAL launches innovative workforce development initiative
Public-private partnership uses VR-technology, job strategy to train and place participants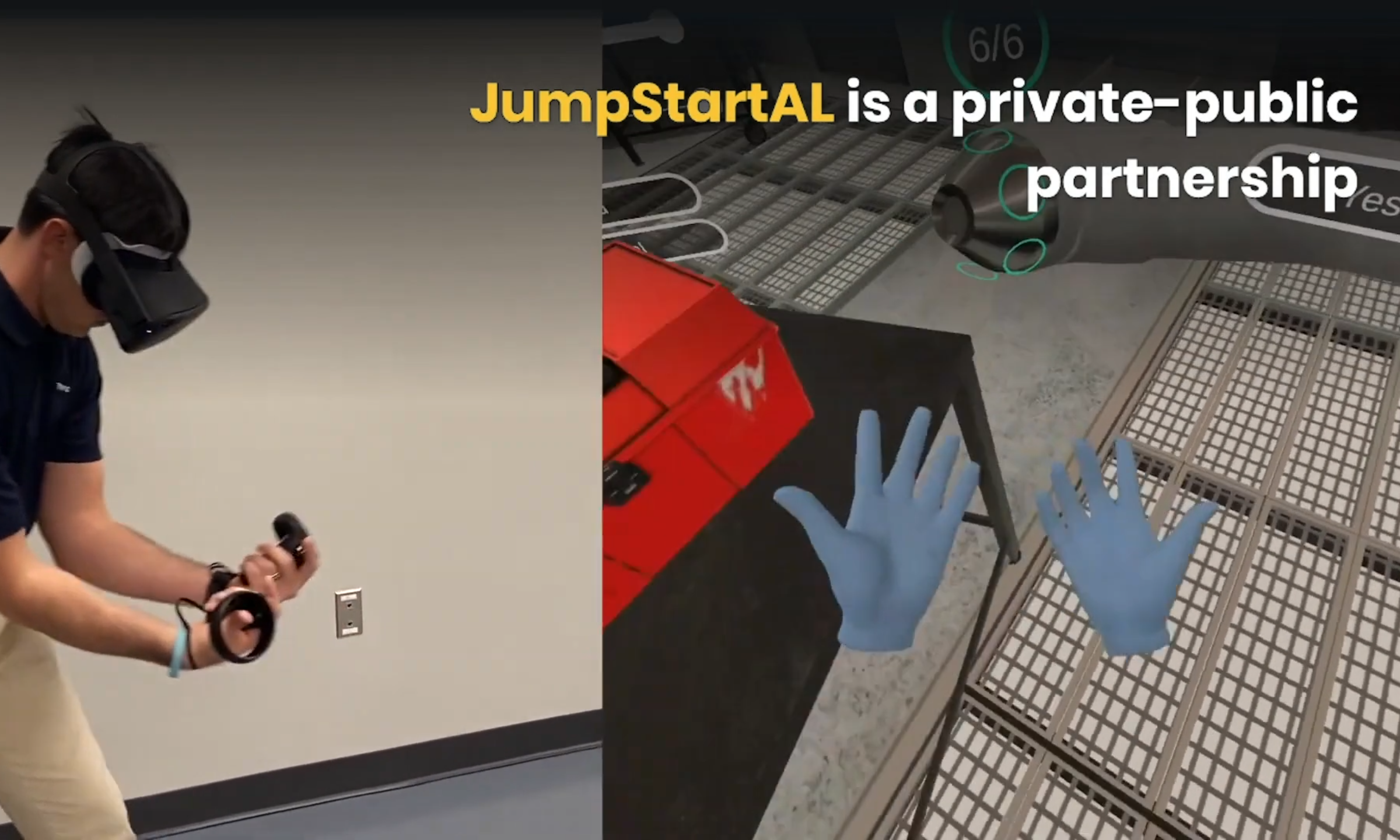 Representatives today announced JumpStartAL, a private-public partnership to help carry out Alabama's strategy for the future of workforce development. Using leading edge virtual reality (VR) training solutions from job simulator TRANSFRVR, JumpStartAL will offer new education and training programs to develop the state's next generation of highly skilled workers.
"Alabama is focused on the future," Governor Kay Ivey said. "JumpStartAL will help ensure that we are positioned to attract the jobs of tomorrow by educating and training Alabamians to take advantage of the opportunities those jobs will provide."
The initiative will highlight career paths needed for Alabama to meet its goal to increase its workforce by 500,000 highly skilled workers by 2025.
JumpStartAL training modules are created with input from industry partners and will help participants develop specific skills needed for jobs, beginning with manufacturing and expanding into other industries in the future. Training is available free of charge for anyone interested in a career in the skilled trades, including high school students, veterans, workers in existing industries, the unemployed and underemployed.
JumpStartAL will initially roll out at five Alabama community colleges, with more campuses and training facilities added in the future:
Coastal Alabama Community College
Enterprise State Community College
Jefferson State Community College
Lawson State Community College
Shelton State Community College
"Now, more than ever, we must be engaged in new and inventive ways to train the next generation of skilled workers," said Alabama Community College System Chancellor Jimmy H. Baker. "Our colleges are committed to meeting students where they are and helping them achieve a better future. Hands-on virtual reality training is a means of achieving that goal."
The statewide network of partners in the JumpStartAL initiative includes the Alabama Community College System; Ready to Work, which is operated by Alabama Industrial Development Training (AIDT); the Alabama Department of Postsecondary Education; the Governor's Office of Workforce Development; the Business Education Alliance; TRANSFRVR; Shelby County economic development organization 58 INC; Central Six Alabama Works; and the Alabama Department of Commerce.
Alabama Power, Altec and Kamtek are among the private sector leaders of JumpStartAL. The statewide business community is supporting the initiative both through job placement strategies and financial efforts.
"It is a great privilege for Altec to be partnering with so many outstanding companies and organizations throughout Alabama on such an innovative workforce development initiative", said Jay Eichelberger, General Manager for Altec Industries. "JumpStartAL demonstrates Alabama's leadership role in developing skill-aligned training programs that help broaden employment and economic opportunities. It will ensure that those entering the workforce are much better prepared to succeed, while allowing employers within the state to utilize state-of- the-art training technology that is focused on specific job skills and requirements."
JumpStartAL also will focus on addressing new challenges and opportunities that arise as a result of the coronavirus pandemic.
"The organizations and companies that make up JumpStartAL have a shared vision of ensuring Alabama and its citizens are well positioned for a prosperous and inclusive future in the 21st century economy," said Leigh Davis, vice president of economic and community development for Alabama Power. "We are honored to join with them to help make this vision a reality."
Companies interested in joining the partnership can visit jumpstartal.com. Individuals wanting more information on training locations and how to sign up can learn more at jumpstartal.com/training.