Dynetics opens rocket-testing facility in Decatur
Dynetics has opened a rocket-testing facility in North Alabama that it says will help advance major programs such as NASA's Space Launch System, the space agency's most powerful rocket, and the United Launch Alliance's Vulcan Centaur, a next-generation launch vehicle.
Alabama Gov. Kay Ivey said on social media, "Alabama has a dynamic aerospace history. We're extremely proud to carry this legacy forward at @Dynetics world-class complex as we support these exciting programs.
Huntsville-based Dynetics said that its Aerospace Structures Complex will support the development, integration and structural testing of large rocket components.
"It's an exciting time for the space industry," said Dynetics Vice President of Space Systems Kim Doering. "NASA's exploration programs including the Space Launch System, Human Lander System and Gateway afford the Alabama space community the opportunity to make significant contributions to the establishment of a human lunar economy and to landing humans on mars."
Initially, Dynetics will use the facility to build the SLS's Universal Stage Adapter, which will connect the rocket to NASA's Orion spacecraft. The new Dynetics complex will also perform structural qualification testing for the booster of the Vulcan Centaur, which is being produced at ULA's factory in Decatur.
Doeing said that ULA's new Vulcan Centaur rocket will provide a critical capability to support national security and support the burgeoning small satellite market.
"Dynetics decided to build this complex so we could contribute to these vital projects," Doeing added. "Our new complex will play an essential role within Alabama's aerospace landscape."
The facility creates 25 jobs initially, but that is expected to increase.
The Aerostructures Structures Complex is composed of: Test Stand 1 stands 100 feet high, with the capability of hoisting 35 tons for structural testing; a 43,000-square-foot Hardware Integration Facility allows for the assembly of large aerospace structures and houses test cells; and a Test Control Center allowing customers to analyze real-time testing data onsite.
Dynetics said that it selected Decatur site for the complex because of the area's rich history of rocket development and testing.
"Dynetics' new Aerospace Structures Complex represents an impressive new asset in Alabama's dynamic space community," said Commerce Secretary Greg Canfield, "This facility will support and advance major programs that will keep our nation safe and allow mankind to embark on ambitious new explorations of space."
ULA's Vulcan Centaur qualification booster stood in Test Stand 1 at the grand opening ceremony.
"The strategic location and partnership with Dynetics provides ULA with advanced testing capabilities that will benefit the Vulcan Centaur program," said ULA Vice President for Development Mark Peller. "This structural test article is an important step in ensuring that the Vulcan Centaur is ready to launch in 2021 supporting our nation's national security space program."
Economic developer Nicole Jones said, "Since 1974, Dynetics has been an integral part of the business climate in north Alabama. Started by two engineers, Hershel Matheny and Dr. Steve Gilbert, the company grew from 25 employees in its early days in Huntsville to over 2,030 employees in nine locations throughout the United States. Dynetics is now a 100% employee-owned organization, making it the seventy-sixth (76th) largest majority employee-stock ownership plan (ESOP)-owned company in the nation and the second largest in Alabama."
"It is wonderful to witness the organization's steady growth over the years. Dynetics plans to utilize the Decatur facility to build the NASA Space Launch System's (SLS) Universal Stage Adapter as well as to perform structural testing for the Department of Defense (DoD), NASA, and commercial customers," Dr. Jones added,
Print this piece
Gov. Ivey launches state guide to COVID-19 relief efforts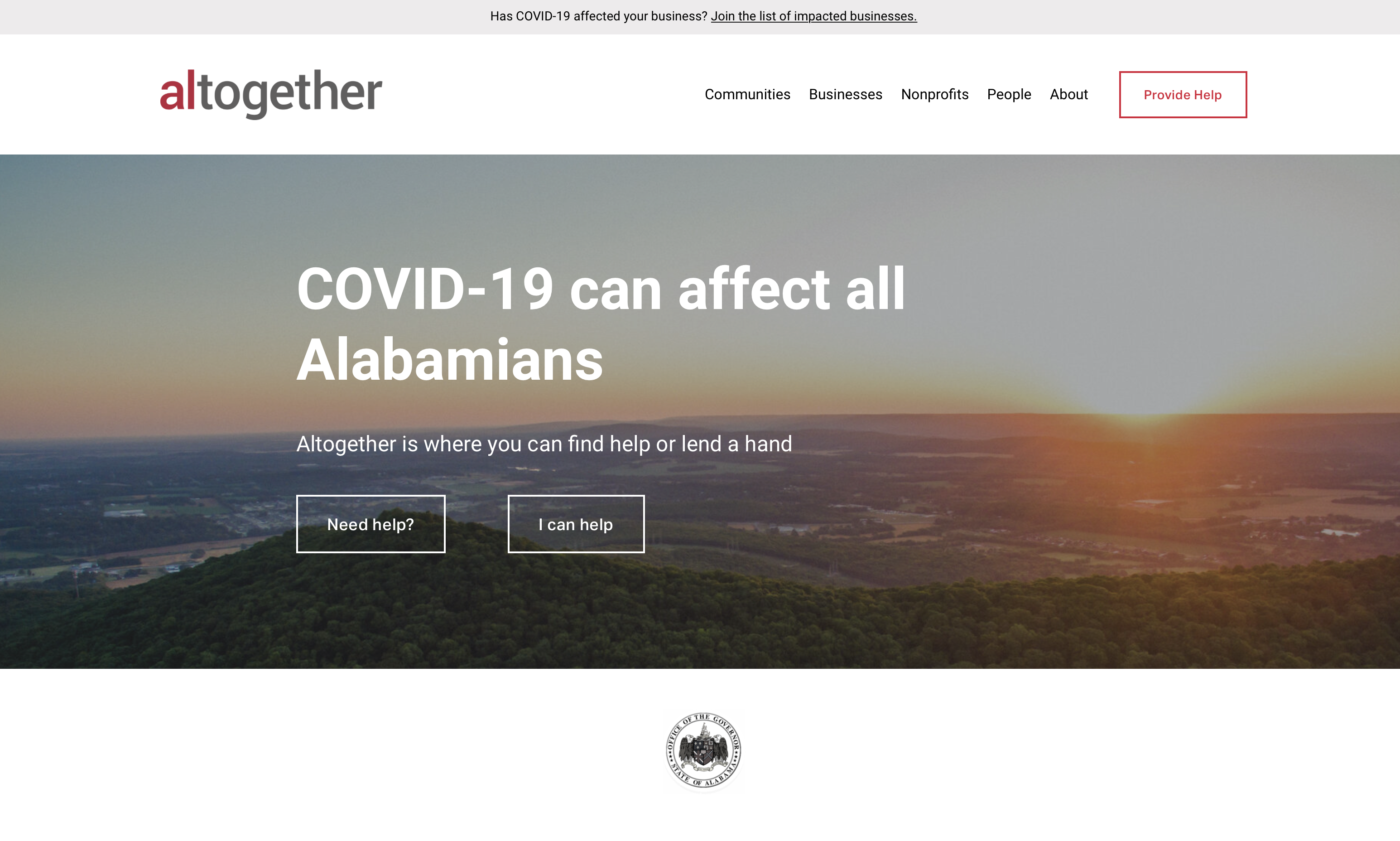 Governor Kay Ivey on Monday announced the launch of altogetheralabama.org, an online resource that will serve as a hub of information for the state's response to the coronavirus crisis.
The site becomes the state's official guide to COVID-19 relief efforts, to help empower those impacted by the outbreak and those who want to offer support.
"We wanted to quickly create a trusted resource that centralizes information, resources and opportunities for businesses and individuals in need of support," Governor Ivey said. "We are all in this together."
The website is designed to be a comprehensive guide to aid in navigating all issues related to the COVID-19 response. Individuals and business owners can seek help and identify state and federal resources that can provide a lifeline in the form of low-interest loans and financial assistance.
Business owners, for example, can learn about the U.S. Small Business Administration's Paycheck Protection Program, which launched April 3 to provide a direct incentive for them to keep their workers on the payroll. Displaced workers, meanwhile, can use the site to learn about enhanced unemployment benefits.
"It's important for Alabama's business owners and its workforce to take full advantage of the resources being made available through the federal government's $2 trillion coronavirus relief package," said Greg Canfield, secretary of the Alabama Department of Commerce. "The site is meant to expedite the process so both employers and employees can get back up on their feet as fast as possible."
At the same time, the site will function as a pathway for Alabama's good corporate citizens and the general public to offer support and solutions that can help spark recovery across the state. It will act as a portal for companies, non-profits and individuals to volunteer, make donations of supplies, offer an assistance program, and even post job openings.
The site was developed in partnership with Opportunity Alabama, a non-profit organization that promotes investment in the state's designated Opportunity Zones. It was facilitated by a partnership with Alabama Power.
"Over the last two years, Opportunity Zones have allowed us to build a network of stakeholders that care deeply about helping distressed places," said Alex Flachsbart, Opportunity Alabama founder and CEO. "We hope this site will provide a gateway linking our network to those businesses and communities in economic distress, no matter where they are in Alabama."
"These are challenging times," added Governor Ivey. "We needed a place to efficiently and rapidly post and disseminate information – as soon as it's available – for all affected parties. Thank you for your support and partnership in helping bring Alabama together."
Any business, program or individual who would like to join ALtogether as a resource in COVID-19 response and relief can register at altogetheralabama.org/join.
Print this piece