Foundation for Moral Law defends Texas judge who gave convicted murderer a Bible
The Montgomery based Foundation for Moral Law came to the defense of Texas Judge Tammy Kemp from a complaint by Freedom From Religion Foundation.
Kemp presided over the Amber Guyer prosecution. Guyer is a former Dallas Police Officer who gunned down a neighbor when she walked into his apartment, she claimed accidentally. The victim's brother showed a remarkable display of compassion and forgiveness by pointing Guyer to Jesus and giving her a hug. Kemp came down from the bench after sentencing and gave Guyer her personal Bible, shared the Gospel, and gave her a hug.
The Wisconsin-based Freedom From Religion Foundation sent a letter to the Texas State Commission on Judicial Conduct, claiming that Kemp violated the Establishment Clause and demanded an ethics investigation.
The Foundation for Moral Law sent a response to the Commission, discussing how the FFRF's claims are based on outdated precedents and that Kemp's non-coercive way of encouraging Guyer to find redemption in Christ did not violate the Constitution.
Kayla Moore is the President of the Foundation for Moral Law.
"Judge Kemp displayed a much-needed touch of compassion at the end of a very difficult trial by encouraging Guyer to find redemption in the same place where many Americans look: Jesus Christ. Judge Kemp deserves to be commended, not condemned, for her actions," Moore said.
Kayla Moore is the wife of former Chief Justice Roy Moore. Roy Moore is the founder of the Foundation and has been an outspoken advocate for the right to acknowledge God. Roy Moore is a candidate for the U.S. Senate seat currently held by Doug Jones.
Foundation Counsel Matt Clark added, "The United States Supreme Court has been moving away from the obsolete precedents that the FFRF is using to call for Judge Kemp's punishment. In cases like this, the Court no longer asks whether the government is "endorsing" religion, but instead focuses on whether the practice comports with this nation's history. The Framers of the First Amendment not only permitted but encouraged the noncoercive encouragement of Christianity. They would be proud of Judge Kemp if they saw what she did."
The Foundation for Moral Law defends the religious liberties of persons, groups, and government. Groups like the Freedom from Religions Foundation wants to see religion out of the public and governmental realm as much as possible.
Both are nonprofit groups.
Print this piece
Doug Jones praises end of state Democratic Party lawsuit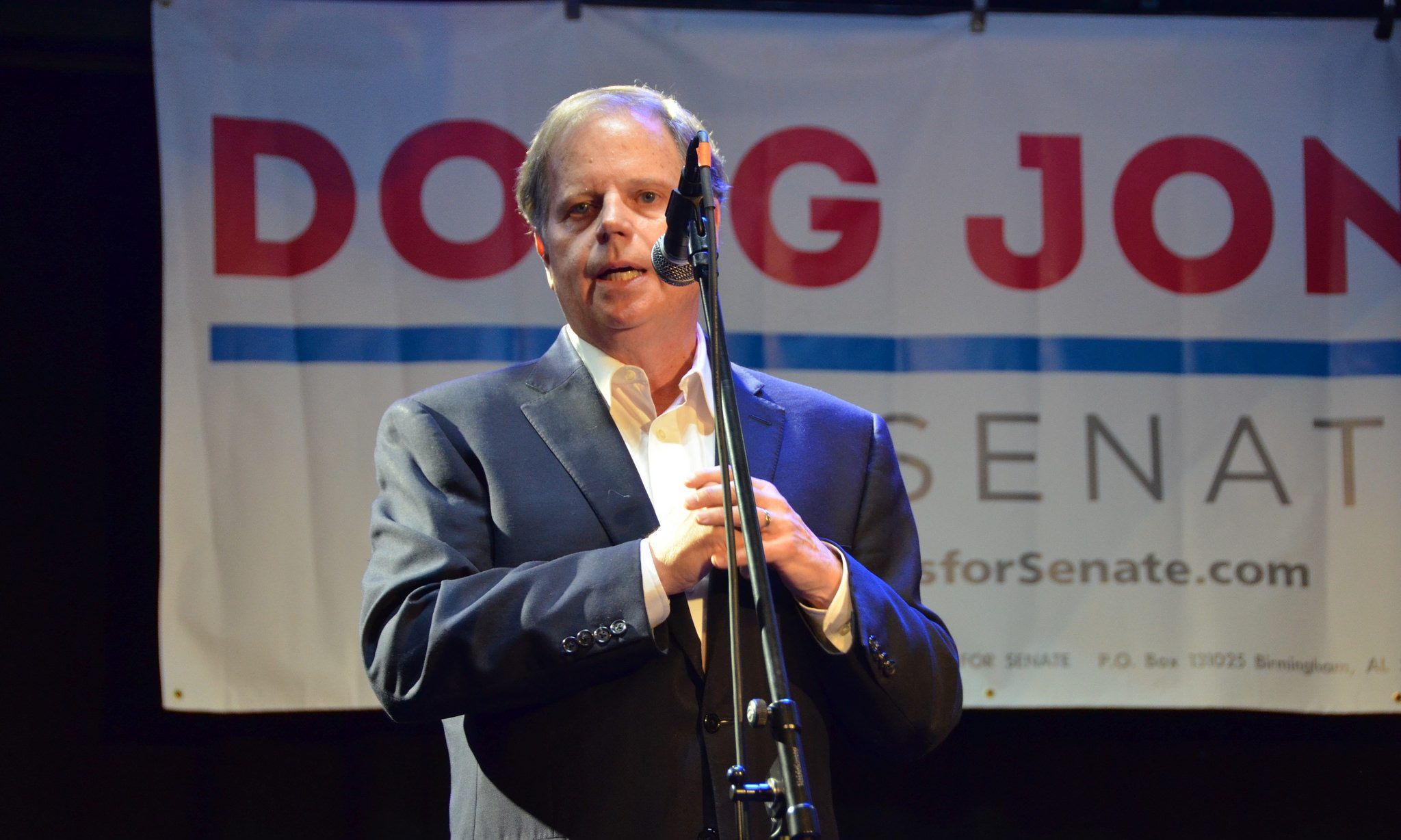 U.S. Senator Doug Jones, D-Alabama, on Thursday applauded the end of a lawsuit over control of the state Democratic party. 
Montgomery County Circuit Judge Greg Griffin on Thursday dismissed a lawsuit filed by former Alabama Democratic Party chairwoman Nancy Worley, which means that state Rep. Chris England, who was picked to lead the state Democratic party by a reform group championed by Jones, is the party's chair. 
"This is a great day for Alabama and her Democratic Party. Throughout much of last year, countless Democrats in our state worked to create a more open and diverse state party, while recognizing and being true to the crucial and historic role held by African-American voters," Jones said in a statement Thursday.
"The by-laws of the Alabama Democratic Party now reflect the growing diversity in our state — including representation for Hispanic voters, Native American voters, Asian voters, voters with disabilities and voters from the LGBTQ community. And most importantly, the Alabama Democratic Party has dramatically increased leadership opportunities for young voters. Around 70 new caucus members were added to the state party Executive Committee last year—many of them young people from diverse backgrounds throughout the state. I'm proud to continue to work alongside a more unified, diverse and inclusive state party. 
"With the dismissal of this lawsuit, it is time that all who have been involved in this challenge, resolution, and expansion of the Democratic Party come together for a common good. Our state benefits from the ideas and engagement of a competitive two-party system. We have now demonstrated that we have the ability to be inclusive within our own party while working to expand the number and experiences of people who play a role in moving it forward.  
"Chairman Chris England and First Vice Chair Patricia Todd have my complete support and I call on Democrats throughout the state to unite behind them as we move forward in modernizing, re-invigorating, and expanding the Alabama Democratic Party.," Jones said.
Print this piece