Doug Jones addresses Alabama AFL-CIO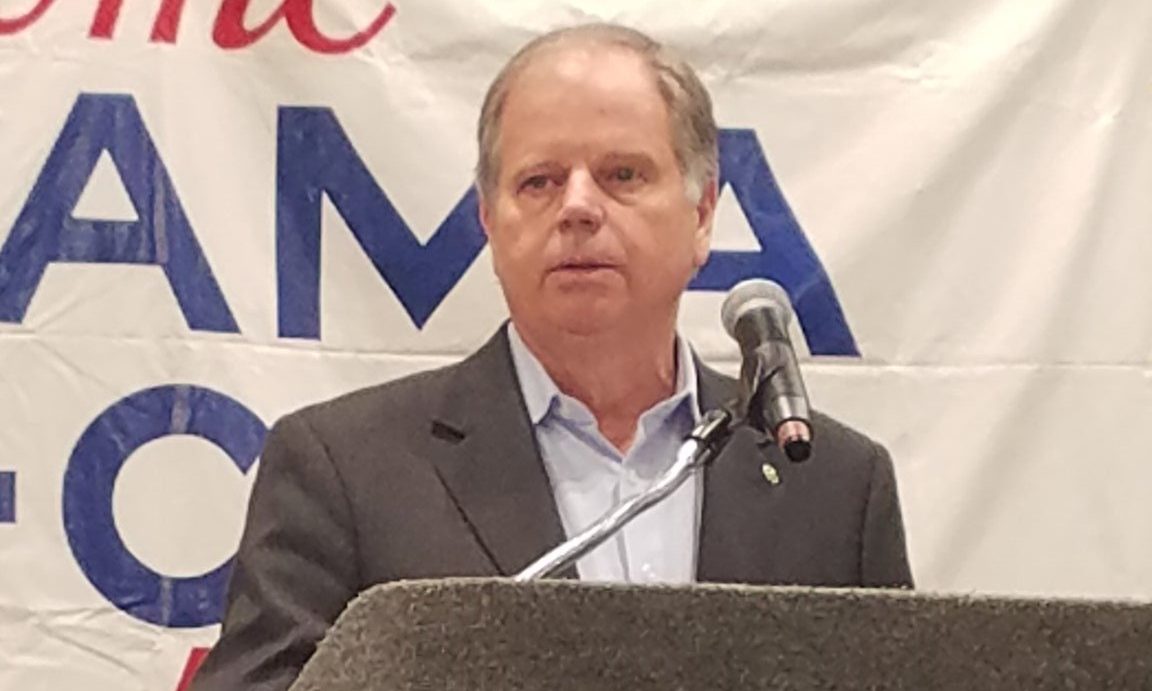 U.S. Sen. Doug Jones told members of the Alabama AFL-CIO, "You have a friend in the United States Senate."
The Alabama AFL-CIO was holding their biennial convention in Montgomery at the Embassy Suites Hotel and Conference Center.
"We need to support the people who support us," Alabama AFL-CIO President Bren Riley said. "He does not vote with us all the ti8me; but do you think that Roy Moore would have voted with us at all?"
Jones said that he was elected in a special election, "And it was special to me."
"I want to thank you first and foremost for the work that you are doing for all the working men and women," Jones said.
Jones said that serving in the Senate, "Is the honor of a lifetime."
"I worked in the steel mill one summer in college," Jones said. "Man that was a tough job."
Jones said that his dad stayed there until 1980.
"Grandad died on the floor of the tin mill of a heart attack at age 60," Jones said. My other grandfather was a union organizer and turned out the lights out on the Dulcina mine when it closed.
"You have a friend in the United States Senate for the first time since 1996 when my old boss Howell Heflin retired," Jones told the union members.
Jones said that the first American union was started by shoemakers in Boston three and a half centuries ago to set a quality standard of product and to set a standard for quality of life.
Jones talked about protecting pensions.
"After a lifetime of hard work you deserve to retire with dignity," Sen. Jones said. Pension plans are close to failing. "It is unacceptable to me."
Jones said that the Butch Lewis Act was the, "First bill I cosponsored when I started my work in the United States Senate."
Jones said that the bill to protect pension plans was blocked again; but promised, "We will get it done at some point."
"If Congress can bail out Wall Street and can bail out farmer who don't even want bailout, but were forced to take one because of the loss of markets; we can damn sure bail out our pension funds so that our workers can retire with dignity."
Jones said that Alabama is the tenth most vulnerable state to losing jobs to automation and that he was cosponsoring a bill with Dick Durbin to deal with the automation threat.
Jones said of the Republican candidates for Senate: "Their only real attribute is their support for Donald Trump. They have Donald Trump's back. You need a Senator who has your back."
I am not trying to tell you not to support Donald Trump; "But the fact of the matter is that his administration has systematically supported employers over workers," Jones said.
"The number of workplace safety inspectors have fallen to lowest level in the half century of the agency's (OSHA) existence. He cancelled a very modest pay increase of 2.1percent for federal workers," he has appointed anti-labor members to the National Labor Relations Board, supported right to work laws across the country, and taken a sledgehammer to rules preventing exposure to chemicals.
"The Administration is sending the message that you are on your own," Jones said. "You are not on your own as long as I am in the Senate."
Riley presented Jones with a plaque,
Reporters asked Jones about his upcoming automation legislation.
"We need to make sure that the people who might be displaced get the training that they need," Jones said.
Reporters also asked Jones about tweets over the weekend from Alabama Democratic Conference Chair Joe Reed suggesting that Jones will not have Black support in the general election and will lose next year.
"This is not about me and it is not about Joe Reed it is about the future of the Alabama Democratic Party," Jones said. "For a long time the leadership of the Alabama Democratic party has been leading us on a death spiral."
SPLC responds to arrest of man carrying Confederate flag inside U.S. Capitol
Kevin Seefried and his son, Hunter, face multiple charges connected with their alleged part in the deadly Capitol riot.
Widely shared images of a white man carrying a Confederate flag across the floor of the U.S. Capitol during last week's deadly attempted insurrection is a jarring reminder of the treasonous acts that killed more than 750,000 Americans during the Civil War, according to the Southern Poverty Law Center. 
"Just as defeated Confederate soldiers were forced to surrender the Civil War and end their inhumane treatment of Black people, the rioter who brazenly carried a Confederate flag into the Capitol has been forced to surrender to federal authorities," said Lecia Brooks, chief of staff at the Southern Poverty Law Center, in a statement Friday following the arrests of Kevin Seefried, 51, and his 23-year-old son Hunter.
FBI Baltimore: Man carrying Confederate flag in Capitol last week turned himself in today in Wilmington. Name is Kevin Seefried. Son Hunter also arrested. pic.twitter.com/ZTSGzbesDF

— Jayne Miller (@jemillerwbal) January 14, 2021
Seefried, the Baltimore man allegedly seen in those photographs carrying the Confederate flag, and his son are charged with entering a restricted building and violent entry and disorderly conduct on Capitol grounds. Hunter is also charged with destroying government property.
"Incited by the President's disinformation campaign, the rioter's decision to brazenly roam the halls of Congress clinging to this painful symbol of white supremacy was a jarring display of boundless white privilege," Brooks's statement reads. "Despite the revisionist history promoted by enthusiasts, his disgraceful display is proof that the Confederate flag clearly represents hate, not heritage."
Brooks added:
 "Over 750,000 American lives were lost because of the Confederacy's treasonous acts. We cannot allow more blood to be shed for efforts to split our Union. January's immoral coup attempt is an embarrassment to the United States, and we call on the federal government to prosecute these insurrectionists to the fullest extent of the law."
An affidavit detailing the charges states that videos taken during the riot show both Seefrieds enter the Capitol building through a broken window, that Hunter helped break, at about 2:13 p.m.
Both men on Jan. 12 voluntarily talked with FBI agents and admitted to their part in the riots, according to court records. 
The elder Seefreid told the FBI agent that he traveled to the rally to hear Trump speak and that he and his son joined the march and were "led by an individual with a bull horn." 
There were numerous pro-Trump attendees at the rally and march to the Capitol who had bull horns, according to multiple videos taken that day, but at the front of one of the largest groups of marchers with a bull horn was far-right radio personality Alex Jones, who was walking next to Ali Alexander, organizer of the Stop the Steal movement. 
Alexander in three separate videos has said he planned the rally, meant to put pressure on Congress voting inside the Capitol that day, with Rep. Mo Brooks, R-Alabama, and Arizona U.S. Reps. Paul Gosar and Andy Biggs. Alexander is now in hiding, according to The Daily Beast. 
Congressman Brooks's spokesman told APR on Tuesday that Brooks does not remember communicating with Alexander. 
"Congressman Brooks has no recollection of ever communicating in any way with whoever Ali Alexander is. Congressman Brooks has not in any way, shape or form coordinated with Ali Alexander on the January 6th 'Save America' rally," the statement from the congressman's spokesman reads. 
Jones and Alexander can be seen leading the march in a video taken and posted to Twitter by freelance journalist Raven Geary. 
"This is history happening. We're not giving into globalists. We'll never surrender," Jones yells into his bullhorn as they marched toward the Capitol.