Drought hitting Alabama cattle producers hard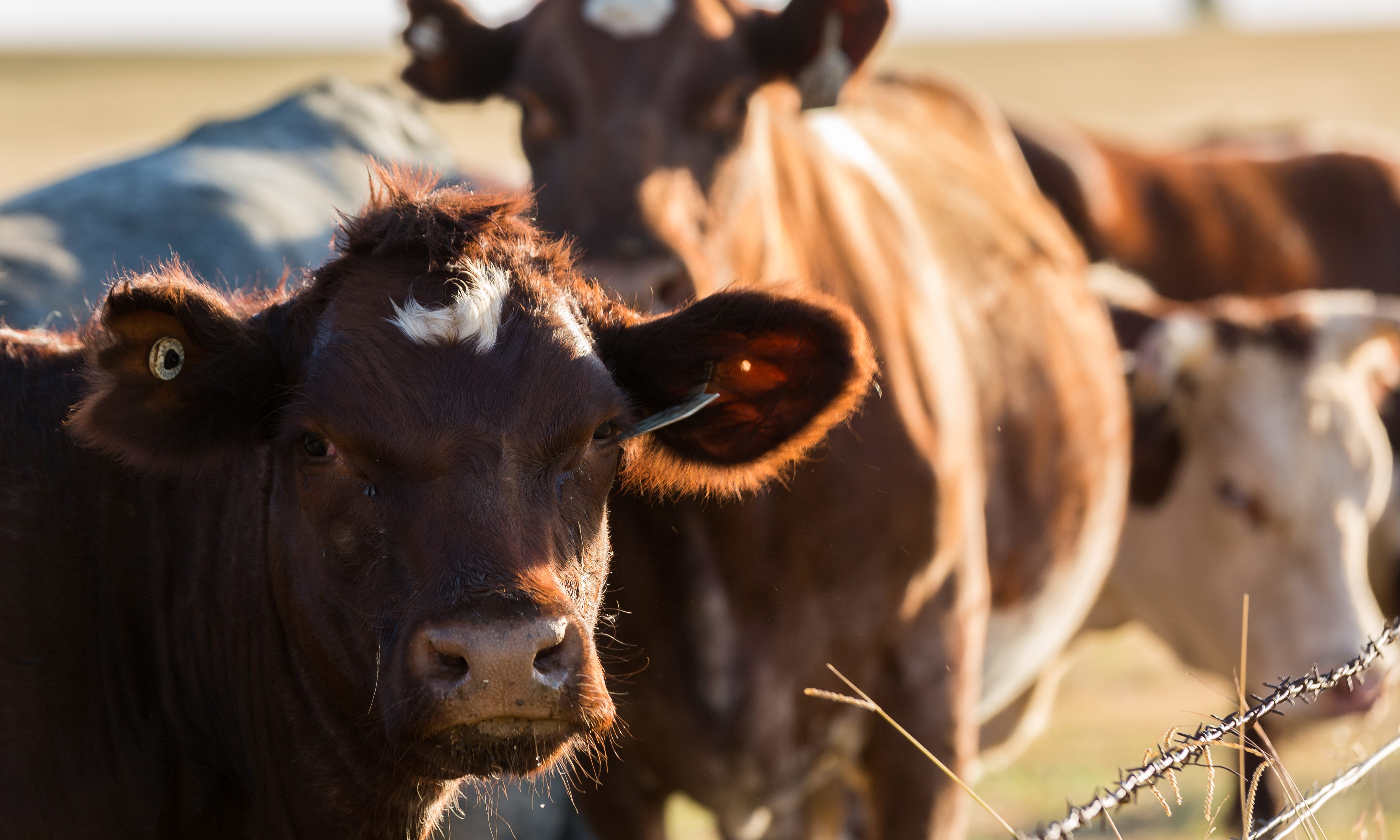 Recent rains across parts of Alabama have helped some, but Alabama cattle producers are still reeling from "flash drought" conditions that is impacting grazing pastures, hay production and delaying planting of winter grasses used to feed cattle. 
According to the U.S. Drought Monitor report released last week portions of 16 states across the south are in drought conditions, drying out soil and damage crops and pastureland. Nearly 56 million people are living through drought conditions, according to the report.  
Alabama's wiregrass region saw some recent rain from post-tropical cyclone Nestor, which may have eased extreme drought conditions there slightly, but the northeastern portion of the state remains in extreme drought conditions. The next U.S. Drought Monitor report is to be released later this week. 
 "That area the state was the first to really get into drought condition, and is probably the most extreme and has been for the longest period of time," said Erin Beasley, executive vice president of the Alabama Cattlemen's Association, speaking to APR on Monday about the extreme drought in northeastern Alabama. 
The latest U.S. Drought Monitor report, released Oct. 17, showed extreme drought conditions along the wiregrass region, impacting portions of Henry, Dale, Coffee, Geneva and Covington counties. 
In the northeast, most  of Jackson and portions of Dekalb and Marshall counties were in extreme drought conditions, as were parts of Chilton, Shelby, Tallapoosa, Coosa and Clay counties. Much of the rest of the state was classified as either abnormally dry or under a moderate drought. 
Beasley said they've received numerous reports of cattle producers who are starting to feed hay much earlier than usual due to the drought's impact on impacted pasture land. Where it not for the drought, producers would normally put up that hay for feeding cattle during the winter, she said. 
According to the U.S. Department of Agriculture's most recent crop report pastures in Georgia, Alabama, Kentucky, Tennessee, the Carolinas and West Virginia were either in poor or very poor condition. In Virginia 71 percent of the pastures were in poor or very poor conditions. 
Alabama, Mississippi and Florida all had their driest September on record, according to the crop report. 
Impacts from the drought conditions are myriad. The same drought that hurt grazing lands is impacting hay production, Beasley said. Many farmers are cutting fewer hay crops, and what did grow in the extremely dry conditions has less nutritional value for the cattle. Producers could supplement hay with other types of feeds, or buy from other areas of the state that saw more rain, or from out-of-state farmers, but that all comes at a cost to cattle producers, Beasley said. 
"It really just comes down to evaluating the cost of everything. What's going to be most cost effective and the best for their cow herd going into the winter months,' Beasley said. 
To add to the problems, winter grasses often planted to graze cattle on are behind schedule for many producers. 
"The ground has been so dry with no rain in sight. It didn't really make a lot of sense to try to put seeds in the ground," Beasley said. "So we are late planting winter annuals." 
Even with some rain yesterday and forecast for later in the week, the drought has already set producers back, which could mean selling off cattle to weather the impacts. 
"We could see some folks who decide to cull some cows. Decrease heard size, just depending on the resources they have available to them," Beasley said. "Certainly, a drought like we saw over the course of several weeks into a couple of months, it does have both short term and long term effects." 
Among the numerous ways human-caused climate change  is impacting the planet, it's also increasing drought frequency and severity in parts of the world, according to the Intergovernmental Panel on Climate Change's August report on climate change and land. 
"Climate change has already affected food security due to warming, changing precipitation patterns, and greater frequency of some extreme events," the report states. The intergovernmental panel of scientists predict that weather events, including droughts and extreme flooding, will continue to increase in frequency and severity unless climate change is addressed. 
The difficulty of predicting weather's effects on crops is something farmers have dealt with for as long as farming has existed, Beasley said, and today's farmers have much better forecasting tools at their disposal. 
"And those tools are definitely used, and it makes the planning maybe a little easier, but at the end of the day you're still at the mercy of Mother Nature," Beasley said.
Bidens suggest that Hurricane Sally due to climate change
Former Vice President Joe Biden and his wife, Dr. Jill Biden, released a joint statement this week on Hurricane Sally, suggesting that the hurricane and fires in the West are due in part to or exacerbated by climate change.
"Jill and I are praying for everyone from the Gulf Coast in Louisiana, Mississippi, Alabama, Georgia, and Florida and up the East Coast into the Carolinas as Hurricane Sally unleashes fury and flood that are leaving hundreds of thousands of people without power and evacuating their homes and businesses," the Bidens wrote. "Our hearts are also with everyone in California, Oregon, Washington, Colorado, and across the West who have lost everything and the firefighters and first responders who are risking their lives as the wildfires rage on and ash falls from an orange sky."
"Every year the devastating impacts of climate change — in billions of dollars in damage, in immeasurable loss of lives and livelihoods — sets new records of destruction in big cities, small towns, on coastlines, and farmlands across the country," the Bidens wrote. "It is happening everywhere. It is happening now. And it's all happening while we fight off a historic pandemic and economic recession."
But it doesn't have to be this bad, the Bidens wrote.
"We have to come together as a nation guided by science that can save lives," the Bidens wrote. "And grounded by economics that can create millions of American jobs — union jobs — to make us safe, stronger, and more resilient to a changing climate and extreme weather that will only come with more frequency and ferocity."
"And we have to keep the faith in the capacity of the American people — to act, not deny, to lead, not scapegoat, and to care for each other and generations to come," the Bidens concluded.
Hurricanes are not new to the Alabama Gulf Shore. Since 1852, at least 27 hurricanes have hit the state of Alabama gulf coast, with Katrina in 2005 being the most recent until Sally on Wednesday.
By comparison there were four hurricanes to strike the state between 1912 and 1917 and five between 1852 and 1860.
Democrats claim that President Donald Trump's policies on climate change are having a negative effect on the planet and that a Biden administration would be better at reducing U.S. CO2 emissions.
Biden and Trump will be on the Nov. 3 general election ballot.