Ivey attends grand opening of Grand River Technology Park
Thursday, Alabama Governor Kay Ivey (R) attended the groundbreaking of the Grand River Technology Park adjacent to the Barber Motorsports Park along the vital I-20 corridor connecting Birmingham with Atlanta.
"This is an exciting day and thank you all for coming here to celebrate the groundbreaking of Grand River Technology Park," Gov. Ivey said. "Many of you know that building our workforce development is one of the top priorities of my administration so when I was made aware of the grant that U.S. Steel got from the Alabama Department of Labor of $6 million I was extremely excited."
"This investment will not only develop this park; but will also relocate Southern Museum of Flight," Gov. Ivey added. "This will be a huge addition to our state's economy. This project is estimated to bring in 1,200 new opportunities for employment and generate some $85 million in economic impact to the Birmingham metropolitan area."
"One of my administration's proudest accomplishments is our low unemployment rate," Ivey added. "We recently announced a new record low of three percent. While many initiatives went into making this possible; it never would have become a reality without community leaders working with companies like U.S. Steel to make projects like this possible. So thank you for hosting me here today and may God continue to bless the great state of Alabama."
Alabama Commerce Secretary Greg Canfield and Alabama Labor Secretary Fitzgerald Washington were both on hand for the groundbreaking.
"It is great to collaborate with so many wonderful agencies and partners: U.S. Steel, the City of Birmingham, the Southern Museum of Flight, Jefferson County, the City of Leeds, the Office of Surface Mining, and the Governor's office," Sec. Washington said. "We know that this project has potential to really affect and change this area. The grant awarded by ADL AMF program will allow for hundreds of jobs in the Birmingham area. Conservative estimates allow for 1,200 jobs and an estimated $85 million investment."
"The Technology Park will bring wonderful improvements," Washington added. "There will be research and development, tourism and light manufacturing. Not only are we excited about the progress that is coming, but we are also happy about this project. A lot of dangerous abandoned mine land was removed. Our AML team does a great job with monitoring these dangerous areas and cleaning them up so that businesses and families that live there can be safe. So I would like to thank them for their hard work that helped make this groundbreaking ceremony possible. It is a great day for all of us here and I am proud to be part of it."
The property, which is owned by U.S. Steel, was mined in the first half of the twentieth century so there were hazardous conditions that had to be cleaned up before the site could be developed. The Alabama Department of Labor awarded a grant of $6 million to U.S. Steel to clean up the site. Senator Richard Shelby (R-Alabama) was thanked by the company for providing assisted with getting federal funding for the grant program to make this possible.
"Today on this site; through this partnership with all levels of government: federal, state, county, and city; we are providing more than just trees over rough topography for a new company or an expanded company. We are providing these technology based companies a prepared site with roads and utilities," U.S. Steel real estate Director Jammie Cowden said. "And Soon these prospect companies will work towards their own grand vision for an advanced manufacturing facility or research and development enterprise or drawing on the synergies of a world class motorsports park. This opportunity for growth in Birmingham unites both private companies and public entities."
Economic developer Nicole Jones told the Alabama Political Reporter, "Grand River Technology Park is an excellent redevelopment opportunity that will transform the east side of Birmingham. A six million dollar grant by the Alabama Department of Labor's Abandoned Mine Land Pilot Program will help fund the park located on approximately 105 acres of undeveloped land, which includes several pre-1977 abandoned coal mines. The technology park status and proximity to I-20 can help attract Lessees in a variety of industries such as aerospace, automotive, various types of light manufacturers, and R & D."
Jefferson County Commissioner Steve Ammons (R) told reporters that the Technology Park was "a giant step forward" for eastern Jefferson County.
Commissioner Ammons credited George Barber and the Barber Motorsports Park and Museum for being "transformative for the area."
The Barber Motorsports Park and Museum is already the largest tourist attraction in the state, outside of the beach.
Jefferson County Commissioner Jimmy Stevens (R) said that adding the Southern Museum of Flight to the same site will draw even more tourists.
Stevens estimated that the new Southern Museum of Flight "will be three or four times" as large as the existing museum next to the Birmingham International Airport.
Com. Ammons said that transportation: the I-20 corridor, the proximity of I-459 and I-59, and that the airport is close by means that this site will be attractive to companies.
The site is in the City Limits of Birmingham and adjoins the City of Leeds.
Birmingham City Councilman Hunter Williams, who represents the area said that, "Many groups have come together to make this a reality."
Williams said that the Grand River Technology Park fills a need for, "Sites that are prepped and site ready."
Dr. Jones told APR, "During the site selection process, companies look to locate within technology parks, also called "tech" parks or research parks, because of the close proximity to complimentary organizations. Collaboration allows innovation and discovery to take place. When researchers, academia, and industry colleagues interact within technology parks, the shared knowledge and support they receive often allows them to progress through hurdles more easily than if isolated. Grand River Technology Park will be a tremendous economic boost for the Birmingham/Leeds/Jefferson County area."
U.S. Steel has a long history in the Birmingham area.
"For decades U.S. Steel used its land in the Birmingham metro area for mining and minerals to support the local steel industry; but as the Birmingham metro area grew and the mining and minerals were mined out of the ground, like the coal that is deep under our feet today, the best use of our property moved from mining and minerals to real estate development and thus U.S.S. Real Estate was born," Cowden explained. "Our charge was and still is today to put that property to work to find value added use that build our communities that surround the land. In this area has several planned communities Trace Crossings, the Preserve, Oxmoor, Ross Bridge, and of course Grand River. All of these communities are carefully planned to maximize green space and to be livable and really lovable places."
Inaugural Alabama Works innovator awards presented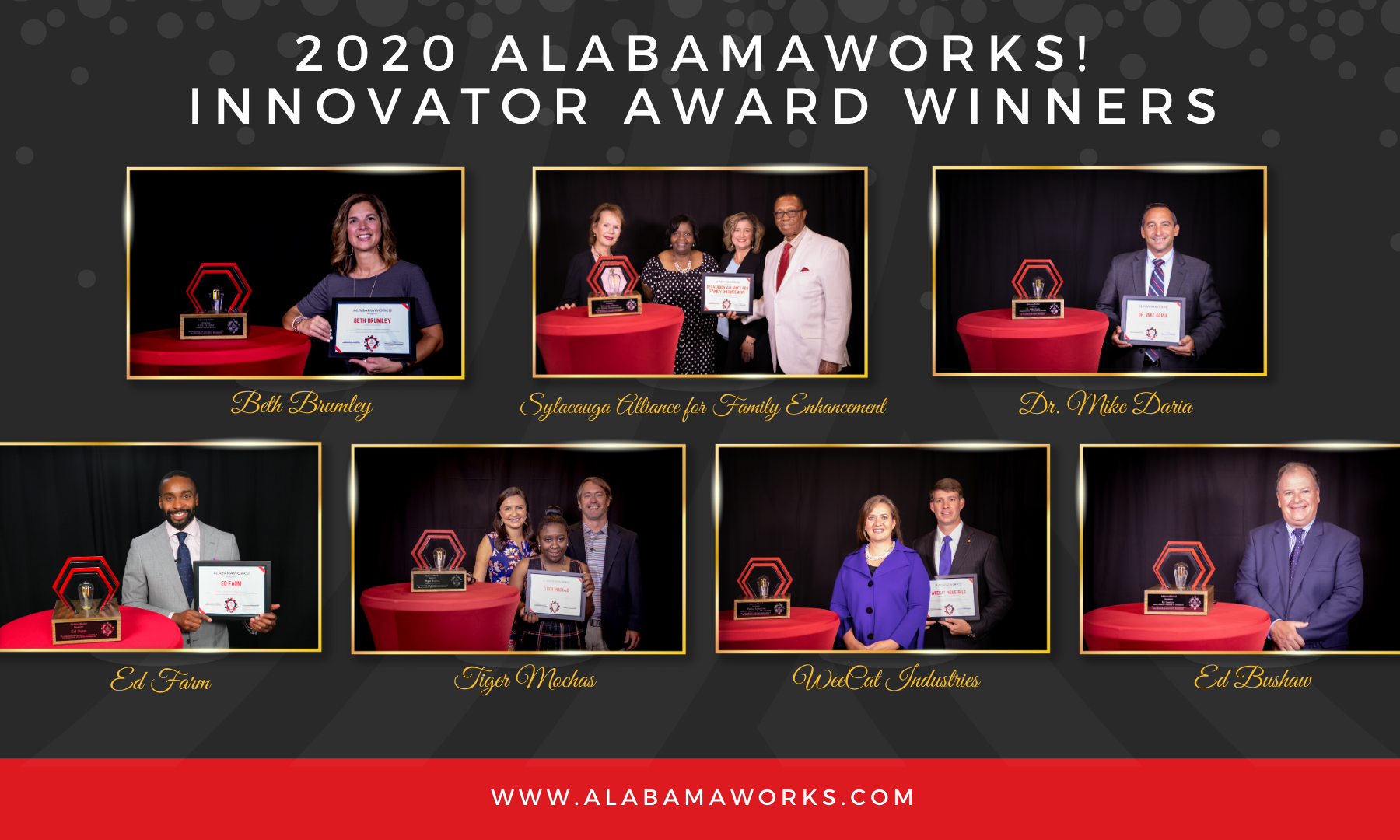 The inaugural AlabamaWorks! Innovator Awards were presented by Gov. Kay Ivey and Deputy Director of Commerce and AIDT Director Ed Castile Thursday during the AlabamaWorks! Virtual Conference.
The awards were developed to highlight people and programs across the state that take an innovative approach to solving workforce challenges and help advance Ivey's Success Plus attainment goal of adding 500,000 highly skilled workers by 2025.
At the time of the inception of the awards, Alabama was unaware of the impact COVID-19 would have on the workforce and although the attainment goal has not changed, our economic and workforce recovery post-COVID-19 will hinge on innovators like those recognized.
"The workforce challenges that we face today are not the same ones that we faced six months ago due to the COVID-19 pandemic that has completely reshaped the workforce landscape," said Gov. Kay Ivey. "The State of Alabama is relying on those who are leading the charge by implementing innovative solutions in their cities, counties and regions to further economic and workforce development."
The recipients are visionaries, outside-of-the-box thinkers and problem solvers. The programs test boundaries, explore new opportunities and reach deeper to bring about change. "It is important to recognize these leaders of innovation and to thank them for their hard work and dedication to the citizens, communities and industries of Alabama," said Ed Castile, deputy director of commerce and AIDT director. "Their innovative approach to workforce development will be key to opening doors, breaking barriers and propelling Alabamians forward."
The recipients of the first-ever AlabamaWorks Innovator Awards are as follows:
Region 1 – North AlabamaWorks – Beth Brumley, Colbert County Schools
Beth Brumley built the Health Science Program for Colbert County Schools from the ground up by using her experience in the healthcare field to provide critical, real-world skills to her students. She developed key relationships within the healthcare community to provide her students enhanced learning opportunities and exposure, which resulted in increased demand for program graduates. Beth was also named the 2020 National New Teacher of the Year through the Association for Career and Technical Education. By bridging the gap between education and employer, Beth has created a formula for success that positively impacts the workforce.
Region 2 – East AlabamaWorks – The Sylacauga Alliance for Family Enhancement (SAFE)
SAFE has been a model for supportive services to empower individuals and families while fostering positive and healthy development of the community for nearly 25 years. In their program, SAFE combines occupational and employability skills to help job seekers be ready to enter the workforce regardless of barriers they may have faced in the past. Their dedication to providing practical solutions to modern problems is a testament to their heart for service and passion for helping their community and region.
Region 3 – West AlabamaWorks – Dr. Mike Daria, Superintendent Tuscaloosa City Schools
Dr. Daria has played a crucial role in the success of West Alabama's workforce development by fostering important relationships between industry and education. His leadership has focused on increased Career Technical Education (CTE) enrollment, supporting local Worlds of Work events and the Educator Workforce Academy. Dr. Daria's emphasis on the importance of identifying career pathways for the students in his district and then providing viable opportunities for students to take those paths, make him invaluable to West Alabama.
Region 4 – Central Six AlabamaWorks – Ed Farm
Ed Farm is the signature program of TechAlabama that focuses on encouraging children and adults to discover and pursue STEM careers. Ed Farm has a vision for a world full of invention, led by citizens who have been equipped with the necessary tools to fill or create the careers of the future. Through equipping educators and communities with innovative tools, strategies and programs they are able to support active learning for all students. With three signature tracks, Ed Farm is poised to help increase educational equity and improve learning outcomes through technology all while preparing the future tech workforce.
Region 5 – Central AlabamaWorks – Tiger Mochas, Auburn City Schools
Tiger Mochas is a collaborative effort between special education students, FCCLA (Family, Career, and Community Leaders of America) members and peer volunteers at Auburn High School. This student-led organization is serving up a lot more than hot cups of coffee to their peers because through their work, students are provided meaningful, hands-on work experience that teaches important functional, social and daily living skills. Graduates of the program leave with not only work and employability skills, but in-demand soft skills that will help them succeed in life and work.
Region 6 – Southeast AlabamaWorks – WeeCat Industries
WeeCat Industries uses a simulated workplace model to meet the growing demand for a skilled workforce. WeeCat saw an opportunity to begin teaching work ethics and employability skills as early as preschool, and rose to the challenge. Their students clock into work, run an assembly line, fill orders, check invoices, meet production quota, interview for new positions and implement quality control all while earning a "paycheck" to be spent at the WeeCat Store before they can even spell the word "school". WeeCat Industries places invaluable skills at a crucial age in development which will shape the future of the workforce.
Region 7 – SAWDC AlabamaWorks – Ed Bushaw
Ed Bushaw with the South Baldwin Chamber of Commerce researched and developed initiatives to address the region's workforce supply to meet the needs of the growing hospitality and tourism industry in his region. His collaborative efforts with business and industry officials resulted in the development of the first Hospitality and Tourism registered apprenticeship program in Alabama. Apprentices receive classroom instruction as well as valuable real-world experience within the hospitality and tourism industry and finish the program with a credential that can be used to advance their career. Ed's ability to adapt to the needs of industry and implement programs that address those needs are vital to the continued success of southwest Alabama.