Jones introduces bill to invest in workforce development, training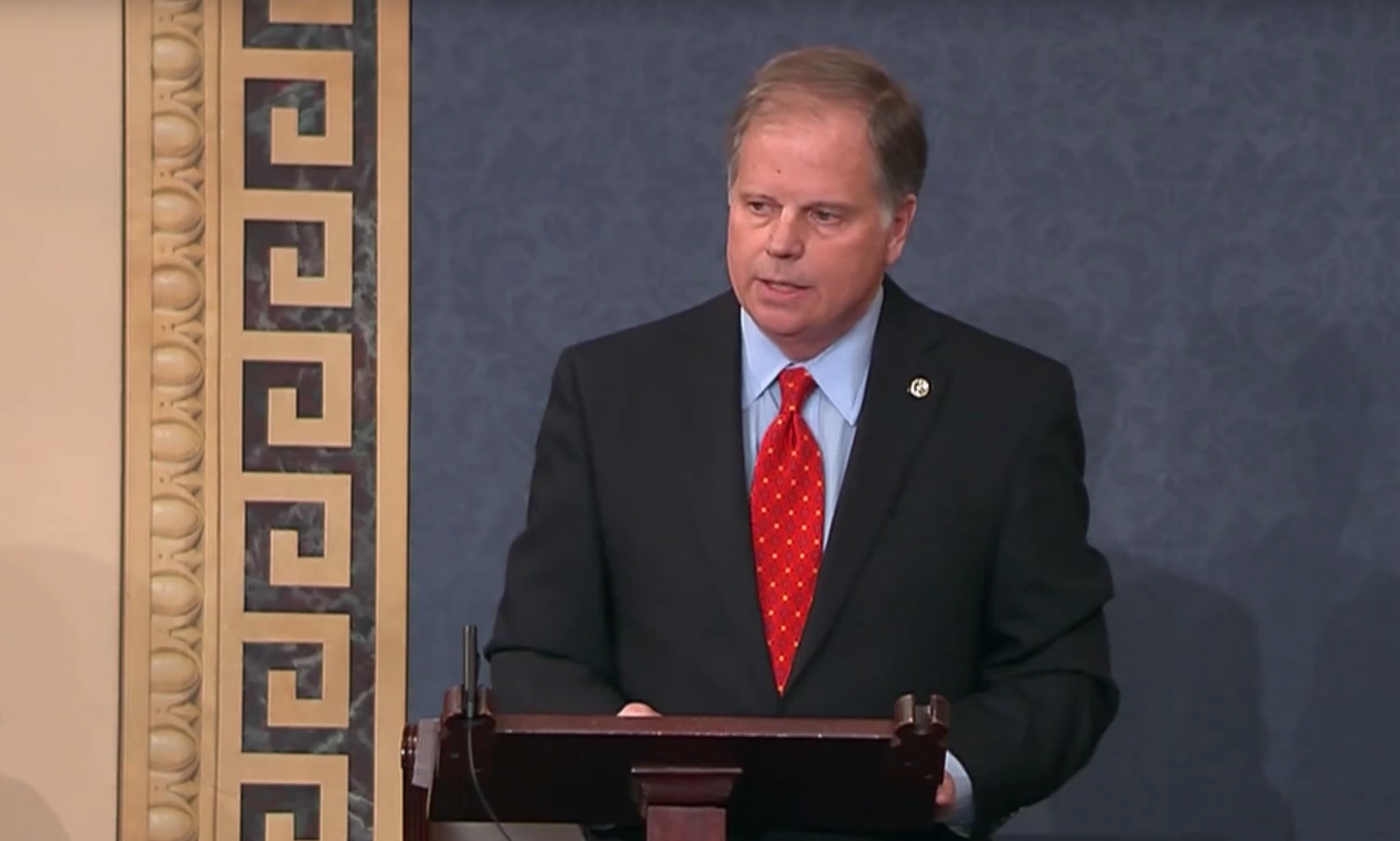 Tuesday, U.S. Senator Doug Jones (D-Alabama) introduced legislation to increase federal investments in workforce development and training to help prepare workers for the jobs of the future. Sponsors say that the Investing in Tomorrow's Workforce Act would ensure that American workers have the skills they need to successfully navigate the transition that will result from an increase in automation.
"Manufacturing jobs are the backbone of Alabama's economy," Jones said. "That's why it's so essential that we make sure workers have the resources and job training they need in order to prepare for the jobs of the future. This bill increases investments in American workers and provides resources for folks to learn new skills in jobs across all sectors of Alabama's economy."
While the Trump economy has been a boom for most Americans with record-low unemployment and rising wages, there are estimated that nearly 50 percent of jobs in the United States could be at risk due to automation, and Alabama is one of the top ten states where workers are vulnerable to automation.
Coosa, Conecuh, Greene, and Pickens counties are all among the top 25 counties in the U.S. that run the highest risk of losing jobs to automation over the next generation.
Roughly 40 percent of Alabama's workforce falls in industry groups most at risk from automation, such as accommodation and food services, manufacturing, transportation, agriculture, retail, and mining.
Jones recently hosted a forum in Gadsden on the future of Goodyear, the tire manufacturer has long been the largest employer in Etowah County.
The Investing in Tomorrow's Workforce Act would:
Invest in Workforce Training: The bill would create a grant program through the Department of Labor to support industry or sector partnerships in developing and carrying out training programs for workers who are, or are likely to become, dislocated because of advances in technology, including automation.
Expand Current Programs: The bill would increase funding for National Dislocated Worker Grants and amend the Workforce Innovation and Opportunity Act (WIOA) to ensure workers who are dislocated by automation are included in WIOA programs.
Study Workforce Training Practices: The bill would direct the GAO to conduct a study of the barriers to providing, and opportunities for improving, training for workers in industries that are most likely to be impacted by automation.
The Investing in Tomorrow's Workforce Act is supported by the National Skills Coalition and the National Association of Workforce Boards.
The legislation is also cosponsored by U.S. Senators Dick Durbin (D-Ill.), Dianne Feinstein (D-Calif.) and Catherine Cortez Masto (D-Nev.) and a House companion bill was introduced by Congresswoman Cheri Bustos (IL-17).
"Preparing American workers to take on the jobs of tomorrow will strengthen the middle class and reaffirm our standing as a global economic leader," Durbin said. "An investment in America's workforce is an investment in our nation's economy, and I'm proud to introduce this commonsense legislation with Senator Jones and Congresswoman Bustos."
"Strengthening and growing our workforce has always been one of my top priorities," Bustos said. "Today's legislation will help meet the needs and support the success of the workers and job creators I've had the opportunity to job-shadow during what I call 'Cheri on Shifts.' We must continue to invest in the skills and resources our workers need to remain competitive and grow our local economy."
Doug Jones won a special election in 2017 and faces re-election in 2020. The Alabama Republican Party has said that they are targeting Jones' seat as a possible Republican pickup.
Poll: 24 percent say that they will definitely not get a new COVID-19 vaccine
A new poll by the Pew Research Center shows that the percentage of American adults who will get the new coronavirus vaccine has dropped to just 51 percent. At least 24 percent were adamant that they will definitely not get the new vaccine, while another 25 percent answered that they will probably not take the new vaccine if and when it is approved.
Just about half of U.S. adults, some 51 percent, now say they would definitely or probably get a vaccine to prevent COVID-19 if it were available today.
The percentage who would get the vaccine if it was available has fallen dramatically from the 72 percent who answered that they would take it back in May.
The share who say that they would definitely get a coronavirus vaccine has now dropped to just 21 percent — down from 42 percent in May. Some 30 percent answered that they would probably take the vaccine.
The vaccine is more popular with Democrats than Republicans, but those willing to get vaccinated has dropped among all demographics. Just 17 percent of those who identify as being Republican or leaning Republican say that they will definitely get the vaccine versus 24 percent for Democrats or lean Democrat.
Some 30 percent of Republicans and 18 percent of Democrats answered that they will definitely not get the vaccine if it were available — up from 15 percent and 8 percent in May.
Fifty-six percent of men answered that they will definitely or probably get vaccinated while just 49 percent of women said the same. Some 52 percent of whites will definitely or probably get vaccinated, while just 32 percent of Black people — the demographic which generally has the worst COVID-19 outcomes — responded that they will get the vaccine.
Seventy-one percent of Asians and 56 percent of Hispanics say that they will definitely or probably get the vaccine.
Some 57 percent of those who are planning to get a vaccine say that they would be a little (36 percent) or a lot (21 percent) less likely to do so if they had to pay for it themselves, and 42 percent said that out-of-pocket costs would not change their likelihood of getting the vaccine.
Public health officials worry that if less than half of the population even gets vaccinated then herd health immunity will not be achieved through vaccination and the coronavirus could continue to spread.
The new national survey by the Pew Research Center was conducted between Sept. 8 to 13 among 10,093 U.S. adults.
Meanwhile, on Wednesday, Johnson & Johnson announced that they have begun the third and final phase of vaccination trials. Sixty thousand people age 18 and over are participating in five countries including the U.S.
Pfizer, Moderna and AstraZeneca have been in phase 3 trials for weeks now and have suggested they may have enough data to know whether their vaccines are safe and effective by October or November of this year.
AstraZeneca suspended their trials in the U.S. after the early results showed some side effect issues, though those trials have since resumed.
The Johnson & Johnson vaccine is a one shot vaccine while the other three require a second booster shot, doubling the logistical issues associated with mass vaccination.
President Donald Trump has said that the vaccine could be available at that time, but CDC Director Robert Redfield has scoffed at that optimistic timelines, saying he anticipates a vaccine not being ready until the middle of next year.
White House Coronavirus Task Force member Dr. Anthony Fauci testified to Congress on Wednesday that vaccine production is already underway so that if one of the four companies in trials now receive FDA approval, ramp up time to full production will be minimal.
Redfield told Congress this week that the CDC urgently needs $6 billion for COVID-19 vaccine distribution efforts.
Globally 982,513 people, including 206,598 Americans, have died from COVID-19 and more than 32 million people globally have been diagnosed with the coronavirus, including 7,140,137 Americans.