Jones introduces bill to invest in workforce development, training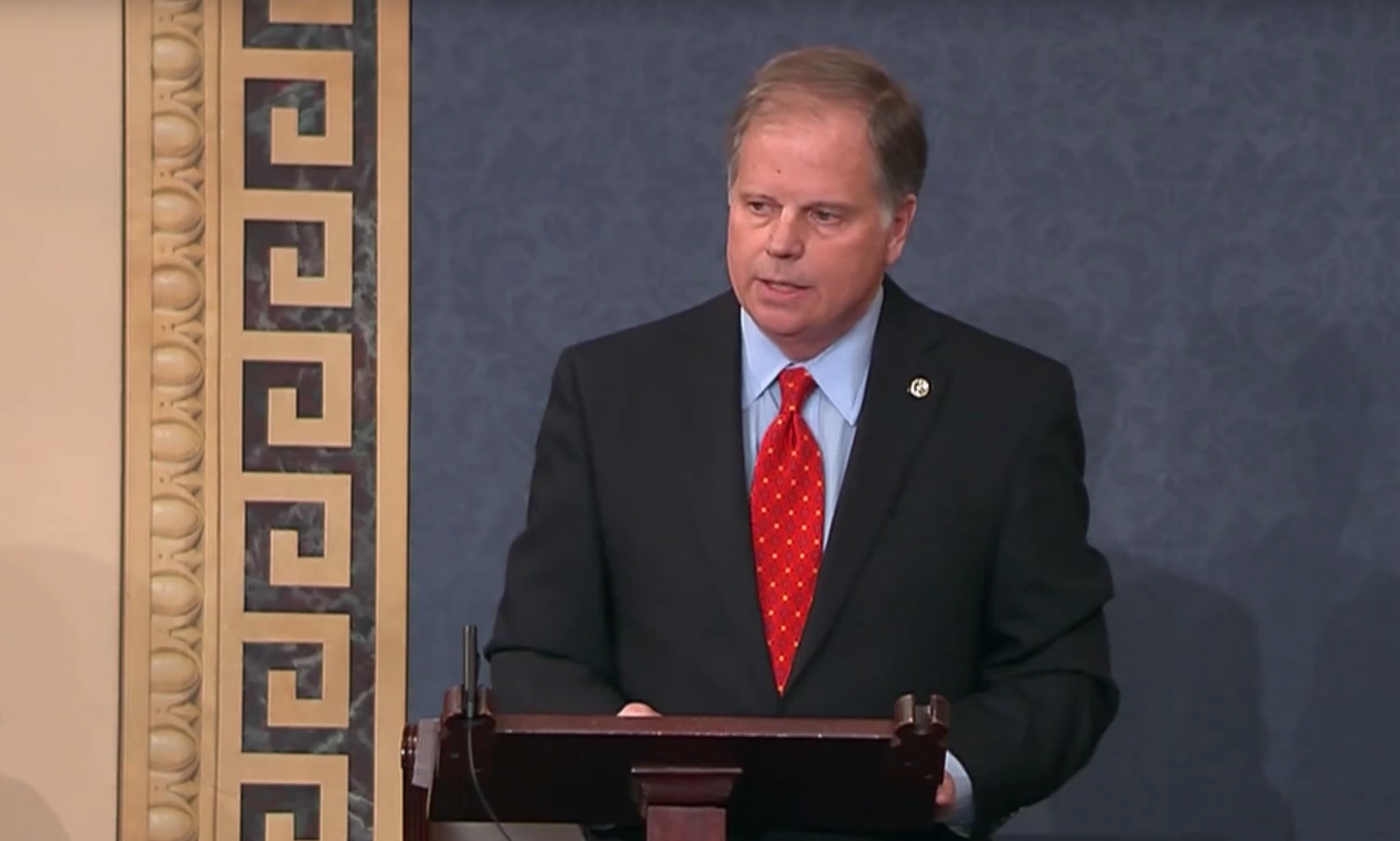 Tuesday, U.S. Senator Doug Jones (D-Alabama) introduced legislation to increase federal investments in workforce development and training to help prepare workers for the jobs of the future. Sponsors say that the Investing in Tomorrow's Workforce Act would ensure that American workers have the skills they need to successfully navigate the transition that will result from an increase in automation.
"Manufacturing jobs are the backbone of Alabama's economy," Jones said. "That's why it's so essential that we make sure workers have the resources and job training they need in order to prepare for the jobs of the future. This bill increases investments in American workers and provides resources for folks to learn new skills in jobs across all sectors of Alabama's economy."
While the Trump economy has been a boom for most Americans with record-low unemployment and rising wages, there are estimated that nearly 50 percent of jobs in the United States could be at risk due to automation, and Alabama is one of the top ten states where workers are vulnerable to automation.
Coosa, Conecuh, Greene, and Pickens counties are all among the top 25 counties in the U.S. that run the highest risk of losing jobs to automation over the next generation.
Roughly 40 percent of Alabama's workforce falls in industry groups most at risk from automation, such as accommodation and food services, manufacturing, transportation, agriculture, retail, and mining.
Jones recently hosted a forum in Gadsden on the future of Goodyear, the tire manufacturer has long been the largest employer in Etowah County.
The Investing in Tomorrow's Workforce Act would:
Invest in Workforce Training: The bill would create a grant program through the Department of Labor to support industry or sector partnerships in developing and carrying out training programs for workers who are, or are likely to become, dislocated because of advances in technology, including automation.
Expand Current Programs: The bill would increase funding for National Dislocated Worker Grants and amend the Workforce Innovation and Opportunity Act (WIOA) to ensure workers who are dislocated by automation are included in WIOA programs.
Study Workforce Training Practices: The bill would direct the GAO to conduct a study of the barriers to providing, and opportunities for improving, training for workers in industries that are most likely to be impacted by automation.
The Investing in Tomorrow's Workforce Act is supported by the National Skills Coalition and the National Association of Workforce Boards.
The legislation is also cosponsored by U.S. Senators Dick Durbin (D-Ill.), Dianne Feinstein (D-Calif.) and Catherine Cortez Masto (D-Nev.) and a House companion bill was introduced by Congresswoman Cheri Bustos (IL-17).
"Preparing American workers to take on the jobs of tomorrow will strengthen the middle class and reaffirm our standing as a global economic leader," Durbin said. "An investment in America's workforce is an investment in our nation's economy, and I'm proud to introduce this commonsense legislation with Senator Jones and Congresswoman Bustos."
"Strengthening and growing our workforce has always been one of my top priorities," Bustos said. "Today's legislation will help meet the needs and support the success of the workers and job creators I've had the opportunity to job-shadow during what I call 'Cheri on Shifts.' We must continue to invest in the skills and resources our workers need to remain competitive and grow our local economy."
Doug Jones won a special election in 2017 and faces re-election in 2020. The Alabama Republican Party has said that they are targeting Jones' seat as a possible Republican pickup.
Print this piece
Five patients with COVID-19 have died at EAMC hospital in Opelika
UPDATE: East Alabama Medical Center said Sunday that its death toll has increased to six.
Death toll at East Alabama Medical Center increases to 6
The number of patients who have died from COVID-19 at East Alabama Medical Center in Opelika since Friday has increased to six, the hospital said in a statement Sunday.
---
Five patients who were being treated for COVID-19 at East Alabama Medical Center in Opelika, Alabama, have died since Friday, the hospital said in a statement Saturday.
"Our hospital family expresses its collective condolences to the families of these five patients," said Laura Grill, EAMC President and CEO.  "As everyone knows, this virus has taken a toll on our nation and world, and our community is not exempt from that. Our hearts and prayers are with these families at this very difficult time."
Three of the patients were from Chambers County and two were from Lee County. The Alabama Department of Public Health is still investigating the deaths and has not updated their website to reflect them.
Hospital officials and ADPH are working through the process for official state determination before adding them to the COVID-19 death count.
"The ICU staff, respiratory therapists and physicians who worked most closely with these patients are especially struggling and we ask that the community lift them up today just as they have been lifting up our whole organization the past two weeks," Grill said.
EAMC is currently treating 19 patients hospitalized with a confirmed COVID-19 diagnosis. Five patients who were previously hospitalized with COVID-19 have been discharged. There are 22 patients who are currently hospitalized at EAMC with suspected COVID-19.
The number of hospitalized patients has more than doubled from seven on Tuesday. It anticipates more.
The county had at least 56 confirmed cases of COVID-19 by Saturday afternoon, more per capita than Jefferson County, Shelby County and Madison County. That number has also continued to grow. To the north, Chambers County, which falls under EAMC's service area, has the most cases per capita in the state, meaning there are more confirmed cases per person than any other county. That county's total stands at 17.
Many of the patients who have tested positive, according to EAMC, had a common "last public setting" in church services.
"While there are no absolute patterns among the confirmed cases in Lee County, one nugget of information does stand out a little—the last public setting for a sizable number of them was at church," East Alabama Medical Center said in a statement Friday night.  "Not at one church, or churches in one town, but at church in general."
The hospital has urged churches to move online and cancel in-person services. Some churches have continued to meet, as recently as last Sunday, despite "social distancing" directives from the Alabama Department of Public Health that prohibited non-work gatherings of 25 or more people.
EAMC is urging the public to act as if they are under a "shelter-in-place" at home order, as the state has so far refused to issue such a directive.
"EAMC is asking everyone to shelter in place at home," the hospital said in a statement Friday night. "Sheltering in place means you stay at home with immediate family members only and should not leave your home except for essential activities such as food, medical care, or work. You should not host gatherings of people outside of your immediate family. You should also maintain a 6-foot distance from other people as much as possible, wash your hands frequently for at least 20 seconds each time, and frequently disinfect high-touch surfaces."
It's also asking businesses that have access to personal protective equipment like gowns, masks, latex gloves and hand sanitizer to bring those items to a collection site outside of EAMC's main lobby. The site is open from 9 a.m. to 4 p.m. on weekdays.
This story is developing and will be updated.
Print this piece