England, Todd officially want to lead the new Alabama Democratic Party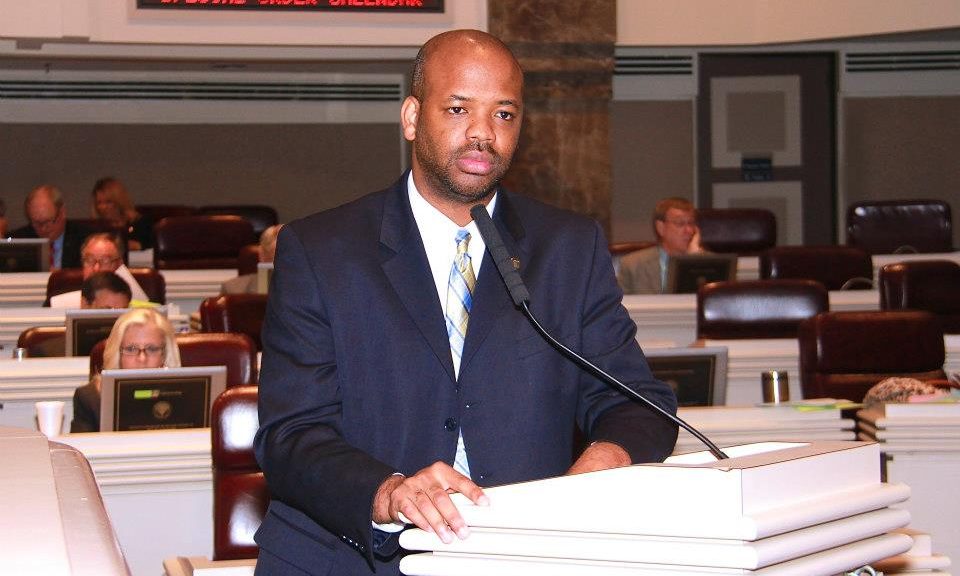 Rep. Chris England is officially running for chairman of the Alabama Democratic Party. 
APR reported last week that England had told a number of people that he would seek the party chair position, but the Tuscaloosa representative made it official with a tweet on Sunday evening. 
"Transparent. Inclusive. An Alabama Democratic Party for everyone," England tweeted. "That's what we're building. Together. It's official. I'm in. SDEC members mark your calendars. Nov. 2. Let's get this done."
England was not alone in announcing Sunday night. 
Former Rep. Patricia Todd, the state's first openly gay lawmaker, posted on Facebook that she would be seeking the party's vice-chair position. 
The new, late entries into the race to lead the party have both excited and angered Democrats. 
The majority of State Democratic Executive Committee members who are pushing for change and moving away from the party controlled by Nancy Worley and Joe Reed appear to be enthusiastic over England's decision to enter the race. They see him — potentially the first African American chairman of the ADP — as precisely the face and voice the party needs at this crucial juncture. 
But others within that group — particularly the supporters of Tabitha Isner, who announced her candidacy for chair several months ago — are less than thrilled. 
When word began to leak out last week that England was entering the race, and doing so with the support of Sen. Doug Jones and the DNC, Isner supporters took to social media to criticize England and Jones. They accused Jones of trying to control the party from afar, and they were upset that Isner was receiving little support. 
However, the push for England appears to be less of a Jones powerplay and more of a sound move politically. 
The ADP, with its current split, faces almost certain legal battles in the coming weeks, and a potentially fractured party. England as chairman is an answer to both problems. 
At this point, the sole tactic Reed has for attacking the new ADP bylaws and the new leadership elections is race — a campaign he and his minions have already started by claiming that a white man (Jones) is trying to stifle black votes on the SDEC. 
England, one of the most recognizable and popular black lawmakers in the state, and has long been a civil rights advocate and an outspoken critic of the many racist acts of the Alabama legislature. He is popular among black voters and his motives for running for chair would be hard to question. 
His election as chair would also make it harder for Reed and the Alabama Democratic Conference to claim in court that the new bylaws and voting configurations of the SDEC are detrimental to black voters. 
In the meantime, Todd could have similar pull for LGBTQ members and the SDEC's new Diversity Caucus. England and Todd together would signal a new day for the ADP — one that is much more inclusive.
NRSC congratulates Tuberville on winning runoff
The chairman of the National Republican Senatorial Committee, Indiana Sen. Todd Young, released a statement Tuesday congratulating Tommy Tuberville on his primary victory in Alabama.
"As a true political outsider, Tommy Tuberville has what it takes to stand up for the people of Alabama, conservative values and President Trump – and most importantly, defeat Doug Jones," Young said. "I look forward to another victory for Tuberville in November and working with him to build on President Trump's and our Republican Senate Majority's record of accomplishment."
Tuberville won the Republican primary runoff with 61 percent of the vote. His opponent, Former Attorney General and Sen. Jeff Sessions, received 39 percent.
Sessions was the first senator to endorse Donald Trump for president, served as Trump's attorney general for almost two years and was an important campaign surrogate for Trump during the 2016 presidential election. But the rift that developed between the two former political allies grew so large that the president called appointing Sessions as AG his "biggest mistake" as president.
Trump endorsed Tuberville and actively campaigned for Tuberville and against Sessions.
"Tommy Tuberville WON big against Jeff Sessions," Trump said on Twitter. "Will be a GREAT Senator for the incredible people of Alabama. @DougJones is a terrible Senator who is just a Super Liberal puppet for Schumer & Pelosi. Represents Alabama poorly. On to November 3rd."
The president is seeking re-election himself this year, and he will lead the Nov. 3 general election ticket for the GOP.
During his victory speech, Tuberville said that Trump called to congratulate him. Tuberville called Trump, "the greatest president of my lifetime."
Club for Growth PAC was an early endorser of Tuberville and contributed heavily to his election effort. President David McIntosh issued a statement congratulating Tuberville on winning the runoff.
"Coach Tommy Tuberville is a principled, pro-growth conservative, and well positioned to defeat liberal Democrat Sen. Doug Jones in the General Election," McIntosh said.
Club for Growth PAC also backed former State Rep. Barry Moore, R-Enterprise, in his bid to be the GOP nominee in the 2nd Congressional District. Moore won his race, beating Jeff Coleman.
Club for Growth Action spent $1,433,763 on the race, and Club for Growth members contributed $132,932 directly to Tuberville's campaign through the Club for Growth PAC.
Club for Growth Action announced that it will launch a new TV ad, "American Green," on July 15, highlighting Jones' "support for the Export-Import Bank and the billions in taxpayer funded loans that went to communist China."
Former State Rep. Perry Hooper Jr., R-Montgomery, is a member of the Alabama Republican Executive Committee and Trump's National Finance Committee.
"This is a huge win for the President," Hooper said. "This shows that the people of Alabama are fully behind the president."
Hooper said that he likes Jeff Sessions, but that Sessions should not have gotten into this race at the last possible moment and months after Tuberville and the other candidates had been out of the road campaigning.
"I honestly believe he will do everything in his power to defeat Doug Jones in November," Hooper said. "Coach Tuberville campaigned on his genuine support for President Trump and his Agenda and his desire to do what's best for the people of Alabama. His sincerity came through as led the ticket in March."
Hooper formally endorsed Tuberville in the days before the runoff election.
Sessions actually received 9,154 votes fewer in the runoff than he did back in March, while Tuberville gained 96,069 votes. 711,809 voted in the Republican primary while 549,721 voted in Tuesday's primary runoff – a decrease of 162,080 from March.
Part of that drop was due to a lack of competitive local races in many precincts, people traveling on summer holiday and no presidential politics to bring people to the polls — but part of it was also likely due to COVID-19 fears. The runoff had been scheduled for March 31, but it was delayed in hopes that the coronavirus global pandemic would have lessened.
It actually has gotten much worse.
Tuberville faces incumbent Sen. Doug Jones in the Nov. 3 general election.