Coleman holds campaign kick-off event
Tuesday, Dothan area businessman Jeff Coleman held a formal special campaign kick-off event in Dothan. Coleman is a Republican candidate for Congress in Alabama's 2nd Congressional District. Incumbent Martha Roby, R-Montgomery, is not seeking another term in the House of Representatives.
"I love Southeast Alabama and I believe I can represent it with class and dignity," Coleman told more than 200 guests and supporters at his event, Coleman cast himself as a political outsider, similar to President Donald J. Trump, who is willing to make tough decisions. "I've never run for office and I'm not a politician. I'll make you this promise: If you'll send me to represent you in Congress, I will focus on doing what's right, not on getting re-elected."
Coleman noted in his address issues of local importance, such as farming, manufacturing, and military bases, as well as those of national concern, like securing America's border.
Citing his race leading cash on hand, the National Republican Campaign Committee (NRCC) announced on Wednesday that Jeff Coleman has been tapped to join its Young Guns "On the Radar" Program.
"This is an important step in ensuring that the Second District will remain in conservative hands and that we will fight back against liberal special interests from Washington that will try to buy this district," said Coleman.
Jeff Coleman is Chairman of Coleman Worldwide Moving. He is a fifth-generation leader of the family-owned moving, storage, and transportation business that was established in 1914. Coleman Worldwide Moving is headquartered in southeast Alabama and is ranked as one of the top 30 largest private companies in the State of Alabama.
Coleman was raised in Dothan, where he graduated from Northview High School, is an Eagle Scout, and was a member of the 1981 Football team that won the Alabama High School Football State Championship. He has a bachelor's degree from the University of Alabama and a Master's in Business Administration from from Troy University in Dothan.
Coleman also is a 2011 Graduate of Leadership Alabama and a 2015 Graduate of the Air War College National Security Forum. Jeff served two terms as the Civilian Aide to the Secretary of the Army for Alabama. Coleman is a former Chairman of the Business Council of Alabama (BCA).
Coleman says that he like President Trump, is a conservative outsider and a businessman who cares more about doing what's right for the country than winning an election.
Jeff and his wife Tiffany are members of the First United Methodist Church in Dothan. They have three children.
Coleman faces a crowded Second District field. Former State Representative Barry Moore, Bob Rogers, former Attorney General Troy King, and Jessica Taylor are all running for the GOP nomination for the seat.
The Republican Primary will be March 3.
Print this piece
Sessions slams Tuberville for saying China has "a better military" than the U.S.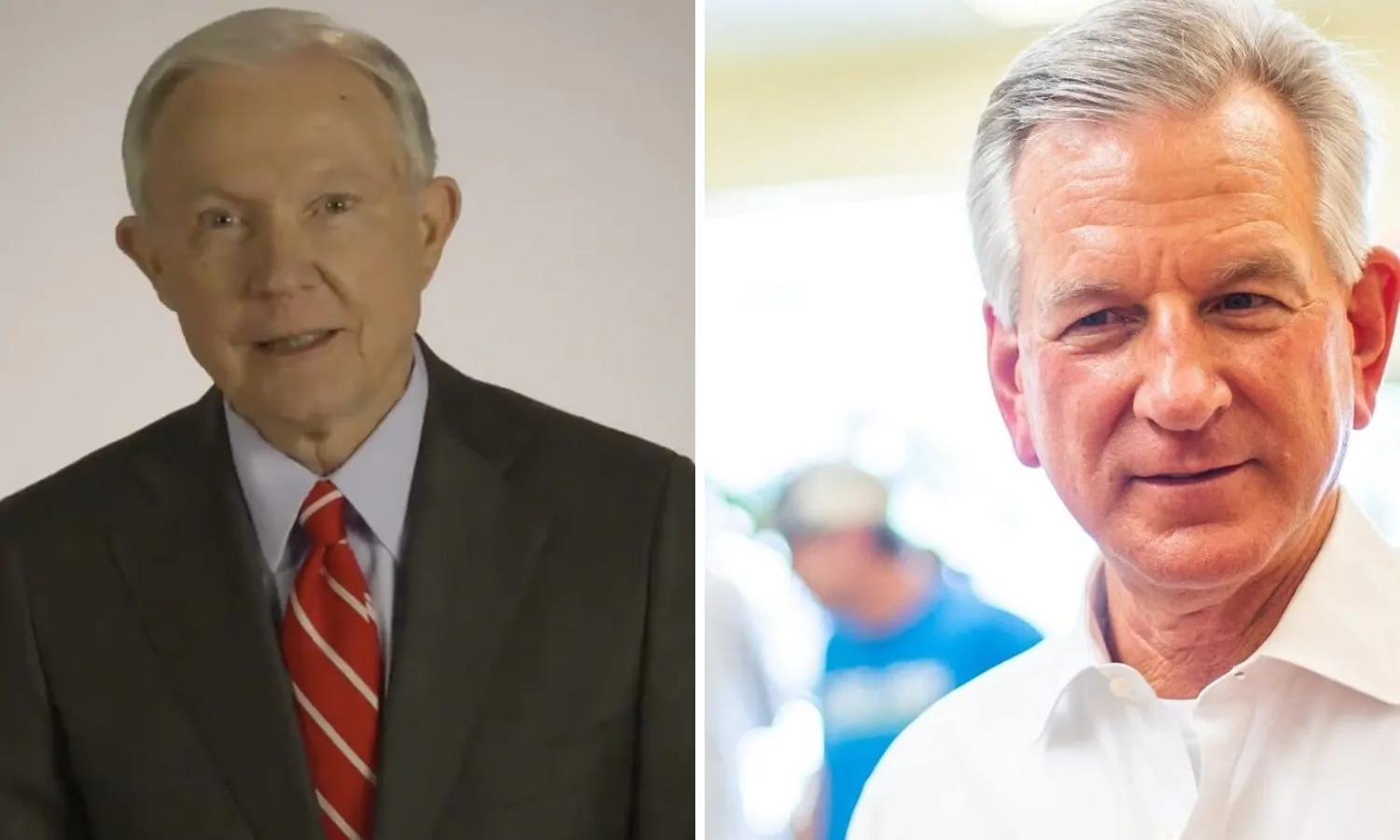 "On the day after Memorial Day, Tommy Tuberville is exalting the Chinese Communist Party's military over our own," GOP Senate candidate Jeff Sessions said in a statement.
This was in reaction to Tommy Tuberville's Tuesday comments on the Jeff Poor Radio Show when he said China has a "better military" than the United States.
"We've got China that's got a better military, and things, than we have," Tuberville said.
Sessions responded with this statement:
"Mr. Tuberville should immediately apologize," Sessions said. "His views further prove that he's not fit to be a United States Senator. His comments are an affront to the thousands of American military members who constitute the best fighting force the world has ever known."
"I have been to Afghanistan and Iraq and visited with our troops numerous times and have been to every one of Alabama's military bases countless times, and let me tell you, there is no better friend and no worse enemy than the United States military," Sessions stated. "This is personal to me. I served proudly in the armed forces as a Captain in the U.S. Army Reserve for over a decade. What Tommy Tuberville said is objectively wrong and reveals a lack of real understanding."
Tuberville has said that he favors free trade.
Sessions has called China a threat to the United States and has suggested that Tuberville's attitude is passive "appeasement" towards the Chinese Communist Party.
In an April radio interview on the Matt & Aunie Radio Show, when asked what should be done about China's cover-up of the details about the coronavirus, Tuberville said, "We can't worry about China right now."
The host then followed up: "You say you don't need to worry about China, but this came from China and our economy depends on China. Specifically, how to overcome some of that dependence on Chinese goods and specifically in the pharmaceutical industry because right now we're dependent on the country that covered this up."
"Now we're seeing firsthand the results of letting everything go to China," Tuberville responded. "The good thing about this is we'll have manufacturing come back and drugs and all those things….we're headed in that direction, just the simple fact that we can't control our own destiny. Everything's controlled by China. But that'll take care of itself."
During the Matt & Aunie interview, Tuberville also characterized the Wuhan Virus as "just a virus."
Sessions has suggested that Tuberville's comments show that he lacks a depth of understanding of the issues and has challenged Tuberville to a series of five debates.
"Mr. Tuberville, It is time for you to stop running away, and face me and the voters of Alabama," Sessions said. "No candidate who is scared to debate, or unable to defend our values, is worthy of support from the people of Alabama. I challenge you to a series of five debates before the voters of Alabama, one for each major media market in our state. This will allow us to discuss the unique issues of each geographic area, as well as national and international issues."
"Being a United States Senator is more than just casting the occasional vote," Sessions continued. "Effective senators must be ready to debate Chuck Schumer, Bernie Sanders, Elizabeth Warren, and others on many issues and away from the safety of talking points scripted by Facebook's chief open-borders lobbyist, who you've hired to help lead your Senate campaign. And anyone representing Alabama needs to be fully vetted before they are trusted to represent Alabama Republicans in a race against Doug Jones."
Sessions also charged that Tuberville's character would be exposed in a national campaign against Doug Jones, by Democrats.
"The Alabama voters need to hear you answer questions about the time you were sued for more than a million dollars in fraud at the failed hedge fund you started," Sessions said.
Tuberville's alleged partner went to prison for securities fraud and several prominent football coaches lost money investing in that hedge fund.
Sessions even attacked Tuberville's football coaching prowess.
"They need to hear you answer questions about the suspicious circumstances of the unceremonious end to your Auburn coaching career—where you took millions of additional dollars beyond the buyout for which you weren't even eligible," Sessions charged. "They need to hear about the times you walked out on college recruits or quit jobs just days after promising you wouldn't do so. They need to know everything. Because there is no question that the Democrats and Doug Jones already do, and they will spend millions using the skeletons in your closet against you."
"If you won't debate me now before the voters of Alabama, with two months to go until the election, there is no doubt that you would be eaten alive by Doug Jones, Nancy Pelosi, and Chuck Schumer," Sessions said. "You like to call me weak because I follow the law, and call yourself strong as you hide behind Silicon Valley's talking points and clips from coaching jobs that you quit. Ok. Time to man up. Say it to my face. You are either strong enough to debate, or weak and scared."
Tuberville maintains that he is endorsed by Donald Trump and that Sessions failed the President as Attorney General. As of this date, Tuberville has not agreed to any debates.
Sessions will face Tuberville in the July 14 Republican primary runoff. The winner will represent the Alabama Republican Party on November 3 against incumbent Sen. Doug Jones.
Print this piece