Doug Jones introduces bill to protect pensions, Social Security and Medicare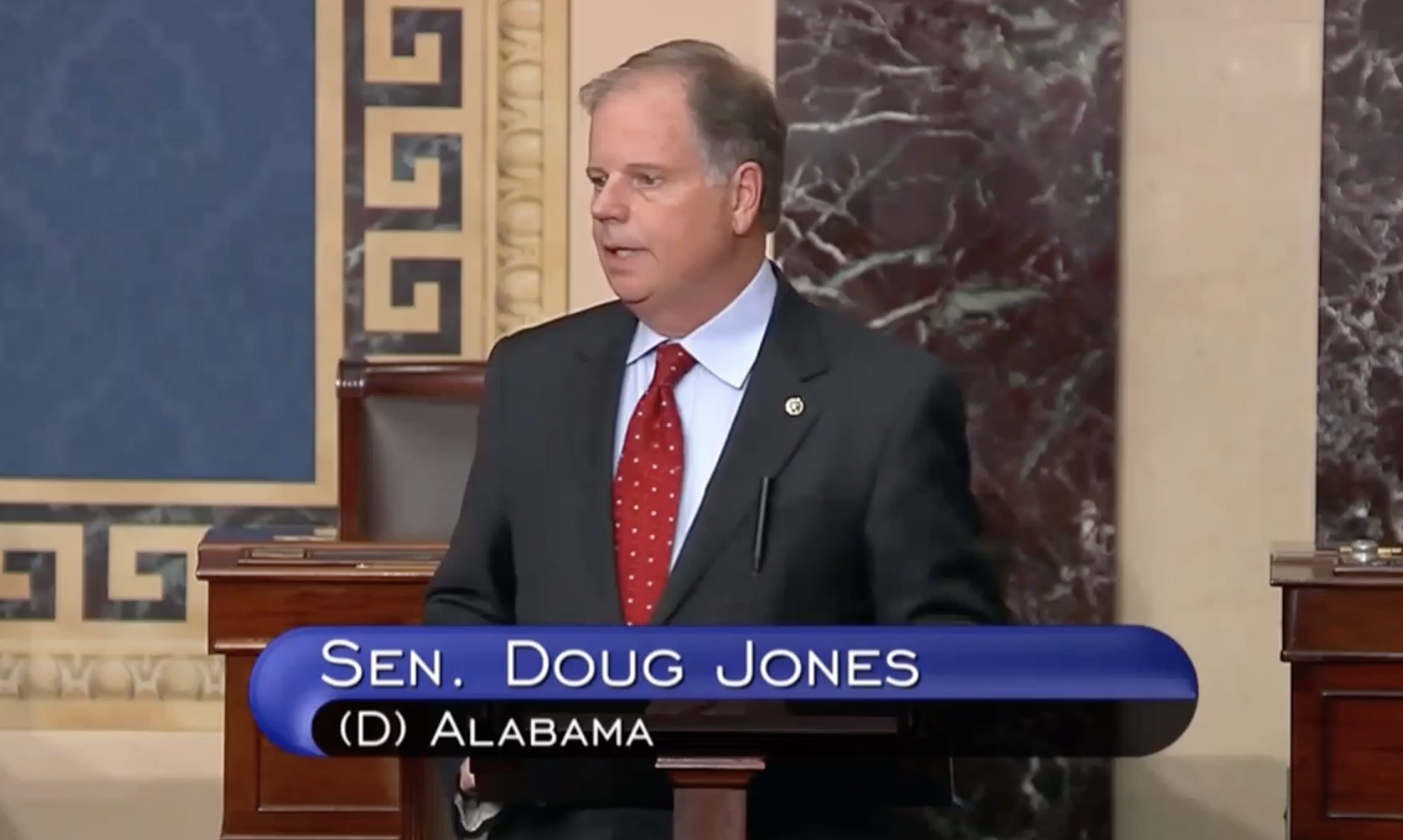 U.S. Senator Doug Jones, D-Alabama, joined a bipartisan group of lawmakers in introducing a bill to restore funding for pensions, Social Security and Medicare. 
The Rescue United States' Trusts Act introduced Tuesday would create individual congressional committees for each endangered trust fund, which would be tasked with drafting legislation to bring those funds back into solvency. Those trust funds include Highway, Medicare Hospital Insurance, Social Security Disability Insurance, and Social Security Old-Age and Survivors Insurance. 
"This important legislation creates a bipartisan path forward that gives us the tools to we need to put our budget on the path to fiscal responsibility and upgrade our decaying infrastructure, protect pensions and Social Security benefits for retirees, and ensure that Medicare remains strong for seniors for generations to come," Senator Jones said in a press release. 
The Social Security Administration in May released its annual report that found that the Old Age, Survivors and Disability Insurance trust fund would be depleted by 2034, which is the same estimate the agency came to in last year's report. 
In 2020, the cost of Social Security retirement payments is expected to exceed all of its income, but that doesn't mean retirees will stop getting payments, because for years the fund brought in more than it paid out. 
Much of that extra money is being held in bonds, Forbes reports, and the program will continue to collect social security taxes, which the administration estimates will pay for about 77 percent of Social Security retirement benefits for the next 75 years. 
Any cuts to Social Security retirement benefits recipients could devastate recipients, however. A study by the Social Security Administration in April found that a recipient who earned an average annual income of $51,795 and who retired at age 76 in 2037 would currently be entitled to  $27,366 in annual benefits. Without a fix to the trust fund's shortfalls that worker would receive just $21,669 annually. 
The Center on Budget and Policy Priorities, a progressive Washington D.C.-based think tank, found that although trustees for Medicare's Hospital Insurance fund has reported that the fund will be depleted by 2026, the fund will still be able to pay for 89 percent of medicare hospital insurance payments through incoming payroll taxes and other revenues. Shortfalls will have to be closed by raising revenues or cutting expenditures, however. 
The 2026 insolvency problem does not include Medicare coverage for physician and outpatient costs or to the Medicare prescription drug benefit, which are both funded through a separate fund, which is in good fiscal standing, according to the Center on Budget and Policy Priorities.
U.S. Senators Mitt Romney, R-Utah, who led the creation of the bill introduced Tuesday, told Roll Call that he has hope this attempt might succeed where others have failed.
"It is my perspective that I've gained by talking with others that we have a better shot of taking on the solvency of these trust funds by looking at them one by one, rather than by trying to create one mega piece of legislation that's going to be troublesome in some way for almost everybody," Romney told Roll Call. 
Other sponsors of the legislation are Joe Manchin, D-W.V., Todd Young , R-Ind. and Kyrsten Sinema, D-Ariz.. A companion bill in the House is sponsored by U.S. Representatives Mike Gallagher, R-WI, Ed Case, D-HI, William Timmons, R-SC, and Ben McAdams, D-UT.  
How the TRUST Act works:
U.S. Treasury would have 30 days upon passage of the legislation to deliver to Congress a report of the government's major, endangered federal trust funds.

Congressional leaders would appoint members to serve on "Rescue Committees"—one per trust fund—with the mandate to draft legislation that restores solvency and otherwise improves each trust fund program.

Rescue Committees would ensure bipartisan consensus by requiring at least two members of each party to report legislation.

If a Rescue Committee reports a qualifying bill for its trust fund program, it would receive expedited consideration in both chambers. While 60 votes would be required to invoke cloture for final passage in the Senate, only a simple majority would be needed for the motion to proceed, which would be privileged.
Justice Ginsburg's death will supercharge a heated 2020 campaign
The passing of one of the court's most liberal justices so close to the Nov. 3 general election has set off a political firestorm as to what president should pick the next justice — President Donald Trump or Joe Biden, should he defeat Trump in November.
Just hours after the death of 87-year-old Supreme Court Justice Ruth Bader Ginsburg on Friday, conservatives, including the Alabama-based Foundation for Moral Law, said Ginsburg's passing is an opportunity to reverse the ideological trend of the nation's highest court.
The passing of one of the court's most liberal justices so close to the Nov. 3 general election has set off a political firestorm as to what president should pick the next justice — President Donald Trump or Joe Biden, should he defeat Trump in November.
The controversy over when and how to confirm a new justice will likely supercharge an already heated 2020 election campaign. Trump was at a campaign rally on Friday night when he learned about the justice's death from reporters.
"Just died? Wow, I did not know that," Trump said. "She was an amazing woman. Whether you agreed or not she led an amazing life. She was an amazing woman. I am sad to hear that."
Ginsburg, since her appointment by President Bill Clinton, has been bastion of the court's more liberal wing. The court was divided with four "liberal" justices led by Ginsburg and four "conservative" justices led by Samuel Alito.
Chief Justice John Roberts, though appointed by President George W. Bush, has been the swing vote on a number of major issues since the retirement of Justice Anthony Kennedy in 2018. Her death gives Trump the opportunity to appoint her replacement and potentially shape the direction of the court for decades to come.
Conservatives want Trump to select the nominee and the current GOP-controlled Senate to confirm the Trump appointee.
The Foundation for Moral Law — a conservative legal group founded by former Alabama Chief Justice Roy Moore — released a statement saying that Ginsburg's passing is an opportunity to move the court in a more conservative direction.
"For many years United States Supreme Court has been a bastion for liberal anti-God ideology," Moore said. "The passing of Justice Ruth Bader Ginsberg will be an opportunity to reverse this trend. I'm hopeful that President Trump will immediately nominate a true conservative who understands that our rights come from God and no authority in this country can take those rights from us."
"This is a very critical time for our country and our future and the future of our posterity depends upon our vigilance and direction," Moore said.
Judicial Watch, another conservative legal group, echoed Moore's statement.
"Judicial Watch sends it condolences to the family of Justice Ruth Bader Ginsburg. She had a wonderful judicial temperament that will always be remembered," said Judicial Watch President Tom Fitton. "President Trump now has a historic opportunity to nominate yet another constitutional conservative who will honor the Constitution and the rule of law across the full spectrum of constitutional issues."
"And the U.S. Senate should move quickly to work with President Trump to consider and approve a new justice who will faithfully apply the U.S. Constitution," Fitton said. "There is no reason we cannot have a new justice by Election Day."
Trump is expected to put forth a nominee to fill Ginsburg's seat in the coming days, according to ABC News.
Senate Majority Leader Mitch McConnell, R-Kentucky, wrote in a statement that, "President Trump's nominee will receive a vote on the floor of the United States Senate."
But Democratic senators and Senate Minority Leader Chuck Schumer, D-New York, disagree.
"The American people should have a voice in the selection of their next Supreme Court Justice," Schumer wrote on social media Friday, parroting a similar quote McConnell used in 2016 when he refused to give then-President Barack Obama's nominee, Merrick Garland, hearings and a vote for confirmation to the court. "Therefore, this vacancy should not be filled until we have a new president."
Republicans in the Senate blocked Obama from selecting Justice Antonin Scalia's replacement. Scalia was the most conservative jurist on the court.
Ginsburg was a staunch supporter of abortion rights and voter protections, and she played a major role in upholding Roe v. Wade, the Supreme Court decision protecting abortion rights. She also voted in favor of same-sex marriage and to uphold the constitutionality of the Affordable Care Act.
Most political observers expect Trump to appoint a woman to fill Ginsburg's spot. Political insiders have suggested that Trump believes that appointing a woman to the court could help him with woman, a key swing demographic that will likely decide the next election.
Will the Senate confirm Trump's appointment before the election or wait until after the public votes? If Republicans lose control of the Senate, could a lame duck GOP majority select the direction of the court on their way out?
Alabama Sen. Doug Jones has been widely criticized for his vote against the confirmation of Justice Brett Kavanaugh. If the vote comes before the Nov. 3 election, Jones's decision on whether to confirm Trump's appointee will be heavily scrutinized.
The questions about the Supreme Court is likely to only further inflame passions on both sides this election cycle.