Boeing's Starliner passes critical safety test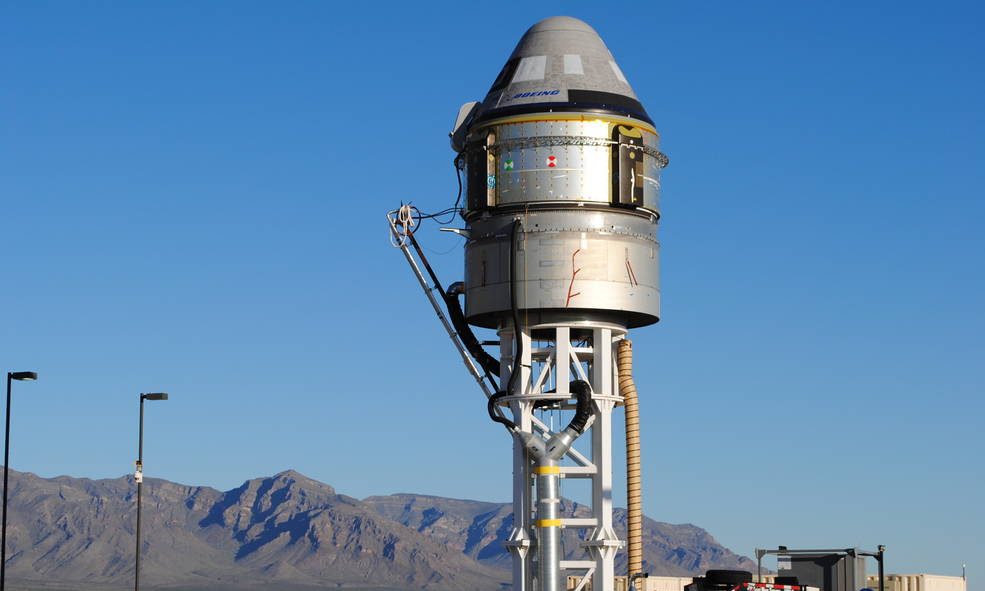 Boeing's CST-100 Starliner's crew module floated safely to earth Monday morning, passing a critical safety test for the commercial spacecraft.
The unmanned capsule's safe landing marked an end to the two-minute test at the White Sands Missile Range in New Mexico, during which the craft blasted away from the test stand and flew for almost a mile before deploying  heat shield a parachutes.
.@BoeingSpace's #Starliner spacecraft soared through a critical safety milestone in a major test of its launch abort system this morning. Lots of data analysis ahead, but we are one big step closer to flights with crew! pic.twitter.com/VDWSRt0g34

— NASA Commercial Crew (@Commercial_Crew) November 4, 2019
 "The test team and spacecraft performed flawlessly," said Starliner Program Manager John Mulholland in a statement Monday afternoon. "Emergency scenario testing is very complex, and today our team validated that the spacecraft will keep our crew safe in the unlikely event of an abort."
The New York Times reported that while the craft landed safely, one of its three parachutes failed to deploy. 
"We will review the data to determine how all of the systems performed, including the parachute deployment sequence," a spokesman told CBS News.  "It's too early to determine why all three main parachutes did not deploy, however, having two of three deploy successfully is acceptable for the test parameters and crew safety."
The exercise was meant to test the safety procedures for jettisoning the crew away from the Atlas V rocket in the event of an emergency during ascent. 
"We've tested all these systems individually, so we know the propulsion system fires at the intended levels, and we know the parachutes can support the vehicle and safely slow it down, but the real test is making sure those systems can perform together. That's when you know these systems are ready to fly people," said Boeing's Pad Abort Test Flight Director Alicia Evans in a statement. 
Boeing's Starliner is to be the first American-made orbital crew capsule to land on land, instead of an ocean splashdown as was done with Apollo capsules, and is to be reusable up to 10 times, the company said. 
"Starliner's pad abort test is a critical milestone ahead of flying Boeing and NASA astronauts to the orbiting laboratory on Starliner's Crew Flight Test, and for flying operational missions to the station for NASA in the near future," Boeing said in a statement.
Print this piece
Blue Origin opens rocket engine factory in Huntsville
Blue Origin has opened its sprawling factory in Huntsville, Alabama's "Rocket City."
The massive new factory will allow the spaceflight company to accelerate the production of its heavy-lift BE-4 rocket engine. The move creates hundreds of jobs.
The BE-4, which is under development, will power both Blue Origin's New Glenn rocket and the United Launch Alliance's new Vulcan rocket, which is being produced at ULA's factory in nearby Decatur.
Our facility will be home to the next generation of rocket engines, as well as the next generation of engine builders. Join our team, which is soon to be 300 strong. https://t.co/LxlJu7DBfp pic.twitter.com/xrkvvJU96M

— Blue Origin (@blueorigin) February 17, 2020
Huntsville was an ideal location for the new factory, not only for its highly skilled workforce; but also for its proximity to ULA's assembly pant and NASA's Marshall Space Flight Center where the new Alabama-built engine will be tested. Marshall's historic test stand 4670 is where the Saturn V moon rocket's engines were tested.
Blue Origin is upgrading and refurbishing the test stand.
"This community is absolutely terrific to be a part of," Blue Origin CEO Bob Smith said. "It has the kind of spirit that you want when developing this kind of technology and actually has the history that you can be feel proud about."
"Enjoyed speaking at the ribbon cutting ceremony for Blue Origin's new rocket engine production facility in Cummings Research Park," Congressman Mo Brooks, R-Huntsville, said. "This top-notch facility will be used to conduct production of the BE-4 and BE-3U engines. These engines will undergo testing at NASA's Marshall Space Flight Center on the historic Test Stand 4670. I joined Blue Origin CEO Bob Smith, Congressman Robert Aderholt, Huntsville Mayor Tommy Battle and several others this afternoon to discuss the impact Blue Origin is making in the Tennessee Valley!"
Alabama Commerce Sec. Greg Canfield was at the ceremony making the opening of the spaceflight company's rocket engine factory.
Economic developer Dr. Nicole Jones told the Alabama Political Reporter, "In addition to the economic boost resulting from hundreds of new jobs in north Alabama, the Blue Origin BE-4 rocket engine production facility will allow the United States – the state of Alabama – to take astronauts once again into space without dependence on other nations. Methods of warfare have changed, and maintaining our dominance in the current space race is therefore a critical element in national security."
Blue Origin was founded by Amazon CEO Jeff Bezos.
Blue Origin's 350,000-square-foot facility is located in Cummings Research Park and will employ more than 300 people. Smith said that around 200 jobs should be created over the next year.
The factory was a $200 million investment in the state and announced on June 2017, with construction beginning in Huntsville a little over a year ago.
Print this piece