Boeing's Starliner passes critical safety test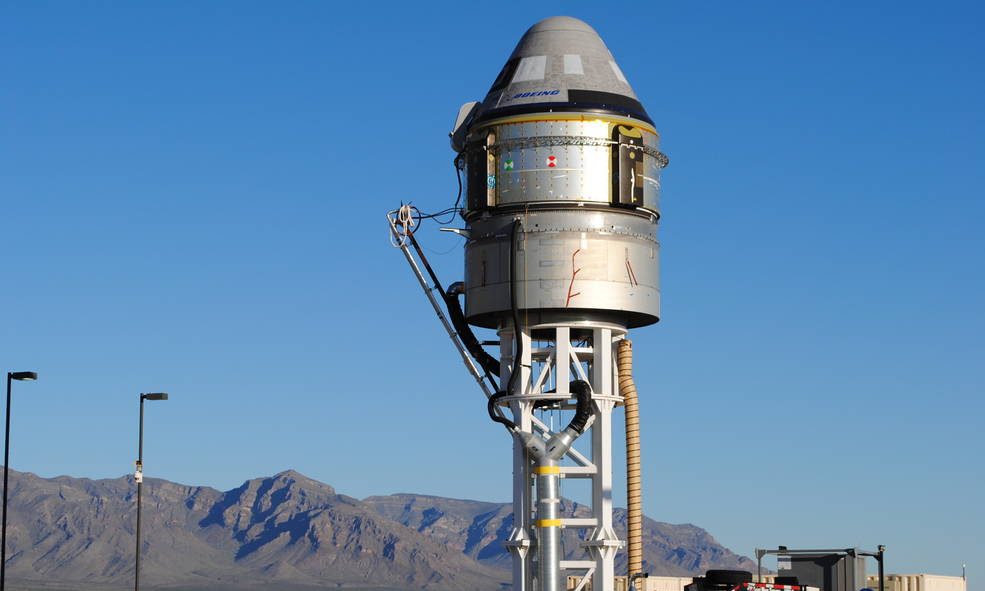 Boeing's CST-100 Starliner's crew module floated safely to earth Monday morning, passing a critical safety test for the commercial spacecraft.
The unmanned capsule's safe landing marked an end to the two-minute test at the White Sands Missile Range in New Mexico, during which the craft blasted away from the test stand and flew for almost a mile before deploying  heat shield a parachutes.
.@BoeingSpace's #Starliner spacecraft soared through a critical safety milestone in a major test of its launch abort system this morning. Lots of data analysis ahead, but we are one big step closer to flights with crew! pic.twitter.com/VDWSRt0g34

— NASA Commercial Crew (@Commercial_Crew) November 4, 2019
 "The test team and spacecraft performed flawlessly," said Starliner Program Manager John Mulholland in a statement Monday afternoon. "Emergency scenario testing is very complex, and today our team validated that the spacecraft will keep our crew safe in the unlikely event of an abort."
The New York Times reported that while the craft landed safely, one of its three parachutes failed to deploy. 
"We will review the data to determine how all of the systems performed, including the parachute deployment sequence," a spokesman told CBS News.  "It's too early to determine why all three main parachutes did not deploy, however, having two of three deploy successfully is acceptable for the test parameters and crew safety."
The exercise was meant to test the safety procedures for jettisoning the crew away from the Atlas V rocket in the event of an emergency during ascent. 
"We've tested all these systems individually, so we know the propulsion system fires at the intended levels, and we know the parachutes can support the vehicle and safely slow it down, but the real test is making sure those systems can perform together. That's when you know these systems are ready to fly people," said Boeing's Pad Abort Test Flight Director Alicia Evans in a statement. 
Boeing's Starliner is to be the first American-made orbital crew capsule to land on land, instead of an ocean splashdown as was done with Apollo capsules, and is to be reusable up to 10 times, the company said. 
"Starliner's pad abort test is a critical milestone ahead of flying Boeing and NASA astronauts to the orbiting laboratory on Starliner's Crew Flight Test, and for flying operational missions to the station for NASA in the near future," Boeing said in a statement.
Mark McDaniel reappointed to NASA Human Exploration and Operations Advisory Committee
Congressman Mo Brooks, R-Huntsville, announced Thursday NASA administrator Jim Bridenstine's reappointment of Huntsville's Mark McDaniel to a two-year term on the Human Exploration and Operations Committee of the NASA Advisory Council.
Brooks initially recommended McDaniel in 2018 to Bridenstine. Bridenstine is a personal friend and former House colleague of Brooks. Brooks cited McDaniel's past record of exemplary service on the NASA Advisory Council. The NAC is NASA's highest civilian advisory board.
"Mark McDaniel has done an exemplary job advising NASA on its future missions as a member of NASA Advisory Council's Human Exploration and Operations Committee," Brooks said, praising the decision. "Mark's past service and qualifications make him an excellent choice for reappointment to another term on the committee. I congratulate Mark on his reappointment."
"I greatly appreciate my friend NASA Administrator Jim Bridenstine for his thoughtful consideration in reappointing Mark McDaniel," Brooks continued. "Jim's leadership at NASA has been exemplary, and I am glad he recognized Mark's contributions to this important NASA advisory committee."
"Mark McDaniel has been a dedicated member of the NAC for several years, and we look forward to him continuing to provide his expertise to the Committee," said Bridenstine. "As we prepare to go forward to the Moon and beyond, it is critical that NASA has top experts like Mark on our team. His wealth of knowledge is a great benefit to the Artemis program, as well as our mission to send human explorers to Mars."
"Congressman Mo Brooks has provided great leadership to our nation, state and NASA," McDaniel said. "I thank Congressman Brooks for recommending my reappointment to the NASA Advisory Council- Human Exploration and Operations Committee."
"I am confident that under the leadership of Administrator Jim Bridenstine and the tremendous team he has put together, our nation will put the first woman and next man on the Moon by 2024," McDaniel added. "Under Administrator Bridenstine's leadership NASA is setting the stage for human exploration of Mars and the heavens beyond."
Then-NASA administrator Daniel Goldin appointed McDaniel to the NASA Advisory Council in October 2000, and then-NASA administrator Sean O'Keefe reappointed McDaniel to the council in November 2002 and November 2004. During McDaniel's tenure on the NAC, President George W. Bush announced the "Moon, Mars, and Beyond Initiative," which set the nation on a more aggressive pace for space exploration.
On Jan. 26, 2007, McDaniel received the NASA Public Service Medal for his "Leadership and Council to America's Space Agency, his advocacy of Human Space Flight and Exploration and dedication to the Aerospace Community at large."
Brooks is in his fifth term representing Alabama's 5th Congressional District. NASA and its contractors are a major employer in the 5th District.