UAB political science student named Rhodes scholar finalist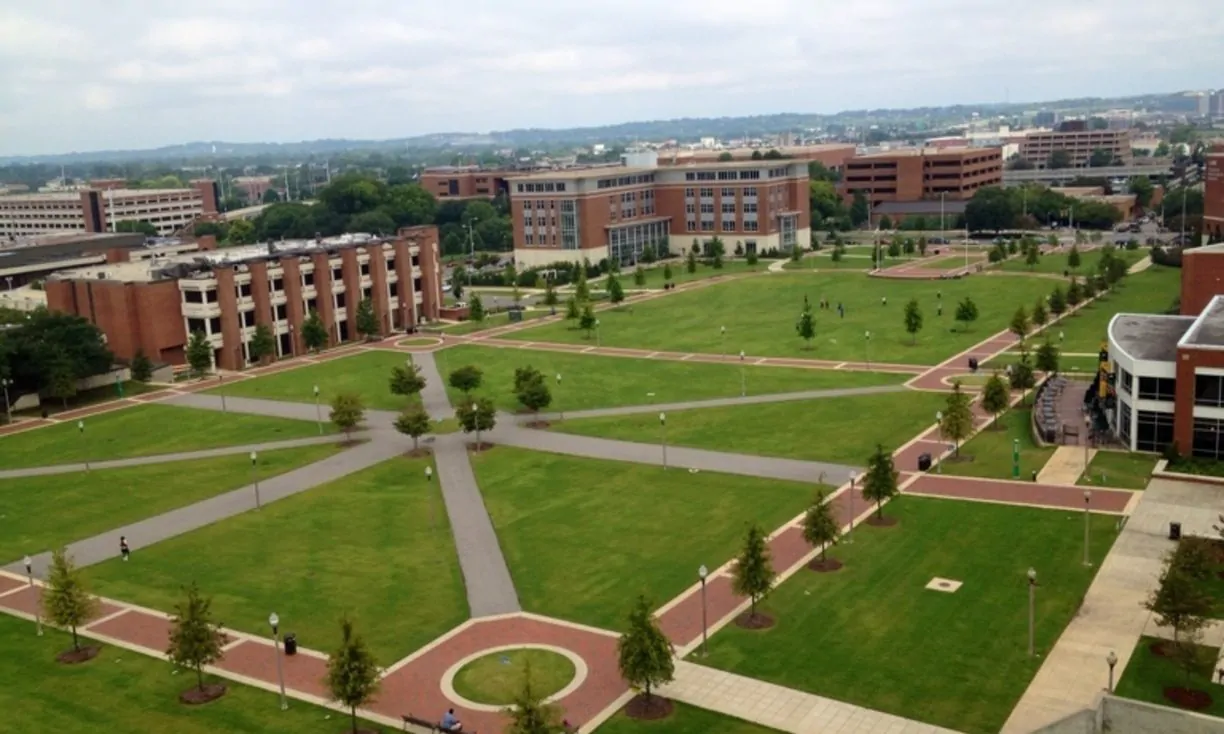 Abigail Franks, a University of Alabama at Birmingham Honors College senior, has been named a Rhodes Scholar finalist, giving her an opportunity to study at Oxford University.
"Being selected as a finalist is an honor in itself, and I am incredibly grateful," Franks said. "It is one of the most competitive scholarships in the world because their acceptance rate is less than 1 percent."
Franks says her UAB mentors — Ashley Kuntz, Ph.D., Michelle Cook, Ph.D., Julie Price, Ph.D., Bambi Ingram and Wendy Gunther-Canada, Ph.D. — helped her during the application process and have changed her life overall as a student.
"My mentors believed in me even before I believed in me, and their unwavering support, not only academically, but emotionally as well, has been vital in providing a foundation for me to grow and explore," Franks said. "They constantly push me out of my comfort zone; I remember spending months working on my Truman and Udall scholarship applications, and as soon as I submitted them, Dr. Ashley Kuntz, who has been my primary mentor, immediately started setting me up for my Marshall and Rhodes applications. This is why I am so lucky to have each of them in my life."
"I had the good fortune to teach Abigail twice in her first year at UAB," said Kuntz, director of the UAB National and International Fellowships and Scholarships and assistant professor in the  Department of Human Studies. "The qualities of a Rhodes Scholar — a sharp mind, moral force of character and instincts to lead — were evident from day one. They are undeniable now. Abigail has taken advantage of every possible opportunity to develop herself as a scholar and leader, and she is poised to do great things for the environment and the people most vulnerable to the effects of climate change."
Franks says, if she were to receive the Rhodes Scholarship, she would pursue two degrees — an M.Sc. in nature, society and environmental governance and an M.Sc. in environmental change and management.
After acquiring two degrees, she hopes to return to the United States and work for a nonprofit such as the Climate Justice Alliance to gain crucial experience in grassroots advocacy on the national scale. From there, she plans to pursue a position as a climate adviser for the Natural Resources Defense Council, where she would work for a state with large populations of communities vulnerable to climate change.
Rhodes Scholars are chosen for their outstanding scholarly achievements, their character, commitment to others and to the common good, and their potential for leadership in whatever domains their careers may lead.
Franks is a political science major with a minor in peace, justice and ecology in UAB'sCollege of Arts and Sciences in the Department of Political Science. She is a former UdallScholarship recipient and a Truman Institutional nominee. Franks is on track to graduate in spring of 2020.
She will interview for the Rhodes Scholarship on Nov. 23.
Analysis | There's a better plan for reopening schools — if Alabama leaders will use it
Maybe there will be a plan for reopening schools after all. 
A bipartisan group of lawmakers is set to meet with Gov. Kay Ivey's staff on Tuesday morning to discuss an ambitious and comprehensive plan to reopen Alabama's public schools that would see every school in the state get a new, stand-alone nurses station, a testing machine, a full-time nurse and tools to test and check students' temperatures. 
The plan, known as the Safely Opening Schools Program, or SOS, was put together by the Alabama School Nurses Association and has the backing of several doctors and the Alabama Education Association. It was presented to some lawmakers earlier this month. 
State Sens. Jabo Waggoner, Jim McClendon and Bobby Singleton — two top Republicans and the highest-ranking Democrat — have since submitted requests for funding out of Alabama's portion of CARES Act money to pay for the various components of the plan. 
In a letter sent last week to Ivey, Singleton said he was "excited by the plan," and believes it will "address, to some degree, the inequity (in his local school districts) and allow my constituents to feel that they are receiving the same support to reopen their schools as the more affluent districts of our state."
The SOS program contains, essentially, three pieces: Building 500-square-feet nurses stations/isolation rooms at every school, purchasing testing machines and supplies and hiring approximately 300 nurses for the schools around the state that are currently lacking one. (Every school is technically required to have a school nurse, but the systems have circumvented that requirement by allowing a district nurse to cover multiple schools.)
In total, the plan is projected to cost roughly $150 million — almost all of it (around 90 percent) coming from the nearly $2 billion in CARES Act funds provided to Alabama by the federal government. (The remaining portion is projected to be covered by other grants.) Included in those costs are the nurses' salaries for two years and the construction of more than 1,300 stand-alone nurses stations/isolation rooms — each costing a little less than $50,000. 
In addition, each school would receive its own testing device, which nurses would be trained to use, and testing supplies. If used as the program projects, Alabama schools would turn in more than 500,000 tests in nine months, with blind results being sent to the Centers for Disease Control for data collection purposes. The testing machines can also be modified to test for other ailments, such as the different types of flu.  
To put the total cost in perspective, the state has already spent at least $150 million — it received $115 million in grants from the CDC and received part of the more than $450 million the federal government sent to Alabama earlier this year — to test less than 10 percent of the state's population over the last six months. 
The SOS program could potentially test between 12-15 percent in far less time, and in a setting where early detection could prevent massive hotspots. 
It's a good program, and it would likely be worth the costs if only for the things mentioned. 
But those things are only half of the benefits of this program. Maybe not even half. 
Consider this: Included in the costs, every school in every city in Alabama, regardless of income level or parental involvement or poverty rates, will get a state-of-the-art nurses station and a fulltime school nurse. 
To care for children who rarely see any sort of healthcare professional. To diagnose the early signs of disease or mental health issues. To spot the early warning signs of physical abuse or drug addiction. 
In every school in Alabama. For two full school years. 
"This is extremely important to my communities, as they lack school nurses and other critical health access," Singleton wrote to Ivey. "The opportunity to have testing/screening on-site and nurses to address students' health needs would be of tremendous assistance to the residents in my district."
The same could be said for school districts, and for school children, all over the state. 
The simple fact is there is no better plan offered for reopening Alabama's schools. The others, including the "roadmap" presented by state superintendent Eric Mackey last week, mostly fail to account for known shortages in teachers, staff and nurses, and they offer no assurances for worried parents. 
The SOS plan would take the burden of monitoring and quarantining sick students off the staff and faculty, would establish a clear protocol for dealing with the virus in our schools and would assist the state and federal government with accurate, real-time data. In addition, it could be a health lifeline for kids in rural and impoverished areas. 
There is no better plan.