Alabama Global Supply Chain and Logistics Summit being held in Mobile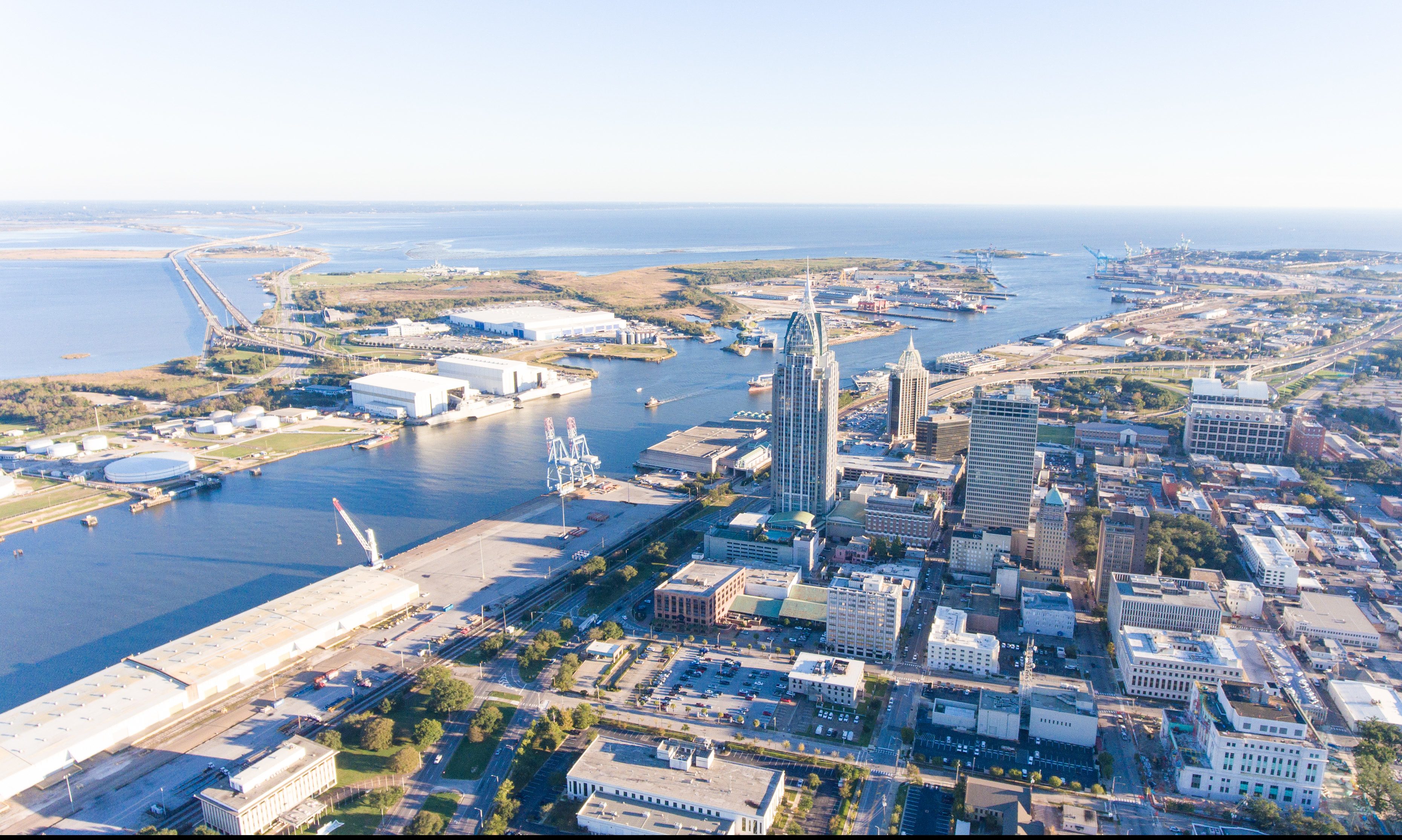 Alabama's Port City is playing host to the eighth annual Alabama Global Supply Chain & Logistic Summit, which explores key supply chain topics such as the changing international trade environment, workforce training and cybersecurity.
The 8th annual summit is being held Tuesday, Nov. 12, and Wednesday, Nov. 13, at The Battle House Hotel in Mobile. The event is sponsored by the Alabama Department of Commerce and hosted by the Mobile Area Chamber of Commerce.
"Supply chain efficiency and innovation continue to be relevant topics for our companies as they grow and adapt to meet the ever-changing demands of the global supply chain," Alabama Commerce Secretary Greg Canfield said. "Businesses have the opportunity here to learn how their peers have put in place supply chain strategies that have led to success both locally and internationally."
The Port of Mobile is Alabama's only deepwater port. The port moves around 54 million tons of cargo per year. It's a key component of the state's logistics infrastructure. (Image: APM Terminals).
The summit presents attendees with an opportunity to network with industry leaders from small and medium-sized companies as well as large corporations as they share information on supply chain trends. On Wednesday morning, Secretary Canfield will speak on Alabama's advantage in distribution and logistics. Companies as diverse as Amazon, Mercedes-Benz and Carvana have recently selected Alabama for major distribution hub projects.
The event's agenda will also include updates on the state's infrastructure and gas tax, a conversation on the impact of trade policy and tariffs on global supply chain, the changing landscape of the supply chain workforce, and many more topics.
The summit's keynote speaker is Bryan Riley. Riley is the director of the National Taxpayers Union's Free Trade Initiative. He will discuss the importance of free trade and implications of disruptive trade policy to Alabama businesses and their global supply chains.
Tariffs on imports raise prices on goods for American consumers; meanwhile tariffs placed by other countries on American products, make it more expensive for American companies to market products in those countries.
Other speakers include: Ed Castile, deputy Commerce secretary and director of AIDT; Jimmy Lyons, CEO of the Alabama State Port Authority; and Rolf Wrona, vice president of human resources at Mercedes-Benz U.S. International, its Alabama operation.
Economic developer Nicole Jones told the Alabama Political Reporter, "The summit provided professionals in the areas of supply chain and logistics an opportunity to discuss issues that affect doing business in a global economy such as international trade, workforce development, and cybersecurity."
Denson White of APM Terminals will discuss the impact of Walmart's $135 million import distribution center, which opened in Mobile in 2018. The 2.5 million-square-foot facility provides a major boost to the Port of Mobile and enhances Alabama's global connections.
"Conferences like these provide benefits to the host city and state because of the tourism dollars generated by attendees," Dr. Nicole Jones said. "The Global Supply Chain and Logistics Summit also is a way to showcase our state, make connections, and recruit new business and industry to Alabama."
For more information on the summit, contact Kayley Shepard at the Mobile Area Chamber of Commerce ([email protected] or 251-431-8629) or Jeremy Wolfe at Commerce ([email protected] or 334-353-1762).
First presidential debate is tonight
Tuesday's debate, set to begin at 8 p.m. CST, will be moderated by Fox News Sunday anchor Chris Wallace.
President Donald Trump and former Vice President Joseph Biden, the Democratic nominee for president, are preparing for Tuesday night's debate.
Tuesday's debate will be moderated by Fox News Sunday anchor Chris Wallace. The debate will be at 8 p.m. CST and is being hosted at Case Western Reserve University and the Cleveland Clinic in Cleveland, Ohio.
Due to COVID-19, the two candidates and the moderator will not shake hands. There will be a small number of ticketed guests inside the debate hall, along with debate officials, crews and TV network anchors including Fox News.
Trump has prepared with help from former New Jersey Governor Chris Christie and former New York City Major Rudy Giuliani but has chosen not to have traditional lengthy practice sessions.
Trump is suggesting he doesn't want to overdo it.
"Sometimes you can go too much in that stuff," Trump told reporters on Sunday.
Biden has been holding mock debate sessions with senior adviser Bob Bauer and top aides, according to CBS News.
"I'm prepared to go out and make my case as to why I think he's failed and why I think the answers I have to proceed will help the American people, the American economy and make us safer internationally," Biden said.
"The president prepares by being president," Trump campaign communications director Tim Murtaugh reportedly said. "And by regularly facing hostile news media. That's pretty good practice by any measure."
The debate as to whether Trump should have appointed Judge Amy Coney Barrett to fill the vacancy on the Supreme Court created by the death of Ruth Bader Ginsburg will almost certainly come up.
"Joe Biden spent a lot of time in his basement to study up," said Lara Trump, the president's campaign adviser and daughter-in-law. "He's been in this game for 47 years. I assume he'll do OK. Quite frankly, the bar has been lowered so much for Joe Biden that if he stays awake for the whole thing it's like maybe he won."
The two candidates are running very different campaigns.
From March until the last week in August, according to news reports, Biden made no in-person speeches or campaign appearances. Biden's events since have been rare and attended by just a few invited guests.
Trump, on the other hand, has been holding mass campaign rallies. Trump has held 14 in-person rallies in September including in swing states New Hampshire, Michigan, Wisconsin, Nevada, Florida, Virginia and Minnesota with multiple trips to Ohio, North Carolina and Pennsylvania.