SPLC: Stephen Miller, another former Sessions staffer pushed anti-immigrant stories to Breitbart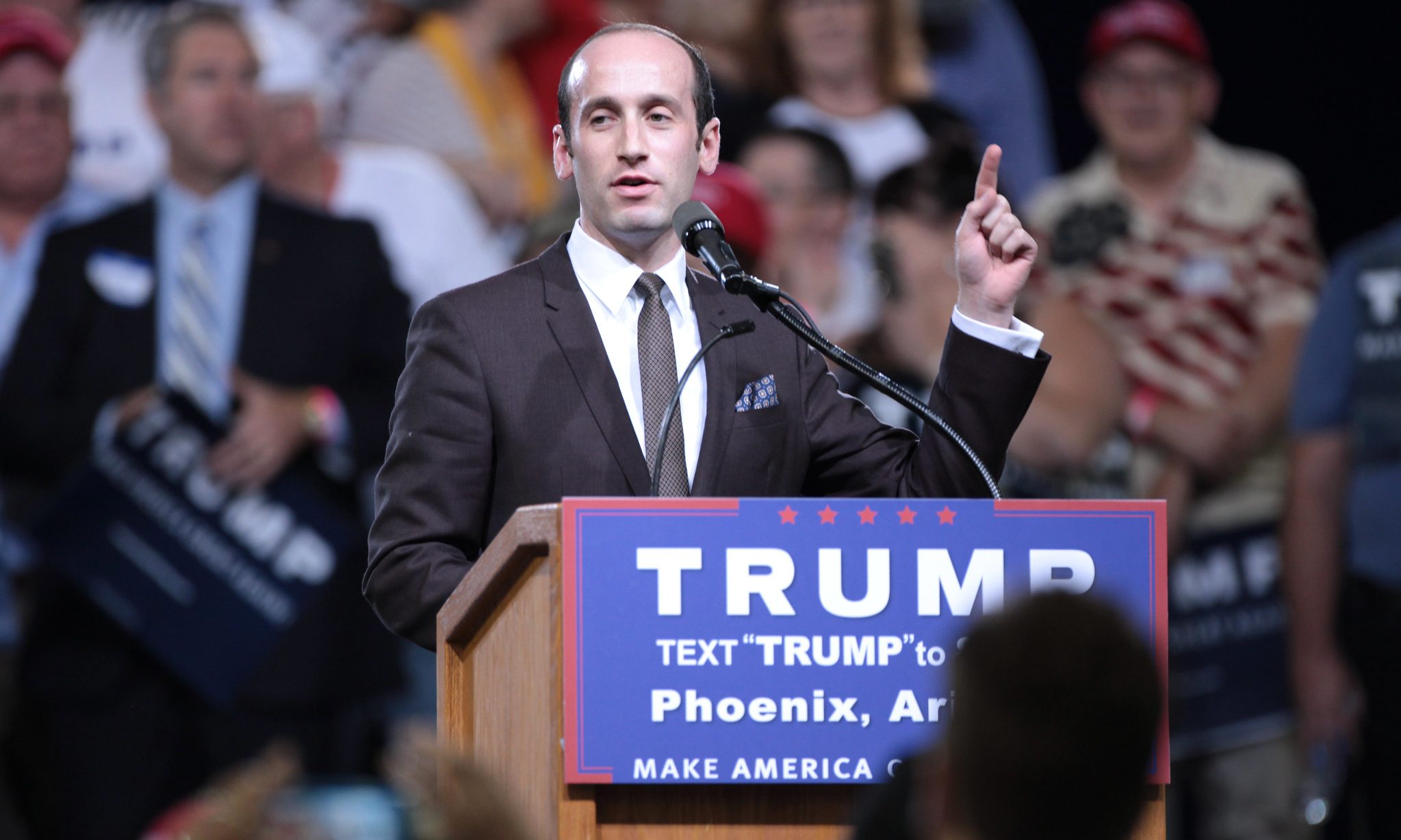 In the second story in a series published Thursday by the Southern Poverty Law Center,  emails show that Trump senior advisor and former aide to then-U.S. Sen. Jeff Sessions, Stephen Miller, had ties to an anti-immigrant think-tank. 
The emails also shows that Miller wasn't the only Sessions staffer to have been pushing for anti-immigrant stories at the conservative site Breitbart. Miller would often cite that think tank's work, the emails shows, and worked to craft an anti-immigrant narrative that would later become central to White House policy.  
In over 80 percent of the more than 900 emails obtained by the SPLC Miller focuses on race and immigration, according to the nonprofit. The emails, sent in 2015 and 2016 from Miller's government-issued email account and a personal account, were given to the Montgomery-based nonprofit by Katie McHugh, a former writer and editor at the conservative website Breitbart. McHugh has since renounced far-right politics, according to the SPLC. 
APR reported Wednesday on the SPLC's first article in the series. The latest article notes emails sent to McHugh from Miller in which he continuously suggested she read the works of the Center for Immigration Studies (CIS), a conservative think-tank that argues for lower legal immigration and that has a history of promoting the writings of numerous white nationalist authors in it's emailed round-up of stories. 
On Aug. 12, 2015, Miller emailed McHugh an embargoed report by CIS with the subject line "Trump right again: Census data shows Mexican immigration surging – 740,000 in one year! [EMBARGOED]." according to the SPLC. 
Journalists often receive reports prior to public release and agree to keep the material from public view until an agreed-upon date, which is referred to as an "embargo." Miller's use of the term and early access to the report shows that he was in close connection with CIS staff. 
Other emails show Miller's work to spreading anti-Muslim rhetoric. The SPLC notes that in an exchange on Jan. 5, 2016, Miller's email to Breitbart editors with the subject line "Huge Surge in US newborns named 'Mohammed." resulted in a story the next day in Breitbart titled "Huge Surge in US newborns named 'Mohammed." 
The SPLC has listed CIS as a hate group since 2016, a classification CIS has vigorously denied, including in an op-ed in The Washington Post by Mark Krikorian, executive director at CIS. 
CIS is currently appealing a September decision by a federal judge to toss CIS's lawsuit against former SPLC leaders  over labeling it a hate group. 
After the mass shooting in El Paso in August that killed 22 by a shooter who had written an anti-immigrant manifesto espousing many of the same talking point used CIS and other anti-immigrant groups, Krikorian at CIS told The Washington Post that the online manifesto was "Remarkably well-written for a 21-year-old loner." 
Krikorian had previously denounced the killings on Twitter, and told the newspaper that the shooter's ideas would have naturally come from sources like CIS. 
"If you have a guy who is going to be angry about immigration, have a killer offering reasons for shooting up immigrants, how could he not use reasons that have already been articulated by legitimate sources?" Krikorian told the reporter. 
The emails also show MIller's work to craft Breitbart's coverage of then-presidential candidate Sen. Marco Rubio related to immigration. The SPLC notes that at the time Sessions was Chairman of the Senate Subcommittee on Immigration, Refugees and Border Security. 
Emails also show Miller's early efforts to defeat the so-called Gang of Eight bill, bi-partisan immigration reform legislation drafted after the 2012 election.
McHugh copied one July 7, 2015, email to CIS to another Sessions staffer at the time, Garrett Murch, who was then a communications advisor for the senator. SPLC's article notes that McHugh wrote to the author of a CIS report asking why "GOP candidate Marco Rubio hasn't publicly retracted his support for Gang of Eight."
Murch responded in an email to McHugh suing his government-issued email account with "Perfect" after she posed her question to CIS. That same day Breitbart published a story titled "Rubio's Gang of Eight Bill Would Have Rewarded Sanctuary Cities Harboring Illegals" and then-presidential candidate Donald Trump linked to the story in a tweet. 
Murch worked as a communications advisor to then-U.S. Sen. Jeff Sessions from March 2011 until July 2016, according to Murch's Linkedin account. He then worked as senior editor for a news website LifeZette co-founded by Fox host Laura Ingraham. 
Murch has also worked deputy director of U.S. House relations at the conservative think-tank The Heritage Foundation from 2005 until 2008. He now works as a political consultant in Maine, according to his social media account. 
Michael Edison Hayden, SPLC's senior investigative reporter, told APR by phone Thursday that there are many more emails from Murch that haven't yet been reported on, and that he expects two additional stories in the series to be published in the coming days.
Hayden said while there are plenty of people who share Miller's believes against immigration, "they don't have this level of neurotic focus." Hayden said the hundreds and hundreds of email sent by Miller provides a glimpse into his obsession on immigration.
APR's messages to Sessions' campaign seeking comment Tuesday, Wednesday and Thursday went unanswered. 
An Aug. 17 article in The New York Times further shows the close connections between Miller, Sessions, Breitbart and CIS. 
"When Mr. Sessions claimed on a conference call that the Gang of Eight bill threatened jobs, an analyst from the Center for Immigration Studies was on the line to vouch for the data, and Breitbart covered it as news," the article states. "When the center presented its journalism award, Mr. Miller was the speaker, and his first-name references to the Center's staff — "all the great work that Mark and Jessica and Steve are doing"— made it clear that he felt among friends."
Trump fired Sessions over his recusal from overseeing Special Counsel Robert Mueller's investigation into Russian interference in the 2016 election. Sessions is currently running to regain his Senate seat.
Print this piece
Five patients with COVID-19 have died at EAMC hospital in Opelika
Five patients who were being treated for COVID-19 at East Alabama Medical Center in Opelika, Alabama, have died since Friday, the hospital said in a statement Saturday.
"Our hospital family expresses its collective condolences to the families of these five patients," said Laura Grill, EAMC President and CEO.  "As everyone knows, this virus has taken a toll on our nation and world, and our community is not exempt from that. Our hearts and prayers are with these families at this very difficult time."
Three of the patients were from Chambers County and two were from Lee County. The Alabama Department of Public Health is still investigating the deaths and has not updated their website to reflect them.
Hospital officials and ADPH are working through the process for official state determination before adding them to the COVID-19 death count.
"The ICU staff, respiratory therapists and physicians who worked most closely with these patients are especially struggling and we ask that the community lift them up today just as they have been lifting up our whole organization the past two weeks," Grill said.
EAMC is currently treating 19 patients hospitalized with a confirmed COVID-19 diagnosis. Five patients who were previously hospitalized with COVID-19 have been discharged. There are 22 patients who are currently hospitalized at EAMC with suspected COVID-19.
The number of hospitalized patients has more than doubled from seven on Tuesday. It anticipates more.
The county had at least 56 confirmed cases of COVID-19 by Saturday afternoon, more per capita than Jefferson County, Shelby County and Madison County. That number has also continued to grow. To the north, Chambers County, which falls under EAMC's service area, has the most cases per capita in the state, meaning there are more confirmed cases per person than any other county. That county's total stands at 17.
Many of the patients who have tested positive, according to EAMC, had a common "last public setting" in church services.
"While there are no absolute patterns among the confirmed cases in Lee County, one nugget of information does stand out a little—the last public setting for a sizable number of them was at church," East Alabama Medical Center said in a statement Friday night.  "Not at one church, or churches in one town, but at church in general."
The hospital has urged churches to move online and cancel in-person services. Some churches have continued to meet, as recently as last Sunday, despite "social distancing" directives from the Alabama Department of Public Health that prohibited non-work gatherings of 25 or more people.
EAMC is urging the public to act as if they are under a "shelter-in-place" at home order, as the state has so far refused to issue such a directive.
"EAMC is asking everyone to shelter in place at home," the hospital said in a statement Friday night. "Sheltering in place means you stay at home with immediate family members only and should not leave your home except for essential activities such as food, medical care, or work. You should not host gatherings of people outside of your immediate family. You should also maintain a 6-foot distance from other people as much as possible, wash your hands frequently for at least 20 seconds each time, and frequently disinfect high-touch surfaces."
It's also asking businesses that have access to personal protective equipment like gowns, masks, latex gloves and hand sanitizer to bring those items to a collection site outside of EAMC's main lobby. The site is open from 9 a.m. to 4 p.m. on weekdays.
This story is developing and will be updated.
Print this piece