Jones holds Senate field hearing on pancreatic cancer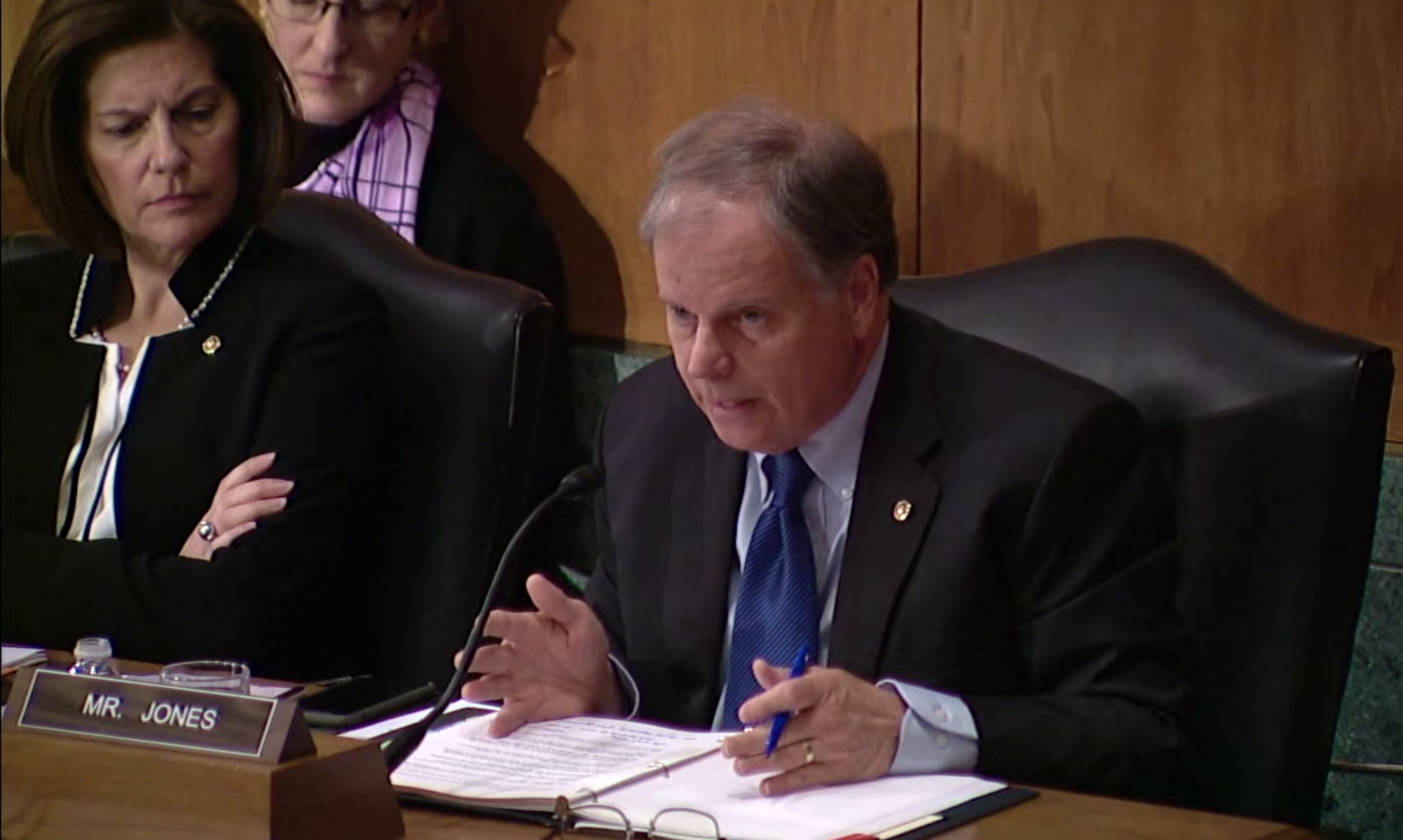 Friday, U.S. Senator Doug Jones (D-Alabama) convened a U.S. Senate Select Committee on Aging field hearing entitled, "Pancreatic Cancer: Fighting the World's Toughest Cancer in Alabama and Nationally," at the University of Alabama at Birmingham (UAB). The witnesses included family members who have lost a loved one from pancreatic cancer, as well as the director of UAB's Pancreatobiliary Disease Center.
"As too many of us in this room know firsthand, pancreatic cancer takes a devastating toll on families and communities across this state and the country," Sen. Jones said. "So many lives are touched by cancer in general, but in particular pancreatic cancer is a deadly disease. Last year—although my family has had run-ins with different forms of cancer over the years—I became one of the millions who has lost a loved one to pancreatic cancer when my dear friend, Giles Perkins, lost his life to this terrible disease. I am grateful to have Giles' wife and also a dear friend, Hillery Head, with us today to honor his memory," said Senator Jones in his opening remarks."
"Unfortunately, Giles is one of many Americans and Alabamians who have lost their lives to pancreatic cancer," Jones said. "This year, more than 56,000 Americans will be diagnosed with pancreatic cancer. The disease has one of the lowest survival rates of any form of cancer, with less than nine-percent of patients surviving five years after their initial diagnosis. In 2019, this disease is expected to claim nearly 46,000 lives across the county and over 700—approximately 770—in Alabama."
The witnesses shared their testimony about the impact the disease had on their loved ones and the importance of investing in medical research.
"In the spring of 2016, my husband, Giles Perkins, began feeling under the weather," Hillery Head said. "His health declined rapidly, and none of the antibiotics he took seemed to help. I urged him to see my primary care physician, who ran him through a battery of tests, diagnosed him with Stage 4 Pancreatic Cancer. Despite all that was in our favor, on December 2, 2018, Giles passed away. He died in our home, surrounded by family and friends and people who loved him. Cancer doesn't care. So, it's up to us to care. It's up to us to support, to fight, to fund, to help, to love, and to live every day like it is a gift from God. It's up to us to support families facing this same diagnosis, and find a cure for this disease."
Lynette F. Nall lost her daughter, Letisha, to pancreatic cancer.
"On January 30, 2019, after a few days at home, Tish succumbed to the disease in bed early that morning," Nall said. "Needless to say, there should be early detection for this disease. Tish's first visit to the doctor should have resulted in some test that could have saved her life. With all the trials that have been done, and still going on, there should be some specific treatment that has been proven to work well for this cancer. The trial and error methods were frustrating for Tish, and for me, as her mother, to see her suffer."
Steve Cook lost his wife, Marqueta, to pancreatic cancer.
"As [Marqueta] continued to battle the disease, and we began learning more about pancreatic cancer, I realized that funding for research was a challenge," Cook said. "Recognizing that one of the strongest weapons we have in fighting the disease is federal research funding, Marqueta encouraged me to take the message to our leaders in Washington, D.C. I attended my first PanCAN (Pancreatic Cancer Action Network) Advocacy Day in 2018, about two weeks after she passed away, just 12 months after her initial diagnosis. Truth be told, I considered not going but I knew she had wanted me to go – I am very glad I did. This disease can render you hopeless but taking a unified message to Capitol Hill with hundreds of others was inspiring – we all had a shared bond."
J. Bart Rose, MD, MAS is the Director of UAB's Pancreatobiliary Disease Centers, the largest treatment center in the region for pancreatic cancer.
"Alabama has a higher death rate from pancreas cancer than would be predicted," Dr. Rose said. "Our state has the 9th highest pancreatic cancer death rate in the United States even though it only ranks as the 21st highest rate for new case numbers… As a pancreatic cancer researcher, I can state without question that investment in this area is desperately needed. The only way we are going to move the needle on improving overall survival beyond the currently unacceptable 9% is by having better therapy for advance disease and earlier detection."
Giles Perkins was Jones longtime friend and managed his 2017 campaign for Senate, despite battling cancer at the time.
Commissioner praises prison employees for putting lives on the line during pandemic
Alabama Department of Corrections Commissioner Jeff Dunn on Thursday praised the department's employees for "literally putting their lives on the line" coming into work during the COVID-19 crisis. Dunn was speaking to the Alabama State Senate Finance and Taxation General Fund Committee, which is holding budget hearings in Montgomery.
"I cannot praise them enough," Dunn said. "They are going into the facility knowing that it (the coronavirus) is there. Not just our corrections officers but also our healthcare workers."
"Many of our workers are single moms," Dunn said. "We have several families where both the husband and wife work for the department and they have children and they are coming to work each day."
"188 of our staff have self-reported" being coronavirus positive, Dunn said. "109 of them have already been able to return to work. That is a tribute to the dedication of our staff. Unfortunately, we have had two employee deaths."
"We are working on an expanded testing protocol, so we can eventually test the entire inmate population and can offer testing to our staff," Dunn said. Employees also have the option of going to their doctor for testing.
"To this point we have tested 523 inmates, 2 percent of our population, and that number will continue to expand," Dunn assured legislators.
Dunn said COVID-19 has negatively impacted ADOC's efforts to hire more corrections officers. They have had to cancel job fairs and some new officer trainings due to the coronavirus shutdown. Dunn assured the senators that there has been progress in addressing the staffing issues that have been cited in a lawsuit in federal court.
Dunn said that to this point in 2020, ADOC has had a net increase of 150 corrections officers. The Department has made 455 new hires, but has lost 305 due to attrition for a net gain of 150.
Dunn showed a graph to the state Senators showing that the number of corrections officers working at ADOC peaked at around 2,000 in 2011. Since then the number of officers has declined precipitously dropping to as low as 1100, before beginning to rise in the last year.
"Our hiring efforts have been slowed down by COVID-19," Dunn explained
Dunn said that they are talking with many candidates who are interested once their unemployment runs out. "We have a whole pool of folks who are waiting and seeing."
"We always understood that this was going to be a process," Dunn told Senators.
"Our personnel budget next year is $300 million," Dunn said. "We have reduced our overtime over $300,000 this year. We have a much tighter management control over that. Part of that reduction is due to the increase in staffing.
Committee Chairman Greg Albritton, R-Atmore, told Dunn, "The over is a very sensitive matter."
Dunn said that any savings from reducing overtime is being used to pay for the new hires.
Dunn said that the prisons are currently operating at 155 percent capacity. Dunn predicted that once the state builds the three new mega-prisons currently in the bid process that ADOC will be operating at 120 to 125 percent capacity. Dunn said that the state has determined from the California case that 137 percent capacity is right at about the line where the federal courts would intervene. ADOC has set the capacity goal at 120 to 125 percent to have a buffer percentage.
ADOC is funded in the State General Fund (SGF) budget. Alabama has an arcane budgeting system where over 90 percent of state funds are earmarked and there are two separate budgets: the SGF and the state education trust fund budget (ETF). Alabama historically has underfunded its prisons and has long neglected its aging prison infrastructure.
COVID-19 remains a very serious problem in Alabama. 2,064 Alabamians were reported positive on Thursday and another ten died, taking Alabama's death toll to 1,042.