Sessions says impeachment inquiry "is a desperate attempt to weaken a president"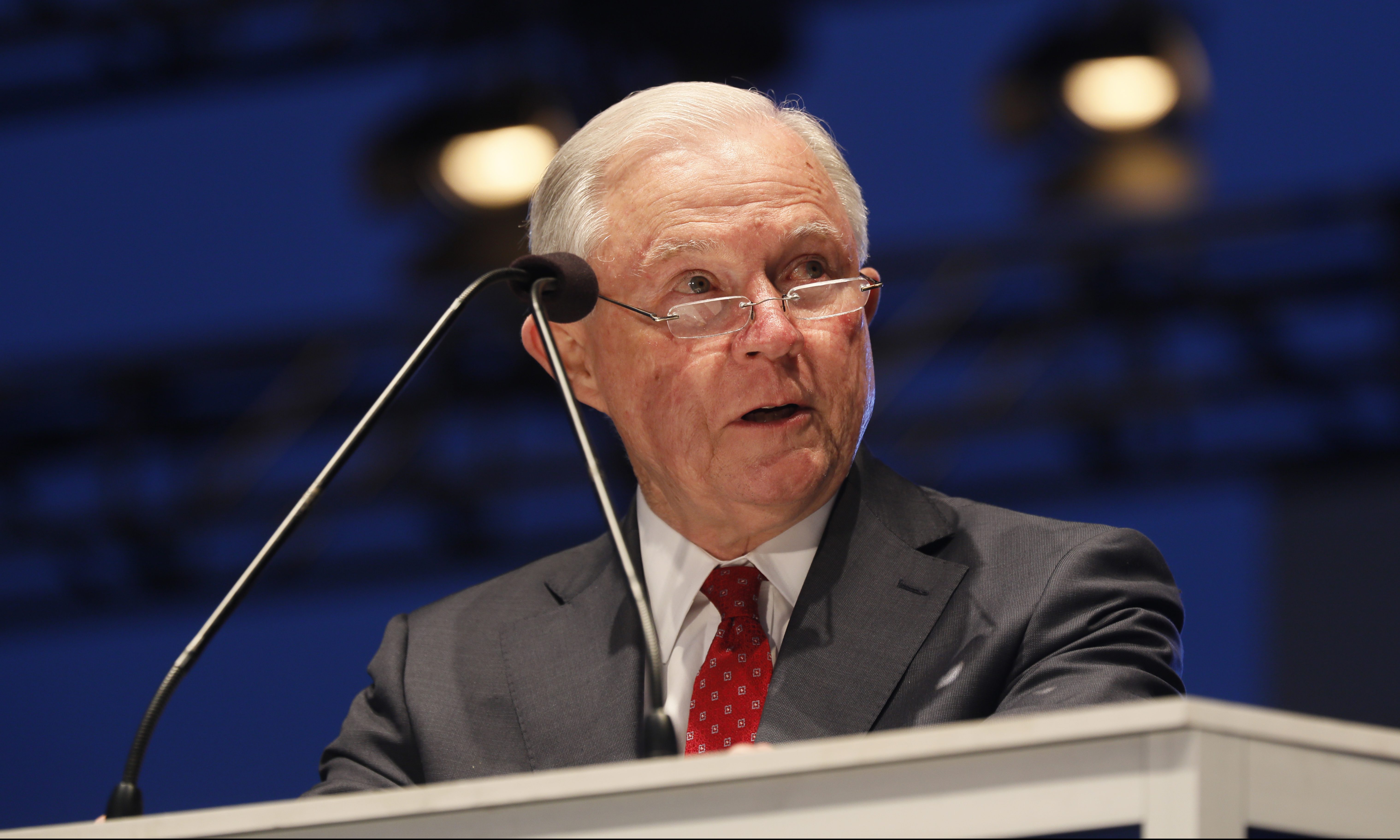 Former Attorney General and current Senate candidate Jeff Sessions wrote an editorial last week for Fox News in which he compared the impeachment inquiry to show trials in the old Soviet Union and charged that the effort is "a desperate attempt to weaken a president."
Sessions said, "Our founders did not provide the awesome impeachment power as a tool to remove a duly elected president because of a political disagreement. President Trump has not been accused of anything for which he can be credibly impeached, but the dangerous ideology of the far left does not recognize legal limits or fundamental fairness."
"The president's opponents are determined to win at all costs to undo the results of the last election and to manipulate the results of the next one," Sessions said. "That is why – regardless of the weakness of the case presented – the conclusion of the Democratic-controlled House of Representatives seems predetermined."
"The old Soviet Union was famous for show trials – fake trials where the result was already understood, where everything was just for show, and where the accused was already certain to be found guilty before the case was even presented," Sessions stated.
"This is political theater, a desperate attempt to weaken a president who has deeply offended the powers that be in Washington." Sessions stated.
Many Republicans have stated similar opinions of the impeachment case against the President.
Former State Representative and Trump Victory National Finance Committee member Perry O. Hooper Jr. attended the first days of the public impeachment inquiry.
Hooper told the Alabama Political Reporter that the first two days of the impeachment hearings were, "A joke."
"It's is a gigantic waste of the taxpayers' money," Hooper told APR. "The first day was about what he said, she said! There were no facts, no evidence but 100 percent hearsay."
"All day today it's been about this Ambassador who got fired," Hooper added. "Bottom line is that the President has done nothing wrong and the Democrats do nothing; but waste the taxpayers' dollars when they should be passing the budget, funding the wall, passing meaningful healthcare reform and passing the President's infrastructure plan."
Sessions is desperate to convince Republican primary voters that they can count on him to support the president and the president's agenda if he is re-elected to the Senate.
Sessions was first elected to the Senate in 1996. He was re-elected in 2002, 2008, and 2014. In 2014, Sessions was so popular in Alabama that no one (Republican or Democrat) would run against him. This election is very different. Pres. Trump was very critical of Sessions' performance as Attorney General. His failure to stop the Robert Mueller special counsel investigation angered many of Alabama's Republican voters. Sessions will need to work hard to repair those relationships.
The primary is March 3.
The winner of the Republican primary will face Doug Jones in the Nov. 3 general election.
Commissioner praises prison employees for putting lives on the line during pandemic
Alabama Department of Corrections Commissioner Jeff Dunn on Thursday praised the department's employees for "literally putting their lives on the line" coming into work during the COVID-19 crisis. Dunn was speaking to the Alabama State Senate Finance and Taxation General Fund Committee, which is holding budget hearings in Montgomery.
"I cannot praise them enough," Dunn said. "They are going into the facility knowing that it (the coronavirus) is there. Not just our corrections officers but also our healthcare workers."
"Many of our workers are single moms," Dunn said. "We have several families where both the husband and wife work for the department and they have children and they are coming to work each day."
"188 of our staff have self-reported" being coronavirus positive, Dunn said. "109 of them have already been able to return to work. That is a tribute to the dedication of our staff. Unfortunately, we have had two employee deaths."
"We are working on an expanded testing protocol, so we can eventually test the entire inmate population and can offer testing to our staff," Dunn said. Employees also have the option of going to their doctor for testing.
"To this point we have tested 523 inmates, 2 percent of our population, and that number will continue to expand," Dunn assured legislators.
Dunn said COVID-19 has negatively impacted ADOC's efforts to hire more corrections officers. They have had to cancel job fairs and some new officer trainings due to the coronavirus shutdown. Dunn assured the senators that there has been progress in addressing the staffing issues that have been cited in a lawsuit in federal court.
Dunn said that to this point in 2020, ADOC has had a net increase of 150 corrections officers. The Department has made 455 new hires, but has lost 305 due to attrition for a net gain of 150.
Dunn showed a graph to the state Senators showing that the number of corrections officers working at ADOC peaked at around 2,000 in 2011. Since then the number of officers has declined precipitously dropping to as low as 1100, before beginning to rise in the last year.
"Our hiring efforts have been slowed down by COVID-19," Dunn explained
Dunn said that they are talking with many candidates who are interested once their unemployment runs out. "We have a whole pool of folks who are waiting and seeing."
"We always understood that this was going to be a process," Dunn told Senators.
"Our personnel budget next year is $300 million," Dunn said. "We have reduced our overtime over $300,000 this year. We have a much tighter management control over that. Part of that reduction is due to the increase in staffing.
Committee Chairman Greg Albritton, R-Atmore, told Dunn, "The over is a very sensitive matter."
Dunn said that any savings from reducing overtime is being used to pay for the new hires.
Dunn said that the prisons are currently operating at 155 percent capacity. Dunn predicted that once the state builds the three new mega-prisons currently in the bid process that ADOC will be operating at 120 to 125 percent capacity. Dunn said that the state has determined from the California case that 137 percent capacity is right at about the line where the federal courts would intervene. ADOC has set the capacity goal at 120 to 125 percent to have a buffer percentage.
ADOC is funded in the State General Fund (SGF) budget. Alabama has an arcane budgeting system where over 90 percent of state funds are earmarked and there are two separate budgets: the SGF and the state education trust fund budget (ETF). Alabama historically has underfunded its prisons and has long neglected its aging prison infrastructure.
COVID-19 remains a very serious problem in Alabama. 2,064 Alabamians were reported positive on Thursday and another ten died, taking Alabama's death toll to 1,042.