Mo Brooks: Hoyt Hutchinson deserves a medal for knife attack on baby Trump balloon
Congressman Mo Brooks (R-Huntsville) has declared that Hoyt Hutchinson is a "patriot" and should be given a patriotism medal for his knife attack on the baby Trump balloon in Tuscaloosa. Protesters were flying the Trump baby balloon in a Tuscaloosa park to protest a visit to the city by President Donald J. Trump (R). Hutchinson has made national headlines for his knife attack on the infamous balloon.
"Deranged Socialists spend their time following President Trump around the world with a giant "Trump Baby Balloon,"" Rep. Brooks said. "Alabama patriot Hoyt Hutchinson had enough so he popped the balloon at the Alabama vs. LSU game. I believe in law & order, so Hutchinson should be prosecuted as law requires. I also believe in America, so afterwards Hutchinson should be given a patriotism medal for fighting evil Socialism!"
Following the attack, Hutchinson has made the rounds on talk radio, accepting responsibility for his actions, but refusing to apologize for the knife attack.
"It comes a point when you gotta take a stand," Hutchinson told Birmingham radio hosts Rick and Bubba. "We don't have two parties anymore. We have good vs. evil. When you got one party that says it's OK to kill babies and by the way, this is the first time I'm ever seen a liberal get mad about chopping up a baby."
Former Auburn head football coach and U.S. Senate candidate Tommy Tuberville responded to that quote with words of encouragement.
"The liberals get more upset about a baby Trump balloon getting stabbed, than they do 60 million abortions taking place," Tuberville said on social media. "Keep standing strong, Hoyt."
Tuberville even went as far as inviting Hutchinson to tailgate with him before the Auburn versus Georgia college football game on Saturday. Tuberville is in a crowded Republican primary field seeking the nomination for the Senate seat currently held by Doug Jones (D).
Hutchinson told Birmingham talk radio host Steve Shannon that when he found out that a group of protesters were flying the balloon in a Tuscaloosa Park to protest President Trump's visit to the state, he made the decision to go and slash the balloon.
"Its disrespectful, making fun of my President," Hutchinson told Shannon. "It ain't gonna happen."
Hutchinson lives in Tuscaloosa.
Congressman Brooks is in his fifth term representing Alabama's Fifth Congressional District and is seeking a sixth term in 2020.
(Original reporting by the Yellowhammer News contributed to this report.)
Roy Moore sues state challenging COVID orders
Moore is arguing that the state has exceeded its authority by issuing COVID-19 restrictions and the statewide mask mandate.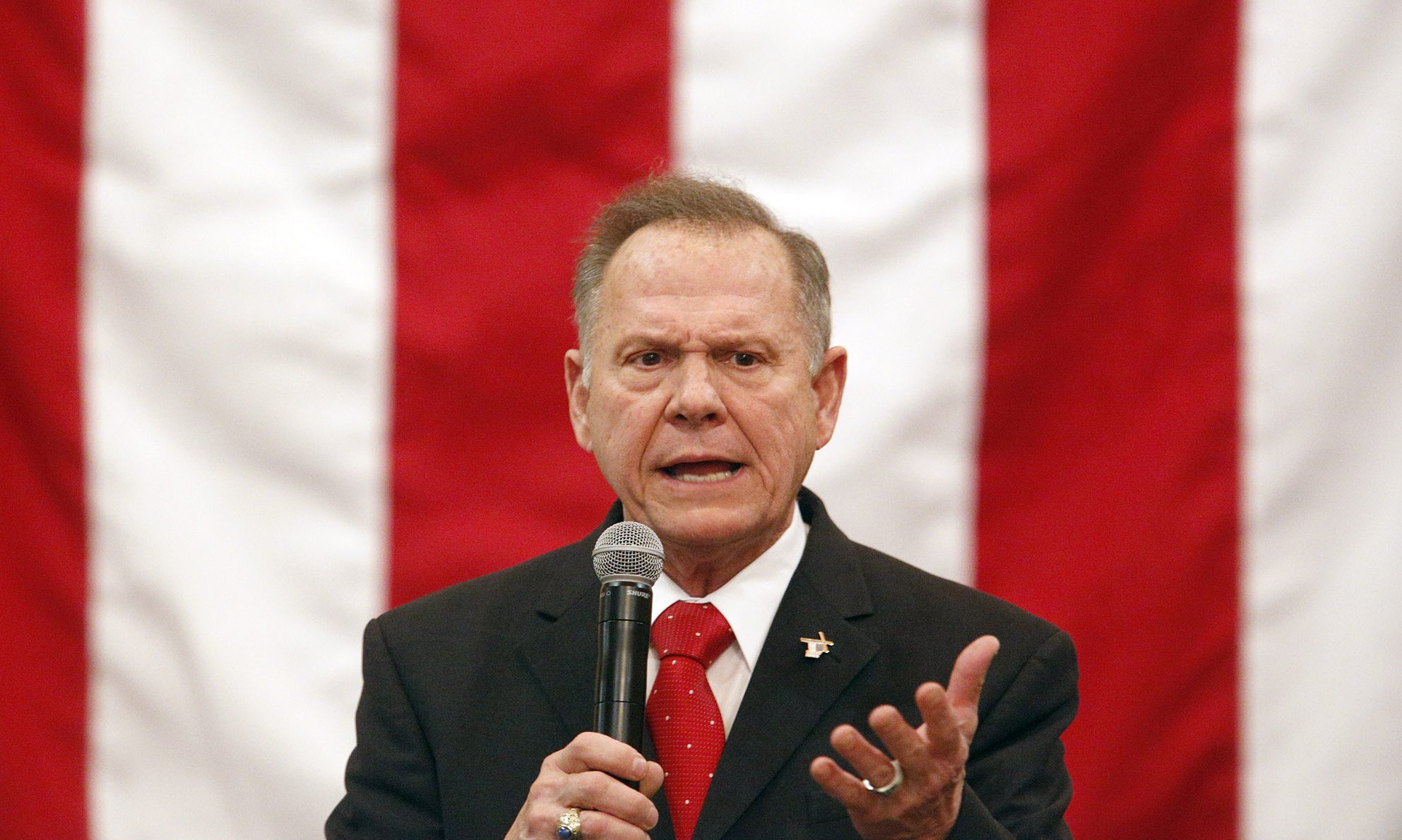 The Foundation for Moral Law and former Alabama Chief Justice Roy Moore last week filed a lawsuit against Alabama Gov. Kay Ivey and State Health Officer Dr. Scott Harris, challenging the constitutionality of their public health orders intended to combat the spread of the coronavirus.
The foundation's lawsuit was filed in the Federal District Court for the Northern District of Alabama. Moore is seeking damages, a temporary restraining order and a permanent injunction against Ivey and Harris from issuing more mandates.
Moore is arguing that Ivey and Harris have exceeded their authority.
"The Governor and State Health Officer of this State have clearly and repeatedly exceeded their authority under both the Constitution of the United States and the Alabama Constitution over the last six months," Moore said. "Unconstitutional restriction of church assembly and worship, discriminatory closing of businesses, stay at home orders, social distancing, wearing of masks, and restriction on travel are simply against our rights secured by the Constitution of the United States."
"We live in a Constitutional Republic and in a State whose motto is 'We dare defend our rights,' yet nothing has been done to stop the tyrannical abuse of power," Moore said. "Our economy has been decimated, jobs lost, schools closed, church doors shut, and we have been told we must stay home and wear mask in public places. People are tired of such abuse!"
"Our Country was formed in crisis and we have withstood disease, pestilence, natural disaster, and wars without being told we must remain in our home and wear mask in public," Moore said. "The Legislature of Alabama needs to stand up to and tell the Governor that she and the State Health Officer do not have the power to do things that even the Legislature can't do. Nor can the Legislature give the Governor powers to take away our Constitutional rights when even the Legislature cannot."
Some former legislators have privately told APR that if Ivey wanted more power to extend the public health emergency past July that legally she should have called a special session and asked the legislature for that authority.
But some have also suggested that the Legislature does not want to go on the record as either favoring or opposing measures such as the eight-month-long public health emergency, the mask mandate, the closing of businesses and restrictions on capacity in businesses. As such, they are content to say or do nothing on the issue rather than alienating voters on either side.
"For over 200 years, men and women of every race, creed, and color have fought and died to preserve our rights; we don't need to give them up without a fight," Moore said.
The Montgomery-based Foundation for Moral Law is a nonprofit corporation dedicated to a strict interpretation of the United States Constitution. The foundation, founded by Moore, is often involved in freedom of religion issues.
The governor's statewide mask order expires on Friday if the governor does not extend it.
At least 208,843 Americans, including 2,501 Alabamians, have died from COVID-19 since February. Over 32.8 million people globally have been diagnosed as infected with the novel strain of the coronavirus.