Sessions says that whistleblower's identity should be made public
Monday, former Attorney General and current U.S. Senate candidate Jeff Sessions (R) said that the whistleblower "would eventually have to be made public." Sessions made the comments about the impeachment while making an appearance on Fox News's Fox and Friends.
"It is unthinkable that a witness who pretends to have information, that would impeach a President can be secret," Sessions said. "Of course, that person eventually would have to be made public, and asking for that is not harassment or not kind of threatening a witness, that's for sure."
Sessions called on Speaker of the House Nancy Pelosi (D-California) to bring the impeachment inquiry "to a conclusion."
\
"I think the Speaker just needs to bring this thing to a conclusion," Sessions said. "It's not well-founded to begin with, but just to pick fights with the president and try to make those kinds of threats, I think is wrong at this time for sure."
Sessions did not believe that there is grounds for impeachment of President Donald J. Trump (R).
"The pattern has been that the news reports and the allegations were not borne out when the evidence came out," Sessions said. "That happened throughout the Russian collusion matter and it looks like it is happening again. It is not going to be worse, as the press sometimes suggests its going to be worse. It turns out to be less significant when the facts come out. I truly believe it's not close to impeachment."
\"To convert a normal political disagreement into an impeachment matter is really a dangerous thing," Sessions warned.
Sessions represented Alabama in the U.S. Senate from 1997 until 2017, when he left to become Trump's Attorney General. Sessions is now running for his old Senate seat again. The hosts asked him how the campaign was going.
"I feel good about it," Sessions said. "I have been around the state and done a lot of interviews and talked to a lot of people. I think the spirit is good. I feel like that we are leading in the polls, but I am telling you a Senate seat is a big deal and I hope the people of Alabama, I know they will, give it serious thought to try to select a candidate that they believe can beat the liberal Democrat that is holding our seat now and should not be in our seat. To remove them and once elected can defend our values against the leftwing agenda that threatens the foundation of our country and to help advance President Trump's agenda, which I did before he announced, and I will continue to do so."
Sessions is running in the most competitive election he has faced since 1996.
Sessions faces Congressman Bradley Byrne, businessman Stanley Adair, State Representative Arnold Mooney, Secretary of State John Merrill, Ruth Page Nelson, former Chief Justice Roy Moore, and former Auburn head football Coach Tommy Tuberville in the Republican primary on March 3.
The eventual winner of the Republican primary will then face incumbent Sen. Doug Jones (D) in the general election on November 3, 2020.
To see the full interview of Sessions:
https://www.breitbart.com/clips/2019/11/18/jeff-sessions-calls-on-pelosi-to-bring-impeachment-inquiry-to-a-conclusion/
(Original reporting by Fox News and Breitbart News contributed to this report.)
Tuberville should release fraud victims from NDAs, Sessions says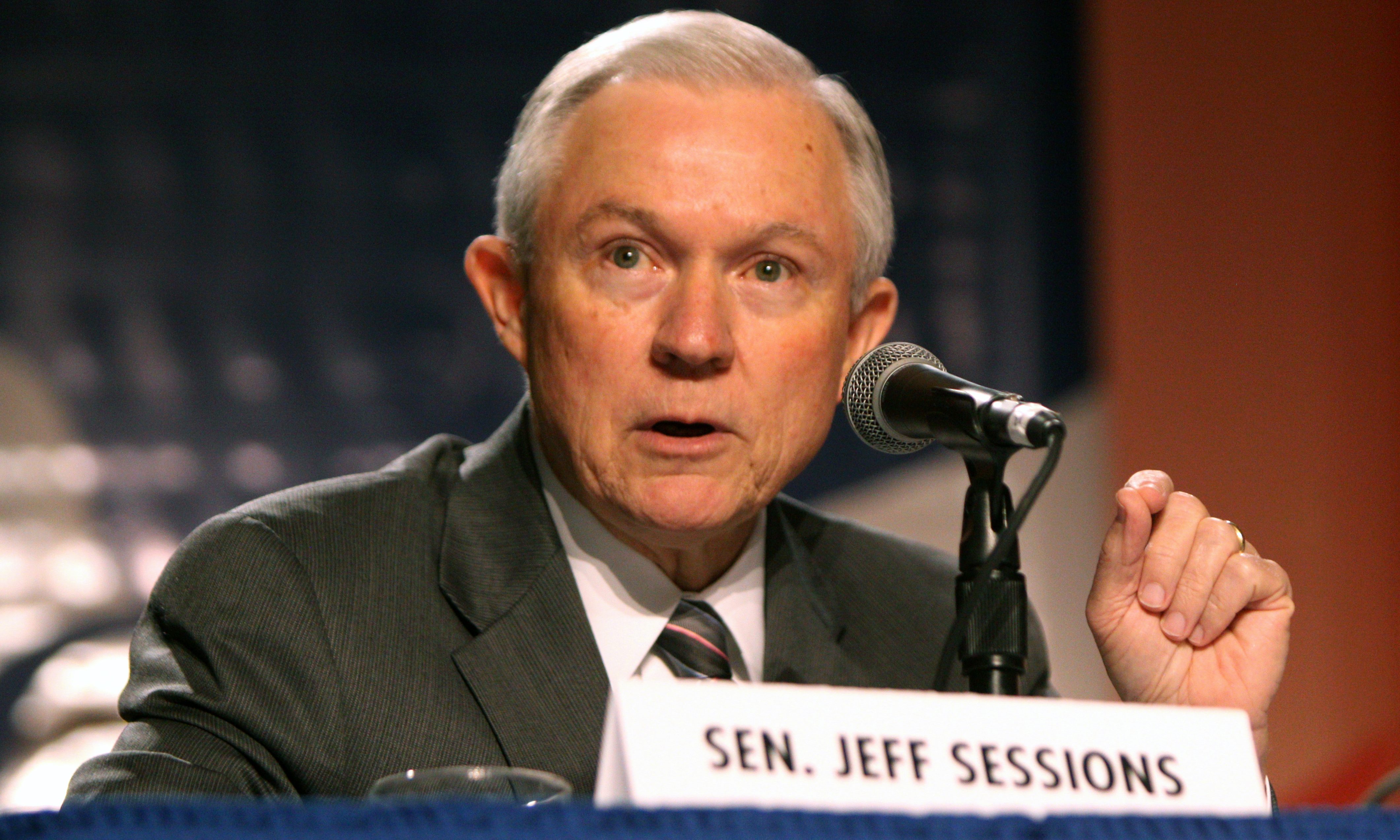 GOP Senate candidate and former U.S. Sen. Jeff Sessions on Monday called on his primary opponent, former Auburn football head coach Tommy Tuberville, to release victims of a fraud scheme from non-disclosure agreements they signed as part of a court settlement.
"If Tommy Tuberville has nothing to hide, why does he continue to refuse to release the victims from the secrecy agreements that he made them sign, so that they could share exactly what happened?" Sessions said. "Tuberville and his lawyers must release the victims immediately, so we can get the full truth about this issue. Tommy's hedge fund scheme bilked investors out of large sums of money, and now he's trying to gag the victims to keep them quiet — and hope that Alabama voters don't notice."
Following the end of his coaching tenure at Auburn, Tuberville and former Lehman Brothers broker John David Stroud formed a hedge fund, which later went broke, costing the investors to lose their investments. Stroud went to prison and some investors sued Tuberville, who maintains he was the biggest victim of the fraud.
"If Tuberville was truly just an innocent investor and victim of the fraudulent hedge fund, as his campaign handlers now claim, why did he hand out business cards calling himself the 'managing partner' of the firm?" Sessions asked. "Why did the hedge fund's offering documents that he gave to potential investors say that he was personally 'responsible for the investment direction, capital raising, and the day-to-day oversight of business decisions' of the fraudulent hedge fund? We need to know exactly what happened, and Tuberville must immediately give a full accounting of his scandals."
Sessions has made the case that he is the known and vetted candidate and will be best able to withstand an onslaught of negative ads from Democrats who want to hold on to Democratic Sen. Doug Jones' Senate seat, which some analysts view as the most vulnerable seat in the 2020 election and a key pickup if Republicans hope to hold their narrow Senate majority.
"If this is just coming out now, we have to wonder what other skeletons are hiding in Tommy Tuberville's closet," Sessions said. "The truth is that he's an unvetted candidate, and Alabama voters can't afford to send a question mark into the race against Doug Jones and the millions of dollars of out-of-state money at his disposal."
According to The New York Times' reporting and court documents, the victims include a married couple from Wetumpka, a bookkeeper and a retired teacher, who invested $800,000 with TS Capital. The other victims include a married couple from Auburn, who transferred over $100,000 from their retirement accounts to invest with TS Capital.
After more than a year of fighting the lawsuit, Tuberville settled the case by paying a secret amount. All the parties involved signed non-disclosure agreements that prohibit them from speaking about the fraud allegations.
The Sessions campaign claims that it appears that none of the victims were made whole. "Meanwhile, Tuberville filmed videos for ESPN, bragging about his house on the white, sandy beaches of Florida," the Sessions campaign said in a parting shot.
Tuberville and Sessions are running in the Republican primary runoff on July 14. The winner will then face Jones in the Nov. 3 general election. Tuberville had the most votes in the March 3 Republican primary and has led Sessions in polling throughout the runoff race.