Hearing set for Thursday on complaint that Amendment One wording is misleading
A hearing has been set for Thursday on a complaint of alleged misleading wording on proposed Constitutional Amendment One. The Fair Ballot Commission will hear the complaint at 2:00 p.m. Thursday (Nov. 21) in room 200 of the Alabama State House.
The Complaint was filed by State Board of Education member Jackie Zeigler (R). She asks that wording of Amendment One on the March 3rd ballot be changed. The proposed amendment would take away citizens' right to vote on members of the State Board of Education and make them all appointed by Gov. Kay Ivey (R).
Jackie Zeigler is an elected member of the existing state school board. She filed the complaint in October asking the Fair Ballot Commission and the Secretary of State to change the wording that will appear on the March 3 ballot. She says the wording does not make clear that the amendment would abolish the people's right to vote to elect members of the board.
Zeigler said in her complaint: "The wording masks the vital elimination of a board elected by the people and accountable to the people. The wording highlights a name change of the board and the Superintendent."
The proposed wording reads:
"Proposing an amendment to the Constitution of Alabama of 1901, to change the name of the State Board of Education to the Alabama Commission on Elementary and Secondary Education; to provide for the appointment of the members of the commission by the Governor, subject to confirmation by the Senate; to change the name of the State Superintendent of Education to the Secretary of Elementary and Secondary Education; to provide for the appointment of the secretary of the commission, subject to the confirmation by the Senate; and to authorize the Governor to appoint a team of local educators and other officials to advise the commission on matters relating to the functioning and duties of the State Department of Education. . . ."
Zeigler has asked the commission and the Secretary of State to "re-word Amendment One to clearly indicate that it abolishes the people's right to vote in selecting the State Board of Education."
She claims that the present wording violates state law:
Section 17-6-41
Ballot for constitutional amendment.
"Whenever a constitutional amendment is submitted to a vote of the qualified electors the substance or subject matter of each proposed amendment shall be so printed that the nature thereof shall be clearly indicated."
"This wording veils the vital elimination of a board elected by the people and accountable to the people," Jackie Zeigler wrote in her complaint. "The wording indicates a name change of the board and the Superintendent."
Mrs. Zeigler is heading a statewide campaign urging a 'No' vote on Amendment One. She set up a Facebook campaign "Vote No on CA1: Keep your right to vote on State School Board."
https://www.facebook.com/events/549529362452048/
"As representative for State Board of Education District One, I am vehemently opposed to any attempt take away the voice of the people," Jackie Zeigler said. "Elimination of your elected State Board of Education Constitutional officers would be one step closer to having the Educational Trust Fund fall into the hands of individuals whose main intent may not be our students' best interest. We must continue to be aware of the consequences that will result from this attempt to take away the power of the citizens."
Zeigler is a former teacher, principal, and school administrator. Jackie Zeigler is married to State Auditor Jim Zeigler (R). Mrs. Zeigler was elected in 2016 to School Board District One – Mobile, Baldwin, Escambia, Conecuh, Butler, Crenshaw and Covington counties.
State Senate Pro Tem Del Marsh, R-Anniston, sponsored Amendment One. Marsh has argued that an appointed Board is more responsive and is more willing to implement the governor's education agenda. Marsh says that the top states for education have appointed board, while Alabama's public education system is perennially ranked in the bottom five.
Gov. Ivey supported Amendment One and is urging everyone to vote Yes for the amendment.
"I find it extremely insulting that our Governor and legislators think the citizens' vote to put them into office was a brilliant move but then turned inept when electing our SBOE representatives," Jackie Zeigler stated. "As your elected official, I serve the students, parents, and citizens of Alabama. I am their voice as well as their contact with any of their school issues, concerns or questions. I am available to direct them to the proper contacts, inform them of current policies, or just serve as a sounding board. I am available. I am accountable. I am their representative. To them I pledge my service, not to Montgomery."
The voters will vote on Amendment One on March 3.
Mrs. Zeigler is running for re-election. She has no Republican primary opponent but faces Democrat nominee Tom Holmes in the November 2020 General Election.
Print this piece
Sanders campaign seeking Bernie Victory Captains in Alabama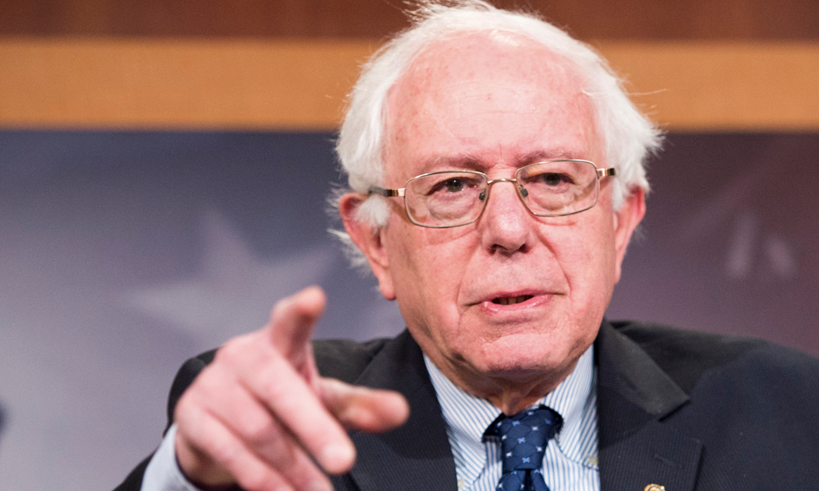 Saturday the Bernie Sanders for President campaign announced that they are seeking Bernie Victory Captains in Alabama who will host at least one Bernie event every week between now and the Alabama presidential primary on March 3.
"As a Bernie Victory Captain, you will host voter contact events like phone banks and Bernie Journeys to the states that vote before us that are vital to securing support for Bernie and our movement," the Sanders campaign wrote in recruiting emails. "You will be working with world-class organizers and dedicated supporters across the country."
"Voting for the Democratic nominee who will take on Trump is well underway," the campaign continued. "We won Iowa and New Hampshire, and mail-in and early voting ballots are being cast across the country. Before we know it, it will be your state's turn to vote! So we're looking for supporters in Alabama to join our Bernie Victory Captain program. Bernie Victory Captains are supporters who can commit to hosting one event a week between now and the Alabama primary."
Bernie Victory Captains are leading teams of people canvassing neighborhoods. They also played important roles in Sanders' win in New Hampshire and close second place finish in Iowa. Sanders had more votes in Iowa than South Bend Mayor Pete Buttigieg; but the Iowa Democratic Party ruled that because Buttigieg won more caucuses that he was the winner of Iowa and not Sanders.
"A volunteer I hosted on a Bernie Journey to New Hampshire this weekend just emailed to tell me she wouldn't have volunteered if she didn't see the event near her. Heartwarming," on Bernie Victory Captain wrote.
"Conquered my fear of canvassing. Hosted my third canvass yesterday and it went GREAT!!" another wrote.
Sanders is a U.S. Senator from Vermont. Though Sanders is an independent and a self-proclaimed socialist he caucuses with Senate Democrats.
The pro-Bernie group: Our Revolution wrote in an email: "The corporate media and the billionaire class have escalated their propaganda against Bernie and our movement."
"Chris Matthews had a near hysterical breakdown on MSNBC about being "executed" in Central Park if Bernie is elected," the group continued. "The former head of Goldman Sachs said that Bernie would "ruin" the American economy. MSNBC pretended that Buttigieg, Klobuchar, and Biden are one candidate to justify not admitting that Bernie is the frontrunner in the presidential primary race."
"As our vision of a just government that represents working people continues to gain momentum, their attacks will only become more vicious," the group continued. "Our Revolution is organizing all over America to support Bernie and a wave of progressive candidates who share our values. Rush a donation now to help us fight back against increasingly desperate corporate propaganda and organize to win in Nevada and all over the country!"
Former Vice President Joe Biden (D) had appeared to be the Democratic frontrunner; but his campaign was rocked by disappointing finishes in both Iowa and New Hampshire. Biden has been stung by GOP criticism that his son Hunter Biden profited from lucrative overseas deal in Ukraine and China off of Biden's tenure as Vice President.
Former New York City Mayor billionaire Michael Bloomberg has assembled a large campaign apparatus that includes hundreds of the Democratic Party's top operatives and strategists. He has spent more than $350 million of his own fortune into a months-long national advertising campaign that has lifted him in the polls as Biden has struggled in the early contests that Bloomberg ignored.
Bloomberg needs one more national poll sanctioned by the Democratic Party to show that he has ten percent support or more for him to participate in the next Democratic debate on Wednesday in Los Vegas. Sanders, Buttigieg, Biden, and U.S. Senators Amy Klobuchar (Minnesota) and Elizabeth Warren (Massachusetts) have already qualified to be on the debate stage.
Congresswoman Terri A Sewell, D-Selma, and U.S. Senator Doug Jones (D) have both endorsed VP Biden. The Alabama Democratic Conference and its leader Alabama Democratic Party Vice Chair for Minority Affairs Joe Reed has endorsed Bloomberg.
The Alabama Democratic Presidential primary will be on March 3.
People in states like California and South Carolina with early voting are already casting their ballots.
Original reporting by the Hill contributed to this report.
Print this piece