Lowndes County Sheriff John Williams killed in the line of duty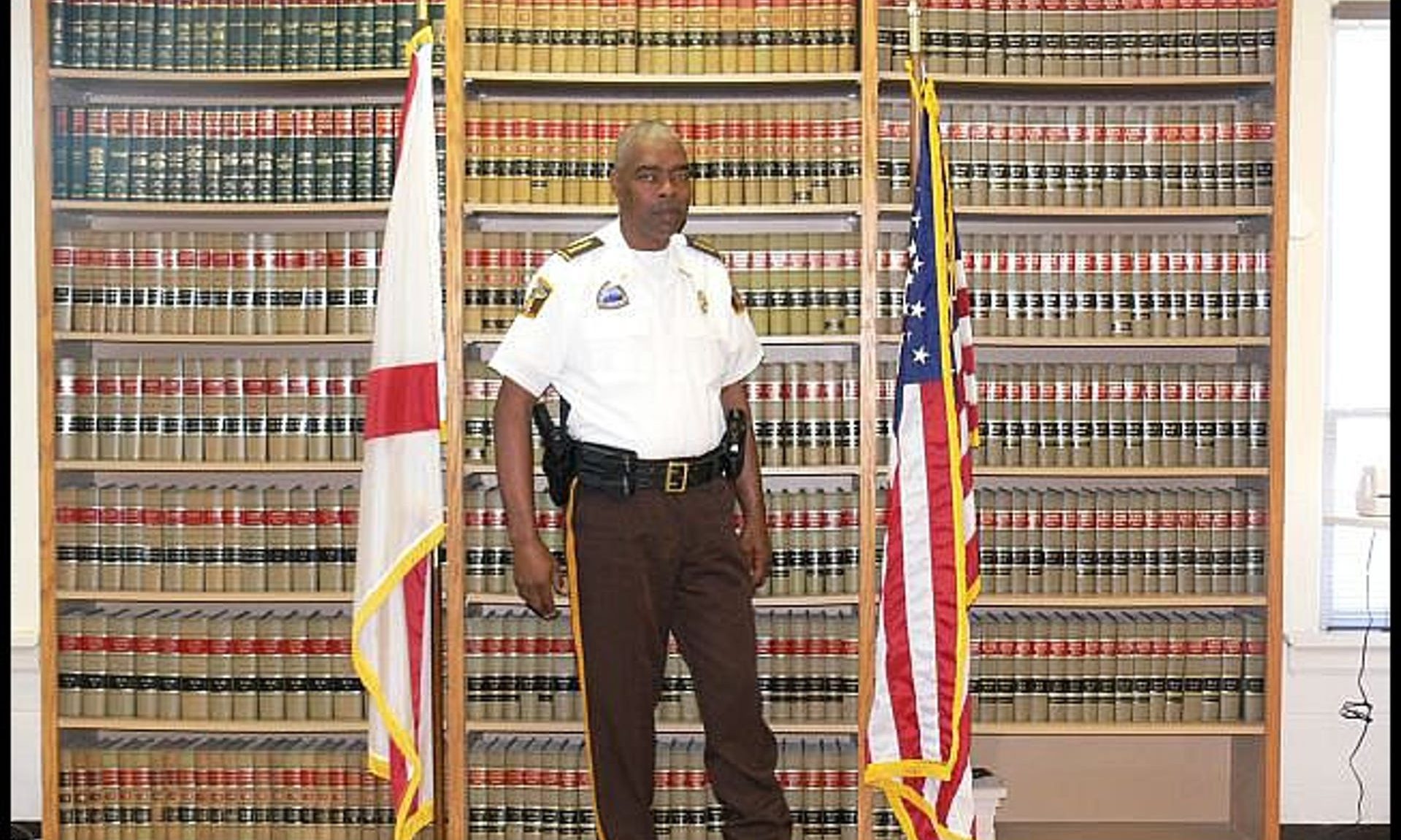 Saturday night began as a routine evening for law enforcement in a small town. Lowndes County Sheriff "Big John" Williams was responding to a call at the Q V. Gas Station in Hayneville. The veteran law enforcement officer asked a young man to turn down the music on his radio. Instead of complying, the young man allegedly shot the Sheriff in the head and fled the scene. Sheriff Williams died from his injuries.
The 18-year old suspect, William Chase Johnson, is in custody.
Williams' 40 years career in law enforcement ended tragically in the community that he served and loved.
Several Alabama leaders have expressed their sorrow at the fifth death of a law enforcement officer, killed in the line of duty this year in Alabama.
"I'm saddened to hear about Sheriff Big John Williams, who was tragically killed this evening in the line of duty," Alabama Governor Kay Ivey (R) said. "Through his service to our country in the United States Marine Corps and his many years working in law enforcement, he dedicated his life to keeping other people safe."
"He will be remembered as a consummate professional and pillar of his community," Gov. Ivey continued. "I offer my prayers and deepest sympathies to his family and to the men and women of the Lowndes County Sheriff's Department."
"Tonight, Alabama mourns the loss of another law enforcement officer in the line of duty," said Attorney General Steve Marshall (R). "Lowndes County Sheriff 'Big John' Williams died from gun fire while responding to an incident in Hayneville. Sheriff Williams devoted his life to law enforcement. He gave more than 40 years to public safety in his home county, serving the last 9 years as Lowndes County Sheriff. His dedication and experience are irreplaceable.
"Sheriff Williams is the fifth line-of-duty death of an Alabama law enforcement officer to gun fire this year and the sixth to lose his life overall in our state over the last 11 months," Marshall added. "Serving the public in the role of a peace officer is a difficult calling, fraught with peril, yet thankfully many Alabama men and women choose to answer the call, often time putting their lives in danger to protect us. It simply cannot be said enough that we owe these heroes our gratitude and our support. I know all Alabamians join me in passing along our condolences and prayers to Sheriff Williams' family and to the Lowndes County Sheriff's Office."
"Horrible news tonight out of Lowndes County," Congressman Bradley Byrne, R-Montrose, said. "Join me in saying a prayer for the Sheriff's family, friends, and colleagues. May God watch over all of our law enforcement as they put their lives in danger to keep us safe."
Public Service Commission President Twinkle Andress Cavanaugh (R) said, "My heart is broken for the family of Lowndes Co Sheriff "Big John" Williams. This is another member of the law enforcement family that gave his life protecting us. Please join me in praying for his family, the community and our state."
"We all mourn the tragic loss of Sheriff John Williams," State Representative and Alabama Democratic Party Chairman Christopher John England, D-Tuscaloosa, said. "My thoughts and prayers go out to his family, his friends, and his department. He will be truly missed by not only the people of Lowdnes County but all over the state of Alabama. We lost a great man."
Alabama House Majority Leader Nathaniel Ledbetter, R – Rainsville, also released a statement Sunday in reaction to the death of Sheriff Williams.
"The members of the House Republican Caucus join the millions of citizens across Alabama who are mourning the passing of Sheriff John Williams and sending prayers of consolation to his family, his department, and the residents he served in Lowndes County," Ledbetter said. The men and women of law enforcement put their lives on the line every moment they are on the job, and the fact that Sheriff Williams was killed while responding to a seemingly routine disturbance call offers a tragic reminder of that fact."
"The tremendous reaction that Sheriff Williams' loss has prompted from the highest elected officials in the state to the friends and neighbors who loved him is a testament to a life well lived and the devotion of duty he showed to his very end," Leader Ledbetter continued. "While nothing can adequately account for his loss, we must all demand harsh punishment for his assailant and swift justice for the crime that was committed."
U.S. Attorney Jay Town said in a statement: "Our thoughts and prayers are with the family, friends, and colleagues of Lowndes Co. Sheriff "Big John" Williams, who was killed in the line of duty while protecting and serving his community. All Sheriff Williams did was serve his country, state, and fellow man his entire adult life. His loss is a tragedy and the violence against our law enforcement is senseless and reprehensible."
"Sheriff Williams' end of watch comes too soon," Town concluded.
Seventh Alabama inmate dies after testing positive for COVID-19
A seventh Alabama inmate has died after testing positive for COVID-19, and the man is the second person from the infirmary at the Staton Correctional Facility to have tested positive for the virus and subsequently died. 
Daniel Everett, 74, died Tuesday after testing positive for coronavirus at a local hospital, the Alabama Department of Corrections announced in a press release Wednesday. Everett, who had been housed in Staton's infirmary due to previous illnesses, was tested after another inmate in the infirmary, 80-year-old Robert Stewart, tested positive for the virus and died on June 14. 
Coronavirus seems to be spreading among inmates and staff at Staton prison, where, as of Tuesday, there have been 17 confirmed cases among inmates and 23 among workers. That's more confirmed cases than in any other state prison. Tutwiler prison follows closely behind at 39 confirmed cases — 10 among inmates and 29 among employees, one of whom died.  
ADOC also announced that an inmate at St. Clair Correctional Facility, one at the Julia Tutwiler Prison for Women and another at Staton prison all tested positive for COVID-19, bringing the total confirmed coronavirus cases among state inmates to 68, 43 of which remain active, according to the department. 
Of the state's approximately 22,000 inmates, 329 had been tested as of Tuesday, according to ADOC. 
In addition to the new cases among inmates, ADOC said a worker at the Easterling Correctional Facility and an employee at the Alabama Corrections Academy tested positive for COVID-19. There have been 165 confirmed cases among ADOC staff, who are asked to self-report if they receive positive test results independently. ADOC has not offered free testing to staff. 
ADOC announced last week the first death of a prison worker, an employee at Tutwiler prison, who tested positive for COVID-19. 
Despite calls by Rep. Chris England, D-Tuscaloosa, and numerous criminal justice reform groups and advocates for incarcerated people for ADOC to increase COVID-19 testing and release as many of the very sick and older inmates as possible, who are more at risk from the virus, the department has not publicly indicated plans to do so. 
ADOC Commissioner Jeff Dunn in an op-ed published in the Alabama Daily News on Monday wrote that he believes the depiction by some of prisons as petri dishes for the virus is not entirely off base, and said that "an enclosed environment housing a disproportionately unhealthy population where social distancing is virtually impossible, coupled with COVID-19's highly contagious nature and long incubation period, creates a recipe for a potential health disaster if not managed correctly."
But Dunn wrote that handling the pandemic in prisons "cannot be reduced to simple conversations about testing data or be solved through the sudden release of unrehabilitated inmates back into society." 
As the confirmed coronavirus cases and deaths continue to increase in Alabama prisons, the virus is also surging outside prison fences and across the state. 
Alabama on Monday saw a new record number of patients in hospitals with COVID-19, and the number of new cases in the state has continued to reach record highs in recent days.