Opinion | There's a new Rosa Parks statue in Montgomery. Let's hope it tells her real story.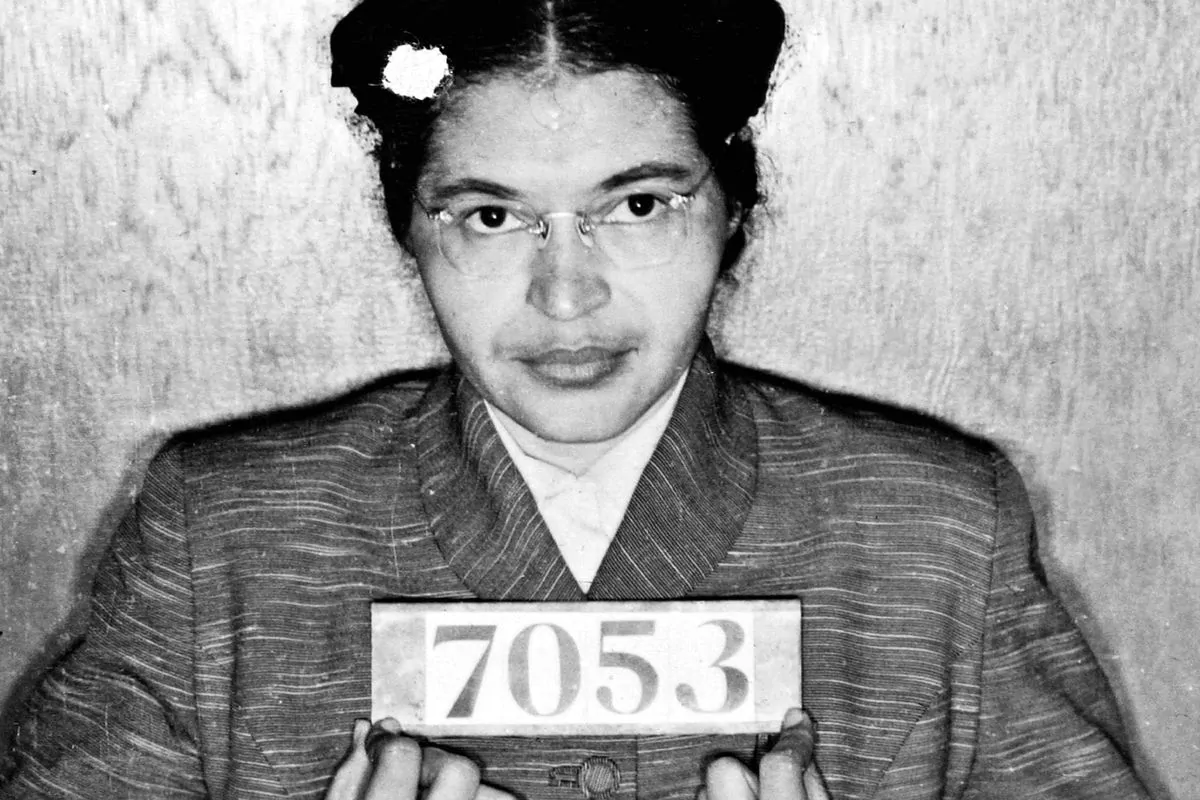 It is great that the city of Montgomery finally has a statue honoring Rosa Parks. 
I'm just not sure I like that statue — the one unveiled at a ceremony on Sunday in Montgomery, the 64th anniversary of her arrest. The one in which she's portrayed as a diminutive everywoman merely waiting to ride the city bus home from a hard day working as a seamstress. 
That's the beginning of the story we all know about Rosa Parks — the Mother of the Civil Rights Movement. That's the story we were all told in history classes growing up. 
A few moments later, the story goes, after Parks boarded the bus and refused to move to the back so a white man could sit down, she was arrested. That led to the bus boycott in Montgomery. And civil rights. And we all lived happily ever after. Amen. 
It's a fairy tale. 
It's another in a long line of civil rights fictional tales that we've spread, because civil rights pioneers apparently need sympathetic-to-white-people personalities in order for their stories to be palatable. 
The fact is Rosa Parks wasn't some meek seamstress. And that story we've all heard over and over about her is how we end up with state leaders who possess the cognitive dissonance to praise and protect confederate monuments one day and show up to a Rosa Parks statue dedication the next. 
Because we've changed the stories. We've made the people involved less real. We've altered their basic traits. And we've painted the injustices they faced as uncommon and unrelatable in today's world. 
In our stories, Parks and other civil rights icons were unlikely — even unassuming — regular folks, just trying to go about their lives when they were confronted with outrageous, in-your-face racism. And their wholesome responses to those few injustices happened to touch off grand displays of community — that's right, "community," because some white people need their due — uprisings by mere chance. 
The black civil rights leaders can never be angry. They can never hit back. They can never, ever have a plan. 
Because if any of those things exist, those people and their stories become relatable to people today. And someone somewhere might have to consider that the injustices that were being fought by Parks and so many others back then didn't die with a bus boycott and they look a whole lot like some injustices of 2019. 
After all, is what Rosa Parks faced on those buses in Montgomery much different than what black Americans face every day in our justice system — where the rules seem to apply differently based upon the color of your skin or the size of your bank account? 
Is it much different than the unfair home lending practices that placed stricter lending rules on minority Americans?
Is it much different than the stop-and-frisk policies or the constant badgering of Hispanic Americans? 
And make no mistake about it, Parks and many other Civil Rights Movement leaders were not wholly different than many of the civil rights leaders active today. 
Because Rosa Parks wasn't tired from working that day. She was tired of the BS that held her and so many other black Alabamians down. 
She also happened to be smart and fearless.
Parks was the secretary of the local NAACP at the time of her arrest and she had been a key figure in the planning of a city-wide boycott of Montgomery's buses. The group of planners, which included key figures in the Civil Rights Movement, had been working for months on a plan. 
As part of her work with the NAACP, Parks investigated rapes of black women by white men — usually powerful, white men. She challenged them, stepping in when the police wouldn't investigate and forcing courts to look at evidence. 
She had been trained at an education center for activism in Tennessee, and she helped organize and recruit black youths to the NAACP.
So, that Dec. 1 day in 1955, when she boarded the bus, took her seat in the black section and was told by the bus driver — who was acting illegally — to get up for a white man, she didn't have much fear about saying, "Nah."
Actually, to be accurate, the driver told Parks that if she didn't stand up and give her seat to a white passenger, he would call the police. To which she replied: "You may do that."
You know why? 
Because she was angry. Years later, during an interview, she said when she was asked to give up the seat, the only thing she could think about was the recent murder of Emmett Till. And all of the injustices and the daily racism and the unfairness of it all. 
She was tired of it. 
What followed Parks' arrest was a 385-day, full boycott of the bus system by black workers in Montgomery. It crippled the city. It caused enormous problems. It drew national attention. And it was, quite possibly, the greatest feat of political organization and activism in our nation's history. 
And yet, some people want you to believe it occurred by mere chance because this tired, timid lady got arrested. 
They want that because if that's the story, Rosa Parks becomes much less inspiring to future generations. Her story relies on an element of chance, instead of on the planning, intelligence and determination that was actually involved. 
Look, the statue unveiled in Montgomery on Sunday really is beautiful. And it will undoubtedly be used to inform numerous generations about Parks and about the Bus Boycott. 
I just hope the right story is told. And those future generations get to know the real Rosa Parks.
Mike Hubbard finally going to prison should mean something. It doesn't.
Mike Hubbard reported to the Lee County Sheriff's Office on Friday to begin serving his four-year prison sentence. 
Hubbard's new mugshot was plastered all over news sites on Friday evening, and those stories and screenshots made their way around social media all weekend. Those pics and stories, and the thoughts of the state's former most powerful lawmaker beginning a prison stint that will put him behind bars for more than 1,400 days, should send chills up the spines of current lawmakers. 
Those images of Hubbard should be the turning point in one of the nation's most politically corrupt states. The former House speaker and leader of the Republican Party being just another inmate should be a clear deterrent to the future lawbreakers among Alabama's lawmakers. 
But it won't be. 
I hate to be a downer, because this should be an occasion that we celebrate. No, not Hubbard going to prison — that's nothing to celebrate. We should celebrate the hard justice of what we did in this state — took a powerful, rich, white man who was misusing his public office for personal gain and we prosecuted that guy just like we would prosecute any other lawbreaker. 
The judge didn't give him any breaks. The prosecutors from the AG's office, which was led by another Republican, went after him hard. The jury held him accountable with a well-reasoned verdict.
That's meaningful. 
That sends a message. 
That cleans things up and makes your government honest. 
Unfortunately, everything that has happened since that jury verdict in Lee County over four years ago has undone everything that led to that verdict. 
And this is not just me saying this, it was someone from the team who helped prosecute Hubbard — one of the guys who took unending BS from ALGOP leadership, various moles all around the AG's office and shameless hacks within the Legislature. In fact, it's so bad that the person didn't want to be quoted directly, because it would only lead to more problems now. 
That's where we are. 
The prosecution of Mike Hubbard wasn't a lesson not to steal. It was a lesson in what the thieves needed to fix so they wouldn't get caught like Hubbard did.
"I wish it weren't true," the person said. "The people who would violate the laws, they know if someone is really watching. And now, who's watching?"
The answer, of course, is that no one is watching. 
The first act of the ALGOP in the post-Hubbard conviction world was to destroy the two things that led to his arrest: the Alabama Ethics Laws and the Special Prosecutions Division of the AG's office. 
They have been successful in both. 
The ethics laws have been gutted to the point that it is now legal to do half of what Hubbard did exactly the way he did it, and it's legal to do the other half if you can claim it was done in the interest of economic development. 
These changes were made for two reasons. The first was that lawmakers claimed innocent businessmen and lawmakers could be trapped by unclear ethics laws that could criminalize personal friendships. This is ludicrous and was easily avoided, as evidenced by the 95 percent of Alabama lawmakers who didn't violate the laws. 
The second was that economic development could be hampered by these special laws. Except other states also have these laws and not one economic development deal in the history of this state was hampered by the laws in any way. 
But Alabama voters were going to vote Republican regardless of what the crooks pushed through, so here we are with gutted ethics laws. 
The other step was to gut the SPD, which investigated and prosecuted Hubbard and his pals. 
Within a few weeks of current AG Steve Marshall being elected, the former head of that department, Matt Hart, was shown the door. Responsibilities have been shifted and new directives handed down. 
There will be no more major ethics investigations. And especially not of Republicans. 
Hell, a litany of charges against former Democratic state Sen. David Burkette was handed over to the AG's office. The Ethics Commission passed along at least three felony counts. 
Burkette resigned after being charged with a single misdemeanor. 
So, no, sorry, the end of Hubbard's long, slow walk to prison is nothing to celebrate. It won't be remembered for what it changed or the crime it stopped. 
Instead, it'll be another sad marker of yet another point at which we could have made a change, could have chosen the more righteous path, could have altered the way this state handles its business. 
But we just kept doing what we've always done.