Doug Jones backs legislation to permanently fund HBCUs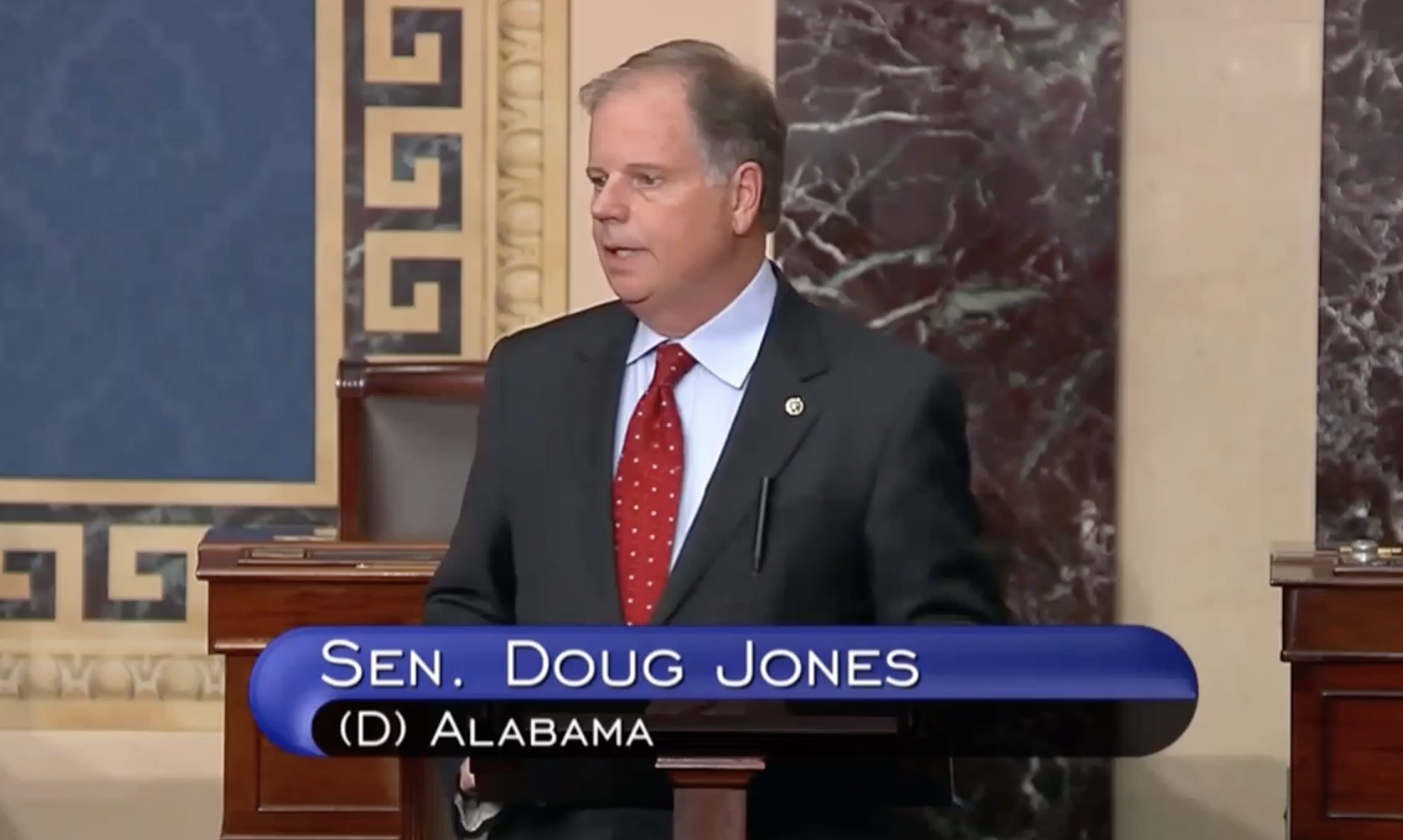 Sen. Doug Jones today joined a bipartisan group of senators to introduce a solution to both permanently fund Historically Black Colleges and Universities (HBCUs) and other minority-serving institutions (MSIs) and to take a first step toward simplifying the Free Application for Federal Student Aid (FAFSA) process. Annual funding for MSIs expired on September 30, 2019.
The solution proposed today by Jones and his colleagues amends his FUTURE Act  legislation to permanently renew $255 million in annual funding for HBCUs and MSIs, and will also simplify the FAFSA by reducing it by up to 22 questions. The amendment is paid for through reduced administrative costs achieved by allowing FAFSA applicants to give permission to the Internal Revenue Service to securely share tax return data directly with the U.S. Department of Education.
"The permanent renewal of federal funding is a huge win for our nation's minority-serving institutions, which have faced growing uncertainty and anxiety since their $255 million in annual funding expired in September," Jones said. "Instead of making tough decisions to cut programs and staff this holiday season, they can now count on permanent funding that will enable them to plan long-term and focus on their educational mission." 
Jones has long championed the renewal of funding for minority-serving schools and also for simplification of the burdensome FAFSA form, which has proven to be a significant barrier for students who need financial assistance in order to afford college.
Jones recently partnered with Sen. Lamar Alexander (R-Tenn.), chairman of the HELP Committee, to introduce legislation that would reduce the FAFSA form from 108 questions to between 18-30. Tuesday's proposal is a necessary first step to lay the groundwork for the passage of the broader Jones-Alexander FAFSA reform bill.
After awkward meeting, Ivey demands a new reopening plan from ALSDE
Frustrated lawmakers, including Gov. Kay Ivey, asked Alabama State Department of Education officials and board members to settle on a comprehensive plan to reopen Alabama's public schools this fall.
Do you want the money or not? That seemed to be the big question — a question that, oddly, summed up the feelings and the frustrations of many — at Tuesday's meeting and work session of the Alabama State School Board. 
Frustrated lawmakers, including Gov. Kay Ivey, asked Alabama State Department of Education officials and board members to settle on a comprehensive plan to reopen Alabama's public schools this fall so they could accept the millions in federal funds that Ivey is trying to dole out. 
"I've never encountered such a situation," said state Sen. Jim McClendon, who was in Montgomery on Tuesday to present the Safely Opening Schools Program that he supports. "It's $150 million. Do you want it or not?"
The SOS program, which is backed by the Alabama School Nurses Association and a bipartisan group of state lawmakers, would hire 300 more nurses and provide testing units, testing materials, thermal imaging temperature scanners and stand-alone first aid rooms for every school. 
Under the plan, students would be scanned prior to entering a school bus or entering the school by the scanners. Students with high temps would be quarantined and taken to the first aid room where a test would be administered. The testing units have the capability of returning results in 15 minutes and can be used to test for flu types A and B and coronavirus. 
It has a price tag of $150 million — with almost all the funding coming out of the state's $1.8 billion of CARES Act dollars. 
Ivey, who is the president of the school board, invited McClendon, and Sens. Jabo Waggoner and Bobby Singleton to talk about the SOS plan. Singleton pleaded with the board to implement the plan and treat all schools and students equally. 
Some board members seemed unmoved and raised curious questions. Cynthia McCarty said she heard from nurses who were concerned that the added duties of testing students would be too much. And McCarty said she was concerned that the extra nurses might not be enough to adequately test the students. 
Mackey, for the first time, talked about his new plan, which includes $50,000 for every school to use for COVID-related expenses. The request for funds related to Mackey's plan was first made late last week — a new development after Mackey originally resisted including funding in ALSDE's "roadmap" plan released late last month. 
His new plan, he said, "overlaps" with the SOS plan in terms of hiring more school nurses. But it stops short of mandating testing or requiring that local districts spend allocated money on specific items. 
From the start on Tuesday, it seemed Ivey was unhappy with Mackey's plan — which has also been heavily criticized by teachers and principals for its lack of specific actions and guidelines — and demanded that he provide reasons for why he was resisting the SOS plan.
Although, she did agree with Mackey's resistance to testing — a surprising pivot for Ivey, who had been in favor of widespread testing in schools as late as Monday. 
Following his presentation, Ivey told Mackey to have a new proposal to her by Friday, and indicated that she wanted him to work with McClendon, Singleton and Waggoner.
It's unclear to all involved at this point if that new proposal will include widespread testing, although it's hard to imagine why it wouldn't. The ability to quickly test students provides a level of security that likely will be favored by teachers and parents. 
And there's another factor: Sports. 
A testing device that can spit out results in 15 minutes could be used to screen athletes, coaches and officials prior to games, dramatically reducing safety concerns. 
Alabama High School Athletic Association executive director Steve Savarese told lawmakers, and confirmed again later on Tuesday, that he supports the SOS program and any plan "that enhances the safety and well-being of our students."  
Where that leaves things is quite unclear. McClendon said he was baffled by the entire meeting and why Mackey and ALSDE is resisting the SOS program. But he said he was willing to work with Mackey and Ivey to move things forward and "do what's in the best interest of the students and teachers."