Moore, Pringle praise rules protecting Bibles, Christmas trees in VA hospitals
Thursday, Former Chief Justice Roy Moore (R) and Congressional candidate State Representative Chris Pringle (R-Mobile) both praised new rules for the Veterans Administration protecting Bibles in VA hospitals and allowing Christmas decorations.
"I am very happy to see that President Trump and Vice President Pence are moving to restore the right of military veterans to recognize our spiritual heritage," Judge Moore said in a statement. "During WWII President Franklin Roosevelt even issued signed Bibles to members of our armed forces."
"As we enter the Christmas season, I am so thankful that we have a President and Vice President who will stand for religious liberty and our veterans' rights to celebrate Christmas," Pringle said. "Thank you, President Trump and Vice President Pence!"
"The Obama Administration and liberal democrats of our day have been on a crusade to remove God from the public square and in doing so are denying everything for which so many have fought and died," Judge Moore added. "God is not only the basis of our morality, our rights and freedoms, but the ultimate source of our strength and security. As Washington advised our troops one week after the Declaration of Independence was signed "…the peace and safety of our Country depends (under God) solely on the success of our arms.""
"During the last Administration the VA was removing Bibles & even banning Christmas carols to be politically correct, but under President @realDonaldTrump, VA hospitals will NOT be religion-free zones. Message to the New Hampshire VA: the Bible STAYS!" VP Mike Pence said on Twitter.
Vice President Mike Pence announced that he would be scrapping some of the previous administration's policies when it comes to religion in Veterans Affairs hospitals.
The vice president spoke before the American Legion National Convention in Indianapolis, Indiana, on Wednesday where he announced that the administration under President Donald Trump would be rolling back some of the policies put into place while President Barack H. Obama (D).
Pence proclaimed that Obama-era rules prohibited the celebration of religious holidays in VA hospitals, including the display of Christmas trees and Bibles were a thing of the past. The Trump administration had overturned those decisions and would be fighting a lawsuit that aims to remove a WWII-era Bible from one VA hospital in New Hampshire.
Former State Representative Perry O. Hooper Jr. told the Alabama Political Reporter that he agrees with the Vice President and strongly supports the new policy.
Mike Pence is a man of deep personal Christian faith," Hooper said. "Mike Pence is a true patriot and the ultimate Vice President and a great choice to lead the ticket in 2024."
Hooper is a member of Trump's national finance team.
"Pence is essential for the GOP in 2020," Hooper continued. "Pence became the first vice president to establish his own political action committee early in his first term the Great America Committee. Over a two-year period, Pence raised more than $4 million, money that will be deployed during the 2020 election season where it is most needed. He's a tireless campaigner, He does the kind of fundraising that most presidents do. The results can be seen in the record fundraising in the Trump Pence war chest. Vice President Pence recently embarked on a national tour of congressional districts represented by Democrats that Trump carried in 2016."
Chris Pringle is running to represent Alabama's First Congressional District in the U.S. House of Representatives. Incumbent Bradley Byrne is running for the U.S. Senate seat currently held by Doug Jones (D).
Roy Moore is running in the Republican primary, against Byrne and others, for that same Senate seat.
Print this piece
Opponents accuse Tuberville of supporting amnesty for undocumented immigrants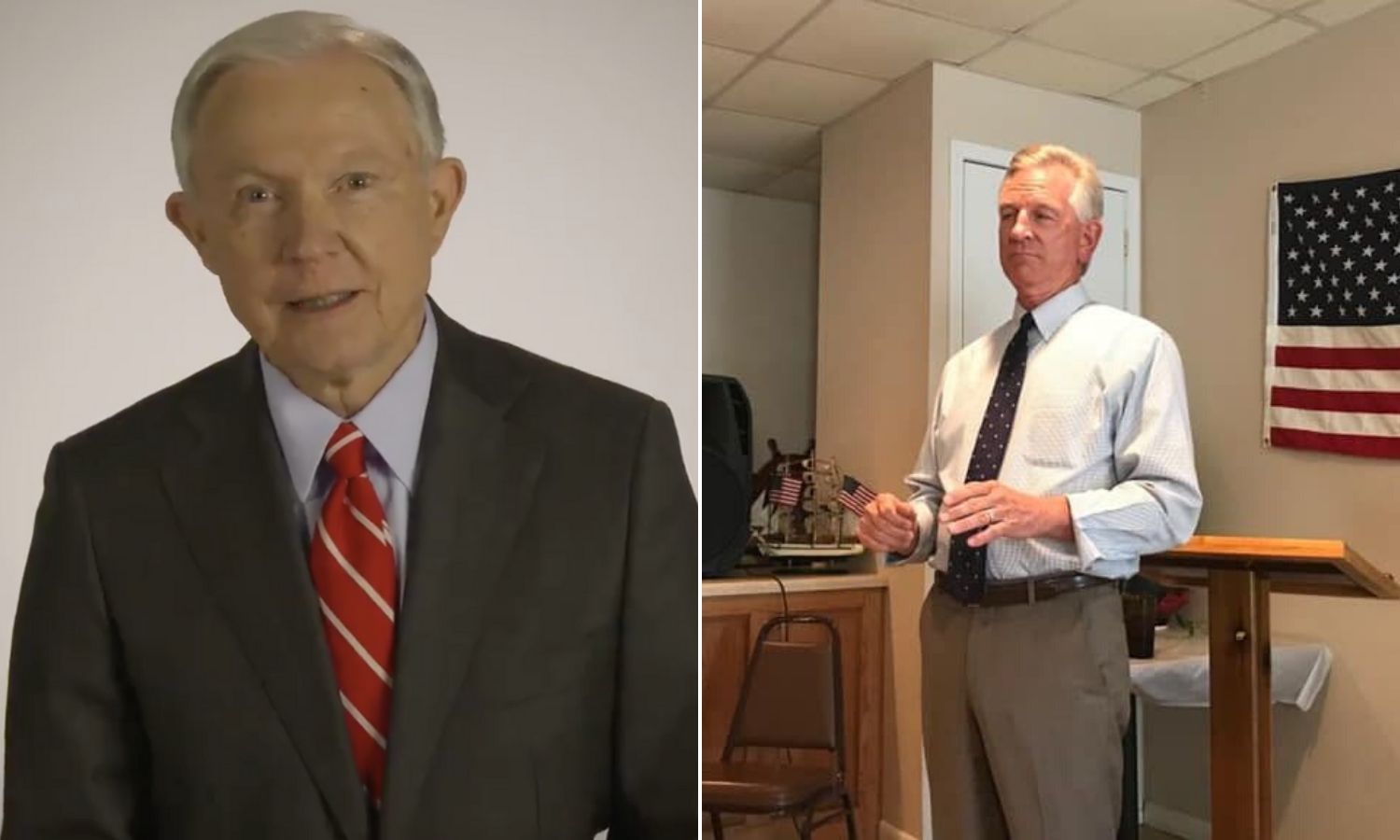 The Senate campaign is heating up as the top three candidates are all going negative. Former Auburn head football coach Tommy Tuberville has attacked Congressman Bradley Byrne (R-Montrose) and former Attorney General and Senator Jeff Sessions of being career politicians. Both Byrne and Tuberville have attacked Sessions for not having adequately served President Donald J. Trump (R) while Attorney General. Byrne has even attacked Tuberville's coaching abilities. The latest attacks on Tuberville accuse him of supporting amnesty for illegal aliens. Sessions even accused Tuberville of being a "tourist."
Wednesday, Sessions announced a new television ad called "Tuberville for Amnesty."
Byrne and Tuberville point to an August speech by Coach Tuberville when he said: "There are people coming across the border that need jobs… and we want them to come over here… Let em' come in and become citizens like we all became citizens."
The Tuberville campaign called the attack "fake news" on Twitter.
Sessions' campaign manager Jon Jones said, "Tuberville is claiming that his own words are 'fake news.' All of them? Tommy Tuberville needs to read the transcript. It is clear that Tuberville supports immigration amnesty, and he is attempting to trick Alabama voters to believe otherwise. In contrast, Jeff Sessions has done more than just say he wants to fix the border – he has already worked alongside President Trump to stop illegal immigration."
The new Sessions ad reads: "Tuberville is trying to trick you, hiding his support for immigration amnesty." Then plays an audio clip of the Tuberville comment from August
Tuesday, Byrne told reporters in Trussville: "I can tell you right now this issue about Tommy Tuberville's position on amnesty is a key issue. And so we're going to keep telling people about his position on that and let him explain why he doesn't think that's amnesty."
"Let em' come in and become citizens like we all became citizens," Tuberville is quoted in the ad.
Tuberville has denied supporting amnesty and says that he supports President Trump's immigration agenda.
The Sessions ad further charges: "And Tuberville's not even from Alabama, he's a tourist here. He lives, pays taxes and even votes in Florida."
On Tuesday, the Tuberville campaign responded with an attack ad of their own.
"The career politicians are desperate to hang on to their paychecks and power, so they have started airing negative ads full of false attacks and baseless distortions," Tuberville said. "Our new commercial allows us to respond with some hard truths about which candidate wants to drain the D.C. swamp and is tough enough to actually help President Trump get the job done."
The Tuberville ad has Byrne with former Secretary Hillary Clinton and Sessions with Congressman Adam Schiff (D-California) who led the impeachment effort against President Trump. The ad even connects Sessions and Byrne with Sen. Mitt Romney (the only Republican in either House of Congress who found that the President did anything wrong.)
State Representative Arnold Mooney, former Chief Justice Roy Moore, Ruth Page Nelson, and businessman Stanley Adair are also running for the Republican nomination for the Senate seat currently held by Doug Jones (D).
The Republican primary is March 3.
Print this piece