Roby given Service to Agriculture Award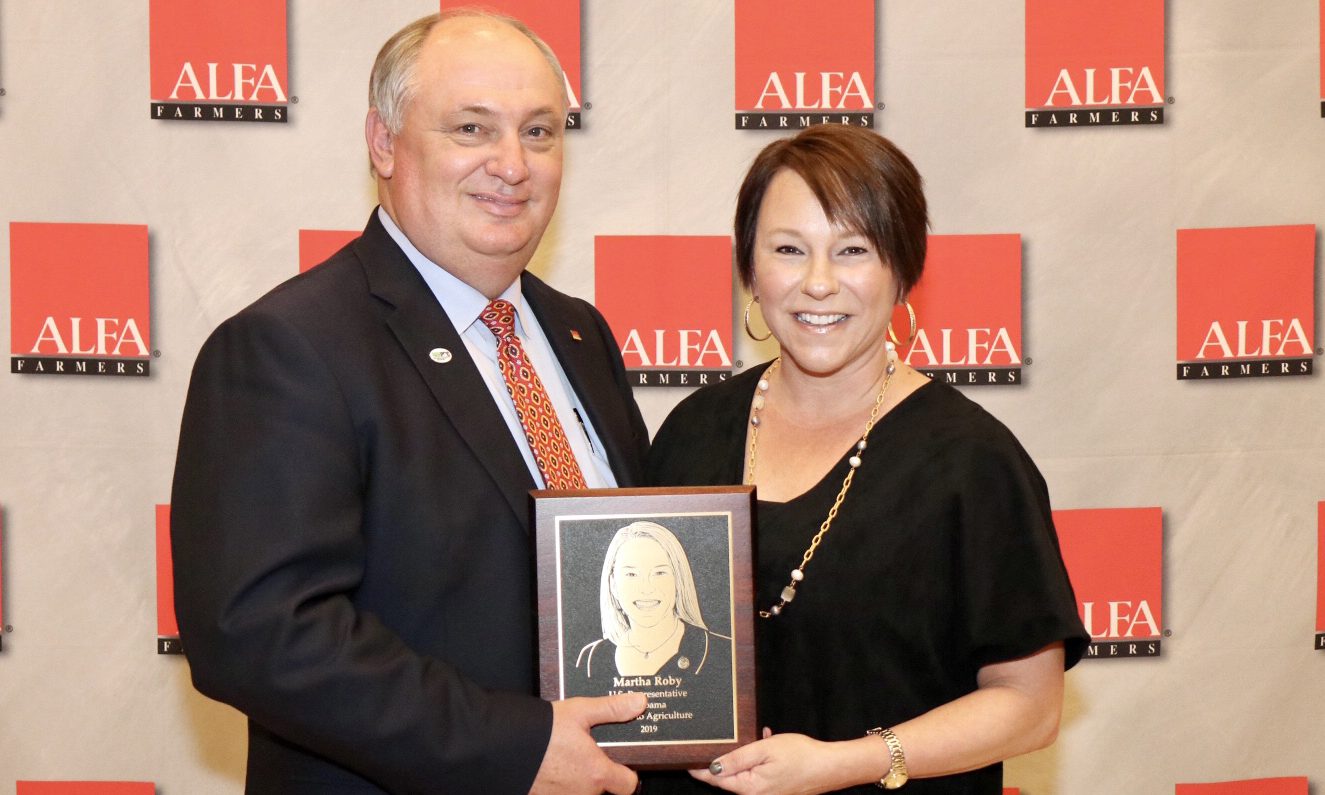 Sunday, the Alabama Farmers Federation presented Congresswoman Martha Roby (R-Montgomery) with their Service To Agriculture Award.
The five term congresswoman for the Second Congressional District has been a dogged advocated for Alabama farmers during her tenure in Congress.
"Roby has been a champion for farmers since she was first elected to Congress in 2010," said Federation President Jimmy Parnell in a statement. "Whether fighting for fairness in the farm bills of 2014 and 2018, or battling budget cuts in farm programs, it was clear she was in agriculture's corner."
"Rep. Roby's grit and determination ensured farmers weren't forgotten by other leaders in Washington and earned her the respect of agricultural leaders at home and in Congress," Parnell said. "She enjoys a reputation as an outspoken proponent of conservative, Christian values that mirror those of her constituents in Alabama's 2nd Congressional District. Her work as a former member of the House Committee on Agriculture played a pivotal role in passing the 2014 and 2018 farm bills."
ALFA cited her work highlighting abuses at the Central Alabama Veterans Health Care System (CAVHCS) as among her accomplishments. The Farmers Federation also cited her work on behalf of farmers on the House Appropriations Committee, her support of Alabama's Military bases when she was on the House Armed Forces Committee, and her Chairing of the Peanut Caucus in the Congress.
"In working on two farm bills, Congressman Roby was a strong advocate for the peanut program, seed cotton and catfish inspection," ALFA National Affairs Director Mitt Walker said. "She was also a staunch supporter of eliminating rules and regulations that hampered farmers and landowners in her district and across the state.
"After her district was ravaged by Hurricane Michael, she insisted that Alabama be treated the same as neighboring states, making sure U.S. Secretary of Agriculture Sonny Perdue saw the damage in her district firsthand," Walker added. "On a personal note, Rep. Roby is one of the most genuine and compassionate people I have ever had the privilege to work with."
"Alfa has been a true friend to me during my time in Congress," Roby said. "We have developed a strong relationship. Since agriculture and forestry are the largest employers in the district and in our state, I take the role as the farmers' advocate very seriously. I have prioritized spending time with farmers over the years. Whether it was standing in a peanut field or meeting with farmers after a disaster, what they have to say is important to me."
An estimated 1,400 farmers and their families are in Montgomery Sunday and Monday for their annual convention.
Roby is not seeking a sixth term in the U.S. House of Representatives. She will be retiring from Congress when her current term ends.
Print this piece
Opponents accuse Tuberville of supporting amnesty for undocumented immigrants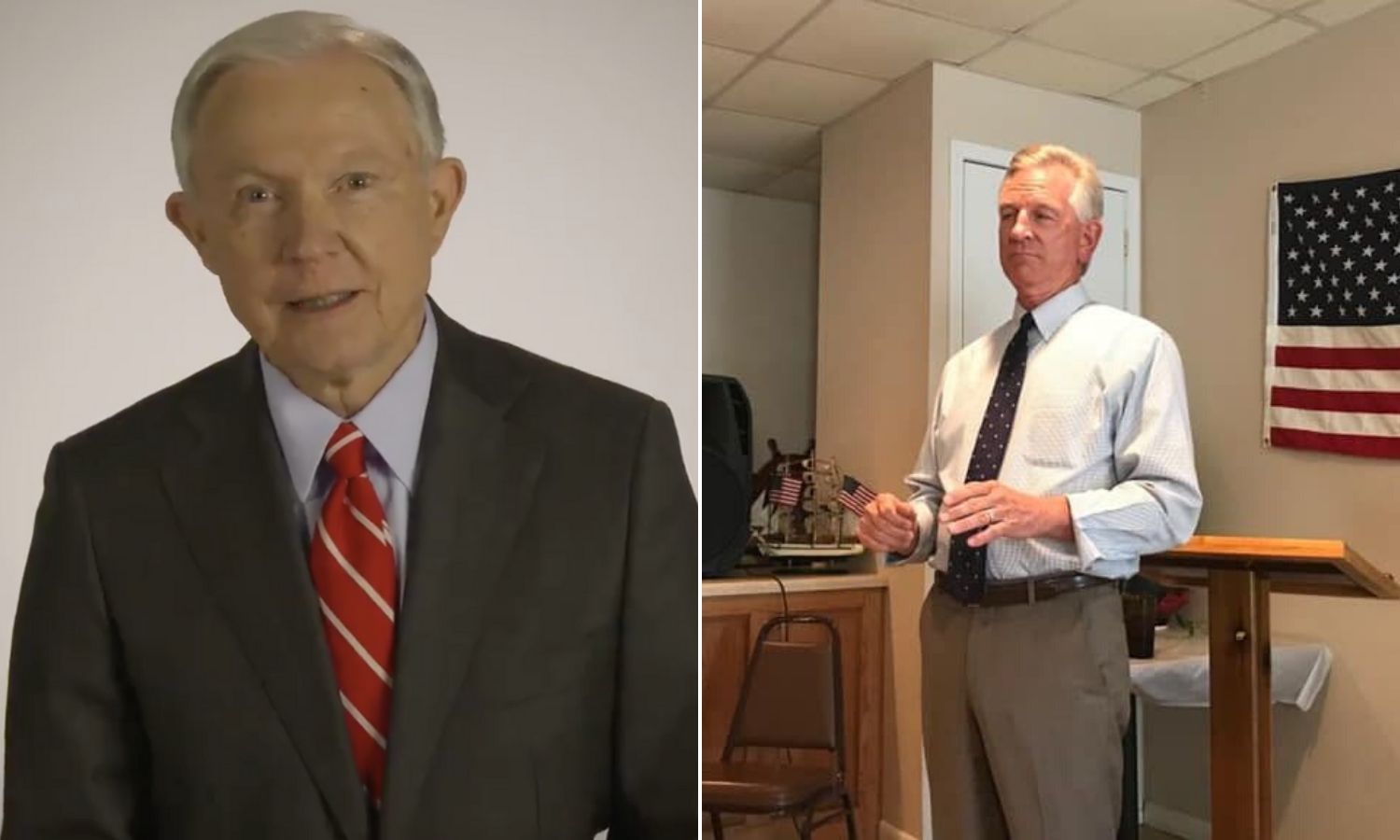 The Senate campaign is heating up as the top three candidates are all going negative. Former Auburn head football coach Tommy Tuberville has attacked Congressman Bradley Byrne (R-Montrose) and former Attorney General and Senator Jeff Sessions of being career politicians. Both Byrne and Tuberville have attacked Sessions for not having adequately served President Donald J. Trump (R) while Attorney General. Byrne has even attacked Tuberville's coaching abilities. The latest attacks on Tuberville accuse him of supporting amnesty for illegal aliens. Sessions even accused Tuberville of being a "tourist."
Wednesday, Sessions announced a new television ad called "Tuberville for Amnesty."
Byrne and Tuberville point to an August speech by Coach Tuberville when he said: "There are people coming across the border that need jobs… and we want them to come over here… Let em' come in and become citizens like we all became citizens."
The Tuberville campaign called the attack "fake news" on Twitter.
Sessions' campaign manager Jon Jones said, "Tuberville is claiming that his own words are 'fake news.' All of them? Tommy Tuberville needs to read the transcript. It is clear that Tuberville supports immigration amnesty, and he is attempting to trick Alabama voters to believe otherwise. In contrast, Jeff Sessions has done more than just say he wants to fix the border – he has already worked alongside President Trump to stop illegal immigration."
The new Sessions ad reads: "Tuberville is trying to trick you, hiding his support for immigration amnesty." Then plays an audio clip of the Tuberville comment from August
Tuesday, Byrne told reporters in Trussville: "I can tell you right now this issue about Tommy Tuberville's position on amnesty is a key issue. And so we're going to keep telling people about his position on that and let him explain why he doesn't think that's amnesty."
"Let em' come in and become citizens like we all became citizens," Tuberville is quoted in the ad.
Tuberville has denied supporting amnesty and says that he supports President Trump's immigration agenda.
The Sessions ad further charges: "And Tuberville's not even from Alabama, he's a tourist here. He lives, pays taxes and even votes in Florida."
On Tuesday, the Tuberville campaign responded with an attack ad of their own.
"The career politicians are desperate to hang on to their paychecks and power, so they have started airing negative ads full of false attacks and baseless distortions," Tuberville said. "Our new commercial allows us to respond with some hard truths about which candidate wants to drain the D.C. swamp and is tough enough to actually help President Trump get the job done."
The Tuberville ad has Byrne with former Secretary Hillary Clinton and Sessions with Congressman Adam Schiff (D-California) who led the impeachment effort against President Trump. The ad even connects Sessions and Byrne with Sen. Mitt Romney (the only Republican in either House of Congress who found that the President did anything wrong.)
State Representative Arnold Mooney, former Chief Justice Roy Moore, Ruth Page Nelson, and businessman Stanley Adair are also running for the Republican nomination for the Senate seat currently held by Doug Jones (D).
The Republican primary is March 3.
Print this piece